Jan 6 2017 Friday, 8:00 am
Kesian anak mak sorang ni, lambat update untuk birthdaynya. Usually untuk hehari kejadian birthday / anniversary, aku mesti letak kat sini, but tu lah…lamo tak bukak blog gak hehehehe…sorry ye Shan. But tak update kat blog jer, kat ig and celebration, ada jer….
This was on the actual day of his birthday – 29th Dec 2016. Anak hujung tahun macam ni lah. Tu pun sebab aku mintak induced awal, if not lagi ler early January entah2 keluarnya, coz due date memang pun January….lagi lambat ko kuor lagi jauh beza ko kang.
By the way, on the hari birthdaynya  ni pun, was the 3rd celebration. He celebrated the first time at school, and 2nd time waktu kami di rumah and ni makan kfc, pun requested by him gak lah.
He tak nak hadiah apa, just nak mintak main ipad. Lamo dia tak main ipad woi, kira dia mintak tu, nampak benaulah rindunya sama ipad. But tu lah, wpun takde specific hadiah mintak, yelah dia pun kecik lagi, but ada ler gak aku bagi kereta2 mainan segala. Itu tak birthday pun dapat LOL .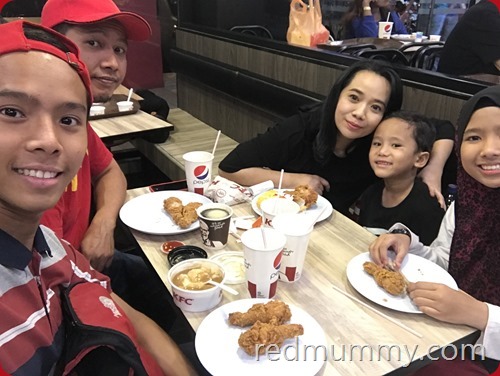 happy boy dapat makan kfc, but aku penatnya lahai. Yelah coz aku keje, so kena kuor balik bagai, jenis cam aku ni badan dah tak fit, kalau terus kuor je takpe dari opis tu but ni nak balik, buat keje umah and kuor balik. Lomah badan heh. Coz my routine lepas Isya tuh, memang aku dah longlai atas katil…bukanlah tidur but dah memang time aku rehat. Demi anak….kuor gak.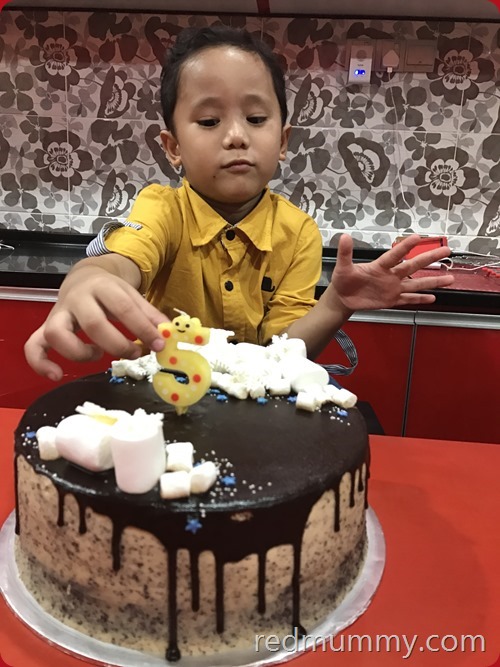 the left hand tu nak cakap – i turn 5 yey!! Ini bukan kek yang aku tempah, ini kek 'sponsor'. Sedap gila betul kek nih but takdelah kita nak abiskan pun, mana boleh kan….so bahagi2kan kan gang2 opis yang masih ada and sedekah kat jiran tetangga gak. Kat KFC tu aku beli one slice of cake just for him to blow jer. His actual cake – hem…ini yang sebak sakit hati je bila kenangkan. The cake tu kita celebrate for the main party lah, situ yang all out aku buat, the goodie bags siap segala, 2 weeks aku sediakan. But when comes to the party day:
1. A few days before the party, baker was trying to nego lah mintak tukar hari, of cos cannot. Anak aku dah nak bape hari je sekolah pun masa tuh.
2. Baker buat gak but on pagi harinya, tak jawab call tak nampak bayang, lambat by 2 hours!
3. Paling tragisnya, she made a pink cake!! That s not red. Zeeshan request merah merah merah, and what the hal pulak yang aku bodoh hapa pi order pink kan? Tidak ler langsung. But baker ni pi balun buat colour pink, itupun nak coverina dok cakap merah lah merah lah, sedangkan saksi sume kata itu pink and of cos aku pun wpun tengok dari gambar je, memang tau sangat itu pink.
4. Yang kemudiannya aku dapat tau, the cake tu pun macam tak stabil (ada cars bagai for design cake nih), Zeeshan gak special request nak design camtuh.
5. For all of the above, no sorry no apologise from the baker to me! Dengan muka tak malunya jugak, mintak full payment. Wpun aku dah basuh dia, masih dengan mata duitannya. So i paid, but no morelah. Ko pun orang Islam, camne le ko leh sanggup aniaya orang camnih.
Siapa baker tu….hem, kalau aku petik  nama dia memang mau satu BB tu tau. Biarlah, but lesson learnt. I think the friendship pun dah ruined up because of her attitude. Amiklah ko duit kek tu kalau betul dengan itu ko boleh tidur malam. Sekurangnya mintak maaf ke hapa, ini memang penaya jer. Kek dia memanglah sedap but the attitude tuh, and all 5 yang aku cakap tuh.
Tak hingin ler aku nak letak gambar kek pink tu kat sini.
So apapun, Zeeshan masih 5 taun, tak tau apa, bahagia jer. But i love to have conversation ngan dia, skang pun bestnya, dia dah banyak makan veges. You name je lah nama veges, semua dia dah boleh makan, alhamdulillah. But tu lah, bila makan tu kena ler cakap, nanti Shan will be like so talllll like abang and daddy. So tiap kali abis makan dia akan tanya, tak tall pun tak tall pun. hahahahaha….sabarlah dik oi, nanti ko tall ler….
Happy Birthday Zeeshan, mummy daddy abang kakak loves you so much (and Chanel, Kathy, Sharifah and Porche) too. Semoga Zeeshan kekal dengan molek pekerti budi bahasa, bila solat tu punyalah  louder dia nya suara hehehehe….Allah lindungilah anakku ini. Amin.
Comment:
3