Jan 4 2017 Wednesday, 8:00 am
Hello 2017 🙂
Dah 2 tahun aku tak buat imbasan of RM for setahun movements. Kekangan masa aka malas. Inilah my official entry after almost 2 weeks away from the blog. Ads is different story lah.
So sebab betapa sedapnya cuti blog kan, so hasilnya hari ni, light2 entry je lah. One of the days yang aku menyopping (memang hehari membeli but cant recall ler beli apapun sangat – maleh).
tapi yang ni, memang aku to die for lah.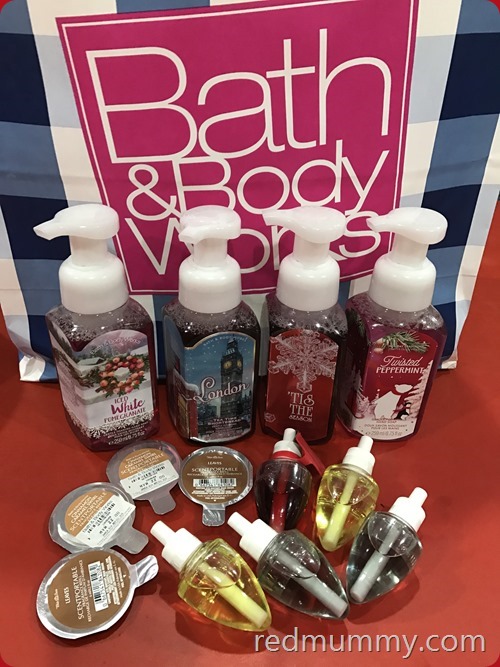 silapnya aku turun lambat gi melawat B&BW nih, banyak yang dah abis. Like shimmers, the selections of car perfumes (refills) pun tinggal 2 jenis jer. harga runtuh la kalau seketul dah 6inggit kan. The hand foam tu seketul jadi RM11. big bargains sangat. I dah ada lam 6 botol (3 ngah in use),so stock up lagi 4 ni, at least mau setaun kot baru abis. Btw, akak lagi suka pakai hand foam instead of soap. Foam tu lagi sedap hasilnya bila kita basuh tangan. So yang lagi 5 bijik tu pulak the pewangi rumah/rooms lah. Since ada 3 wallflowers plug kan, kena la beli lebih sket. At least satu bijik tu leh le tahan sebulan lebih. Semua 3 bijik pun aku pakai serentak kat rumah tuh. Pokaiiiiiii…..
Skang ni dah new year, takde dah kot sale. aku pun ngah cuti this week, so not sure lah. But memang kalau year end kena grab sangat, coz depa punya sale is better than other months. Kalau dapat la lagi beli kat US, kan best, ish ish….lelong2 je depa jual.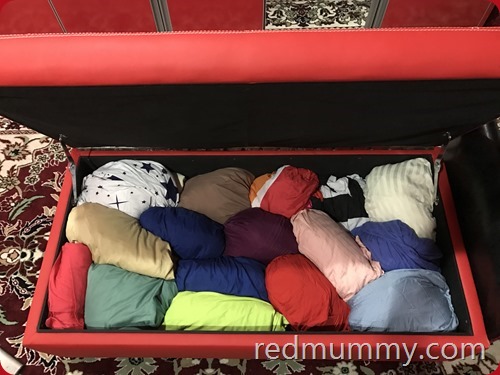 so supermak's tips kali ni, dah lama buat ni buat baru ni ha nak mencanang. The eggs of bedsheets. Bedsheets ni ada orang letak sumbat sheetnya dalam pillow coverkan, but for me, aku sumbat the pillow and booster covers tu dalam bedsheets. Dan jadikan telur. Video tutorialnya ada dalam my instagaram. Kes nya aku fed up bila anak2 cucu of the bedsheets ni asyik 'berjalan' so one day aku buat sendiri experiment nih.
Yes as you can see, ada over 20sets of bedsheets dalam compartment nih. Semua all mine lah, king size. aku memang giler tukar bedsheets, apatah lagi membeli. Kesnya coz at least 2 hari sekali memang tukar new one, berbulu je ler laki aku coz dia yang kena nak pasangkan ke tilam (coz tilam sangat berat, tenaga pompuan tak mampu). alangkan tilam kakak pun sama, abangnya yang tolong pasangkan the bedsheets.
For bilik abang kakak pun, aku telurkan sama their bedsheets. But depa tidaklah 2 hari sekali tukar, ponek ler washing machinetuh. Once a week jer for them. Aku memang hobi, suka benau tukar cadar hiks…
Yang blue2 cadars dalam gambar tu, ada merah dalam2nya but coz bila fitted kan, biru yang clearly seen. Idok le aku giler biru heh. of cos red one di hati.
So nakkan tutorial video telur bedsheet nih, pi ler tengok dalam instagram akak.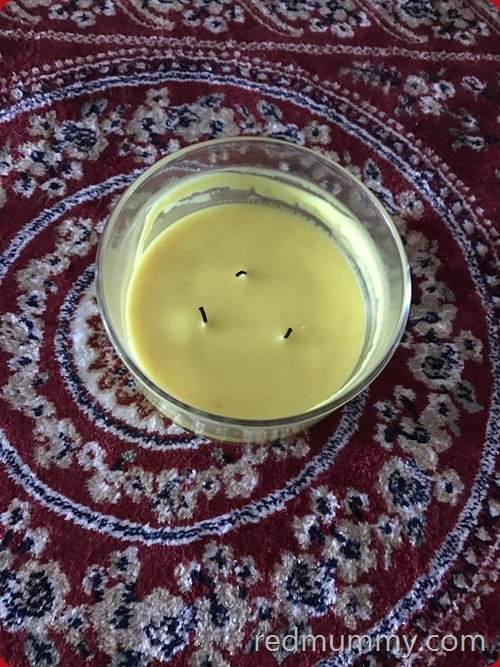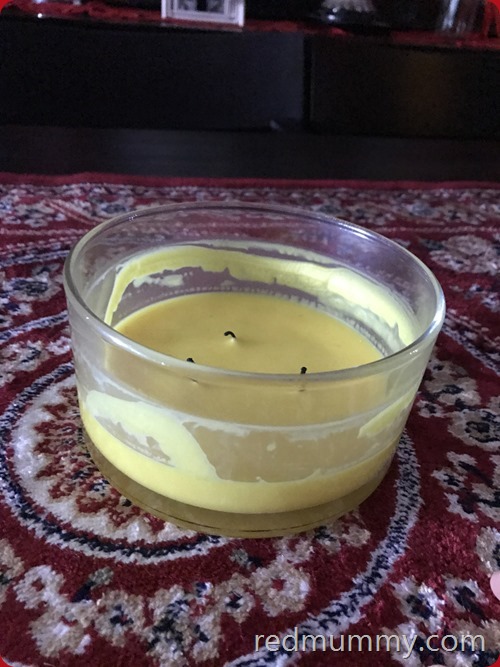 dan last2 one. need favour. sapa tau mana nak dapat candles kuning nih. akak lupa ler akak beli kat mana candle kuning besau nih. Dah cari dalam blog pun tak jumpa. This is not from Ikea, itulah halahai lupaler. Size dia besar nih, taktau le ngapa akak beli kuning, surely takde merah ler tuh. Hah mana jualnya? Sapa tau? Roger2 lah akak please….
Comment:
1