Jan 23 2017 Monday, 9:00 am
.
.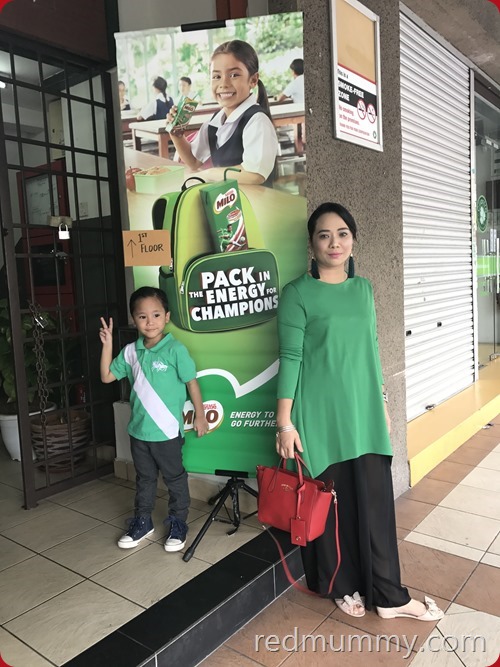 Sekejap je dah masuk tahun 2017. Bermula balik la episod rutin biasa hari-hari persekolahan anak-anak. Makin sibuk la kita ya emak-emak semua?
So back to the time when we mothers get our children ready to go to school, excitedly for them and also for us 🙂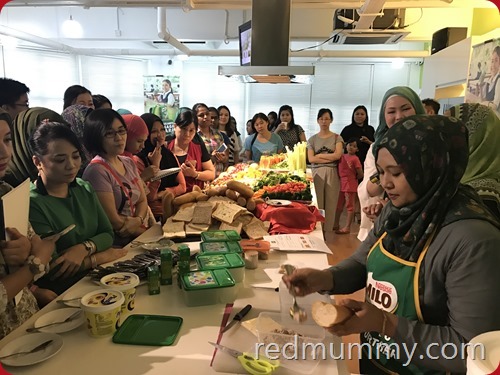 For me not only to prepare baju kasut sekolah semua, tapi kena prepare bekal for them as well. As you may or not aware, dua-dua anak Akak, Abang dan Kakak are in Chinese school. So no choice diorang kena bawak bekal ke sekolah.
And lucky me, Akak berkesempatan menyertai Blogger Workshop – MILO® UHT Pack In the Energy for Champions di Cilantro Culinary Academy bulan lepas, yang mana agenda utamanya ialah penyediaan bekal ataupun bento yang berkhasiat untuk anak-anak bawa ke sekolah.
Dan yang paling menariknya, tetamu istimewa iaitu Pn. Yan Diana, salah seorang ahli dari Kelab Bekal / Bento Malaysia conducted the workshop dan menawarkan tips mudah untuk membuat bento boxes yang menarik bagi memastikan anak-anak kita nanti mempunyai tenaga yang mencukupi untuk menghadapi hari persekolahan yang penuh dengan pelbagai aktiviti.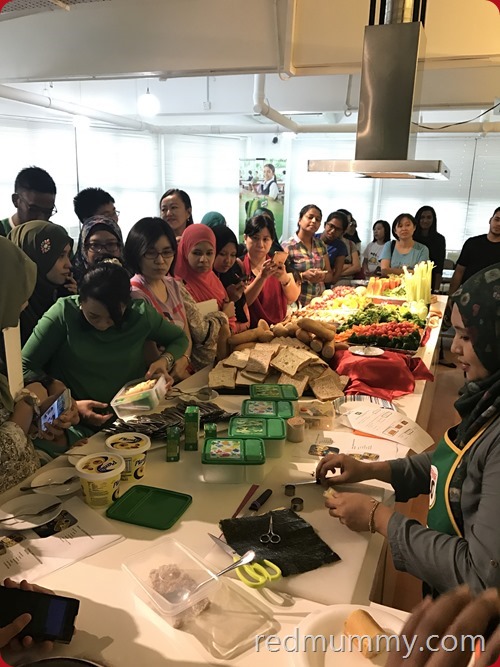 "Mummy, Zeeshan nak tengok…"
Sebab apa Akak cakap bento boxes yang menarik? Sebab Puan Yan Diana telah berkongsi rahsia dan cara bagaimana dengan mudahnya mendekorasi bento boxes tadi menjadi kreatif dan comel sangat sampai tak sampai hati nak makan hiks
Dan yang paling pentingnya, bahan-bahan yang dgunakan semuanya dari bahan yang segar dan berkhasiat yang boleh didapati dari rumah kita ? Disamping itu dapat menaikkan selera makan anak-anak kita, especially yang picky eater, susah nak makan sayur dan lain-lain.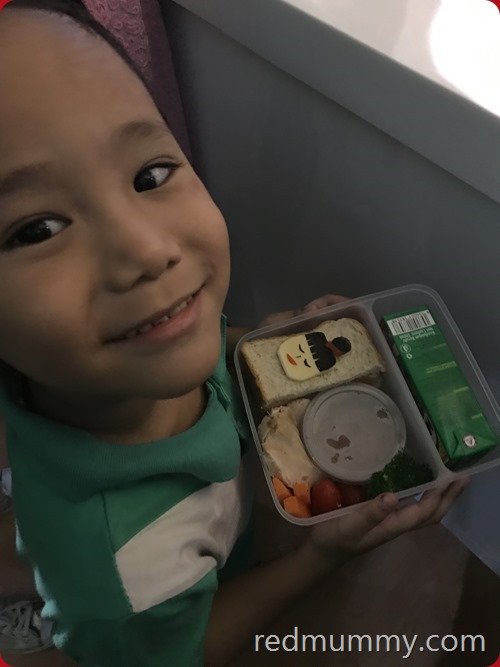 "Cute la mummy, Shan nak bawak macam ni to school"
"Boleh sayang, nanti kita sama-sama belajar macamana nak buat OK?"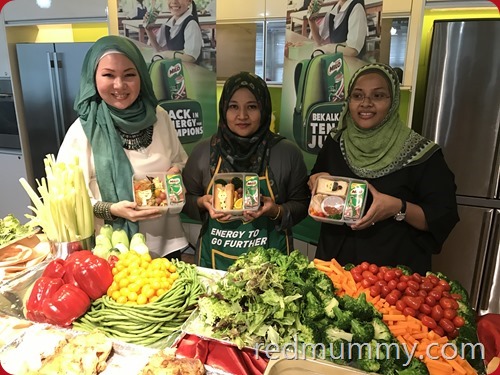 Sheahnee Iman, mother of two and moderator for the workshop, Puan Yan Diana, member of Kelab Bekal / Bento Malaysia and Nurul Iliani Ahmad, Senior Nutritionist of Nestlé (Malaysia) Berhad showing the result of three quick 10 minute Bento Box recipes.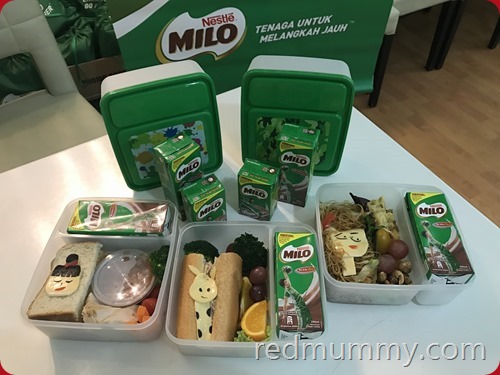 Closer look three designs that were demonstrated by Puan Yan Diana from Kelab Bekal / Bento Malaysia during the MILO® UHT Pack In the Energy for Champions blogger workshop.
Cute kan? I'm sure your kids will surely berlagak or show off dengan kawan-kawan sekolah dia bila dia ada bekal macam ni dan yang paling penting they actually eat their bekal.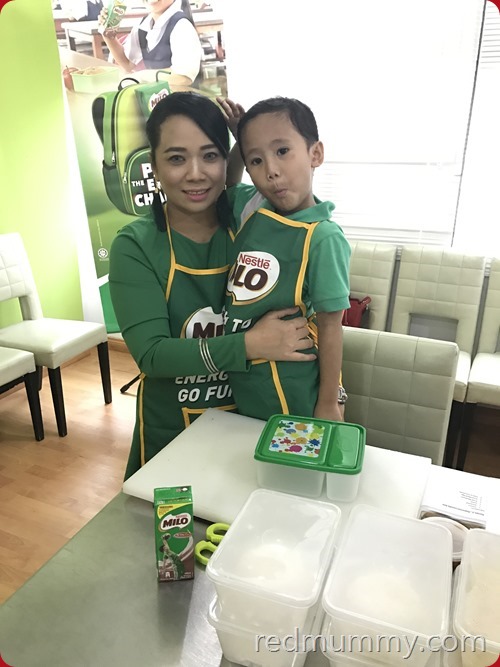 So now our time pulak to make the bento 🙂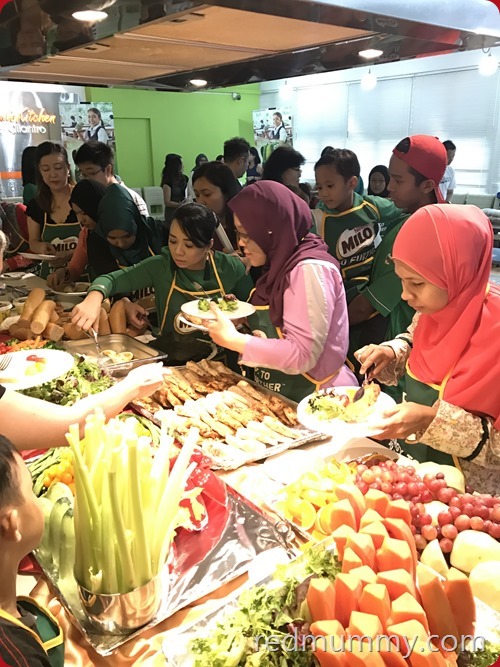 Puan Yan Diana tadi buat 3 bekal dalam masa less than 15 minit jer. Since kita semua first timer, they give us 30 minutes to do just 1 bento!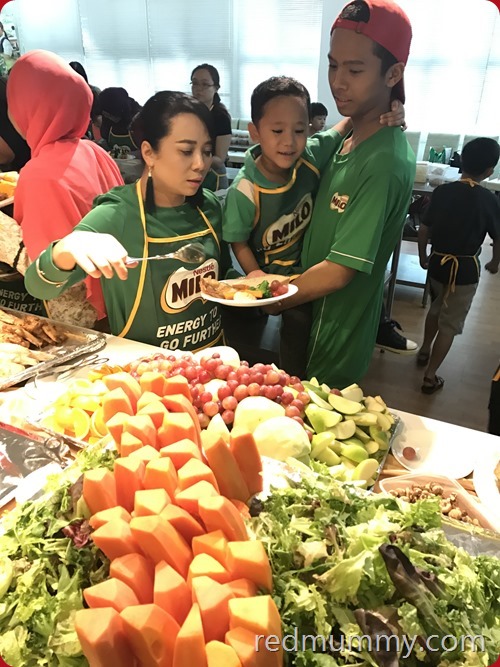 1 tip to do the bekal ialah make sure anak-anak kita suka apa yang kita bekalkan. So always tanya them first what they want. Dan kat sinilah rahsianya, of cos apa yang budak-budak suka semua nya agak kurang berkhasiat, so kita as mother kenalah kreatif sikit bila membuat bekal tu 🙂
Sebagai contoh, rambut menggunakan seaweed or bihun, hidung dan mulut mengunakan tomato ataupun carrot, zirafah adalah cheese. Dan dekorasi lain menggunakan sayur-sayuran ataupun buah-buahan yang segar supaya lengkap nutrition yang dibekalkan! So you get the idea kan?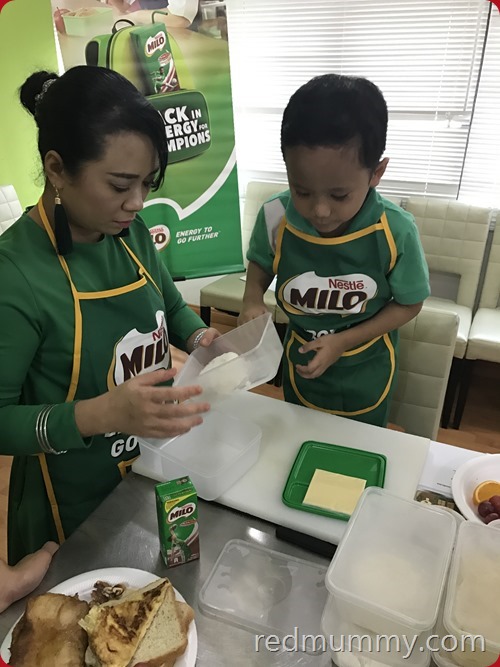 Zeeshan pilih nasi, memang dia suka makan nasi pun, even nasi putih semata pun dia boleh makan  🙂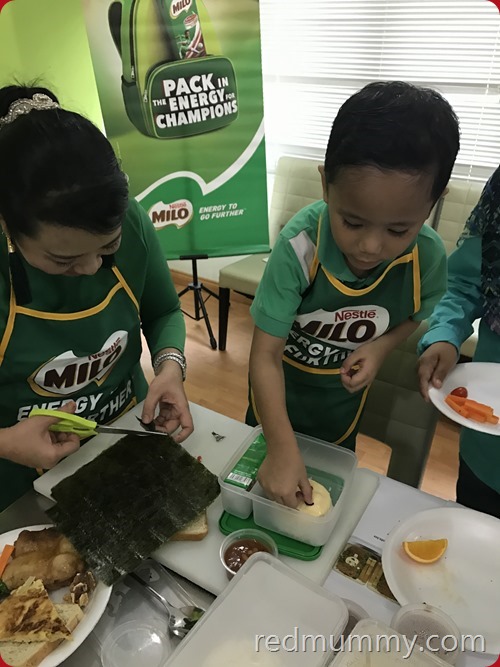 Kitorang plan nak buat ala-ala snow man hiks 🙂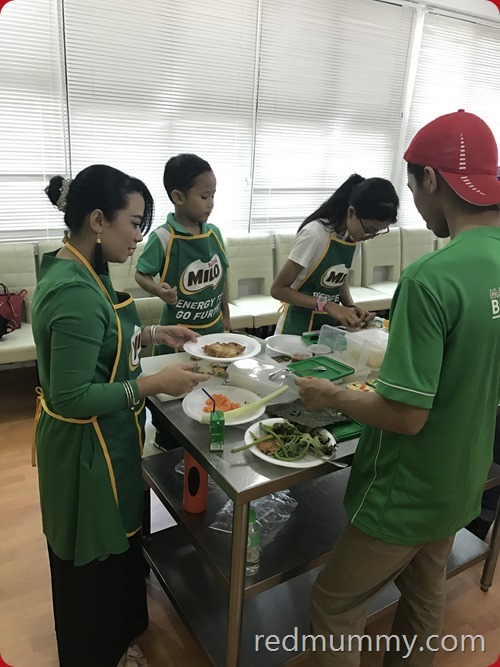 Abang pun sama sibuk menolong, it was actually quite fun buat benda ni, especially bila kita involvekan anak-anak sama. Diorang pun seronok nak buat sama!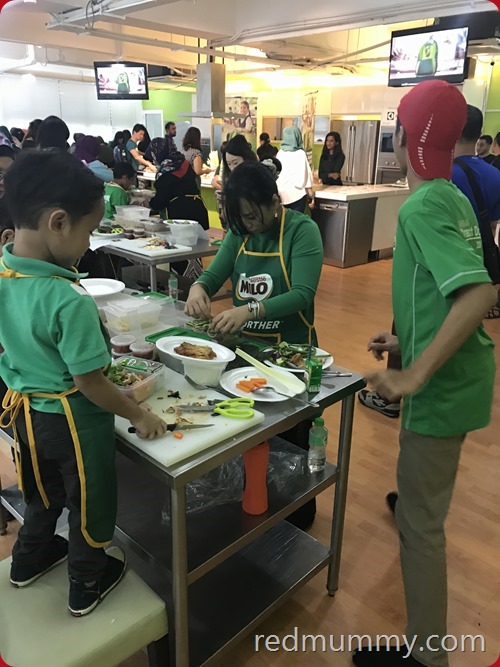 Rasa macam Master Chef pun ade gak hehehe, sebab terkejar-kejar nak buat bento.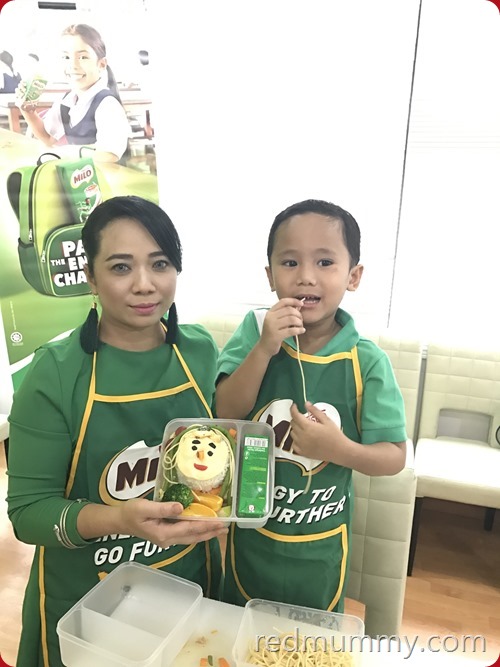 Dan akhirnya siap kita punya bento and together with a pack of MILO® UHT.
By the way, Activ-Go™ yang terdapat dalam pack of MILO® UHT adalah kombinasi unik PROTOMALT®, mineral serta vitamin seperti Vitamin B untuk anak-anak kita bersedia menghadapi pelbagai cabaran setiap hari. Selain itu, ia turut mengandungi kalsium untuk mengekalkan gigi dan tulang yang kuat serta Vitamin C untuk meningkatkan lagi penyerapan zat besi dalam makanan.
Kita sebagai ibu memang selalu risaukan anak-anak samada diorang mengalami kehausan tenaga pada waktu tertentu di sekolah, ini secara tak langsung boleh menganggu konsentrasi diorang ketika di kelas atau ketika aktiviti ko-kurikulum.
Satu kajian iaitu MyBreakfast Study telah menemui bahawa kanak-kanak yang mengambil minuman malt adalah lebih aktif dalam aktiviti fizikal. Ia turut juga menunjukkan bahawa sebahagian besar pengguna yang mengamalkan pengambilan minuman malt didapati lebih cenderung untuk memenuhi Keperluan Nutrien yang Disarankan [Recommended Nutrient Intake (RNI).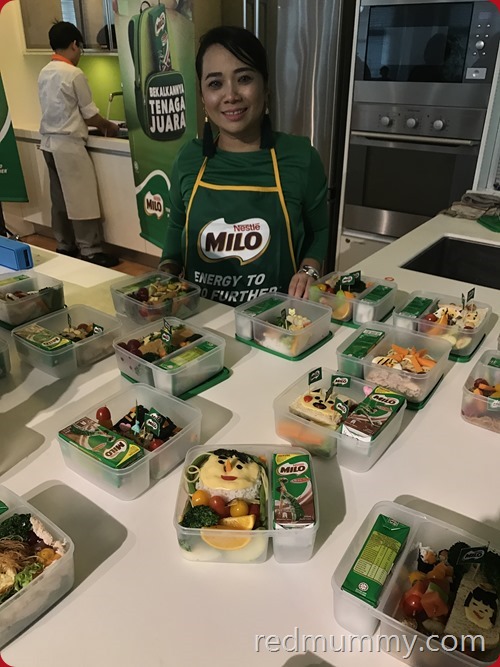 Antara bekal-bekal yang berjaya disiapkan oleh para peserta.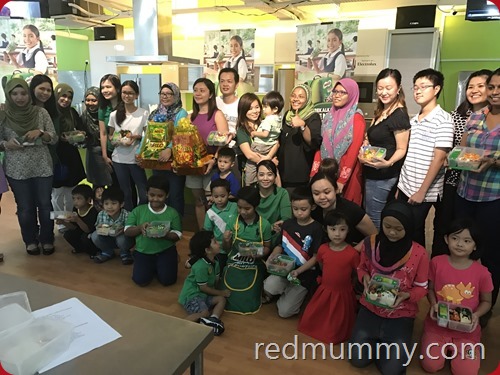 Mothers get together for a picture perfect moment after the MILO® UHT Bento Making Workshop conducted by Pn. Yan Diana, member of Kelab Bekal / Bento Malaysia and Nurul Iliani Ahmad, Senior Nutritionist of Nestlé (Malaysia) Berhad.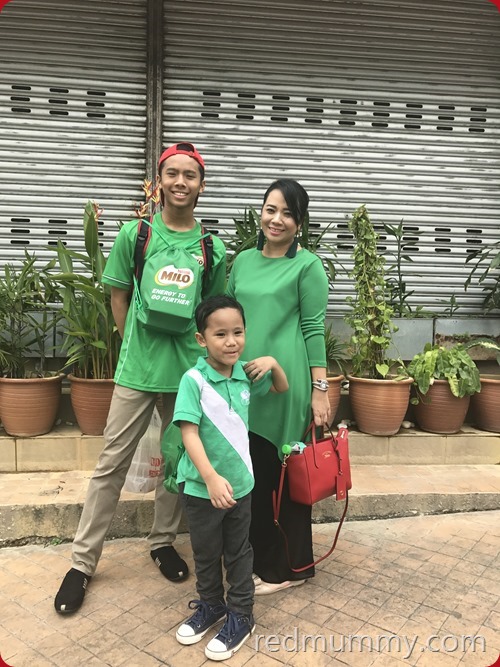 Sekarang Akak dah dapat idea macam mana nak buat bekal sekolah anak-anak lebih menarik dan paling utamanya lebih berkhasiat dan lebih bertenaga! Disamping itu pendidikan awal dan pengukuhan tabiat makan yang sihat membantu mereka membuat pilihan bijak apabila diorang berada di luar rumah tanpa pengawasan kita. Takdelah makan benda yang bukan-bukan!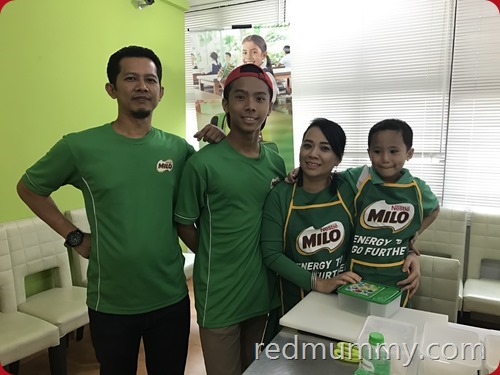 MILO® UHT adalah penyelesaian kepada kebimbangan kita sebagai seorang ibu untuk kesejahteraan anak-anak dan prestasi mereka bila di luar rumah kerana ianya menyediakan tenaga yang diperlukan untuk memaksimumkan potensi mereka apabila mula sesi persekolahan.
Dan kepentingan a pack of MILO® UHT untuk anak-anak kita kekal bertenaga dalam menjalani hari-hari persekolahan nanti. And personally for me, it's just easy and my kids love it 😉
Comment:
2