Feb 22 2017 Wednesday, 8:00 am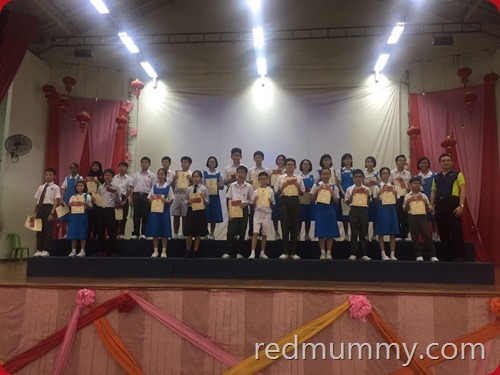 This was taken dalam midst January. Di sekolah Naam Kheung, kakak and abang's former school (now that they have left the school, I can peacefully mention ler nama sekolah).  Kakak di belakang, tudung hitam tuh.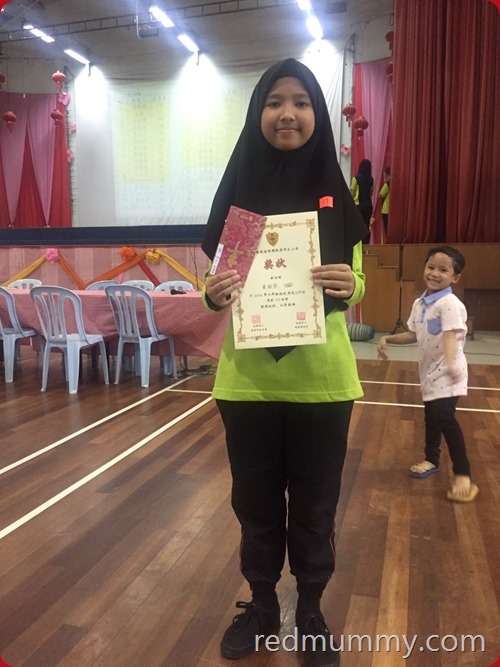 sibuk je ko dik! kakak was invited by the school untuk kecemerlangan dalam UPSR taun lepas. Alhamdulillah, beliau sesatunya anak Melayu di sekolah cina ni yang mendapat penganugerahan.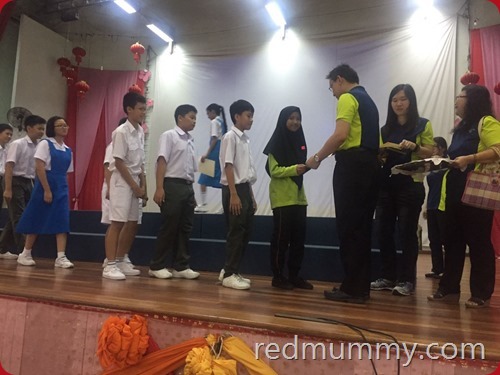 memasing datang dengan baju sekolah, kakak datang dengan baju koko sekolah barunya kot hehehe….
waktu ni, Kakak was actually dah bersekolah di somewhere Cheras untuk aliran agama for almost 3 weeks jugak. Tapi pada minggu ketiganya, kami dapat offer dari Jabatan untuk the same aliran but untuk sekolah yang lebih bagus (cluster control school).  This means, ini adalah seolah keempat. Earlier dah registered di 3 sekolah, 1 lagi sekolah pulak kami declined the offer (speaking of the skul yang kami declined nih, ianya tak menjmin kemuslimahan anakku, walaupun it s an international school with full scholarship, Kakak was offered coz she s the best Malay students from the chinese school so the international school wants her to in their skul).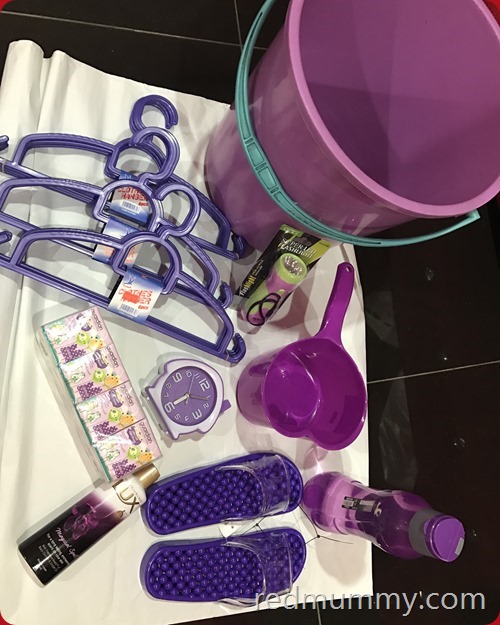 baru dia seronok di sekolah baru 3 minggu, dah kena tukar sekolah lagi. The new school, is the same aliran agama but wajib untuk stay at the hostel. jadi, berpergianlah  anak dara kami. Your mom is a red lover but I sanggup carik all stuff in purpel coz I m not a kiasu mother. Segala benda yang ada purple, aku carikkan untuk Kakak pakai / bawak at her new school. Kakak suka purple lor….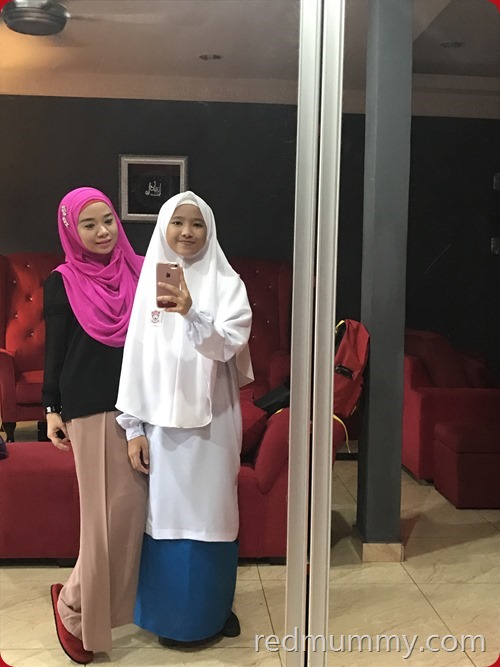 anak aliran agama, haruslah maknya bertudung litup ikut hantar ke sekolah hiks…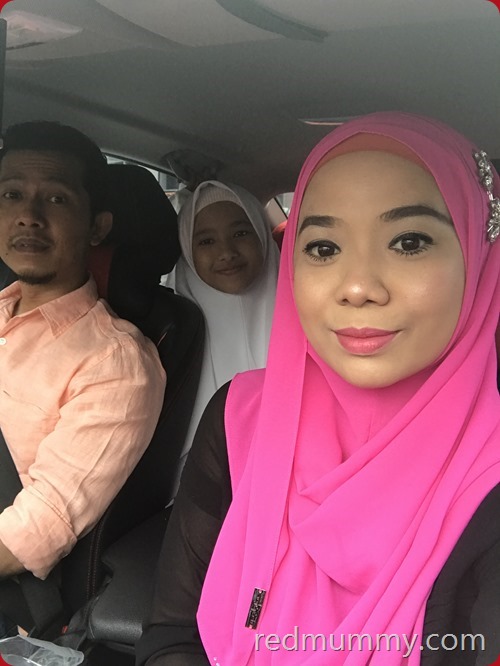 So dah sebulan lepas gak lah, kami laki bini hantar kakak register di sekolah barunya.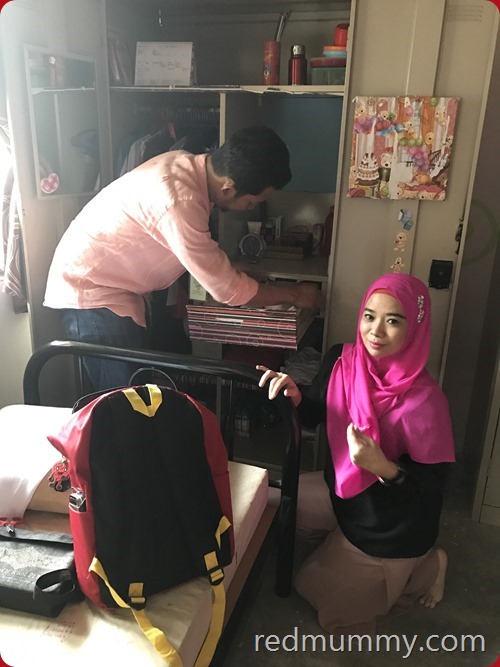 Mak pak ni jugaklah yang menyusun atur barang2 kakak di cabinet barunya. But ai think lepas 2,3 hari, kakak tukar gobok and katil coz ada sorang student dalam dormnya berpindah sekolah. Memang sehingga at least bulan June setiap tahun, students akan bertukar sekolah, banyak kali bergantung pada offer sekolah. Ni MRSM baru kuor first offer, belum lagi untuk sampai 3rd intake. selagi tulah pelajar akan terus bertukar sekolah. We did appealed for MRSM for Ulul Albab (our submission masa first round dulu ada masalah technical, thanks to the husband).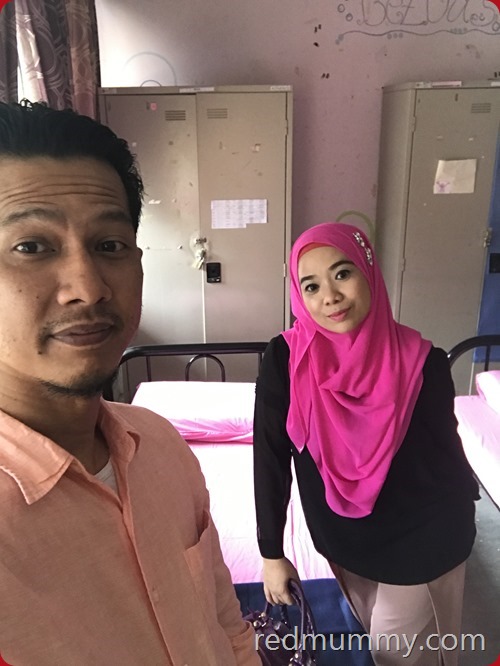 half of the day, kami uruskan sekolah kakak nih and tinggallah kakak di new school, hostel without her parents guardians. 🙁
Sedih le gak, but aku tried not to show my sadness depan dia coz i dont want our last moment separated tu dia nampak aku sedih coz kang terkenang2 dalam tidurnya….
dengan satu syarat, she has to call me every ay. till now walau dah lebih sebulan, she never miss calling me. Dah 2 kali balik rumah and hehari yang dia tak balik tu, kami pegi visit dia at the hostel Ada gak satu hari tu, aku selamba jer pergi takde appointment ngan dia, coz nak hantar barang dia urgently, sib baik ler waktu hantar tu dia ngah riadah and perasan kereta maknya.  Else, aku kena pi jumpa warden lah.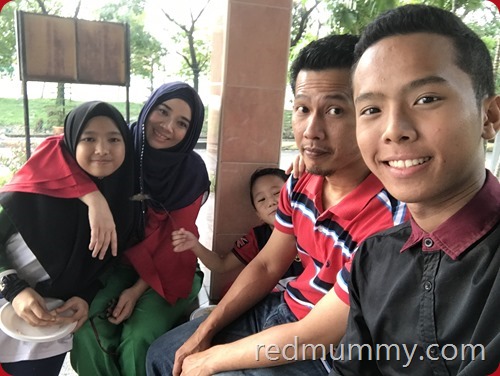 kerja aku skang memang kutip je duit coins kat rumah tu, antau kat dia. baru ni dah supplied pun cepat gak abis. So aritu aku tukar ngan kawan aku, he has like banyak giler coins, dapatlah dalam RM70 coins, campur ngan collection aku sendiri, 100 lebih gak lah. Sampai bila lah bertahan tuh, rasanya tak sampai sebulan gak kot hhahahaha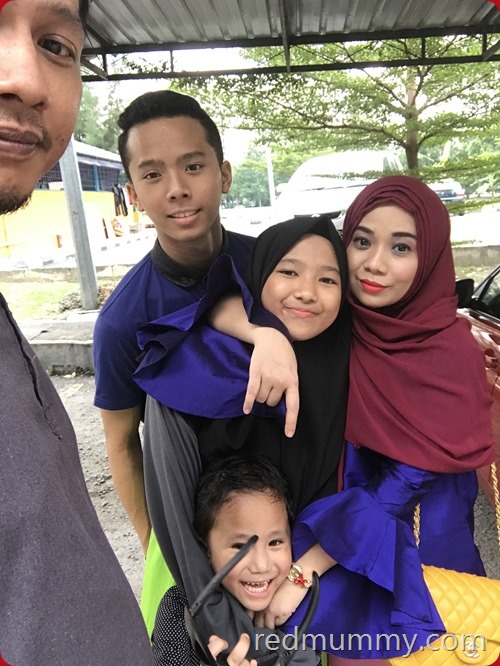 everybody was like asking me, adakah kakak memilih aliran agama coz by choice or dipaksa something like that. It s all from her heart. She wants this, and of cos alhamdulillah anak2 aku memang aku terapkan nilai Islam kuat sangat dalam diri depa. Sebab tu lah aku tak galad pun bila kita tolak offer dari private international school tu coz that school reratanya more to modernism sedangkan ai want my kids to get into Islamic line.   Abang was once kena tegur dengan cikgu sekolahnya coz enggan bersalaman dengan one of the female teachers waktu atas stage amik adiah something like that. Hem…
I have placed few pcs of my Aidijuma's tudung yang dapat melambak2 tu dalam kereta, just in case I need to go to her school anytime anydays. I know orang dok tak hehabis mengata, anak dah macam ni pun mak masih lagi tak nak bertudung litup. Thank you once again, doa jer lah memolek, tak yah condemn maknya sangat.
Though she s in aliran agama, tapi she is still taking extra class di sekolahnya ni untuk her Mandarin. Itupun aku tak habis lagi discuss ngan 2 teachers dia, coz the clashes of the subjetcs. Asalnya dah molek, cantik jer, boleh attend one session pastuh sekolah pi tukar pulak new timetable, haru biru hidup aku petang Ahad baru nih. Mana ngan tak sihat, mana ngan discuss dengan dedua teachers tuh.  Ini bukan keje si laki aku, he couldnt be bothered, aku je yang handle hal2 ni bagai. So kena ler antau appeal letter to the school to allow her untuk keluar at one 2 sessions so she can be in the mandarin class. Arabic ko ada, mandarin ko ada kakak, she wants that too, dia tak nak tinggalkan her knowledge in mandarin begitu jer, so sebab tu lah dia suh aku usaha gak untuk she gets into the class. yelah, mak kau cuba ler nih.
Heharap ada good news untuk abangnya gak, insyallah. Itu keje laki aku dok panjat jabatan tak sesudah.
Update: I did this entry about few days ago, but as of today, Kakak just got an offer to a boarding school, this week will be her final week in the current school. The new school pun masih fully aliran agama islam and much more nearer to us 🙂 . Alhamdulillah.  In less than 2 months, kakak dah bertukar 3 sekolah and with 5 offers. Mungkin ini sekolah terakhir, tak larat dah nak pindah randah, banyak kawan ko kakak….insyallah.  I ll share the names of the 4 schools selepas kakak dah masuk this new school.
Comment:
13