Mar 27 2017 Monday, 9:00 am
.
.
NINJAGO The Ride dan Batman Movie Days tarikan terbaru di LEGOLAND Malaysia!
Day 1: The Adventure – LEGOLAND Hotel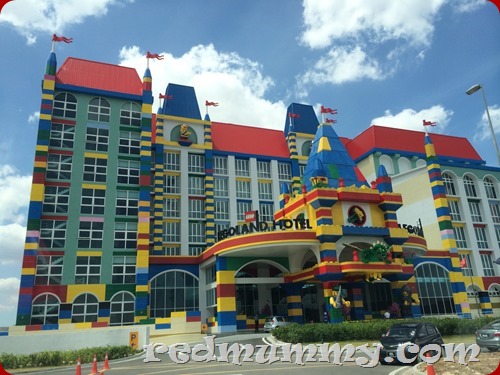 Menjerit suka betul Zeeshan bila nampak Legoland Hotel ni. Abang dan Kakak pun sama excited, even ni kali ke 3 kami sekeluarga datang ke sini. Umpama syurga dunia tempat ni untuk budak-budak sebaya diorang. Tersergam warna-warni penuh ceria Legoland Hotel ni.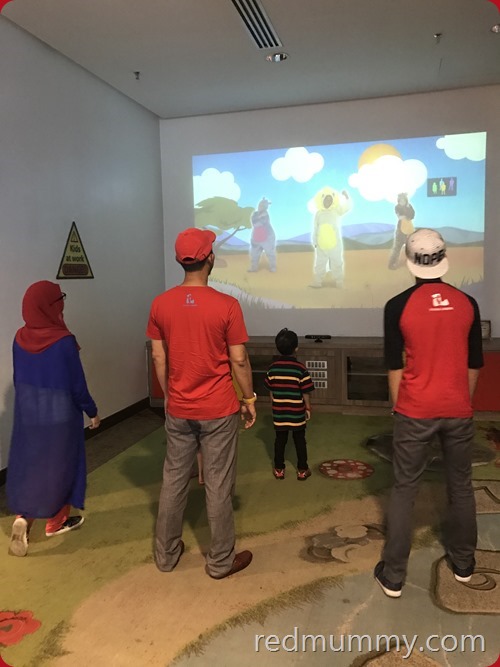 Selesai check-in semua, aku ingat depa semua nak terus naik bilik, rupa-rupanya tersangkut main XBOX games kat lobby hotel ni, layan jer lah depa ni.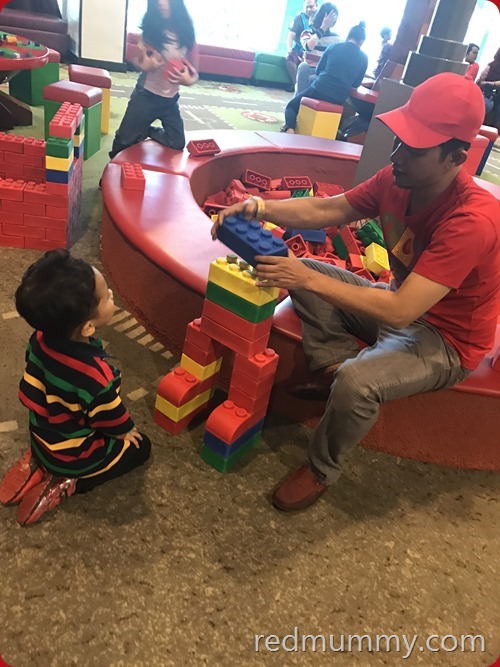 Habis main games, si kecik ni ajak pulak daddy dia main BIG Lego ni pulak. All these you can freely play at the lobby area. The regular Lego also available for them to play, unlimited, lagilah berlambak-lambak pieces dia, ha nak bina apa pun boleh 🙂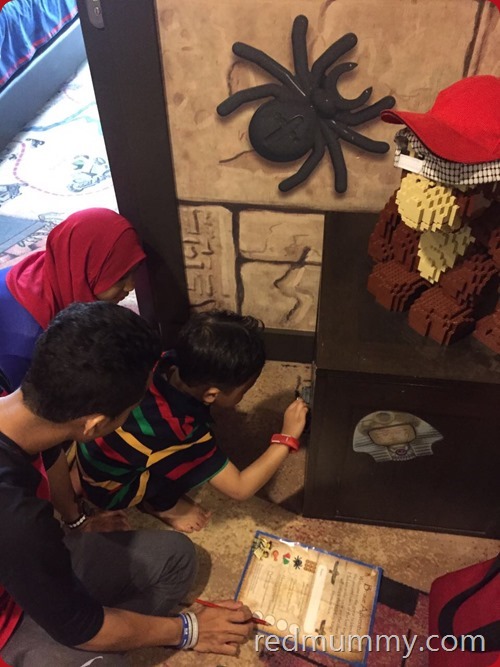 The excitement begins once masuk dalam bilik, our room is Adventure theme. Memang sangat menarik dan ceria internal decoration dia. The kids love it very much. Ada pulak Welcome Treasure hunt di mana diorang kena carik all the clues in order to open the "treasure box". Juga ada 1 set of Lego bricks to build with in each room.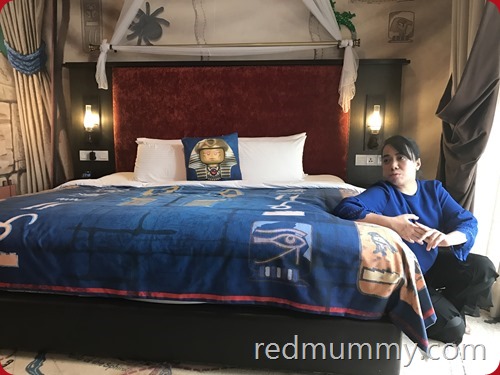 Ini pula their King Bed with view to both their theme parks.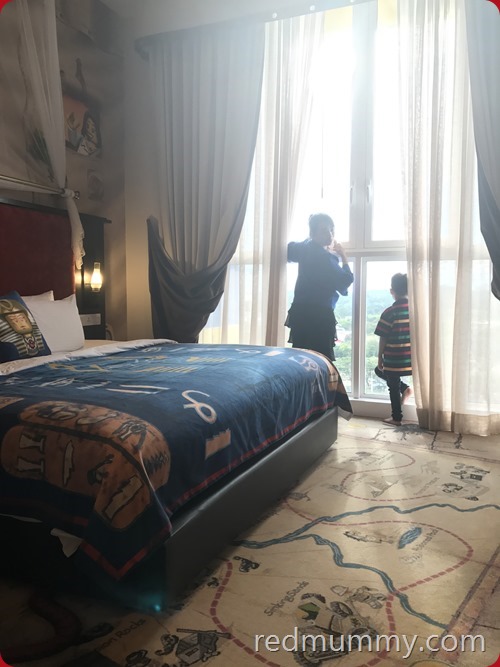 "Jom la mummy kita turun pegi main" Zeeshan dah tak sesabar ajak aku pi masuk theme parks tu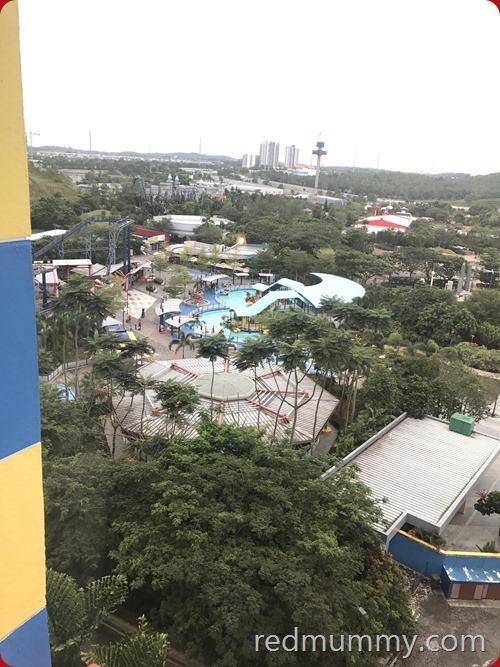 Here is the view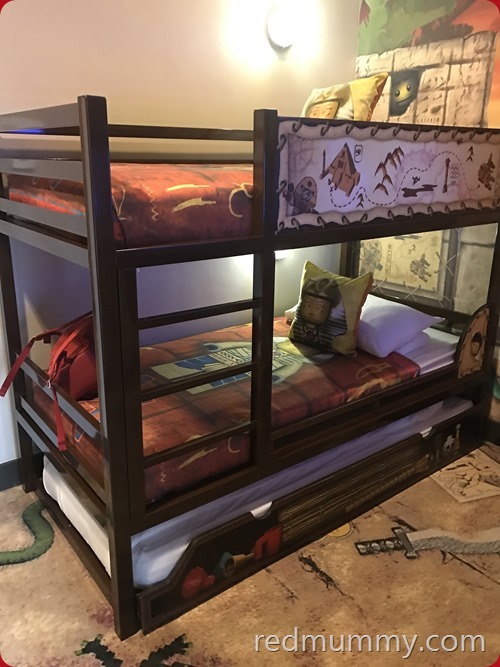 Ini pula their bunker beds, fit untuk 3 orang.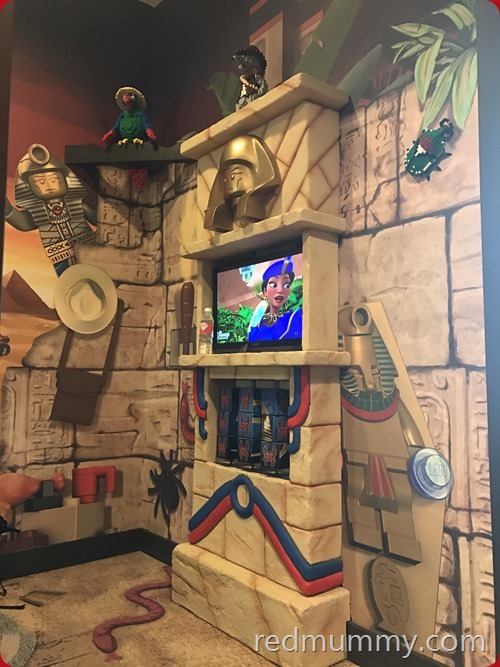 Siap ada their own entertainment unit.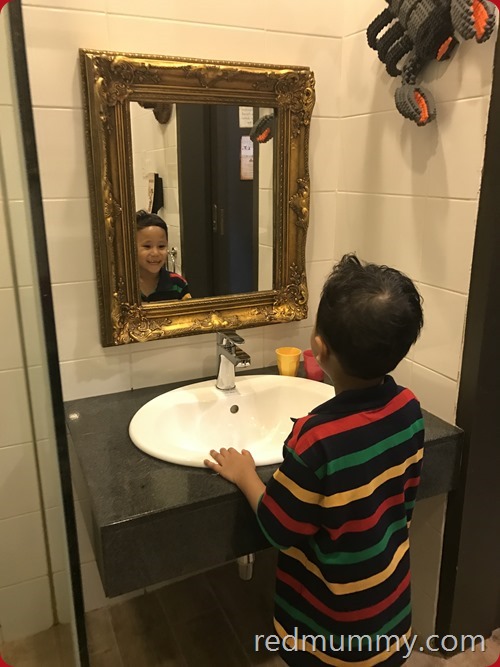 He got his own sink too 🙂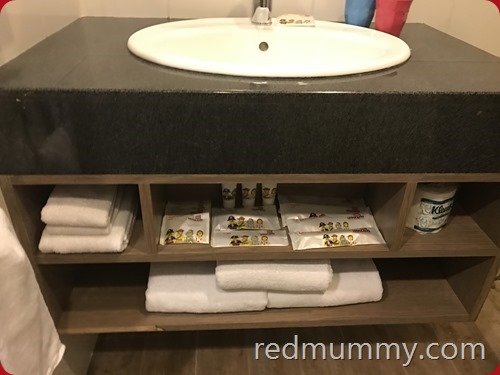 Of cos all the toiletries are Lego theme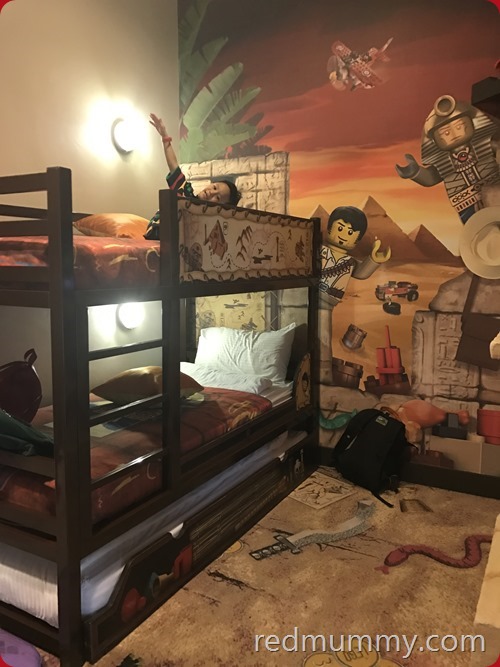 "Zeeshan nak tidor atas" Imagine selama ni kat rumah tido berkepit dengan Akak, sampai kat sini, dia siap chop nak tido atas sorand-sorang.
Personally Akak suka design macam ni, sebab dia separate kan parent and child beds 🙂 Ada la sket privacy time gitu hiks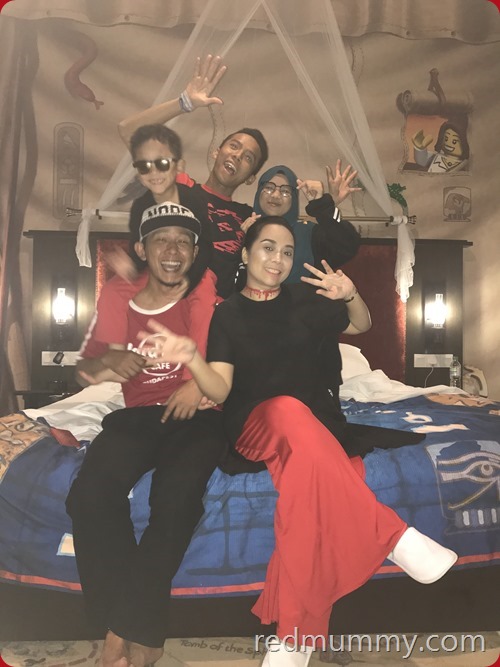 So malam tu the kids semua tido awal sebab tak sabar-sabar nak bangun esok pagi ke theme parks.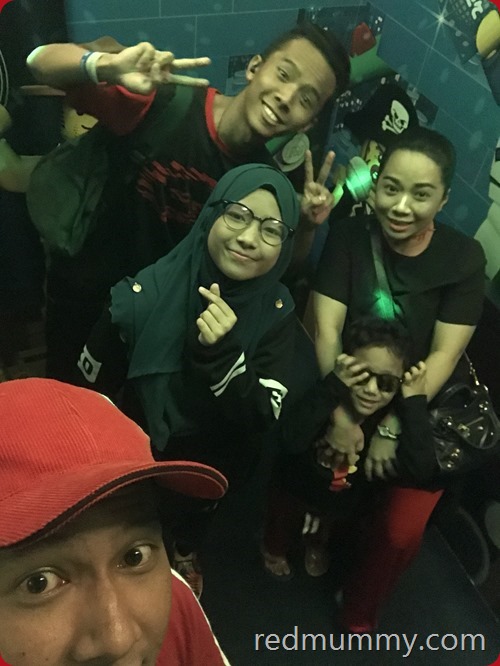 Ini dalam lif, yang bestnya siap ada lagu-lagu berjoget-joget la kitaorang.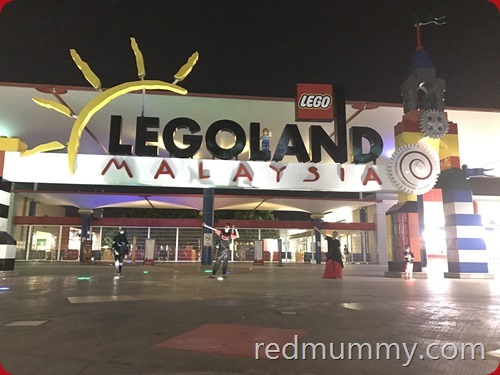 Tapi malam untuk mengubat Zeeshan kitorang turun la jugak pergi ke pintu gerbang LEGOLAND ni.
Day 2: The Fun In The Sun – LEGOLAND Theme Park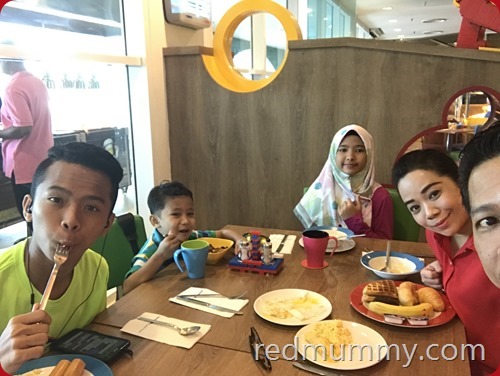 Awal pagi budak-budak ni dah bangun siap mandi semua kejut mak bapak diorang yang tengah sedap lena beradu atas tilam empuk. Terus siap turun breakfast dulu.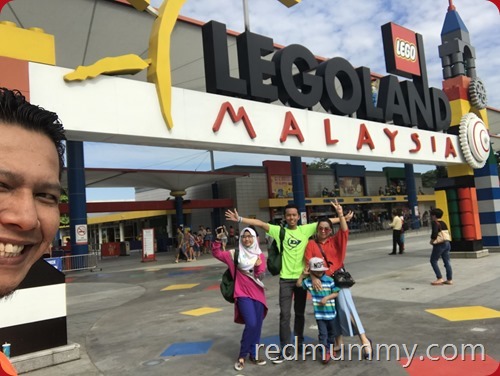 And here we are infront of LEGOLAND Malaysia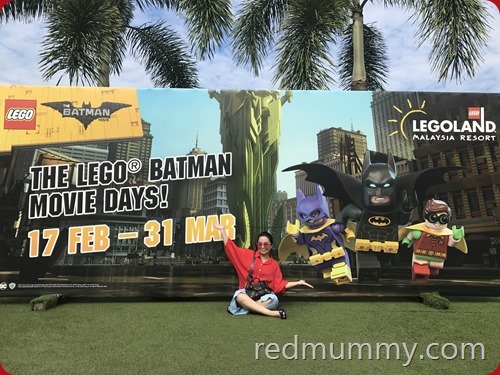 Ha inilah dia salah satu tarikan terbaru di LEGOLAND Malaysia – The Lego Batman Movie Days! Tapi sampai cukup bulan March ni jer, so better hurry up.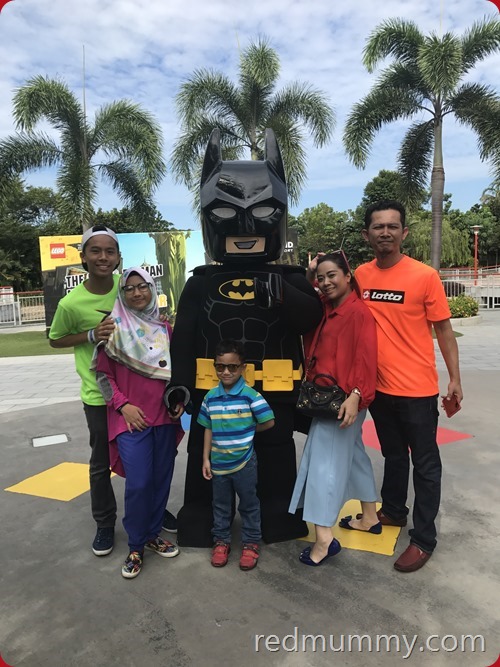 Sempat la kitorang jumpa Batman ni 🙂 Ada jugak Joker, and few other characters.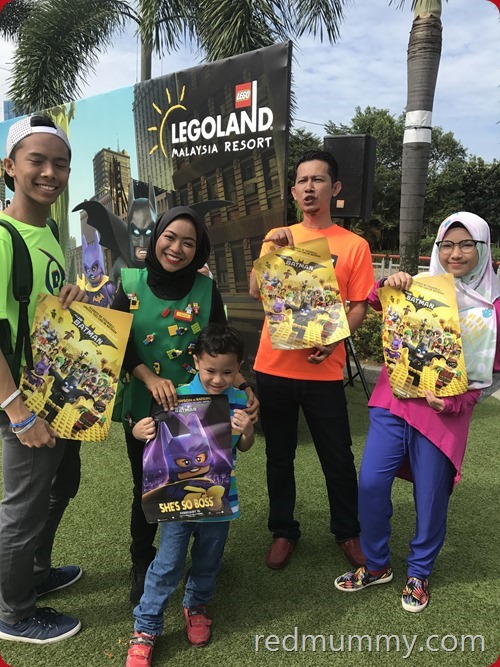 We managed to spot the Joker and got some goodies yey!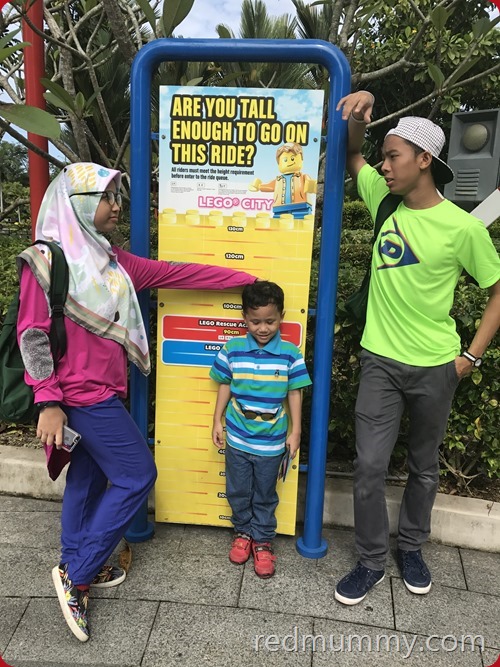 Actually kesian Zeeshan, banyak juga games or rides yang dia tak dapat naik sebab belum cukup tinggi, tapi bagus jugak sebab lepas tu dia semangat nak makan banyak all the veges sebab nak cepat tinggi supaya leh main all the rides hehehe. But still a lot he can play with or rides.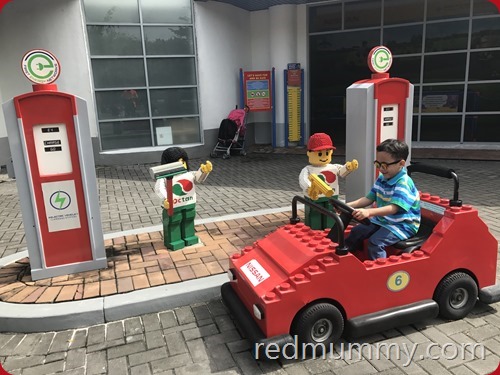 This ride, 3-4 kali kot dia belasah naik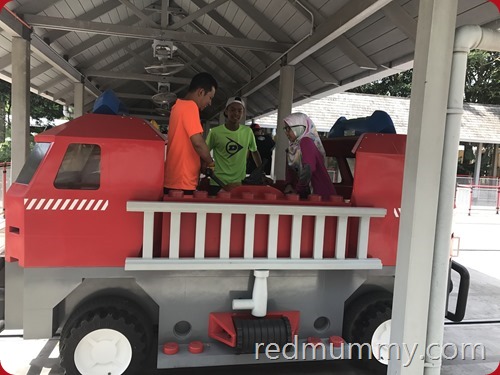 Ni pun best gak, berlumba-lumba nak padamkan api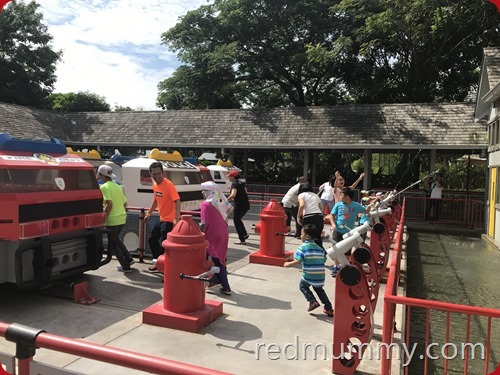 And yes we won! Tapi keletihan RD dan abang sebab kena kayuh laju-laju hahahha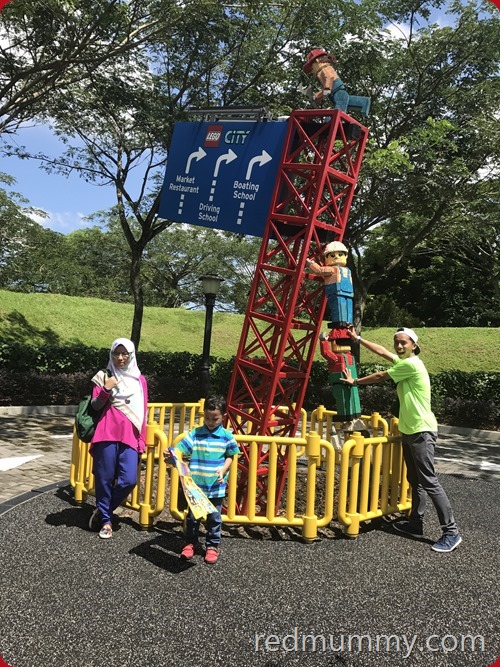 Zeeshan tu tengah baca the theme park map, nak check nak main apa lagi.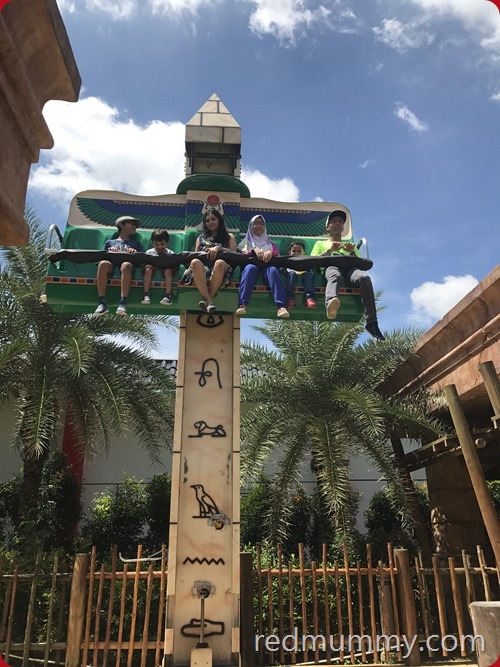 Antara ride yang diorang naik bertiga. Sebab Abang dan Kakak laju jer diorang pi melenjan naik sendiri berdua jer. Sian Zeeshan tinggal, so dia naik ngan RD or me la kenkadang.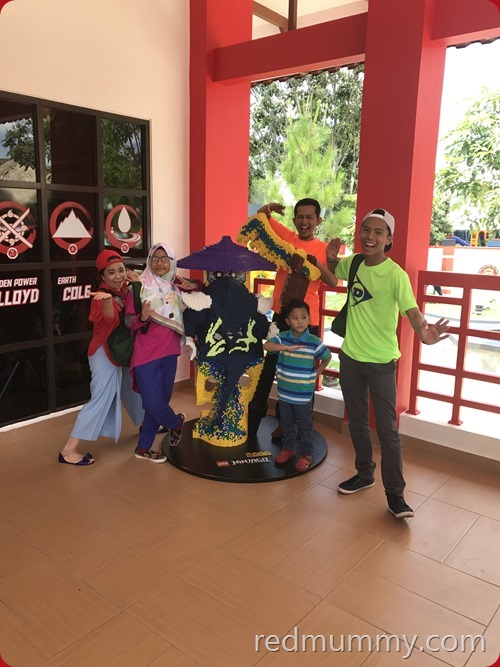 Dan inilah dia the NEW NINJAGO The Ride!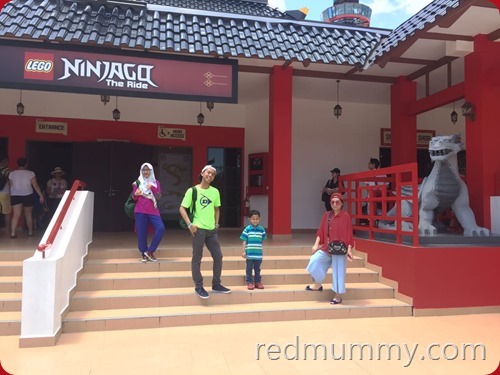 So kat sini kitorang jadik ninja kena lawan ngan all the creatures dragon snake bagai, syok wei. Ha ni semua kitorag berlima naik sekali.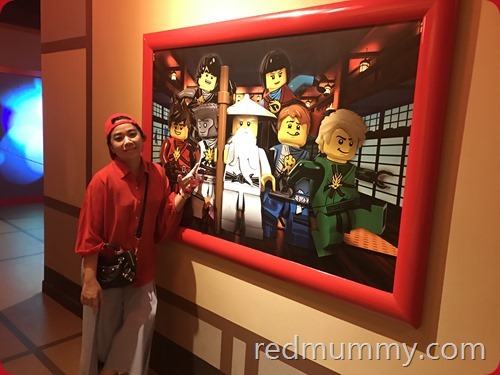 These are the NINJAGO characters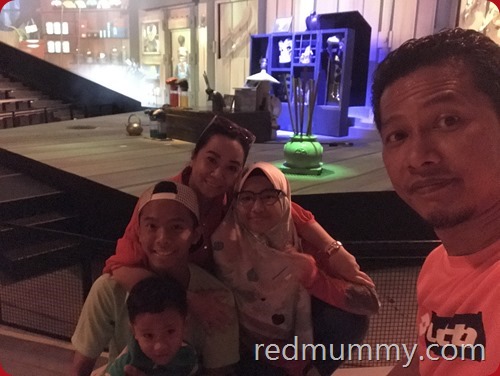 Jangan lupa to check out their movie too, well actually a live theate. Amazingly done and entertaining, Zeeshan sampai kecut perut takut hehehehe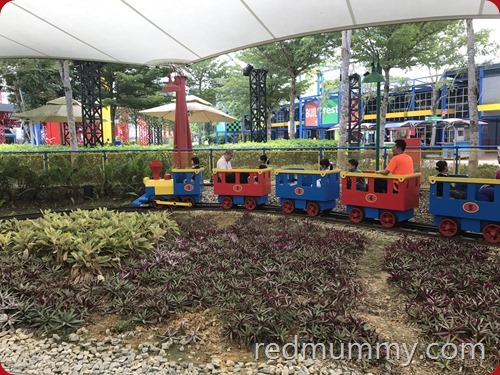 Pantang la dia nampak train kan, ha RD kena naik sama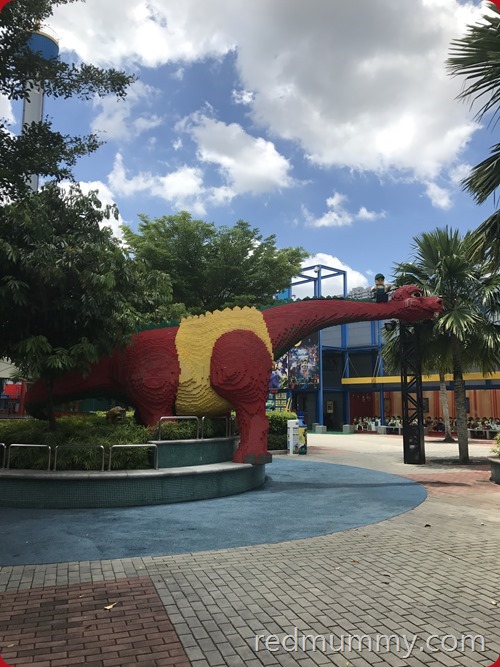 Ada Lego dinosaur pla tu, memang favorite dia la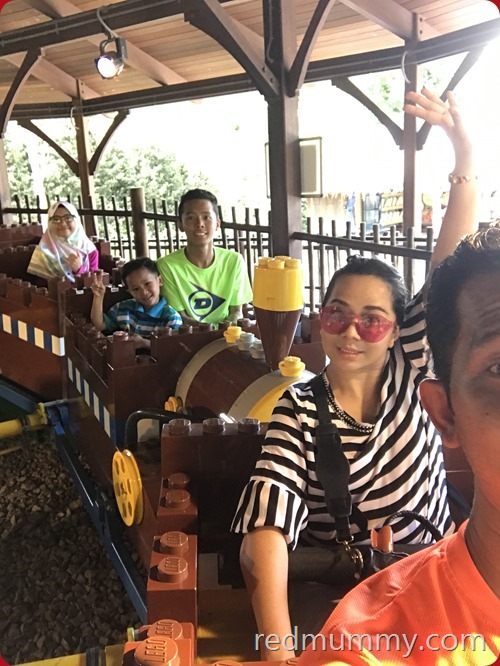 Yang ni kitorang lenjan sekali berlima.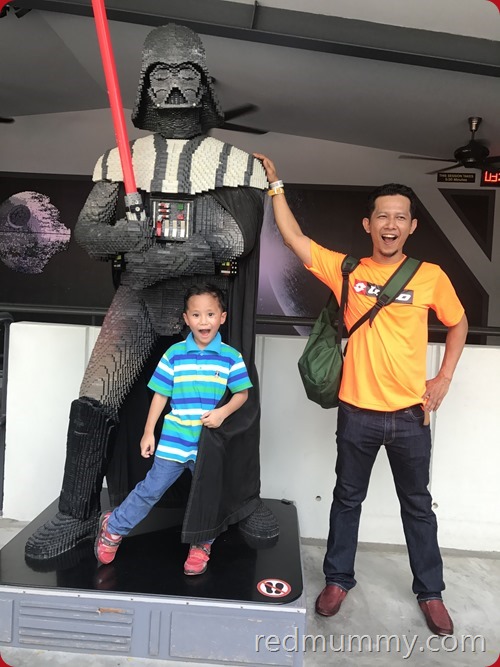 Darth Vader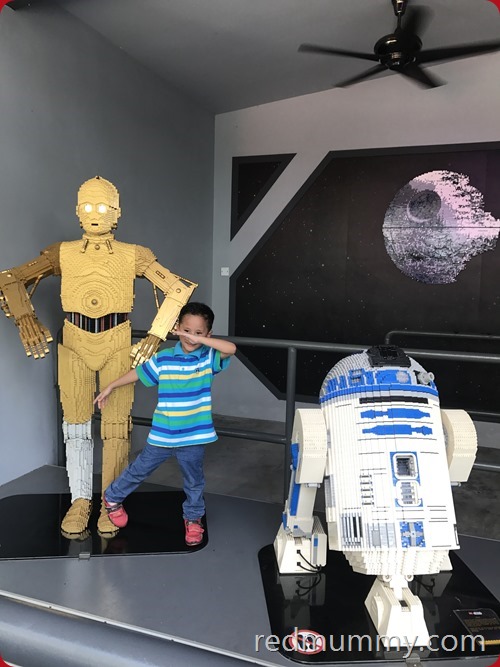 C3PO and R2D2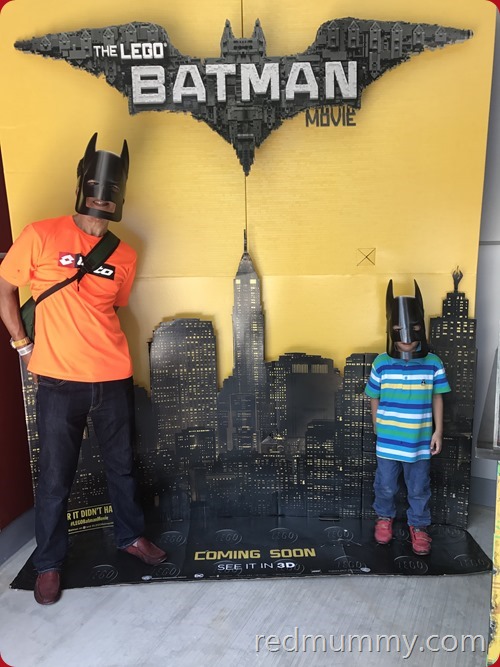 Ha sampai pun kat tempat Batman The Movie Days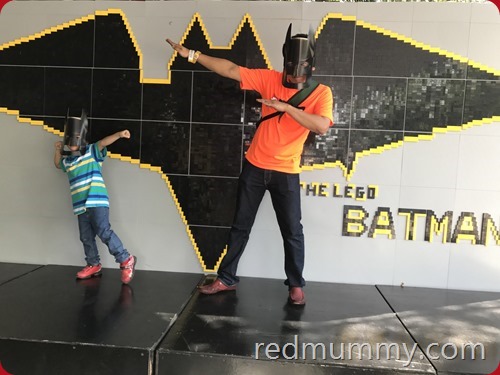 I'm Batman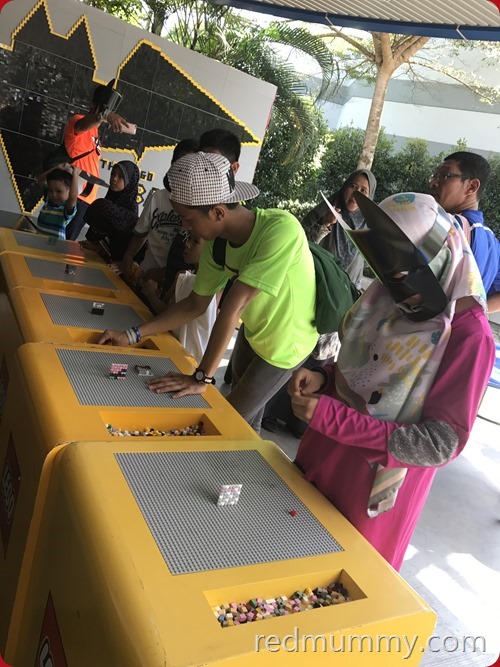 Kat sini ada memacam aktiviti bertemakan Batman of cos. Tu Abang dan Kakak tengah siapkan some pieces untuk lekatkan kat Lego Batman.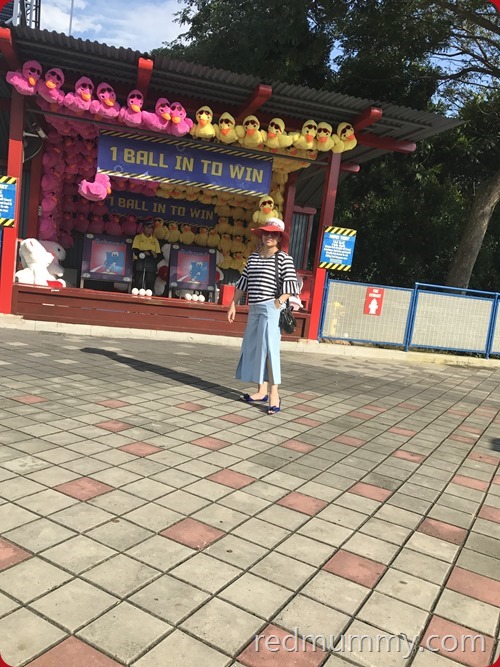 Akak ko ni kan sempat balik bilik hotel mandi tukar baju bagai hiks, untung dok dekat Legoland Hotel.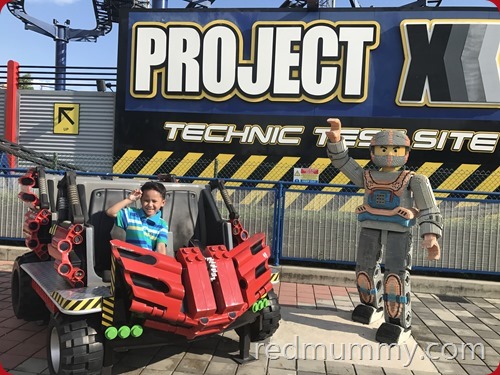 Ha ride yang ni dia tak dapat naik, so jadi la bergambar depan ni jer. So pasni kena makan vege banyak-banyak supaya cepat tinggi. Nak tinggi macam daddy katanya.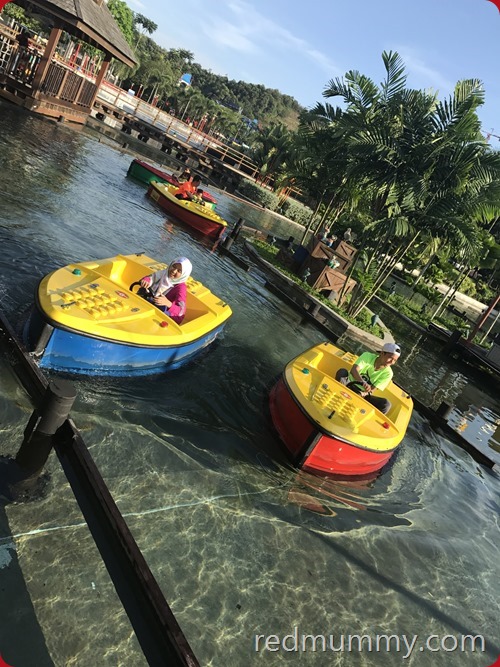 Last but not least, naik boat. RD cakap Zeeshan yang nak drive, ha ntah ke mana pusingnya, nasib baik tak patah balik hahahha In between we break for lunch, we had burgers and fries, solat dan Akakmu sempat balik mandi hahahha. The crowd quite moderate so the queue for the rides tak la panjang menjela, just nice. All in all we had so much fun and memang awesome la LEGOLAND.
Day 3: The Wet Day – LEGOLAND Water Park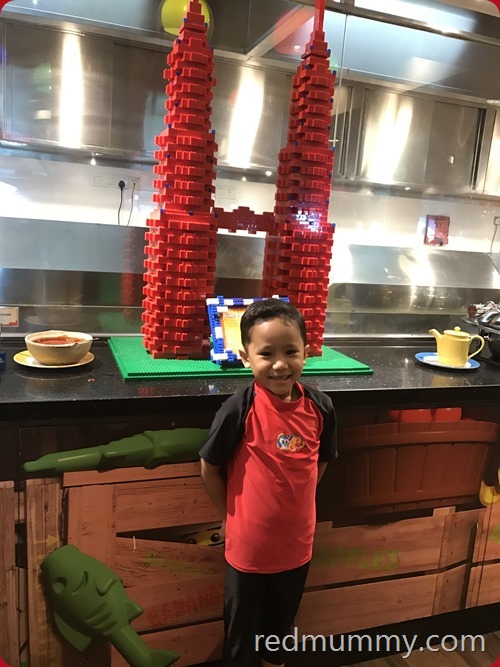 Sama macam semalam, walaupun keletihan la gak sebab seharian semalam menlenjan kat theme park, tapi pagi-pagi lagi the kids dah siap sedia bangun nak turun breakfast. Akak tak yah nak jejerit suh siap pun hiks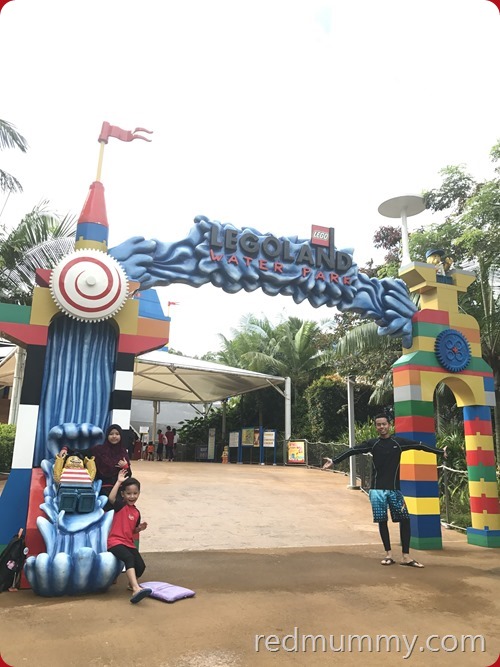 We had a combo tickets, so today is wet wet wet.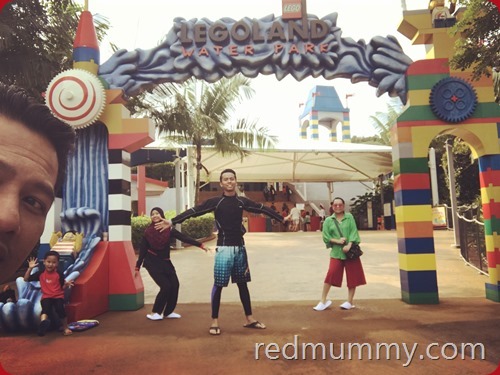 Tapi Akak memang tak bape sangat mandi-manda ni, so cam biasa Akak jadik tukang jaga beg 😀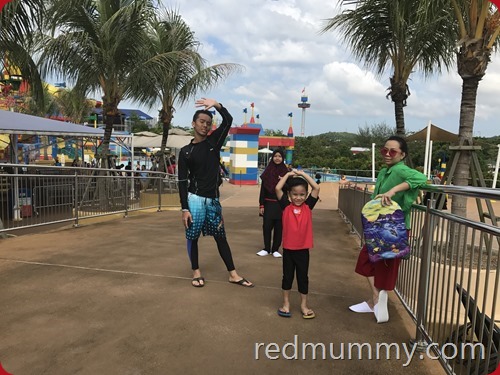 Dari bilik hotel terus pakai swimming gears jer. Cuaca pun baik terang benderang, panas pun ya gak. Memang sedap la berrendam budak-budak ni.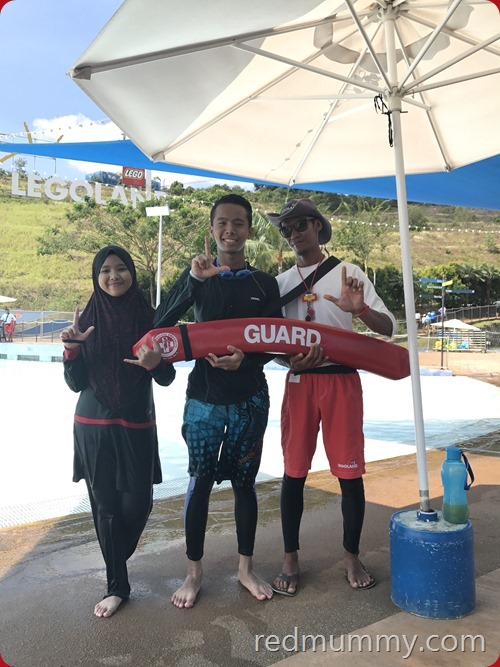 Sporting Life Guard sini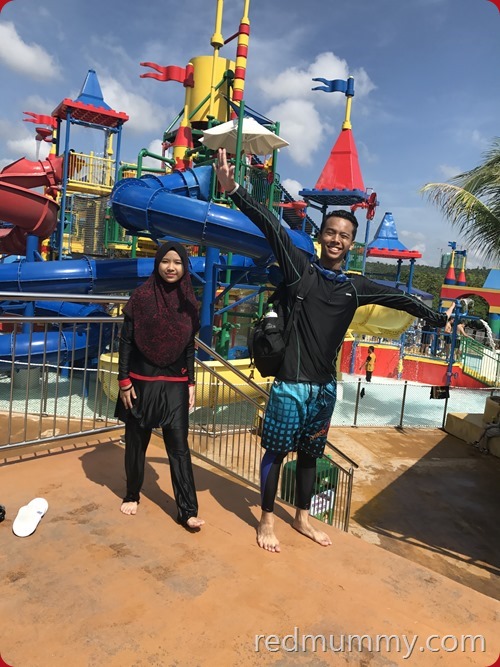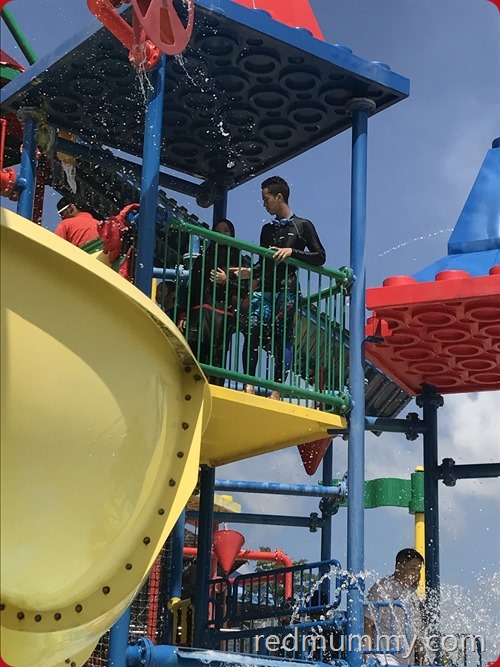 Abang dan Kakak tak tunggu lama, terus laju explore all the slides.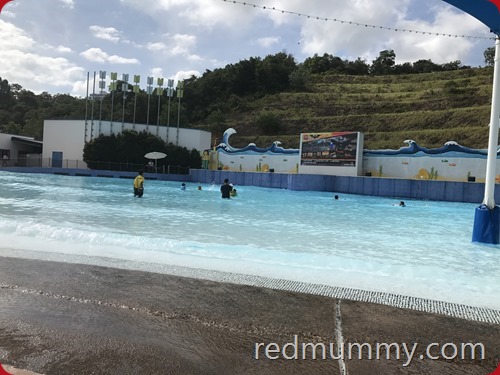 RD dok ngekor Zeeshan kulu kilir, kejap main ombak, kejap main slide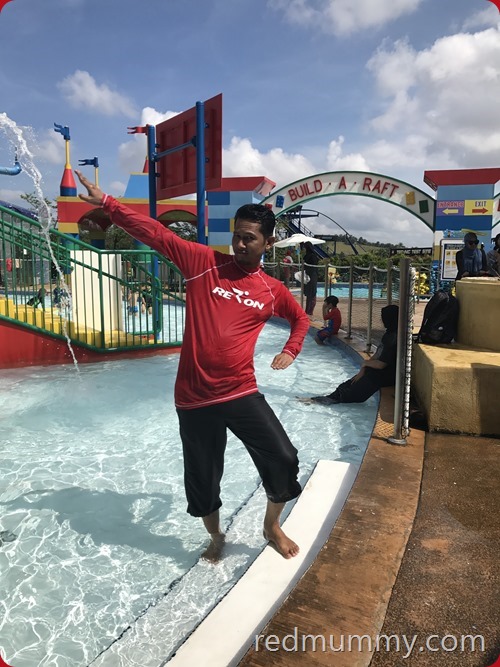 Ha terikut-ikut la style bebudak tu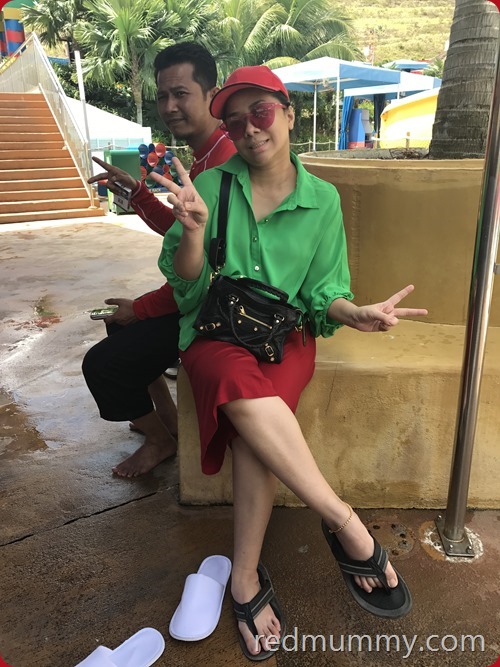 Akak dok lepak tepi jer. Ai kan memang tak biasala bebasah ni 🙂
Let them enjoy the fun. Gambar pun tak banyak, sebab tempat basah-basah kang ade yang tercelup handphone dalam air pulak. Zeeshan pulak sampaikan tak nak balik la! Kena trick dia ajak makan kat hotel, baru la dia ikut naik balik. He actually cried bila kita nak tinggalkan Legoland ni. Even dah sampai rumah nangis lagi, "Nak Legoland!" Penangan Legoland!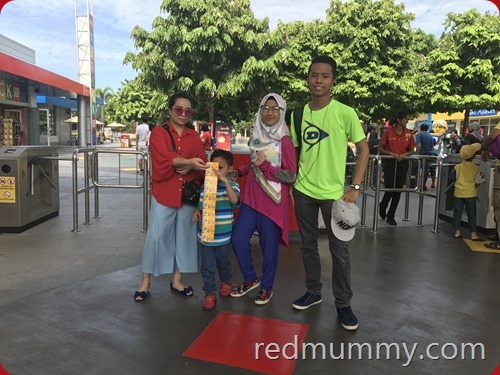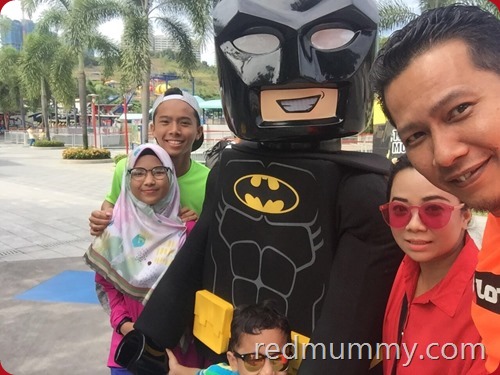 All in all we really had awesome time here in LEGOLAND Malaysia. The kids lagi la dah tanya bila nak datang lagi! Even dah 3 kali, still the excitement, the fun, sama macam 1st time. Memang syok dan teruja, happy budak-budak. Of cos both me and RD happy bila tengok anak-anak enjoy their staying here. Thanks LEGOLAND Malaysia for having us here, till we meet again!
Everything is awesome…
Comment:
3