May 2 2017 Tuesday, 8:00 am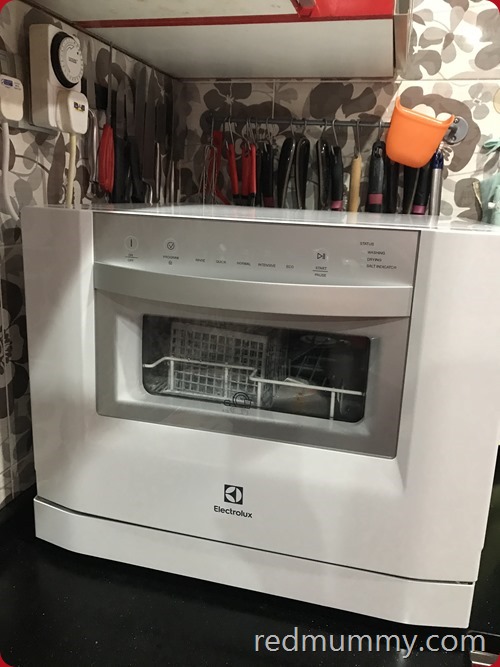 Electrolux Dishwasher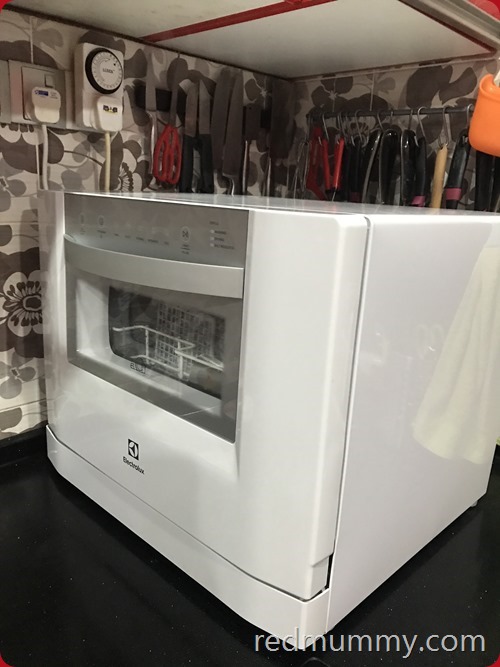 This is the latest baby of the house. Product yang impromptu punya belianlah kiranya. Aku actually nak beli dryer dulu, but laki aku dok cucuk suh beli dishwasher first. Coz ni lagi macam diperlukan sangat. Well kat rumah tuh yang keje basuh plates bukanlah aku, goes to Abang. So aku memang nak memudahkan kerja dia sangat. Tak payah dah basuh2 pakai tangan kecuali periuk besar ke kuali sekawah bagai tu can lah.
So masa hari dedating ngan laki aku kat KLCC, aku nak beli terus but stock will come after a month. Haigh. Yang display dia nak jual dengan harga yang sama, which is not rightlah, Koman2 kena la ada depreciation sikit. dah dia tak nak bagi good price, aku pun balik rumah malam tu terus beli online. Lagi murah dari yang kat kedai ko tuh.
After 2-3 days pun sampai, but take about 4 hari kot baru dpt pasang coz aku macam biasa le tak caya kat laki aku kalau dia pasang. So better get the contractor to do. Makanya, ni siap lah dipasang oleh contractor. But coz we have space issue,  kat sini je lah yang boleh diletakkan.
Should have taken yang besau gajah but kang space issue lagi, some more aku ada chest freezer. Pastu long term plan kang kalau fridge rosak, if nak beli baru mesti nak amik yang 40 pintu (huh tak agak2), jadi lagi nak jaga space yang ada. So we settle with this je lah. Pun syukur sangat.
Aku tak basuh pinggan, so bukanlah aku yang pemalas hahahahah tapi aku menyenangkan kerja anak aku, si abang tuh. Or for kakak bila dia balik rumah from the hostel.  That s ok, i told kids already, ever since takde maid, ada je gadget yang make your life easier, mami will buy one. Insyallah.
Skang nih yang pending is the dryer, tu pasal the space issue. Masih lagi ngah pikir camne, kena panggil ahseng gak nih. Masa buat rumah tu, tak pikir nak ada dryer bagailah. ada le pikir but aku ingat nak tunggu w/machine ni jahanam dulu bagai baru lah beli dryer kan, so masih lagi timbang kati. Ada w/machine yang dah siap ada dryer one at a time, so maybe kita amik tu. Ke camne tengoklah. aku ni kalau tak dpt offline, aku beli online jerr. Lagi laju. hahahaha….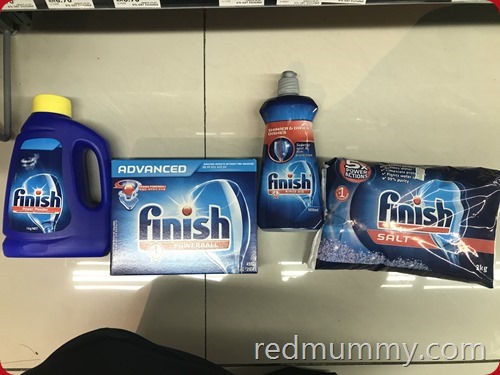 bila pakai dishwasher  ni pulak, satu hal mencarik the maknek sabun dia. Bukan senang nak dapat hoi. Lam KLCC takdak, Tesco tarak, markets rumah aku pun yang melambak tu pun sama takdak. Bila google, semua marketsnya kat tempat2 rumah orang kaya sana. Jauh le lahai. But a fren of mine bagitau maybe ada kat Village Grocer Avenue K. So aku called, and supervisor tu very helpful to wassap aku gambar the brand yang aku nak nih. Finish brand is the famous one yang orang pakai for dishwasher lam Malaysia nih, jadi aku pun quickly ler pergi beli, hari tu gak. Since ada 4, pikir nak amik apa…so salt wajib. Powerball lagilah wajib, seterusnya is the liquid tu. Ini all arahan dari laki aku lerr…dia yang suh beli tu beli nih. My frens pun ramai yang suggest ni gak.
Cos dah tak pakai lagi tangan for basuh dishes, pakai le lagi tapi pakai untuk basuh yang bebesau je seperti kuali kawah segala kan. Jadi the stand dryer yang ada 2 sets tu, satu hok tinggi tuh aku dah simpan terus kat attic. Tak payahlah pakai bebanyak, pakai satu ni je sudah. To give space.
Anyway sejak dah ada dishwasher  nih, basuh sekali waktu malam jer. Kumpul bebanyak siang buta hari nya pinggan cawan bagai, dah nak tidur malam baru machinekanlah. Sok kuorkan jer dari dishwasher nih. Senang hati…sinki aku pun berkilat2 pasnih hiks….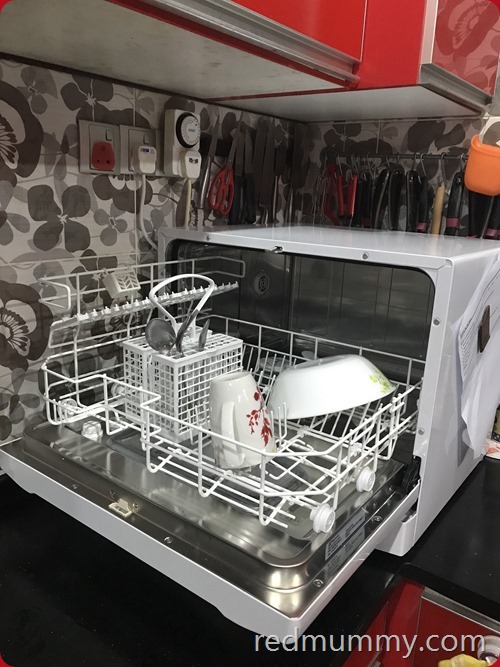 Jadinya begitulah, satu lagi supermak's stuff dalam bucket list leh checked. Specially for abang, my son situkang basuh pinggan di rumah, to ease his life.
Oh speaking of this gak, if let say le aku berubah lagi pikiran sok sok nak pi beli dryer kan, apa yang molek? The brand lah, tak kisah ler just dryer or the washing + dryer.
Thanks for your tips.
Update: Chop chop, takyah bagi idea dah on the dryer….aku dah beli kau hahaha….(entry ni was done before akak beli, but now bought ordy). Later2 I show show riak takbur lah…
Comment:
9