Apr 27 2017 Thursday, 8:00 am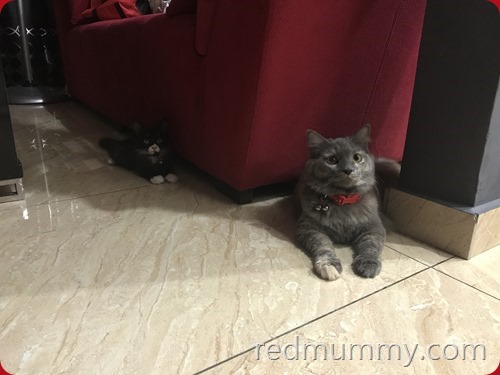 let s do some sembang2 a bit bout my cats.  anak2 aku gak nih.
few weeks ago, Kathy tak balik rumah 2,3 minggu, pastuh dia balik sekali jer….tupun sekejap, for makan. Kemudian till now, dia dah tak balik2 tak nampak bayang at all. Aku pun dah stopped beli cat foods for porch, coz dah takde stray cats yang nak dibagi makan. Bila dah takde Kathy, tak taulah kalau dia balik ke tak bilanya, barulah  nanti kita bagi the blackwoods ke camna. Coz stray cats lain pun, bila tengok dah takde food depa pun dah tak datang our porch. no more.
So hanya ada 2 cats je lah yang aku bela totally skang nih, yang dedua pun diva dalam rumah, tak boleh keluar at all. Kadang2 ada gak depa terlepas sampai ke porch tapi dah huruhara kena masuk rumah semula.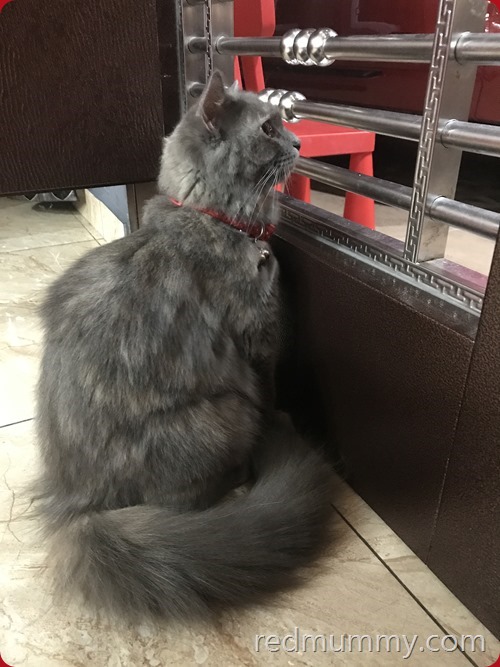 so makcik nih, dekat sebulan aritu dia dok rumah bf dia, masih gak tak mengongkeknya. Dok kenal2 tak sesudah. So aku amik dia balik. Belum 2,3 hari balik, dia start bunyik nak matting. Stress betul. Lagi teruk bunyiknya dari first round punya matting. Jadi dah tak tahan, hantar dia semula ke rumah bf dia, siap tukar bf lagik, kira 2 bfs tried to kekawin ngan dia, failed to do so. Tak tau ler apa yang dia gataikan sangat. dok mekak nak jantan pastu termalu2 pulak tak nak. I think tak sampai 2 minggu kot kali ni, or max 3 aku pun dah lost count, aku amik dia balik. Rindu wor kat dia. lagipun sian LV, no fren at home.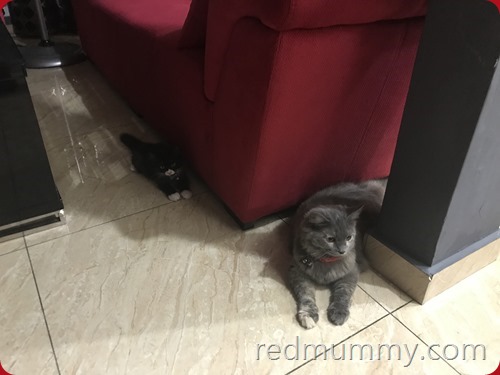 first day Chanel balik rumah, langsung dia tak nak fren ngan LV, padahal sebelum dia gi matting tuh, dia dah kekenal gak ngan LV. Itu LV macam scene, ai nak fren you, why lah you marah2 ai,camtu lah. Tu pasal LV macam dok jauh je dari mak singa nih…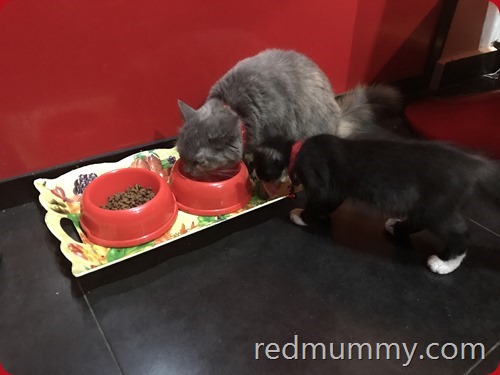 hok makan pun, LV dok sama menebeng ngekor Chanel. Wpun dia dah kenyang pun dia nak being kepohcik lah. But Chanel berlagak 2,3 hari jer, pastuh skang dah fren2 sangat ler ngan LV. Tapi gaya fren dia macam, muka masam but terpaksa melayan. Sort of.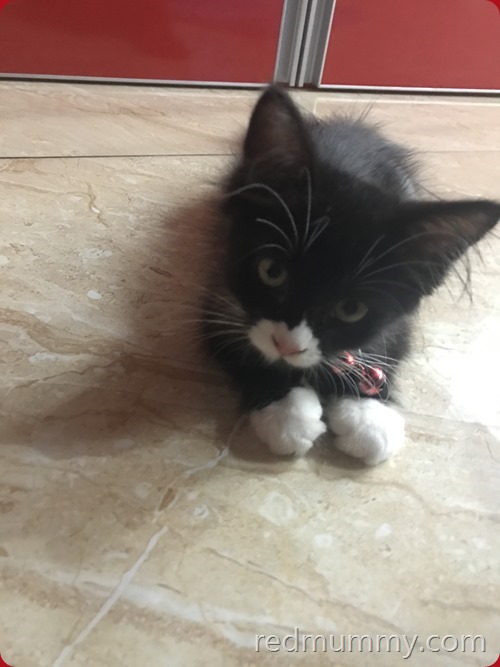 budak ni sekali tengok muka macam tak jelita pun but kemanjaannya sangatlahhhhhhhhhhhhhhhh make me happy betul. I love her so much. Seriously, she s so manja super duper!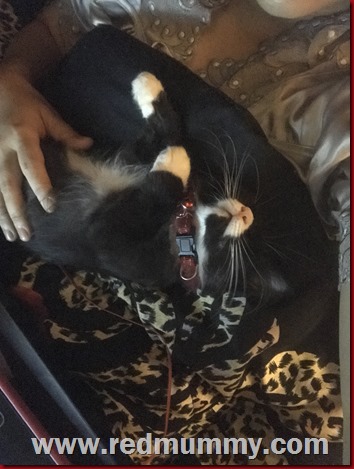 manja yang begini. she tidur with me. Tidur atas badan aku. Setiap malam, never miss. Wpun sejak Chanel balik, sian Chanel dah tak tidur sama ngan kami dah, mbe dia tau dia dah besar dah gemuk dah tak muat katil kot coz ada si LV lagik. Ada ler sekali one time dia tidur kat port dia tidur between aku ngan laki aku but pastuh bila LV naik katil sama, dia pun turun blah. Cik ati kot hahahaa….
so now is LV's turn lah. tapi dia punya manja hish…mmg just nak atas badan aku jer. Pastuh bila laki aku balik kerja, dia kena moved lah (laki aku yang ngalihkan dia). but tak jauh pun kang dia datang balik, atas pala aku, ada ler keliling aku laki bini si LV nih. For Chanel, she lagi sayang laki aku kot. kaki laki aku tu sentiasa dia carik, dia suka kaki laki aku belai2 badan dia. Kena kaki tau, bukan tangan. Itu memang dari dulu pun, dia nak ngan laki aku sejak dia kekecik. Sebabkan tu lah kesnya aku beli LV, coz dia tak berkenan ngan aku.
Now that i have LV, so balancelah. Vacci depa semua pun on track. Btw selagi Chanel tak pregnant for d first time, selagi tu lah aku takkan neuter kan dia, LV's one ni nanti pikir. May ni Chanel turns 1 year, yippiiii…….
Comment:
9