Jul 12 2017 Wednesday, 10:00 pm
I just turned 42, few days ago. To be exact on 11 July.
Tengok tuh bila dah tetua camnih, the excitement tu dah takde pun. Letak kat blog pun main kaup belated jer. But I had a very fun day on my birthday.
I took leave, me and husband pi breakfast at our nearest mamak BSP, together with my bff + husband gak. Pahtuh, both husbands balik. Laki aku ada urusan root canal dia (since akhir ramadhan sampai la ni tak settle lagi giginya). He memang tak join aku punya plan pun.
So me and my bff – we went to:
1. Jakel Mall near by Jalan TAR tuh, first time aku sampai situ, Kalau tak kerana dah  nak abis raya, mungkin aku akan membeli belah lagi kain baju raya kat situ. syukurlah insaf. Keliling mall besau tu kitorang pusing, depan belakang gak. Balik tangan kosong.
2. Pavillion – kat sini aku kena pi Balenciaga, then we had our lunch kat Kempachi. My bff gave me a pair of Poh Kong earrings (again, last year was gold, this year is white gold pulak), dia tau aku giler gold kan. Kat sini ada lah beli 2 helai baju.
3. Star Hills – checked out something at Dior.
4. IKEA Cheras – hah kat sini kita memborong few stuff. Padahal hajat nak beli satu barang jer pun but hasilnya sampai satu bag shopping tu kitorg 2 kena angkut sama2 membahu letak kat kereta and turun balik for coffee.
5. My Town – sama je pepusing hasilnya for IKEA tuh, dah tentu mall depa 2 nih next to each other.
6. AEON Maluri – pun ada ler dapat shopping sesikit.
Yang kita skipped pun SSF Cheras cos kawan aku allergic tempat yang ada bebunga bagai, yet jual bunga kat situ tak sampai 10% pun, the rest sume bembarang rumah, hover tau pompuan. But actually 2 days before birthday aku, aku dah pergi pun SSF tuh, depa kan ada buat 31% discounts till 18 July nih. But aku nak pergi lagi coz aku nak claim my birthday month nya 50% discounts.
So tu lah, macam pergi kerja je kuor masuknya, balik pun waktu lebih kurang aku balik kerja gak. But gotta spend time with my bff, we hardly meet (setaun 2 kali je jumpa pung), she s leaving back to Beijing soon (yes the one that I visited last year, sama jer orangnya). Memang malls haunting betullah hari tu.
Malamnya, I had dinner with my husband (2 sons at tuition, kakak of cos lah takde dia kat hostel). Pastuh malam tu jugak laki aku ajar bawak scooter. 2,3 rounds, I tak bolehlah. I m so phobia, terjerit2 aku belajar bawak motor tu walaupun dia tak lepaskan pun minyak ke break kiri kanan tangan tuh.
So misi untuk belajar bawak motor memang terpaksalah dibatalkan. Tak kesampaian nak pakai high heels pi KLCC ngan scooter, forget it. Selain dari aku takut nak jejak kaki, badan pun nak kena ke depan habis untuk kaki sampai ke tanah, aku memang takut nak pusing minyak kanan tu, jadi abaikanlah. Boleh strike out, tak yah dah panjangkan hajat nak belajar bawak motor. sob sob. Majorlynya aku takut ler.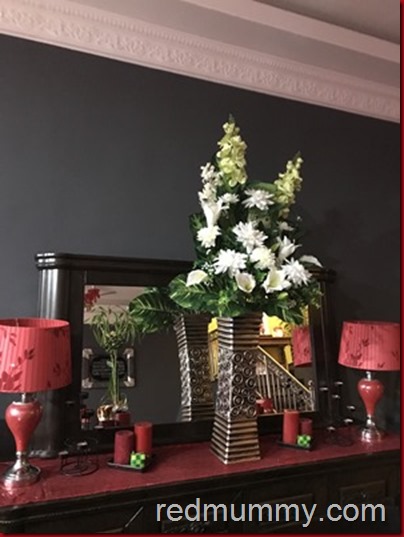 Malam sebelum birthday, my 2 sons bagi big card. Thanks abang and Shan. On birthday nite gak, Zeeshan ada buat pom pom balls card ngan cikgunya, besau betul dedua cards tu heh.  Semua handmade. Also malam before birthday gak, laki aku balik awal from his work (pun after midnite) and delivered (kenkonon surpriselah) big choc cake. Ramai orang dapat makan kek tu aku peragihkan, kawan2 sekolah kakak pun dapat sama gak (of cos we sent to her), sek abang and Zeeshan gak, even my opismates pun ramai merasa. Thanks suami for the cake. Fendi's handbag was part of the birthday present from him 🙂 .
I oso got that big flower (artificial), from RD. Eleh aku yang pilih bunga apa yang aku nak, kang dia hantar bung hidup, tak hingin dah aku. I want all the artificial flowers, barulah leh pakai sepanjang zaman. Ngeh….
apapun, thanks for the wishes, for my birthday nih, I wish semoga kesihatan mak ajah kembali sediakala, chances aku untuk umrah and haji dipercepatkan, anak2 dilimpahi dalam lindungan Allah sentiasa, dan banyak lagi, doa yang bebaik…terima kasih Allah.
The rest of the photos (please refer to my Instagram). Love.
Comment:
3