Oct 9 2017 Monday, 8:00 am
Last month, kami buat day trip ke Melaka. By noon baru gerak, singgah Seremban tapau A&W dan half way aku took over drive coz laki was sooooooooooo sleepy kes tak cukup tidur sangatkan. Terus ke rumah my Arwah Uncle. He passed away 2 hari sebelumnya but tak dapat nak visit coz of work commitment segala so tu yang aku nak balik gak menziarah.  Alfatihah to Arwah Cik Aman. This year, 2 siblings Mak Ajah pergi, dalam jarak tempoh 80 days, end raya aritu arwah MakLong meninggal. 
Sehabis visit bagai, kita pi menyinggah makan asam pedas…well i forgot the name hahaha but it was in my igstories and also in my laki's waze. Senang next time nak datang lagi dah tau location.  Pahtuh jalan lagi ke Mahkota Parade.
Wpun raya sokmo kami balik Melaka but inilah pertama kalinyaaaaaaaaaaaaaaaaaa masuk dalam Mahkota Parade tuh.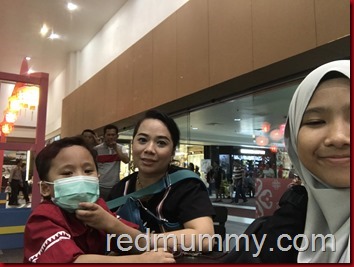 depa belakang tu nak photobomb, ni baru abis Maghrib rasanya…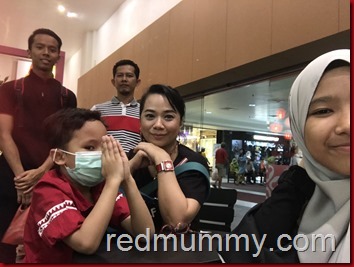 So kat sini ada sport shop yang tengah sale, kita belilah kasut 2 pasang for both me and RD, socks and hapa2 tah. Oh pastuh waktu depa sume solat tuh aku terbeli plak comforter and bedsheet sets hiks…depa ngah sale gak. Even black shirt aku pakai tu pun aku beli kat situ gak, bersalin dari pakai yang from KL.
Sebelum tuh masa parking kat lam mall nih, ada young chinese couple buat hal ngan kitorg. We gave signal nak masuk parking, dah tunggu situ lama pun coz kete yg kuor terhegeh2, bila dah kuor, dia tak turn left, dia pi turn right, so masa dia turn right tu, si couple ni selambaaaaaaaaaaaaa jer masuk. Kurang hajak btul. so aku kuor ler, kabau depa, dari dalam keter tu depa dah sound2 bagai, siap kuor middle finger. but depa blah gak lah, so laki aku parking.
Tup2 bila kita dah kuor keter, dia datang balik pusing seround siap buat bebunyik engine (not even mustang pun, just bebiasa car), and bagi lagi middle finger. Astaga bebudak nih.
So takut apa2 terjadi (some more kita bukan orang situ kan), so aku anak beranak pi naik atas, laki aku pi ngalihkan keter dia ke tempat lain, dapat closer to lift some more. Seriau heh ngan couple tuh.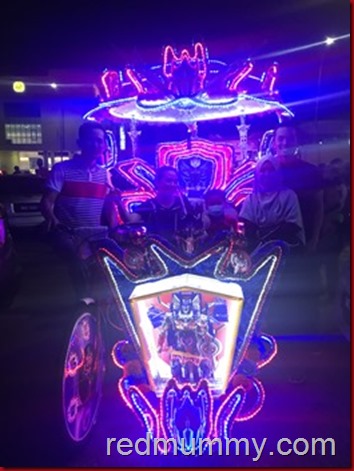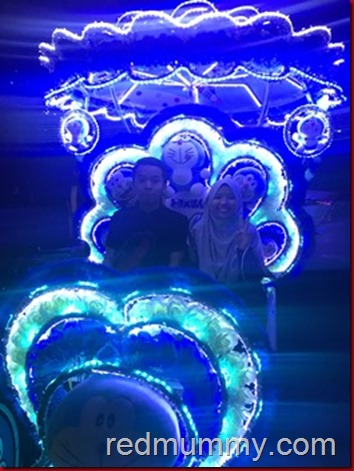 Dan cos Zeeshan nak merasa naik beca, so all 5 of us kena joint naik sama. He chose the Transformer, Kakak and abang naik sesama yang Kakak pilih Doraemon, sakit jiwa je abang lam beca tuh hahahaha. Best gak lah. pastuh kita pi pasar malam depan tu gak, but tak lama coz bila aku beli jeruk, memang tengah asma masa tu terus lagi teruk asma aku. 4 kali puff baru clear bley bernafas.
Takde mood dah nak soping lagi, teruss balik lah…but before that kita pi singgah makan lagi asam pedas kat tempat lain, yang budak beca recommended. Pun ada kat waze laki aku so lenkali lah aku edit sini, if teringat.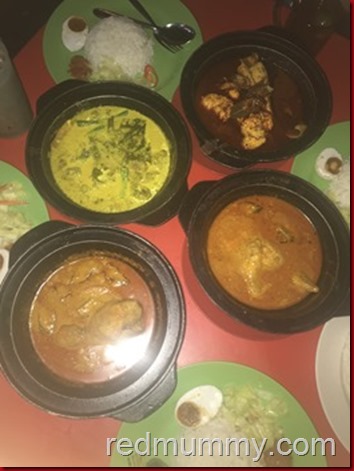 Gulai kari ayam for abang and Shan, daging masak lemak for RD and Kakak and mak nya pulak asam pedas pari + telur ikan. Telur ikan tu yang aku nak sangattttttttttttttttttttttt, lama tak dapat. Melambak lebih, siap tapau asam pedas tu,trownya buat breakfast cicah ngan roti nyammmm….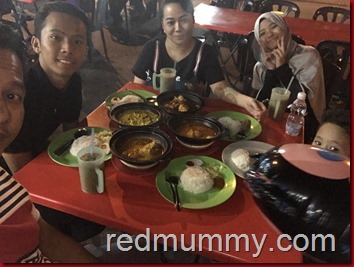 Malam tu gak kita balik KL, just nice midnite sampai…
Pastuh the next daynya, sesorang sakit, demam lah, asma lah, batuklah. one after another. All 5, tolak Shan lah dia tak berapa sangat coz dia pun baru discharged awal bulan lepas kan. Bertubi2 amik nab memasing…haih.
Susah nak berjalan2 skang nih, majorly cos issue laki aku punya keje cuti tak sama ngan kita Malaysia nih, cuti dia manjang ikut Germany tuh, no Malaysia public holidays for him tu pasal kena amik cuti pun payah…
Yang kakak tu, 2,3 kali kena amik dia kat skul coz dia punya tak sihat….patut kena admit gak but bapaknya malas nak admitkan dia, bawak ubat balik berkoyan ngan mc 2 hari pastu sambung lagi another 2 days mc. So kat seminggu gak dia tak sekolah.
Apapun today ramai anak2 kita start exam bagai kan…semoga yang bebaik for them, all the best kids, abang tak kuor rumah dok meleka ngan study manjang…
Comment:
1