Dec 12 2017 Tuesday, 8:00 am
Pejam celik cuti sekolah pun dah start semula. I'm sure parents out there already have plans for your kids during this school holiday. Mesti ada yang pergi bercuti, tak kira la cuti-cuti Malaysia or oversea. Maybe ada yang plan balik kampong, mesti pelbagai aktiviti yang korang dah plan kan awal-awal kan.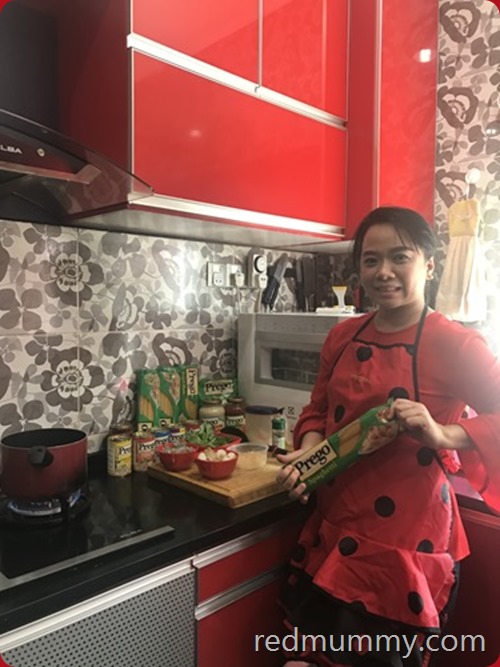 Sama gak macam Akak, ade gak plan bercuti-cuti jalan-jalan makan angin, tapi ada satu lagi plan ni ha untuk budak 3 orang tu, especially Abang dan Kakak. Diorang berdua ni kan dah besar so kena ajar berdikari a bit. Plus masa cuti sekolah ni, diorang kena jaga adik diorang while we both at work.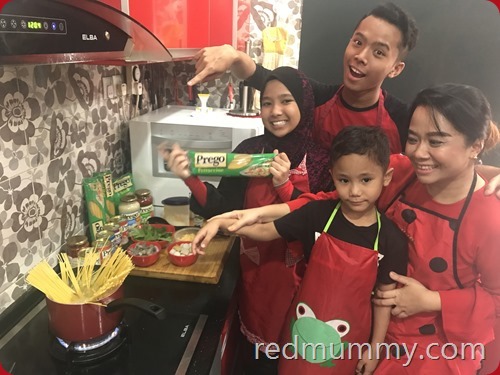 The plan is to teach them how to cook a simple yet special meal. So bila time diorang lepak kat rumah cuti sekolah ni dan kot-kot lapar boleh la diorang masak sendiri.
So let's cook pasta kiddos! Plus they are all love pasta very much, especially spaghetti bolognese 🙂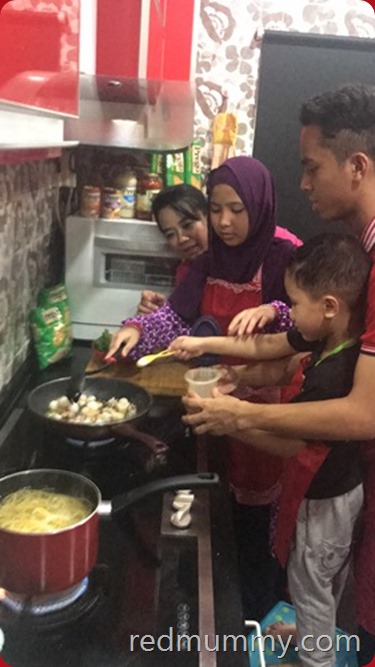 When it comes to pasta, sure korang ingat ada special occasion ke or maybe for festive season jer. Yup indeed memang betul, pasta really suits for celebrating special moments or festive or celebrative occasions.
But for me as long as makan-makan together with my family, it's special moment already 🙂
Sebab apa Akak cakap a simple yet special meal sebabnya Akak menggunakan Prego brand to make this delicious pasta.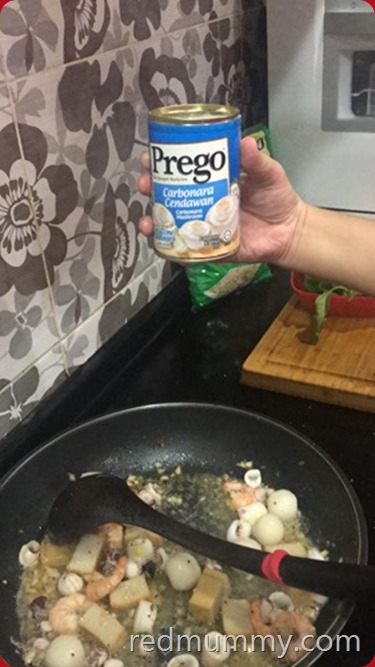 I'm sure korang pun tau Prego ialah peneraju pasaran sos pasta di Malaysia yang menawarkan hidangan lazat dan sangat mudah untuk disediakan. Prego pasta sauces are made from juicy, vine-ripened tomatoes dan datang dalam pelbagai perisa untuk memenuhi semua selera. Kaya dengan rasa buatan sendiri yang terbukti sihat. Prego pasta sauces memberi sentuhan segar kepada resipi tradisional dan juga menambah rasa baru yang segar untuk makanan yang dimasak di rumah.
So, kali ni kitorang nak masak spaghetti bolognese dan carbonara.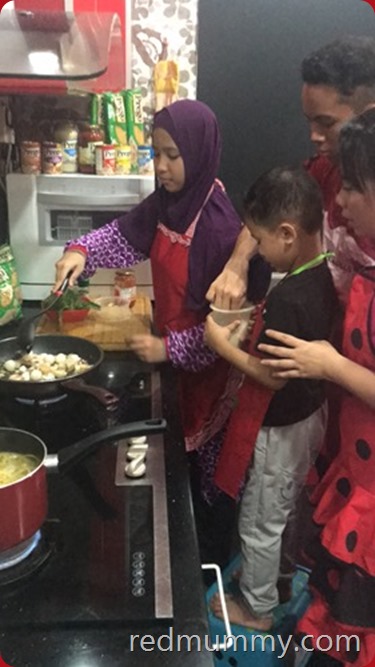 The kids actually surprise sebab senangnya nak buat pasta sendiri di rumah of cos dengan Prego. And to our surprise there's one Sunday morning, we both wake up with spaghetti carbonara dah siap masak by them as our breakfast 🙂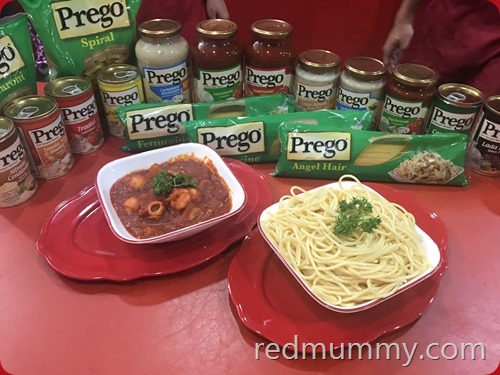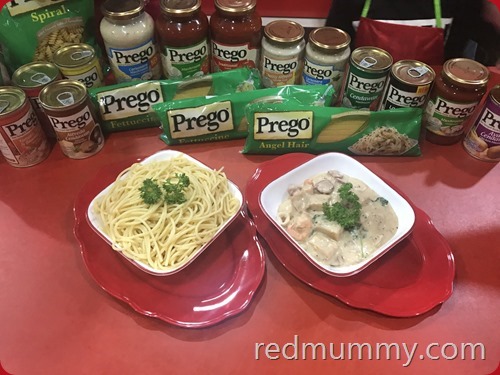 Sudah pun siap hasilnya – spaghetti bolognese dan carbonara.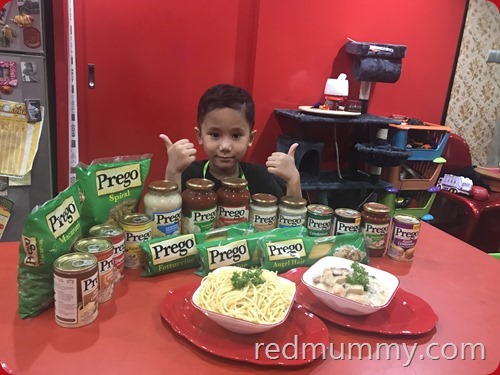 Our little chef dah bagi signal thumb up boleh makan hiks 🙂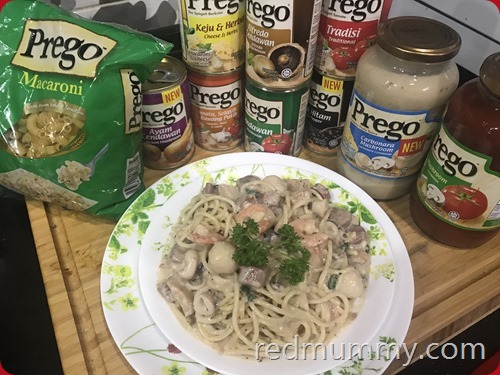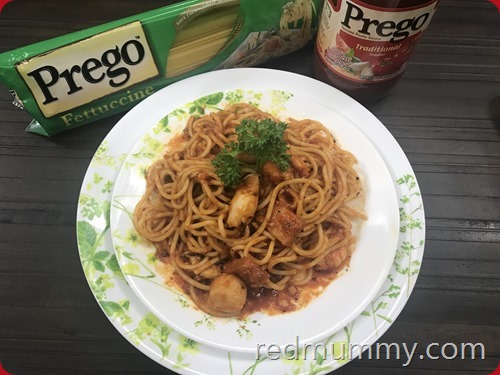 Mixed up the spaghetti with the delicious bolognese dan carbonara sos.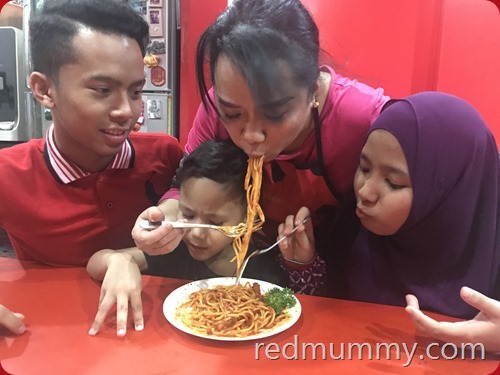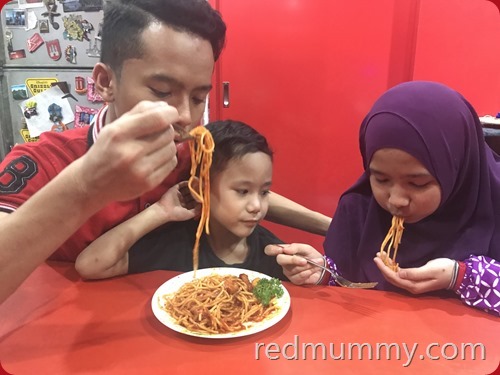 And makan time 🙂
Personally for me as a mother, this is the best moments all together. You spend some quality time with the kids teach them useful things, in this case cooking pasta. Dan lepas tu kita sama-sama menikmati pasta bersama sos yang lazat tadi. Siap berebut-rebut nak makan lagi tambah menyelerakan hehehhee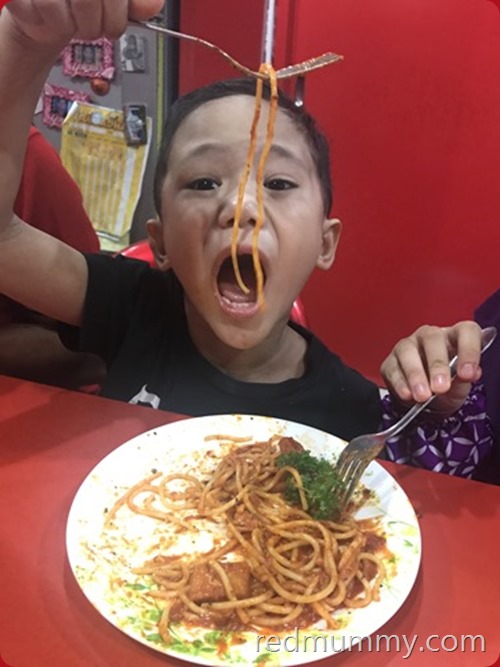 "Mummy sedap la mummy masak spaghetti ni"
Thanks to Prego 🙂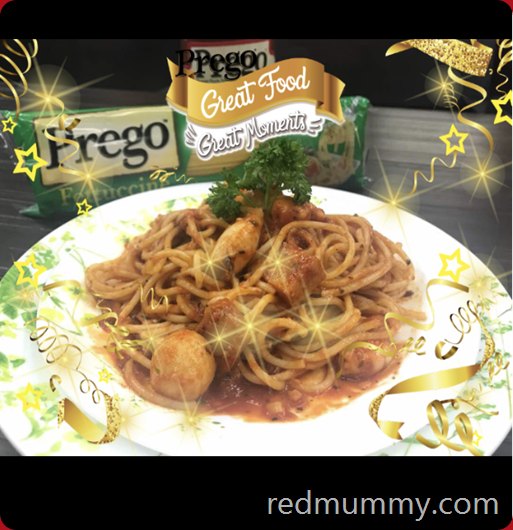 Dan sebelum Akak terlupa, sekarang ni Prego sedang mengadakan peraduan Prego "Great Food, Great Moments" Photo Contest! Dan peraduan ini menawarkan hadiah worth RM80 000!!!
Wow banyak tuu!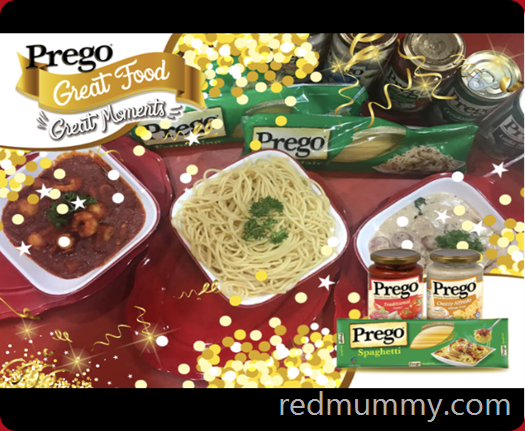 Tengok betapa decorative nya gambar spaghetti Akak ni J Siap berframe bagai.
Ok, ini yang korang kena buat kalo nak menang hadiah tu.
1. Snap a top view photo of your cooked pasta menggunakan app dari Prego Malaysia Facebook Page
2. Frame it macam Akak buat ni. Visit the Prego Malaysia Facebook Page to check out the frames.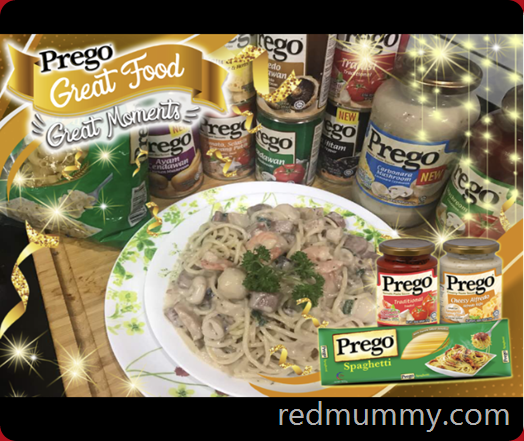 3. Cipta satu slogan sekreatif yang boleh. Slogans or Quatrains MUST contain the words Delicious, Special, Simple and Prego, or Lazat, Istimewa, Mudah dan Prego in BM, and be 30 words or less for slogans, and 4 lines only for Quatrains.
4: Submit with details and receipt no of your purchase Prego of cos 🙂 and you're done and you might be the lucky winner 🙂
Good luck korang.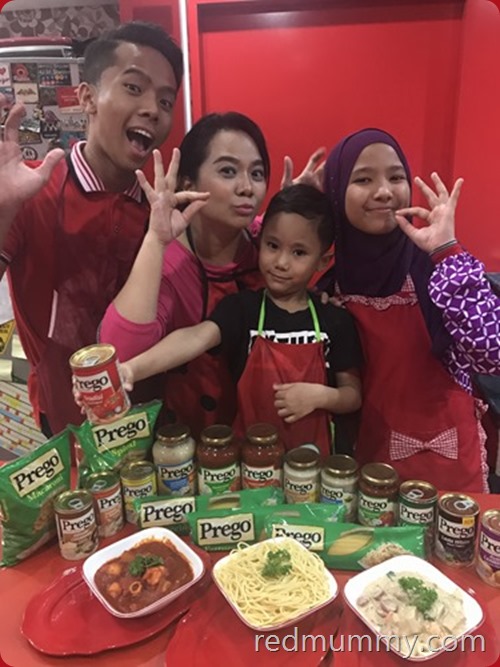 Dengan adanya Great Food sudah pasti akan menyusul Great Moments, semestinya Prego 🙂
Comment:
8