Jan 2 2018 Tuesday, 8:00 am
hi
yes im back, lama tak berkepuk ye blog nih, year end kan bebaru ni so memang tak berupdate lah.
For a start, semoga yang the best, bebaik sahaja terjadinya untuk kita tahun nih and the next years pun, Allah panjangkan usia, melimpahruahkan lagi rezeki dan kesihatan molek berpanjangan, amin amin amin.
New year's eve, after soooooooooooooooooooooooooooooo many years, aku terjebak ikut the family pi Putrajaya. Manusia mashallah.  Kita sampai awal, late petang, so parking memang la senang dapat. but throughout the nite, aku dah mula  meremas, sonok mmg la sonok, duit pun mengalir ke main laju jer, jap jap bebudak nak ni, nak tuh. Laki aku janji nak balik before countdown, while kita bersesak jalan nak pi ke parking, bukan smooth pun jalannya kan, terus depa ajak lepak lagi tunggu midnite. Oh memang tak lah, at once glance aku dah kehilangan the 4 of them. so dok mencarik sana sini, dengan line yang memang tak on your side at all. Kita jumpa gak lah, aku amik barang2 yang takyah meremehkan depa nak pegang, so aku terus pi parking, pun gagau2 carik parking. Yelah LAMPU event kan kat Putrajaya tuh, so main lampu memang tak menyala ler….
So aku tunggu je kat kereta about 45min till depa habis countdown. Malangnya bila depa dah balik to the car, manusia nak keluar dari event Putrajaya tuh, dengannnnnnnnnnnnn tak bergerak langsung from the parking.
Adalah 5 tapak keter moved from the parking, at 1215am macam tuh…but hanya dapat keluar from the parking at 2.15am!! Bila sampai bridge, rupanya the jem tak bergerak malam  new year tu, coz police buat roadblocks!! ko napa le buat time orang2 kuor dari new year bagai tuh, sian manusia yang dok tahan kencing bagai heh…kesiankesian…kat kol 3 pagi sampai rumah akhirnya.
Ya udah, tak nak dah aku ikut the Red Family redah new year eve…apapun, fun night for the kids lah.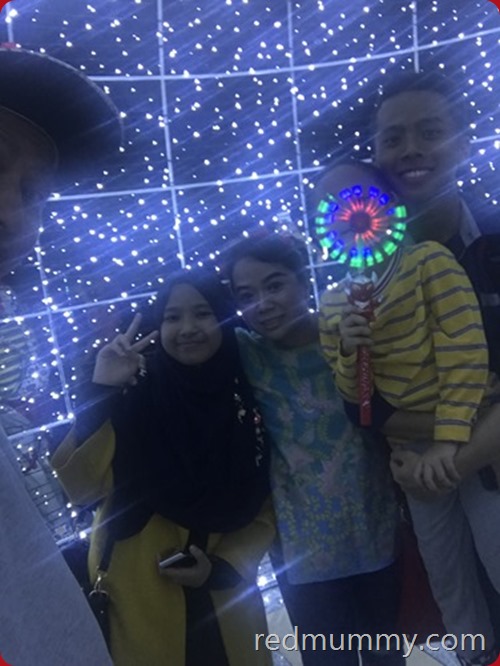 Salam New Year 2018! From the Red Family…with love.
Comment:
12