Dec 21 2017 Thursday, 3:00 pm
.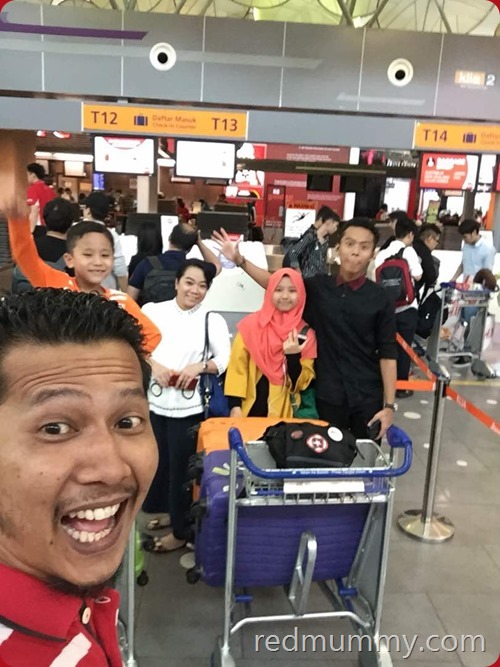 Cuti sekolah memang masa yang ditunggu-tunggu oleh semua orang especially parents with school kids. Masing-masing dengan plan masing-masing nak bawak anak-anak holiday and travel ke sana-sini for sure. Kalau tahun lepas kami ke Lombok, tahun ini Redfamily ke Krabi pula, juga terbang bersama AirAsia 🙂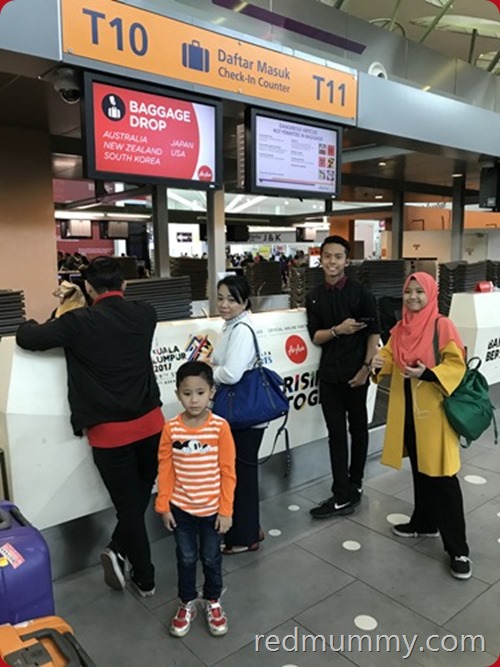 So awal-awal pagi lagi anak-anak dah bangun bersiap excitedly tak sabar nak pergi. Flight at noon tapi memandangkan musim cuti sekolah, awal-awal lagi kitorang dah sampai airport. Akak nak ingatkan cuti sekolah ni memang peak hours kat airport, so better to arrive awal at least 3 or 4 hours before the departure time. Lagipun everyone can fly during school holidays with AirAsia 🙂 so imagine la betapa ramainya orang kat airport nanti.
We have already did the web check-in, memang always my perangai to do web or self check-in first so tak la kelam kabut nanti. So bila sampai kaunter just to drop baggage jer. You guys better do like this as well, tambah-tambah lagi kita yang anak ramai, molek sangatlah siap-siap check-in, rilek sket bila sampai airport tak kelam-kabut terkejar-kejar nak check-in. Lagipun as I said, school holidays will be sesak kat airport tu.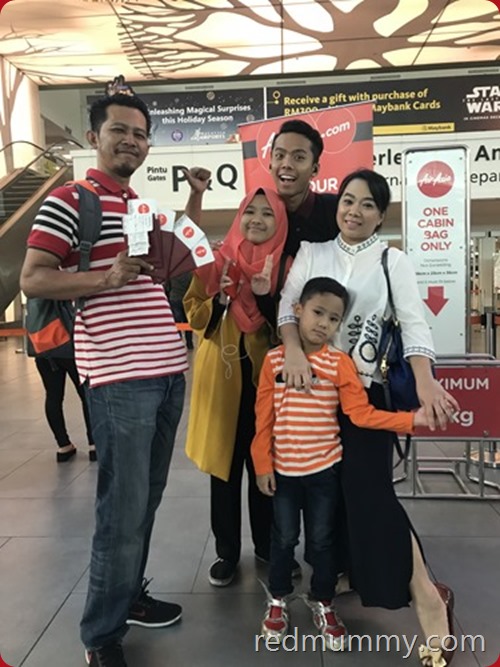 And we are done and time to boarding 🙂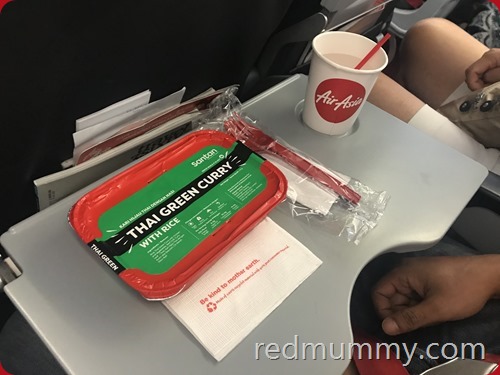 Dan lagi satu jangan lupa to pre-book your SANTAN Combo Meals siap-siap. Sian nanti anak-anak lapar.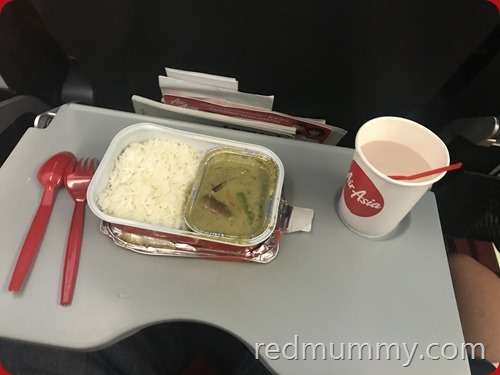 Here is our Santan Combo Meal, Thai Green Curry + Water for RD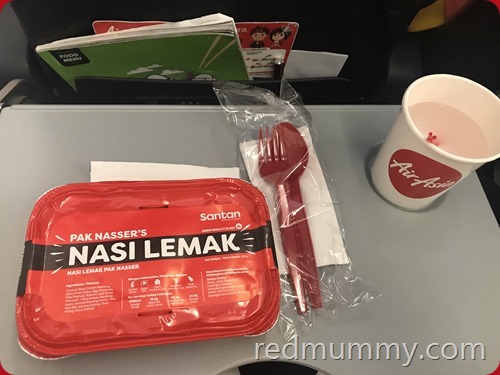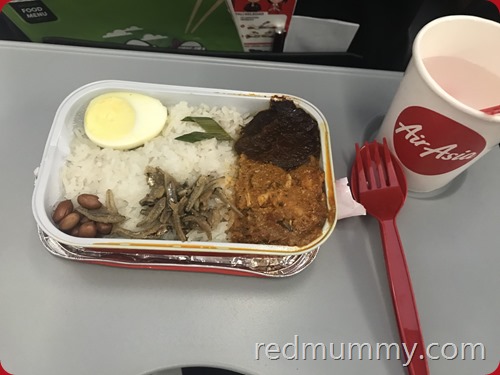 The delicious Pak Nasser's Nasi Lemak + Carbonated Drink (Combo) untuk Abang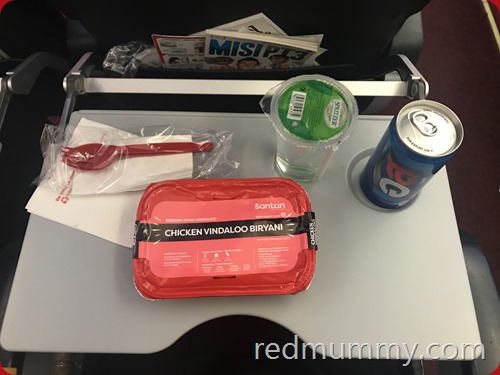 Akak punya Chicken Vindaloo + Carbonated Drink (Combo)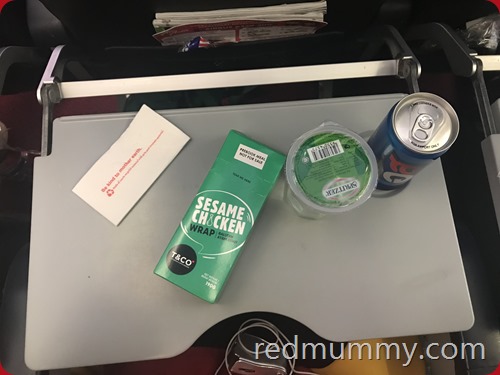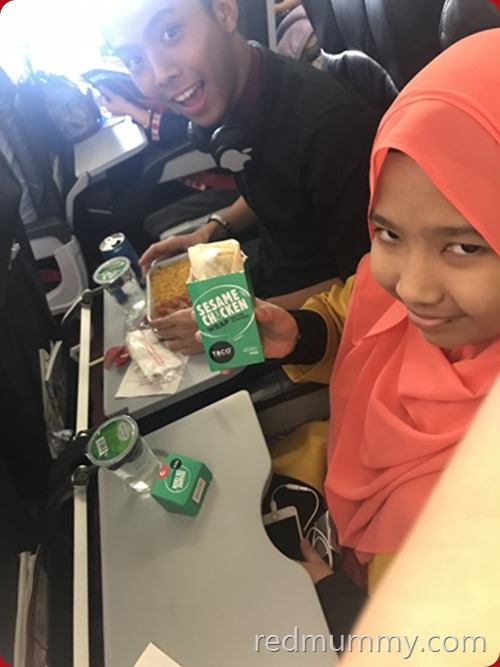 Kakak punya pulak Sesame Chicken Wrap + Water (Combo)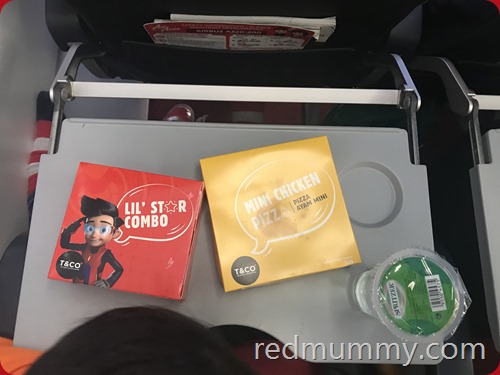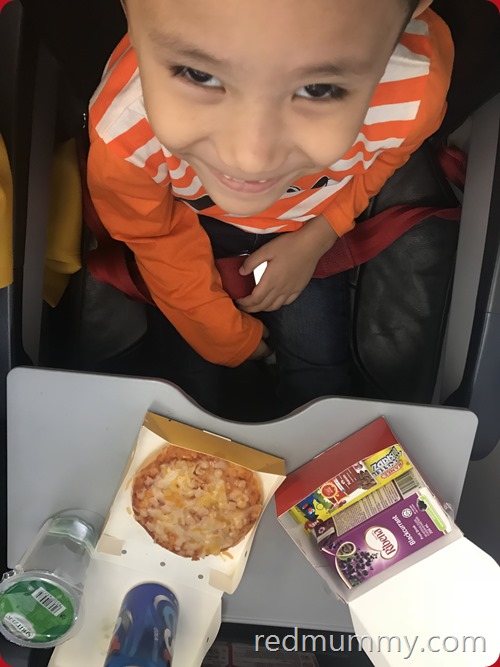 Lil' Star Combo + Water (Combo) untuk Zeeshan
Tapi macam biasa, normally our family akan bertukar-tukar meals between each others, so masing-masing dapat merasa sorang sedikit 🙂 As a mother, senang hati bila anak-anak dah kenyang perut, so less things to worry hiks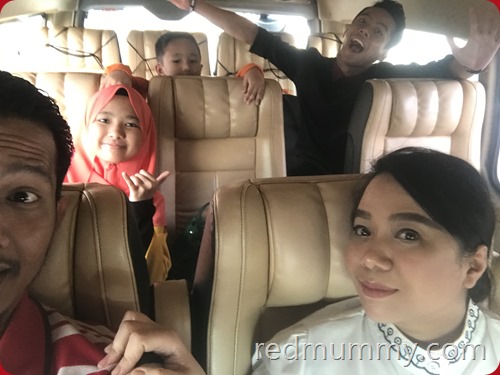 And we landed in Krabi, on the way to our hotel.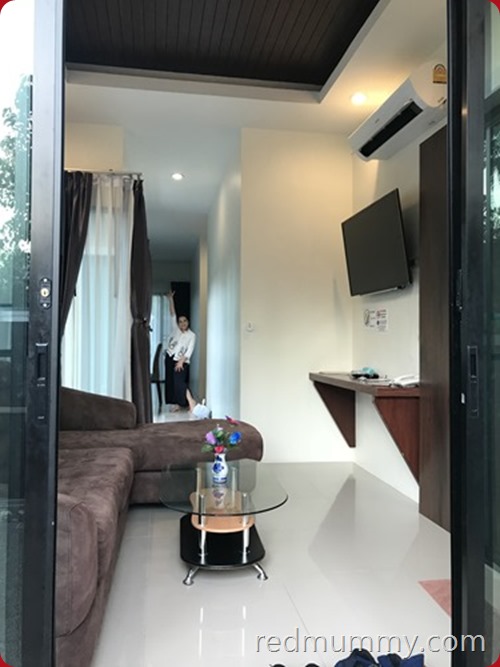 Not much to do on the first day, just check-in into the hotel, chill and relax. Kids apa lagi terjun mandi swimming pool.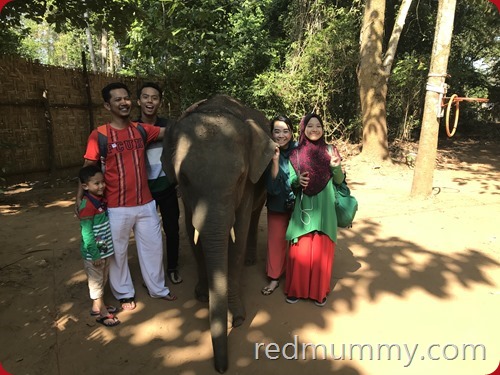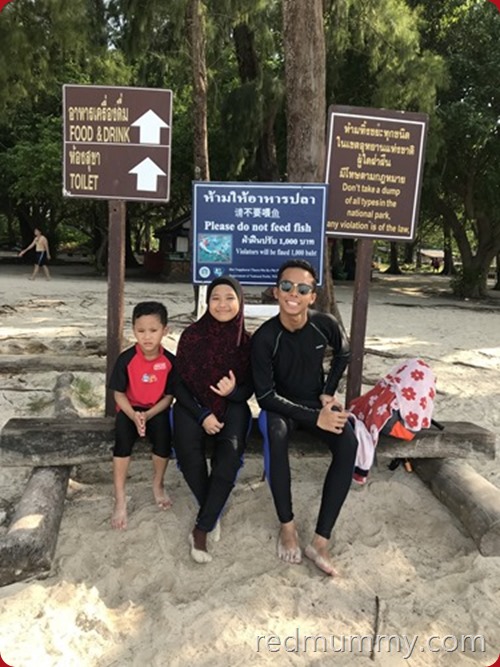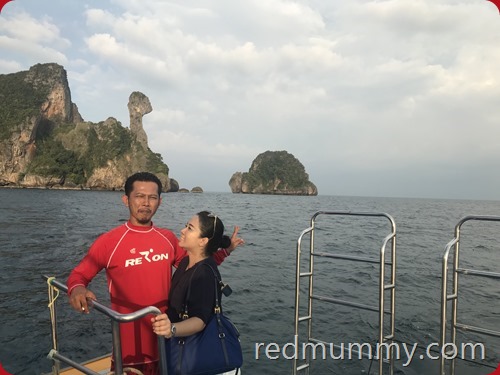 FYI, we stayed for 5 days 4 nights in Krabi. Banyak jugak aktiviti kitorang lenjan. Naik gajah, mandi air panas dan kolam biru, site seeing dan semestinya dinner masakan Thai, the original tomyam, mangga pulut dan banyak lagi.
Esoknya we went for 7 islands tours from noon till night sambil tengok matahari terbenam. Such a amazing view from the boat in the middle of the sea.
The next day anak-anak layan flying fox dan main lumba go-kart dan malamnya kitorang jalan-jalan ke Krabi town night market. Nanti Akak cerita panjang-panjang lagi on each of the activities ya 🙂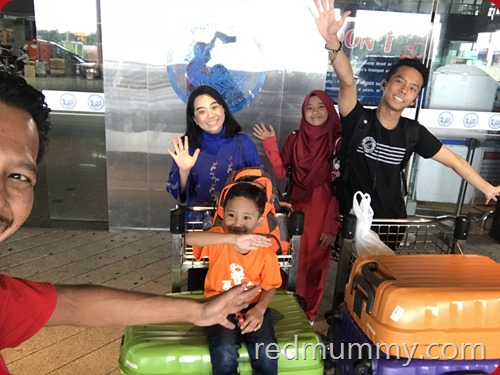 Bila holiday ni rasa macam sekejapan la pulak kan. Tiba-tiba dah nak kena fly back home dah. Rasa macam tak puas la pulak. Taper lain kali kita pergi lagi ya anak-anak.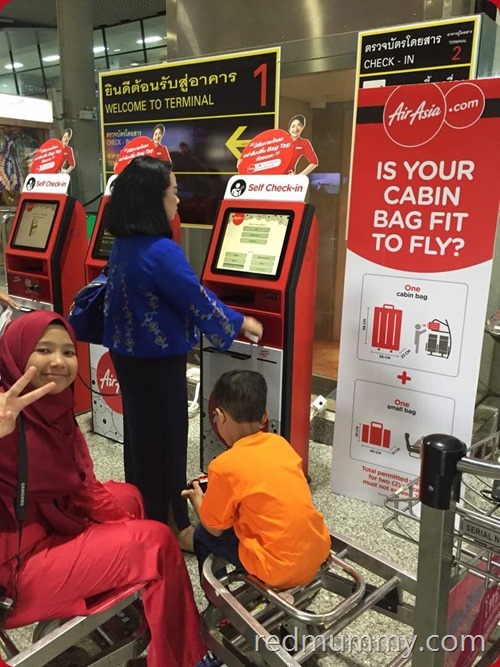 This time around Akak tak kesempatan nak buat web check-in. Maklumlah time holiday jalan sana-sini kat Krabi ni kan, manalah nak sempat nak buat web check-in.
Tapi takper, we can always do self check-in at the airport. As always, kita memang sampai awal kat airport. So banyak masa nak buat semua ni sempat nak buat self check-in 🙂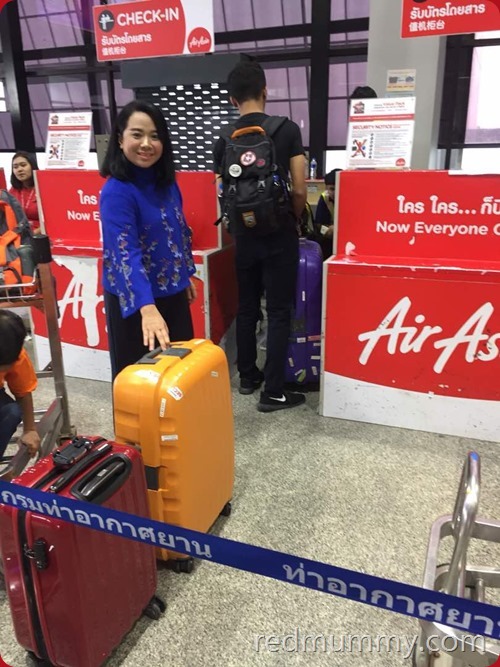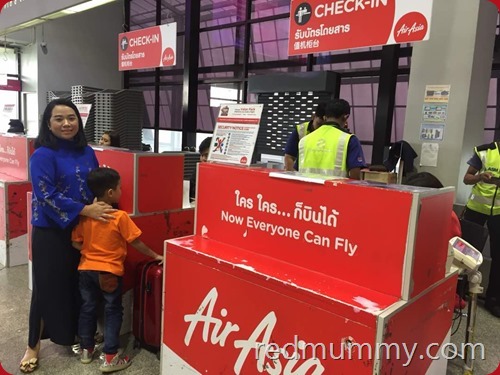 Once dah buat self check-in, kita pun go to kaunter to drop the baggage. Easy peasy hassle free 🙂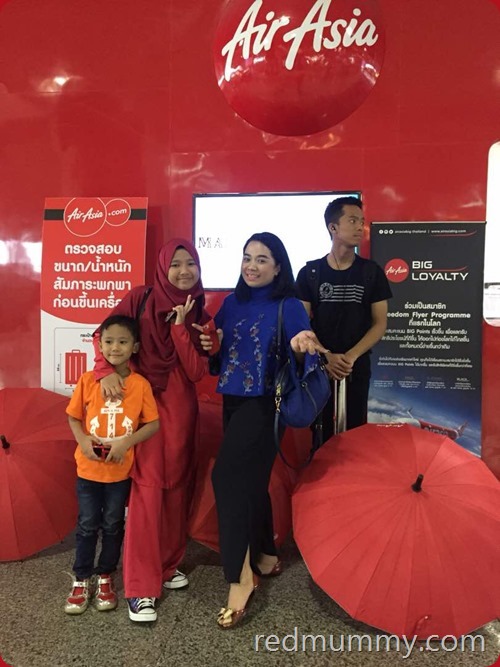 Lagi satu, Akak nak cakap, in case korang tak cukup masa, datang dah lambat kat airport so tak kesempatan nak shopping duty free, actually korang boleh buat online via https://www.bigdutyfree.com/
So camni caranya, time nak fly back tu, make sure korang buat web check-in within 48hours before departure time. Once dah check-in, visit la site tu, browse through apa yang berkenan, pre-book siap-siap. On top of that kalau korang buat pre-book online ni akan dapat exclusive online-only promo 20% OFF storewide sampai akhir Dec 2017 ni. Untung dan jimat di situ 🙂
Nanti on board during flying back, the crew will deliver the stuff to you. So mudahkan, senang jer nak shopping duty free with AirAsia 🙂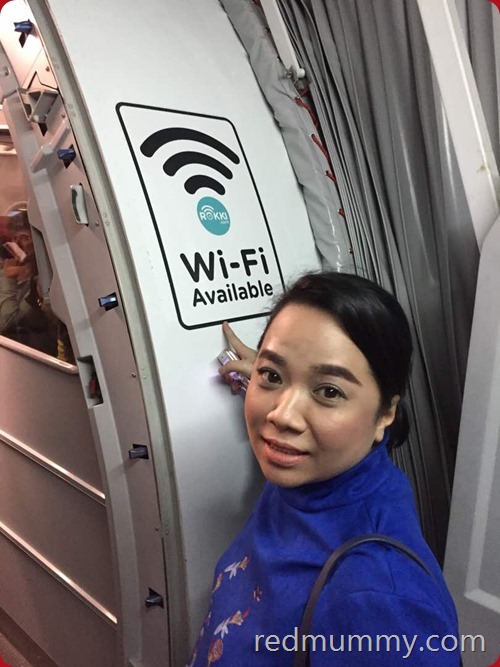 By the way, korang tau tak WIFI is available on certain AirAsia flights?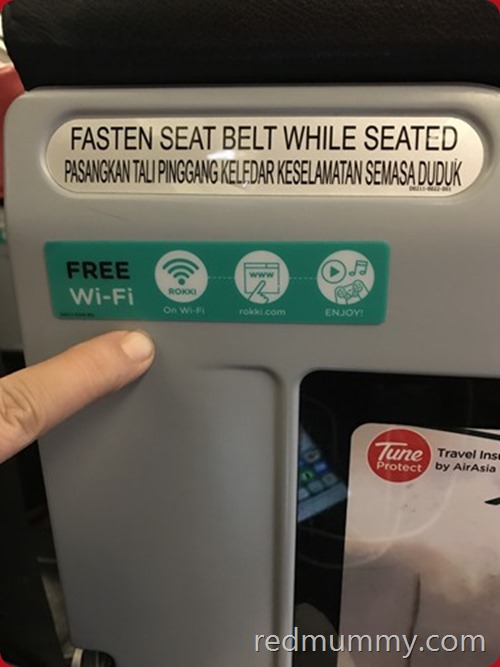 So bila nampak sign ni, maknanya ada WIFI on this aircraft yey 🙂 They named it ROKKI.
And it's FREE. Meaning you can connect to its WIFI (SSID is ROKKI) and you'll get FREE Inflight Entertainment. Ada bermacam-macam contents disediakan especially for kids like animation series etc.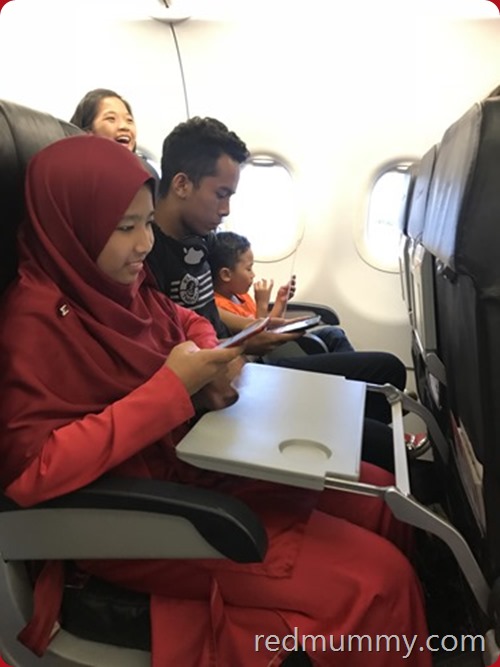 Apalagi seronok la budak 3 orang ni melayan. Make sure bawak iPad or any other tablets and earphones for better experience 🙂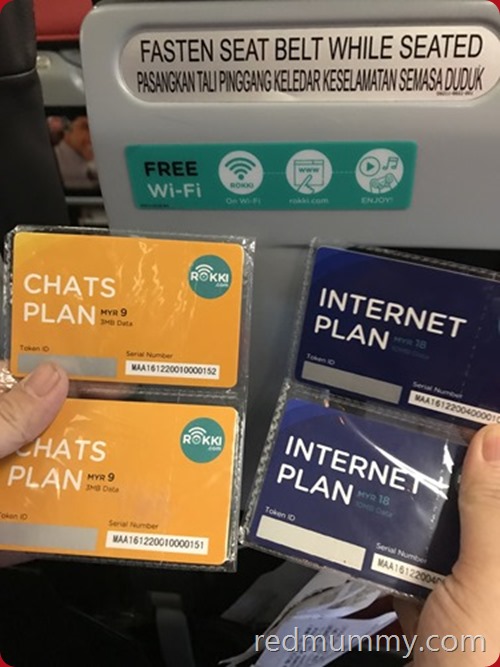 Kak Red, boleh ke WIFI AirAsia tu access internet? Jangan korang tak tau, Internet Plan with 10MB data (best usage for social media like FB, Instagram, etc + Chats applications) serendah RM18 sahaja korang boleh layari internet while flying on the blue sky. Siap boleh post anything on your social media, real time lagi during the flight 🙂
Ataupun kalau untuk chat sahaja, macam Whatapps or WeChat, ada juga pakej Chats Plan with 3MB data disediakan serendah RM9 sahaja.
Contoh Whatapps comversation dengan member:
"Eh bukan ko tengah fly ke?
Ye btul aku dalam flight la ni" (sambil send selfie snap dari kapalterbang background awan biru)
Hahahaha power-power, boleh riak takbur dengan member-member hiks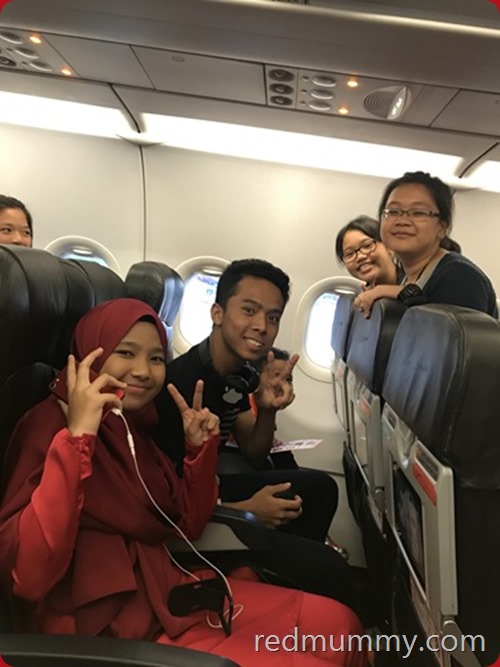 Kids always be kids, they just made new friends during the flight 🙂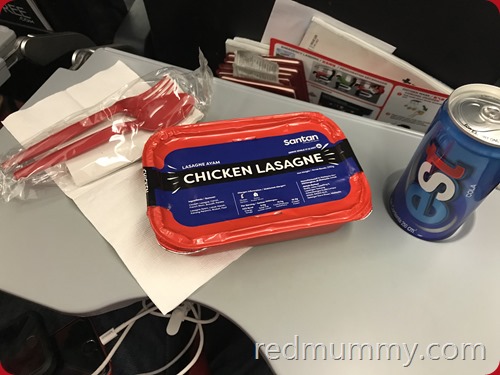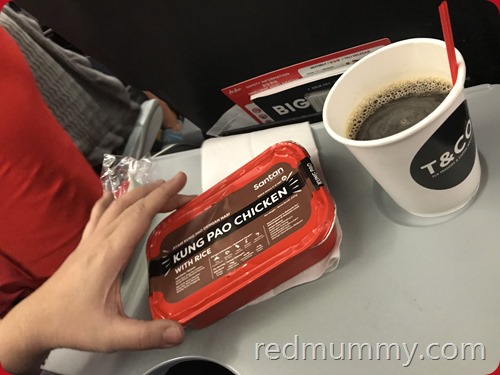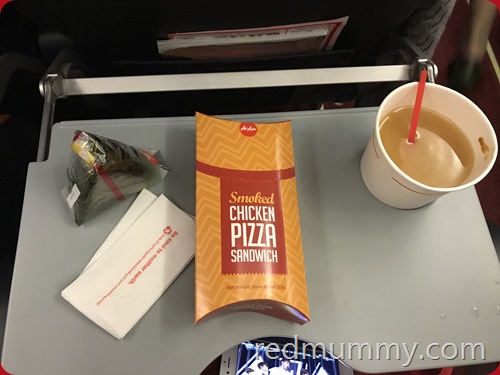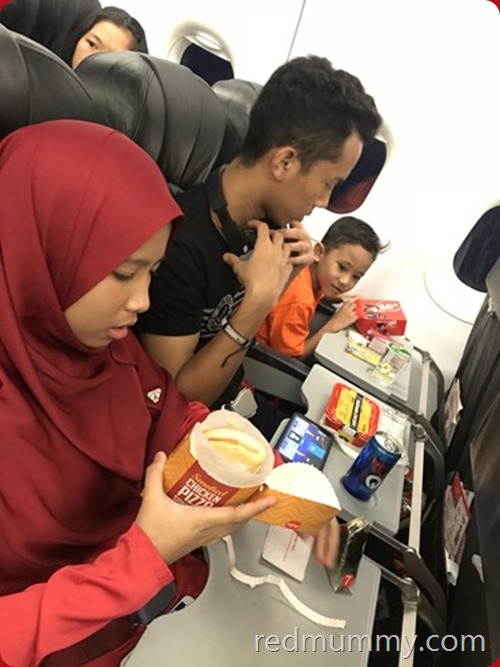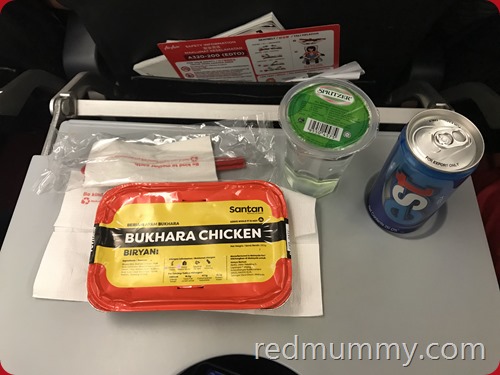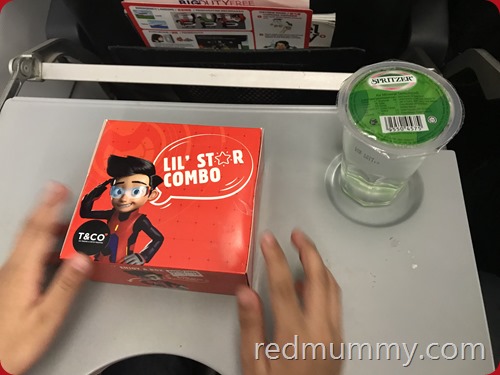 Our flight back home was in the evening so akan landed malam di KL. Better to have our dinner siap-siap dalam flight.
So this time around Akak pre-book siap-siap Santan Combo Meal + Complete My Meal Option:
Kung Pao Chicken + Water + Complete My Meal Coleslaw & Gula Melaka Muffin (Combo)
Bukhara Biryani + Coffee (Combo)
Lil' Star Combo + Water (Combo)
Chicken Lasagne + Carbonated Drink (Combo)
Grilled Salmon Onigiri with Miso Soup
Btw, Complete My Meal Option which comes with an appetizer + hot meal + drink + dessert hanya tambah RM5 sahaja dan only available for pre-book.
So bukan sahaja pre-book will ease our travel experience tetapi ia juga lebih murah if compared on board pricing (a la carte) dan juga kita dapat buat pilihan dari pelbagai variety of meals.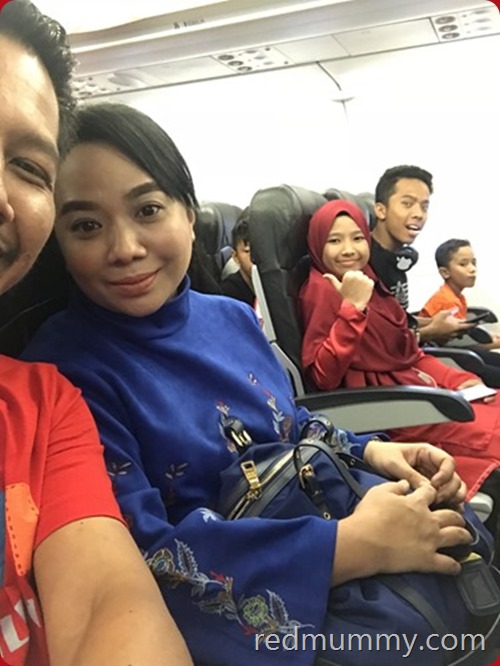 When our travel is easy and hassle free, baru la semua senang hati and dapat menikmati percutian yang sebenar 🙂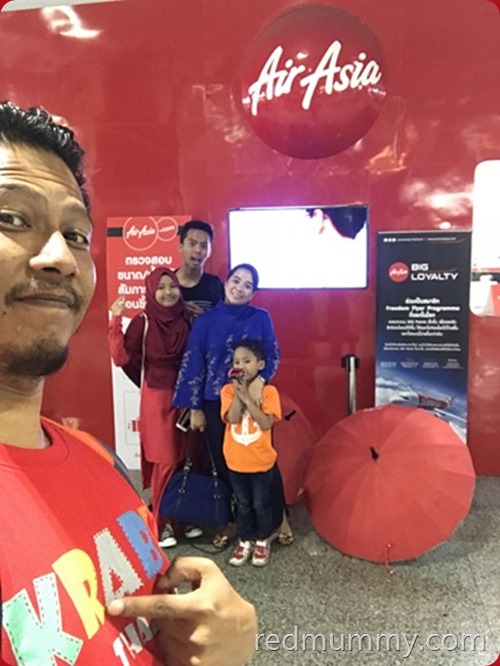 Bye Krabi, next time jumpa lagi 🙂
Or maybe another destinations pulak, let's see where else AirAsia can fly us to?
Comment:
8