Jan 19 2018 Friday, 3:30 pm
this was our old car, yg benaunya keter aku. Pastu we bought another car, pastuh another car. pun keter ni tetap ada, dah habis bayar bertahun2, sayang nak jual coz tak banyak ragam.
But bila ai had an issue with my red bimmer (aku kan pendek, bertahun2 dok bawak SUV so bila bwk kete rendah semula adalah payah, rendahness issue). so decided to jual this City, over 10 years gak dia serving us.
Boleh je lah simpan peram lama lagik City ni, entah2 abang pun leh bawak pi Uni nanti, but laki aku cakap tak yah…jual jer.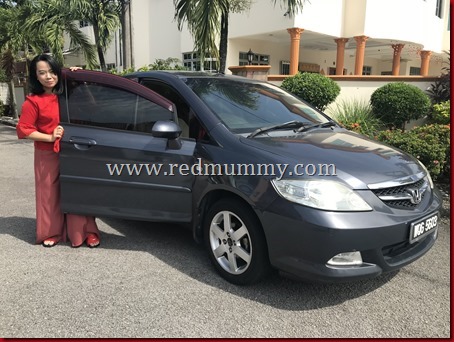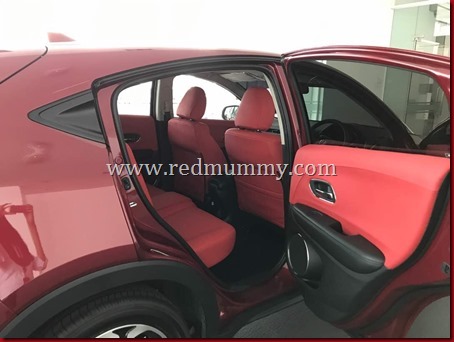 Dah alang2 dia suh jual, aku bodek la mintak amik balik SUV (ai prefer to drive the SUV again lah coz aku leh nampak terang kat depan tuh, else asyiklah langgar divider je kan. So sehari on Saturday tu aku laki bini merempit naik motor pusing sana sini gi tengok SUV yang nak diamiklah. I have my own preference but technical part aku donno and laki expert on that, jadi, cantik merah camna pun SUV tu kalau tak good to go for laki aku, cannot take lah.
so finally, lusanya dengan helped of my reader, Yannika love youuuuuuuuuuuuuuu….one of the salesman terus buzz aku and masuk paper. 1-2 days lepas tu pulak kami ke Krabi so dah sangkut 5-6 days delayed. But when I was in Krabi tu aku suh dia proceed tukar seats SUV to red leather.
Dan after we balik from Krabi, tak sampai a week after that, alhamdulillah, the new SUV with red leather seats and my birthday's plat number, siap.
Officially the Red bimmer pun passed to my laki lah…adiah anniversary dia
yey, happy with my new SUV, rasa tinggi semula hiks….adiah anniversary aku
dan consider ini hadiah anniversary to both of us lah hahahaha…dia dapat bimmer aku dapat SUV nih, yang penting the red leather seats yo. Ok habis lah cite new reds ni kan. Finally our vehicles (tak kira le keter ke motor) sume in red 🙂
besides, dah 2,3 social medias aku kabau, today untuk hari anniversary kami yang ke 17 ni adalah dapat kiranya sang suami betulkan (with SYABAS) air sinki dapur aku yang sejak kami dok situ, halahai, sedih. sib baik la most of the time pakai disher but sakit hati gak lah bila nak basuh2 ikan ayam bagai, teruk betul performance air sinki dapur tu.
tu pasal aku pasak2 tak jalan, jadi aku pasak lah during anniversary ni, pls get this settle, aku dah gembira sangat. tak mintak prada chanel ke bagai pun, nak air sinki laju jer. air sinki je pun, bukan air lain yek 😛
apapun, tahniah RD coz bertahan for 17years, walaupun behind the scene nak maintain for 17 tu ko ingat senang? Gaduh? orang giler je tak gaduh…of cos le adaaaaaaaaaaaaaaaaaaaaaaa.
Love you big much Suami!
You gorgeous wife
Abang
Kakak
Zeeshan
Chanel
LV
Dior
Ferra
Terima kasih syukur Allah atas berpanjangannya usia perkahwinan kami, yes walaupun…of cos la ada walaupunnya kan. But suami, please hanging there with me, till the rest of our life. Jangan lupa, air sinki laju ai 🙂
Comment:
17