Apr 16 2018 Monday, 8:00 am
Dalam sejarah betul blog ni tak update for over 2 weeks, or more?
i ve been so so soooooooooo super bz. Entahlah apa bznya, pepusing benda yang sama gak.
Penatlah….some more last week, aku bantai jumpa dentist for 4 days in a row. Eh tu sikit ye, last year was 8 days! Bz for family matters kerja and maknek bagai lah.
Hehari masak…hari Sabtu je kot tak masak. Sunday pun kena masak gak coz Monday depa sekolah, so i kena masak for depa nya makan gak..Sabtu tak masak pun still kena dok dapur, kekemas bagai. Never ending ler keja umah.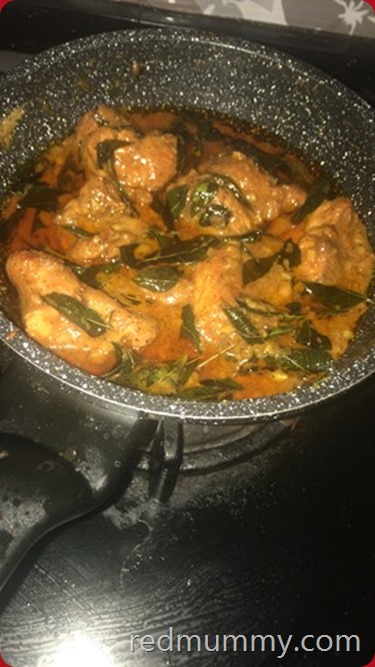 Ni antara menu yang amik gambar. Bukan sebab rajin pun. coz aku nak antau kat laki aku, suh dia taruk air sket bila dia nak reheat lauk ni esok, kalau tak dikabau, memang tak ditaruknya air ke bagai. Kering kontang…kadang2 sambal pun dia tak letakkan air, so kena ler sebijik2 direminded.
Ini Butter chicken masak masala / berempah. Aku tak rajin buat highlight (manjang lupa) kat IG tuh. But ni coz ada request, so aku sempatlah menghighlightkan kat IG, boleh tengok sendiri ler cara den buat. Just the gajus yang aku tumbuk tu idok le aku highlightkan, prep awal.
Some days 2 lauk aku masak, some days 3 terus. kalau RD cuti, 4-5 lauk (bukan cuti weekend, cuti dia yang pepelik Germany tu lah). Kalau genggoreng pulak, aku dah siap prepkan gak, dia tunggu gorengkan jer. Kalau sayur simple, pagi buta aku buatkan sblm gi keje (but heavy lauk still aku buat malam sebelumnya after returning from work).
But till now, ayam is not fav to my kidslah. Specially abang. hehari nak ayammmmmmmmmmmmmmmm jer…grrr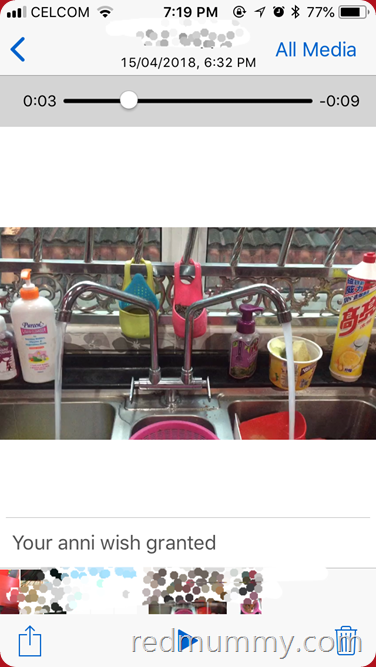 Remember untuk 17th Anniversary kami on 19th Jan 2018 lepas?
Aku mintak paip air aku ni laju macam rumah VA laju yang selaju gilerrrrrrrrrrrrrrrrrrrrrr…
finally on 15th of April, wui bape bulan tuh…baru le dapat air paip laju for my sinki yang aku dok ngidamkan sangat. Entahlah bila dia bertukang, ada le aku dengo kat attic but aku tak bother pun coz i tot dia repair my 2 batang paip sinki tu, dah kat sebulan kot aku tanya bila nak repair, coz dia loose, dok gengoyang bagai. Rupanya dia buatkan air dulu, paip tu kemudian coz donno la tools dia tak cukup. Alhamdulillah, dapat gak air paip sinki masak yang super laju. Sebelum tu dia buat direct dari pump, but sesemput gak airnya, wpun sometimes lebat, but still package siksalah.
Bila abang dapat tau that air sinki ni laju, wow, kalah aku, dia yang paling seronok seiiiiiiiiii!!
Yelah, job basuh pinggan kat rumah ni dia, habis dia study, sebelum tidur, baru dia basuh the dishes,specially aku pas masak memang tak usik sinki lah, tu keje depa. Ada je dishwasher, but abang tak suka pakai dishwasher, dia suka manual basuh pakai nih. Kalau banyak sangat nak dibasuh, aku masukkan gak half lam dishwasher so takde la dia buang masa nak basuh pinggan kat sinki tu kan. Sian gak dia, esoknya nak sekolah…
So alhamdulillah..wpun ramai yang DM aku cakap, ohmeng, simple giler hadiah anniversary ko mintak Kak Red oi…
yelah, dah tetua nih, tak yah nak mintak bembukan memahal specially, i should ask this present since our day 1 pindah Red House nih..eh ada jer aku berzikir kat telinga laki aku, but he buat donoo jer….dah kuor post aku mintak adiah anniv gift paip sinki laju ni baru ler dia usaha nak repair.
Yey riaktakbur. air paip sinki ai dah laju hehehe….
Comment:
12