Jul 25 2016 Monday, 8:00 am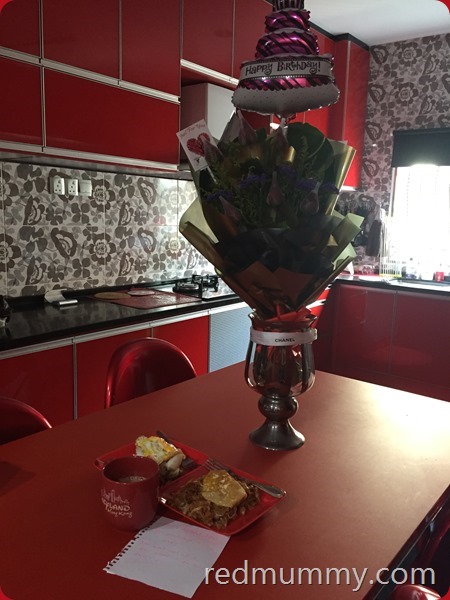 i went down pagi on my birthday, ado all these…
bunga ni aku suspect laki aku beli kat florist, bukan yg florist hantar coz pagi betul ada kat meja makan hah…on 11th July tu hari bekerja but both of us amik cuti, quality time. Bebudak pun dah start school too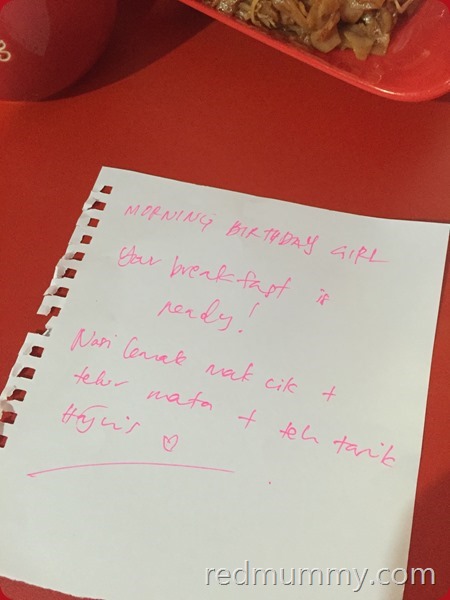 dia siap2 letak bagai pastu dia pi sambung tidur hahahaha, bijak bijak. Kalau tak silap aku malam sebelumnya was the final bola tu pasal dia kena qada tidur. hemm….anyway bunga tu, dah bape taun bape kali celebrate dah aku cakap, jangan bagi lagi dah bouquet2 ni, aku dah tak nak. Aku nak bunga berpasu sudah. Tapi kalau takdak pun takper, dah tetua ni tak heran dah sume ni pung…tapi adiah ye, alwajib ehehhee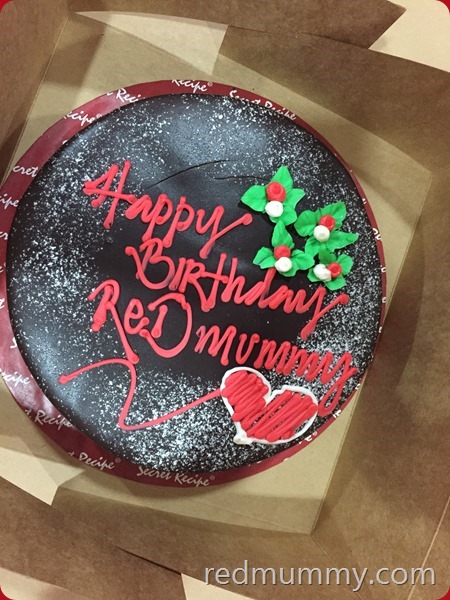 kek pun ada gak, tapi petang tu ler dia pi beli. Yang sonoknya dia beli kek coz his BFF is coming to our house that nite, depa datang all the way from Jakarta and raya kat KL ni so harus ler kita menyambut malam tu, hari lain kang laki aku takde pulak, so takpelah malam birthday aku pun no hal. Lagipun Zeeshan sangat ler pencinta chocolate cake tu yang laki aku nak gak beli. Sebelum tetiup segala, dah kena potong sekokak coz Zeeshan tak sabar sangat nak makan, his fav indulgence flavour nih.
Banyak kali kalau dia cakap nak choc cake kita kena beli indulgence nih, kalau hok brownies yang aku buat tu dia makan gak but idok le aku nak bake hehari heh…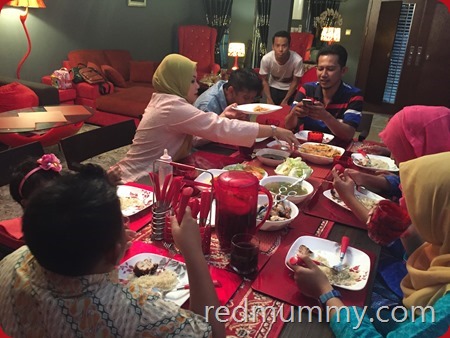 We served nasi ayam and bihun goreng. The Jakarta frens, tiap kali aku pergi Jakarta pun mesti jumpa depa and if they are in KL pun depa mesti datang our house.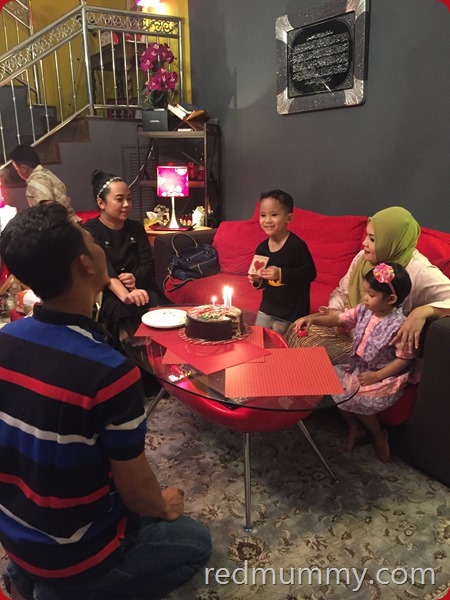 The blow blow cake but Zeeshan yang terlebih dos untuk dia coz he ingatkan birthday dia ler kan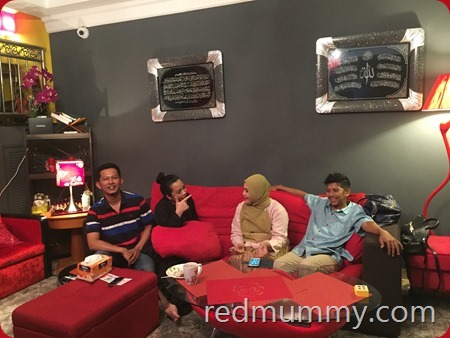 Dedua laki yang susah badan nak naik pastu bini bergempal2 herhehhehehe…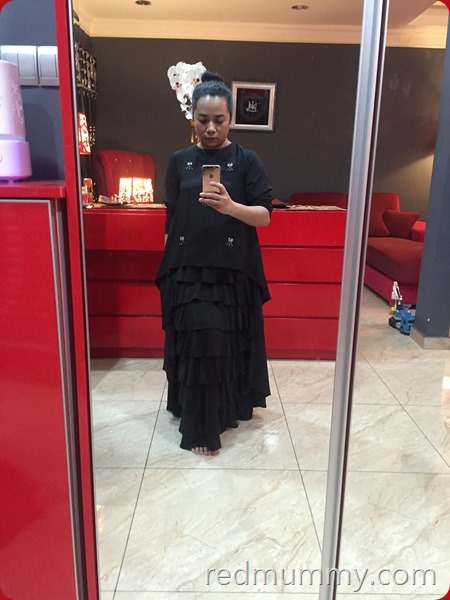 Rememer aku ada pakai baju Prue Fishtail from Blubelle nih, so malam depa datang on my birthday tu aku pakai balik tapi this time aku match it ngan my reropol long skirt, in black too…
you should see the red reropol skirt nanti, one day ai melaram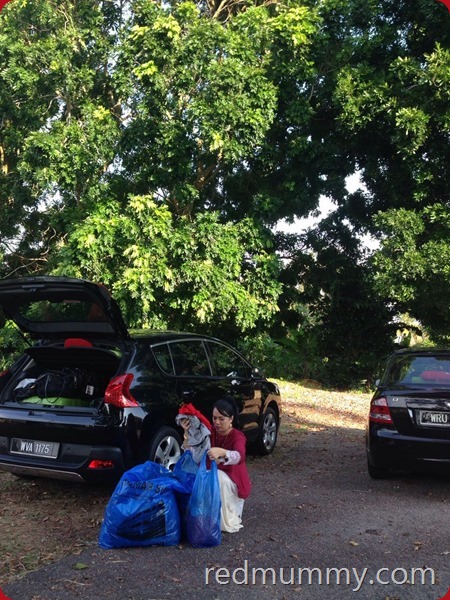 ok iklan, part of mak's job hahahaha tengah rumah orang ke mana tah nih, susun kain baju kotor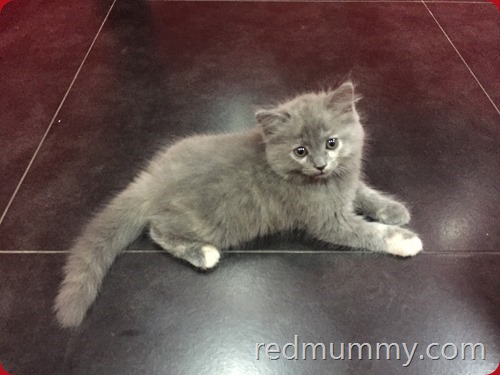 so so this is my birthday present, officially.
I want an iphone 7 but belum keluar lagi so tu kita simpan during the anniversary lah, jadi bila suami tanya apa mau, aku nak persian cat ler. Sekoq je nak pun. Yang 9 ekor punya cerita will be in different entry ye.
I got a new Chanel 🙂
2 months old, female. My husband bought from donno who lerr, if i m not mistaken dia contact sampai 11-12 sellers. Ini first time kami beli kucing, tak pernah dalam hidup aku kot dapat kucing belian, biasa kucing2 orang bagi, tak kira le persians apa pun.
Cuma masa dapat, seller tu hantar datang dengan baldi jer, pastuh tak groom bagai, telinga pun ya tuhan kotornya, mandi jangan cakap le kan.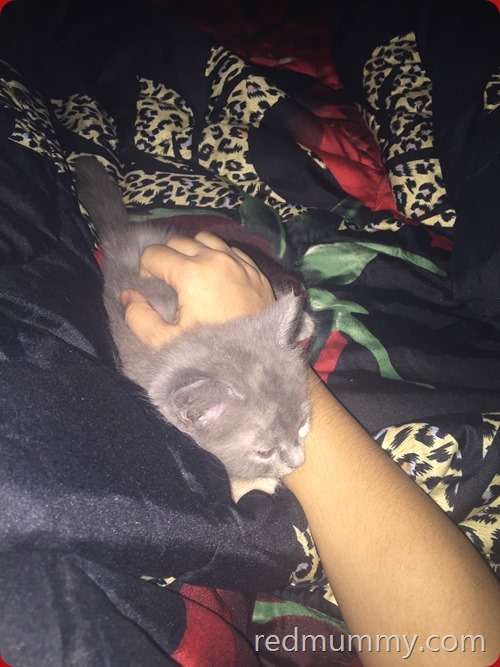 so for now, for Chanel, i m her mom lah. Dia akan mengekor aku 24jam. Kalau aku make up sejam, sejam le dia dok kat kaki aku, tunggu dok situ. Kalau aku turun, dia ngekor sama, kalau aku masak, dia pun dok kat dapur sama….she sleeps with me but when my husband balik, she will transfer her dalam bathroom (she is still new for the house so kena belajar pakai pasir in the bathroom first, new kitty to new home memang macam tu)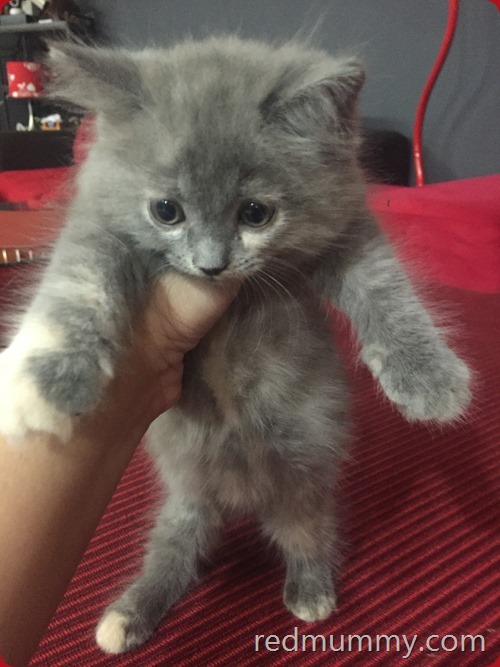 isn't she cute????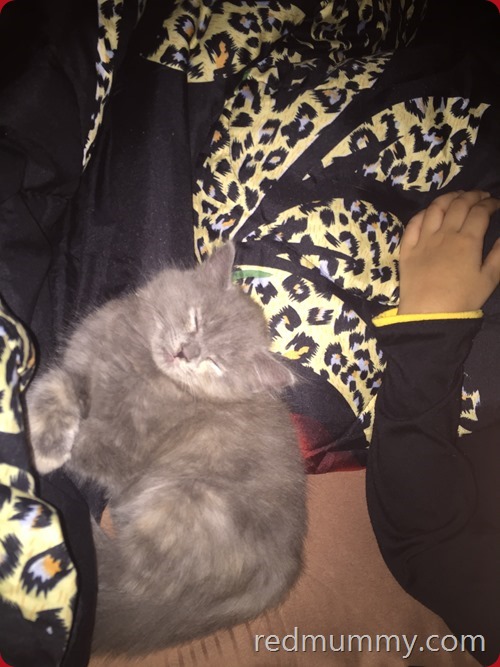 mengerekot ko yek sedap betul dalam aircond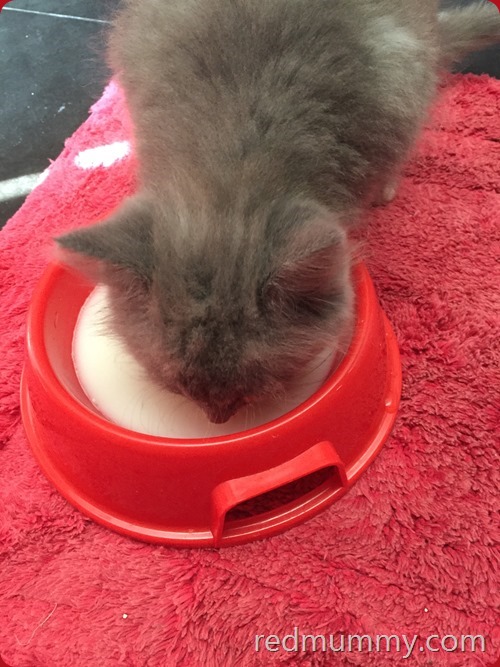 since dia baru je 2 bulan, aku memang bagi susu lagi la, susu kambing, sume bembarang kucing aku beli balik dari pet shop, terus jadi member to 2 petshops near by my house. Dia belum vacci, will send this later coz tengok weight dia tak boleh lagi untuk vacci. Kuku dia aku dah ketip, mandi je belum lagi, rasa nak amik cuti betul sehari to groom dia, sesusah aku panggil je service grooming tu datang rumah (yes i did already hahaha).  Cos service depa tu lagi complete, tu kemudian ler cite ye.
Pasir pulak aku pakai pine wood, memang mahal, seguni bag tu je RM45 but it s better than pakai the usual pasir. Lagipun aku ada sekor je so takpelah invest mahal sket for her, tak payah banyak keje, senang tu satu hal. Kalau pasir biasa tu leh dapat 3 bags at RM50 but tu kalau banyak kucing senang ler. Setakat sekoq ni je pung…
Food pulak dia makan blackwood, wet food aku belum bagi lagi, ngah timbang kati the best one.
Reason ai nak bela balik kucing (walaupun banyak stray cats yang kita bagi makan gak), coz kalau dah pencinta kucing, tak leh le nak hilang ke mana. Last kita bela pun masa aku pregnant, so many cats yang kena gave away, depa pun semua persians. So i need one indoor cat, lagipun yang kekucing lain tu sume tak masuk dalam, depa kan dok ka porch (once a while je depa dibenarkan masuk pun), lagipun sharing the same hobby with my kids, suka kucing, specially my anak sulong yang penyayang benau ngan kucing.  Suami pun dah terima hakikat, tu yang dia hadiahkan this cutey.
Cuma tu lah, nak kena beli all the scratches tiang bagai segala so dia tak boleh nak mencakar kat sesofa hakak ni….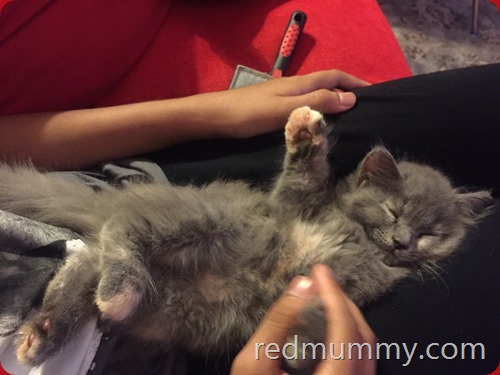 Because she s still bebaby lagi gitu kan, yelah 2 bulan, so dia dok tidur pun macam nak kena dodoi2 gitu. kalau tidur ngan aku kan, if tepuk2 badan dia ha kejap je dia tidur, tu dia suka. Ini dia tidur kat peha my bff's punya anak, tidur2 terlentang tup2 dah berdengkur. I hope she s gonna be manja, senang dijaga sumenyalah.
That s my beautiful Chanel.  Thank you suami for the birthday gift.
Comment:
6