Feb 17 2009 Tuesday, 3:00 pm
gambo lama gambo fri nite, yang patutnya dating laki bini jadik dating anak beranak…malam tu kami bertangga kat Q bistro, no more hajris gamaknya, malas nak drive jejauh lah, umah aku lagi sekangkang ngan Q bistro nih…
aku nak cite kisah sentap budak ni, rasa nak ditempelenggg jer. skang ni aku amik turn anto gegirl, so abang memang pepagi pi ngan sirman dulu lah. unless ada keadaan terdesak sirman akan anto dedua. so satu pagi last week tuh, masa nak pi sekolah ni. ai will always ask her nak ikat rambut camner, either tocang satu ke 2 ke lekat ke kan
pagi tuh dia cakap nak tocang satu
aku pun ikat
tp aku buat tocang yang pintal2 tu jadikan satu.
satu lah jugakkan.
pastu dia merajuk
sambil aku bersiap dia dok lah tepi pintu
tersedu2
terlalak2
adoiii
aku pujuk2 pun tak jalan
meleleh2 dari kat pintu, jalan kuor pi kat lift lam lift masuk keter
meraung2
just bcoz rambutnya mak dia ikat tocang pintal satu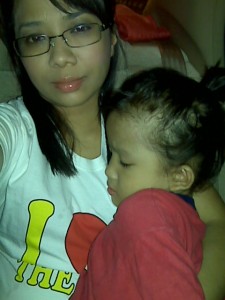 hangin la aku kan
ingatkan aku sound2 bertepek2 dia naklah diam tp nan ado nya
so aku bukak rambut dia lam keter
and ikat balik tp takde buat the pintal2
baru diam
macam magic
tetiba diammmmmmmm dari meraung lalak
eiiiiiiiiii
pasal ikat rambut pun ko nak meleleh2
sejak tu sblm nak ikat aku tanya dulu kasi kompem, tocang ke ikat satu ke jurai ke whatever u wanna it call lah kan. kalo idak ai m gonna waste 10min jer nak memujuk dia.
kecoh la lu!
Comment:
50