Mar 13 2009 Friday, 1:00 pm
wahahhahaha! arituh dia nya art class kan, tp kali ni dia tak bawak balik lukisan dia..katanya cikgu tampal kat board…cehcecehhh ni mesti cantik la tu sampai dapat appreciation tampal kat kelas kan…
aku tak pandai menilai seni lukis, tp apa yang anak aku conteng tuh sume nya lawaaaaaaaaaaaaa! ahwhahahhahaha, katanya mak kan, mak mana yang kata lukisan anak nya tak lawa.
tp ada gak lah tak lawa but kitorg ckp laki bini jer lah, cakap depan dia kang, sentappppp seii. abang dia je yang boleh kutuk drawings dia, coz abang dia malas nak jaga hati sentap adiknya.
khas utk kasut dia jer, siap ado namanya lagik..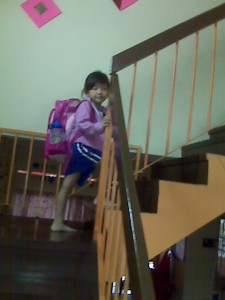 arini dedua anak aku pakai baju sejuk, ujan mahhh…..
kali ni aku anto dia sampai kelas, sebab aku ada banyakkkkkkkk masa terluang arinih. oh ini adalah gambo fresh pagi tadi yer 🙂
n bila aku dah anto gegirl, tak sah lah kalo x menjengah anak bujang ku yang ngah rehat sek agamanya…abih je makan, aku terus pecut to service centre, fetched sirman pulak. dia pi nganto keternya service.
kami berdua arinih cuti sedating if u nak panggil gitu can so lah. takde sbb pun cuti, just nak cuti berduaan, at least sekali lam 3,4 bulan hah…nak ngk wayang pun malas, nak pi berjalan berdua pun malas
balik dok umah tengok dinding ke tengok muka memasing hahahaha ye lah tu, lagik lah molek.
btw senin ke selasa ada entry jual tudung and kain ela, malas aku nak haplod arinih, jemaat mar, ramai kot cuti kan…so relax je lah sket.
wkend nih adalah ari aku ngan anak2, depa ada program, and aku lak free from any blog event….sangat sesuailah, kalo idak ai m gonna miss their session.
Comment:
13