May 11 2009 Monday, 3:30 pm
aku ada banyak entry tergantung…
so pelan2 lah yer.
aku rindu nak cite hal anak-anak lam blog
let s start with gegirl since seminggu lepas penuh dengan Jakarta and Bandung trip.
this is an old photos, sebelum kami ke jakarta. sirman baru uploaded dari berry dia, laju je aku tempek gambar nih. sebab ini adalah uniform baru nya yang sedikit besar, kalo yang lama siksanya kemain sempit!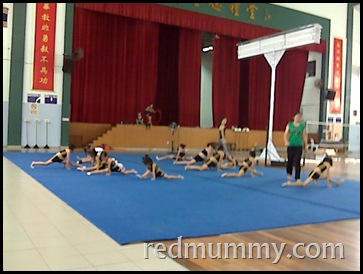 Sunday is always her gymnastic class, sejam sebelum kelas, dia udah siap berpakaian uniform. tunggu masa nak aku ikan rambut sanggulnya. n biasanya waktu gitu bapaknya ngah tidur. dia kejut memanglah pelan2, taknak bapaknya terkejut bila ngah tidur tu…
tp kalo dah 3,4 kali kejut tak gak bangun
dia jerit je kat telinga bapaknya
she loves her gymnastic class, so tu yang kalo kadang2 dia terpaksa miss the session, budak kecik ni akan sodih.
so that s the stories of her gymnastic class…
n this was taken last week. sirman tekejut badak bila tengok si kecik nih ngah isap ibu jari kaki.
alo cik puan merah, gegirl isap ibu jari kaki
ha????????? aku terus lari masuk bilik
napa gegirl isap toe tuh?
emm, sajer jer…
aisayman…sajer jer ni yang aku suspens nih
**malay believes, if the youngest child is sucking their toe, that means she s gonna have another sister/brother. means the mom is soon to be pregnant, AGAIN!
Comment:
42