May 14 2009 Thursday, 10:00 am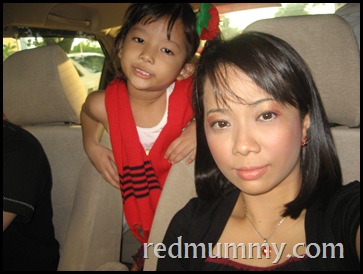 make up ku main setepek wiwiiii…kan yang ala2 ngelip MT tu aku pi tepek, blend ngan merah palette MT hiks…so kena amik gambo dari jarak jauh. dedekat kang ado yang juling pengsan
gegirl adalah lorat, orang ngah kemarau dia sibuk nak pakai makcik alamfana punya shawl merah from cameron…
lama muka abang tak kuor blog yer…he s not camera boy lah. dia x suka amik gambo. tu ha tongkat sakti devil aku ado lagik kau, kulu kilir membawak. sudahnya ari senin baru aku anto, itupun mamat2 kedai tuh takdo aku letak jor kat kedai makcik bwh nya jer.
gegirl adalah riso nak kiss bapaknya kalo bapaknya tak shave. coz kan kalo x shave ada kesan2 tajam kat pipi kan, so dia adalah agak memilih. kalau nak kiss, dia pastikan takde kesan shave…
ah ok..takde kesan shave, can kiss the daddy tapi kiss ko adalah plastik sbb dok gak mata tu kat kamera…aa x ikhlas!
ai nak show show lah…saya pakai koleksi from jakarta, set yang saya beli kat Ambassador's Mall tuh..merah2 oren. muroh jer…my sis oso got the set.
thing is, gegirl tak suka earingnya, wpun sepesen sebentuk, dia cakap x sesuai ngan muka aku. aku kena pakai yang jenis oleng2 tergantung. dasat tak dasat budak kecik tuh…lom 5 taun tuh, dah pandai nak jadi fashion designer aku.
padahal subang set tu ngan rantai and cincin sama je pesennya, dia x nak gak aku pakai for the next time…
hui koo…
ingat mak ko beli ngan air liur
sesuka je suh simpan peram…
Comment:
12