Jun 1 2009 Monday, 1:00 pm
ya waduh, gambar2 lam entry ni
dah tak ikut susunan
jenuh heh ler aku nak update woiiiii, so aku tembak jer yer
last sat, me and the red family pi melepak kat umah Liza, my blogger's budddy aka MY WORKMATE lerrr! ai ve been knowing her before she joined the place we work lagik..ahahhaha nak jugak aku cakap kan!
btw tuan rumah yelah liza yang berpinky tudung itu. tetengah tuh Gina Manan, and aku adalah seronok coz tetiba aku tinggi??? aku tak pakai heel oi, wedges yang cepotek jer…
bangga bangga, kibas rambut sket weih!
perhimpunan gang2 seopis dan sekerja….issue: ex gratia! 🙂
lintang pukang kan gambar, so ni ntah bape kali makan for them, ai makan light2 yer. aku kalo umah orang mmg susah nak makan. mulut nak bercakap lg banyak dr nak menyuap
eh link for them sume aku letak kat bawah oiii!
from left kak ty, ayu the sun, sid, eliyashazeli and ayusolo yang tak sudah2 melantak kau kannnn!
2 bujang hensem, sedang mencari bakal2 isteri…jugak my gang2 di where ai work mencarik seteguk SIY dan sepeluk perfume serta sebidang make up
hikss…
lurza and andy
anak2 dara…sila amik number yer semua, kat pintu 3 sebelah ujung 😛
punyalah gambo hujung2 woiii….ni dah nak abih majlis, orang dah kemas meja sebelah, bebudak nih tak geti nak bangun2 bambus lagi kay.
termasuk saya 🙂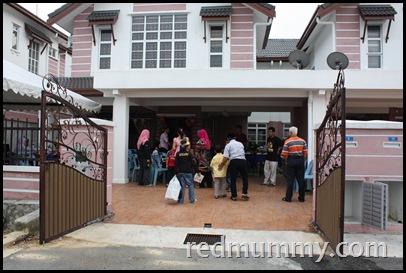 ahah! gegambo aku dah on track ikut jadual balik…inilah rumah besau si liza. cantik woiii. my 2nd time terjah rumah makcik tuh…ari tu masa raya open house pun aku ada mai sini gak.
farah lilred dik oiii – ko balik nanti kak liza ko buat bbq kat umah dia, bolehlah aka potluck RM di liza's bungalow plak yer. eh ni utk farah tau, bukan utk semua orang. pengsan pulak liza nak cater semua RM's readers.
business talk, project aduan semasa to Gina Manan, anda ada masalah di Kuantan, jemput tanya Gina…
dan dan gina plak aku mangsakan 🙂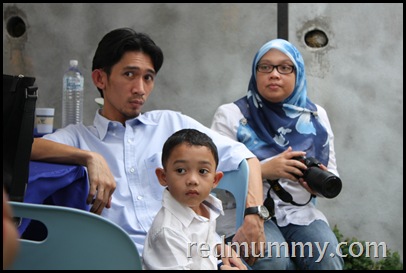 the not so complete family of Gina Manan, baby tinggal…bawak 2 big boys jor sonang!
kakty, awat la k datang asik ngan anak dara ko n si bongsu, lg 3 mana? si bapak n 2 lagik anak ko?
ko diam red, meh amik gambo
kak…ko kawin umur 19 taun ek kak? sonoknya tetiba anak dah beso kan…
ko amik gambar je bley tak red? mulut menceceh je tau ko
kak ty, ko setaun tua dari aku kan kak?

ok..x leh sambung, kang kakty pelempang aku …..hikss
abang adalah menang best dress di birthday party anak2 liza nih, ha ekali 3 anak2 nya bday party dia buat yer…., jimat banjer. aku pun nak buat lah sekali 2. oh dulu pernah, skang tak pernah…
maunya abang tak best dress, sibuk bertie2 tu kan, ngan badge spiderman lagik. tie tu aku dpt free waktu beli kain baju diorg kat ITC kuningan jakarta, oi dia pi tuition kat SR tu pun pakai tie tu yer…
suh le cikgu ko jadikan ko pengawas nanti bang…ari2 kena pakai tie.
ahah kita ada musical chair! game utk kanak2 riang ria…hosted by McD
gegirl sangat determined utk masuk dan menang
**kalau ada yang buat citer mak nya yang over determined than anak, korang jangan percaya. diorg tu jeles anak aku menang! hiksss
go gegirl go gegirl gooooooooo!
dress gegirl jugak dari ITC Kuningan, Jakarta, bukan yang recent trip, tp yang jan's trip nya beli baru ni ha nak pakai…
kan…bape puluh round dar…at the final stage tinggal gegirl and anak lelaki kecil nih…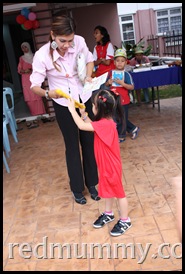 berkat sokongan maknya yang 'over' BERSORAK, makanya gegirl adalah juara musical chair, yey!
amik amik adiah tu….amik…………!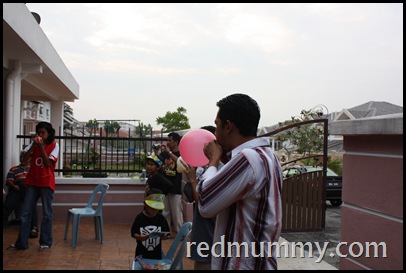 next adalah game utk budak2 lg ngan makpak memasing…sirman le joined tiup belon tuh…nak suh aku?
aku senang je jawab
tak nak, kang lipstick gloss mummy abih licin
abang adalah sekutu sama bapaknya main baloon
and ayusolo sengeh2, apehal ko? dah tau datang lambat, meh dok makan meh meh mehhhhhhhhh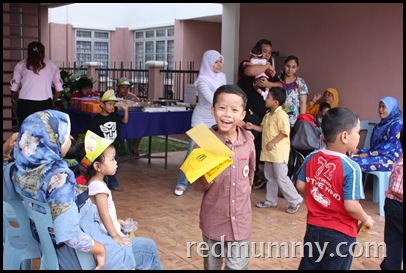 tetapi abang adalah menang untuk emm, ntah…main game baloon eh game baloon tu abang juara! wah
bagus anak2 aku
kekecik dah ada semangat sukan utk menang! amalkan yer…mak suker
maknya sibuk makan
aku tarak kisah mar letak gambo tak de make up
makan cecomot
ke korang makan agak2 bersopan? sopan itu perlu tp jangan mengados ler kan…
dress adalah dibeli dari jakarta, eh bukan..Rumah Mode, Bandung. cardigan merah kecil tu aku beli kat ITC kuningan, ganteng murah 10 inggit je kot.
happy birthday to youuuuuuuuuuuuuuuuuuuuuuuuuu!
happy birthday to liza's kids
Mira
Ilham
Baby
number 4 next year ek?
dan budak ini menang best dress kau! adiah nya ditaja khas oleh tuan rumah
bagus abang..kekecik dah menang best dress
x sesia ko bergaduh ngan mak ko nak pakai baju tuh
baju abang tuh, dah 2 taun beli baru ni ha dpt pakai, sirman bought kat US, ganteng bape besau size sirman beli dulu kan…
liza next year best dress utk makpak pulak ek
theme: red devil pls
menarik pulak gambar2 aku ngah buat 'aduan' rakyat jelata kat gina kan…so ai tempek lah yer…
gina amik ler gambo2 nih
kat kamera ko takdak wpun kamera ko pakai ke main panjang lah lens wuiiiii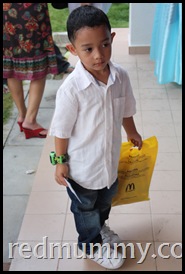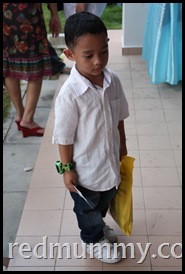 apa rahsia awak pakai baju putih ek? kalau anak2 aku pakai putih…..sama ada aku sental aku buang
atau aku suh diorg pakai buat lam umah jer
Danish is so cool and cold! hahahahahha masam je mukanya…ajak main pun tak nak
over kan 2 orang nih. orang nama ayu ni memang over tau, gegirl tak eran pun tp si tudung biru dedua tuh yg lelebih….
hoi…balik oi balikkkkkkkkkk!
aik ayu the sun, penuh tangan ko ngan bag kuning tuh, bila plak ko beranak kecik weiii!
ha satu lg nak tau ayusolo adalah tidak pulang waktu kami pulang, dia adalah makan dan makan utk round ke 5 sama eliya. eli tu kita paham le kan, katanya mak yong.
ahah geti pun nak balikkan….
sempat lagi pose cantik sket
wpunnnnnnnnnnnn ada yang kata aku jap kurus jap gemuk. yelah, dulu lg aku berisi tp sbb dah ada SIY, kurang lah sikit isinya dok
SID serious nampak dah kurus, dia pun belasah SIY gak tuh
Ayu – The Sun ada keje kosong utk blogger dok?
ni meh aku cakap kat korang yer, aku dpt aduan ada antara kamu punya RM's car stickers tercabut keronyok. camne korang pasang nih?
aku ajar lg sekali
pas ko dah tampal, amik kain, sapuuuuuuuuuuuuuu ratakan. takdelah keronyok macam si ayusolo nya sticker nih. ayuuuuuuuuuuuuuuuuuuuuuuuuuuuuuuuuuuuuu! amik kain di jemuran, hujan dah turun!
aku adalah sangat rajin utk tepekkan sekali lagi semua bloggers yang datang to liza's kids bday party:
eliya nya blog dah khatam watamat, moga anak lelaki mu lahir, beranak sihat yer dik..
to liza, thank you for inviting red family to your kids birthday party
for the tapauan lauk, aku pass kat umah mak aku, aku tak makan kat umah la 2 ari nih
for frens / bloggers yang kami temui, happy to have a short little chat with all of you…
btw, 10min sblm sampai sid and ayu the sun tunggu the red family kat pass toll mana tah hahahahaha dasar aku tak drive so aku didnt care! the food was fantastic, the party, ada McD, eh bape ek nak jemput McD datang umah tuh…alah umah aku kecik ler tak leh buat party kat umah.
tengok anak2 orang buat bday party, aku pun nak buat gak lah. pdahal dulu tetiap taun buat. just that sejak bulan sept and oct memanjang jatuh ramadhan and syawal, aku sudah lost track dengan big party depa. we just held a mini tiny celebration for our own family jer. like this year, bukan aje ada ramadhan n syawal gak, ada wedding adik aku pun yor gak weii…
kalo bday anak2 aku pun dah aku cut cost, apatah lg bday aku, gila nak suh aku buat bday party over! saya tau letak diri saya di mana, sudah tua woii…kena seligi je ngan sirman kang mengada2 nak buat bday party RM plak.
group photo sket….
abang first bday party was held at McD JJ maluri, big one.
abang 2nd year bday party aku ada rezeki lebih, buat kat one of the service aparment, in town center.
abang 3rd bday party buat kat emm oh tak buat sebab mak nya dalam pantang beranakkan adiknya hahahaahaha!
abang 4th bday party cums Gegirl's 1st bday party buat kat A&W Pj
that was the big grand bday party for them…. means dah hampir 5 taun takdak party2 utk anak2 aku, except depa celebrate kat kindy and with family.
see lah…ada rezeki lebih mak kau buat yer. tp invite adalah sangat limited! kang korang jangan marah kalo aku limitkan invite woiii…ni bday party anak2 bukan potluck RM.
Comment:
20