Jun 9 2009 Tuesday, 1:00 pm
Thursday morning aku ada nampak YM aku menyala, masa tu aku dah kelam kabut nak pi keja, so ai told sirman to save kan blog url yang Maa Rahman anto. aduh sapa ek kakak  nih kot….lupa lah. terima kasih kak Maa Rahman, kakak ke adik ke tak kisah lah. so saya terus pi visit blog tuh yang dianto via YM tu lah…
tak pikir panjang and buat online shopping.
kualiti belakang kira, coz janji ada Dora set. dah alang2 beli Dora, kenalah beli Ben10 Abang.
The next day nya terus aku dpt courier dari owner blog tuh.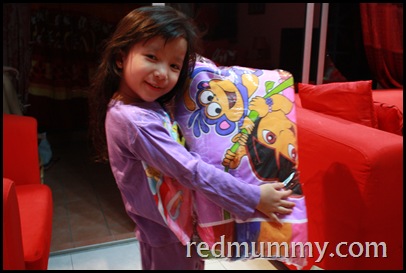 satu dora set nih ada single bedsheet, 1 bolster, 1 pillow case and 1 comfirter dora = RM55
Ben 10 set nih pun sama jugak package nya RM55
adik nak kaler apa?
saya nak merah2 sume kak
merah takde, dora ada pink atau purple, ben 10 ada kuning
bolehlah kak, dora tu amik purple.
all comunication is via sms, sangat pantas.
aku tak bukak lagi bedsheet tuh, cuma keluarkan the comforter set tuh jer, sbb tu yang sebab utamanya beli….lgpun ai just bought 2 pcs each lah bedsheet bebudak nih kat jakarta, tak yah lah jam2 tu gak nak tukar2 baru.
kasi simpan peram
agak2 aku tak nak kasi diorg pakai, leh adiah kat korang hahahhaa….
sesuka aku jer nak adiahkan harta budak2 nih, dah jadi fav depa oiiii!
ni aku canang awal2 korang kang jangan ngamuk pulak kalau komplen kata kain bedsheet ngan comforter bukan cotton.  memang kain bukan cotton, comforter pun sama gak, macam kain apa ek, tak geti le nak ckp. tp untuk umah atas langit yang bilik2 depa takdak ekon, bolehlah pakai nih, budak2 lebih mementingkan kartun dari kualiti.
anw, Kak Ila tak tau pun aku promotekan nih, she doesnt know me, aku tak kenal dia, dia pun tak tau apa blog aku daa….. she s not interested to know bout my blog url pun heheheheheh.
to Maa Rahman, thanks ye tolong dptkan saya link utk dora and ben 10, if u have other blogs online yang jual gini tp quality standardnya lagik tinggi, koman2 cotton lah… sila bilang sama saya yer.
n blog kak ila tu ada jual kain ela, ada kain ela dia tuh aaaaaaaaaaaaaaaa cantiknyaaaaaaaaaaaaaaaaaaaaaaaaa! tp napsu harus disekat.  bolehlah kalau korang nak shopping hebat kat blog kak ila. actually online shopping camni senang gak, mmglah kita tak tau tahap kualitinya tp sangat mudah dan pantas. like ai said again, ai bought these sets not coz aku pentingkan kualiti tp kerana anak2 aku dah lama carik dora ben10 comforter sheet.
so kalo anak2 dah suka riang ria
aku lagik senang hati, x yah bising nak pi carik kedai yang ado dora set. cincai gile keje mak nya hikss!
Comment:
6