Jun 15 2009 Monday, 11:00 am
as ai said before lam previous entry yang ahad, aku berpergian ke Ipoh Perak. Bertolak pagi yang tak lah berapa pagi, had brunch kat rnr sg buloh, pastuh dah tak sedor hapa, sambil layan email jemaah and moderate comments all the way from kl to ipoh…
tidur tu mesti, masa ni lah aku mengqada tidur. sirman tidur on time, saya memang tidur lambat, some more bila dah nak travel 2 ari, n knowing our room di hotel takdak internet access lagilah aku pulun siapkan.
sbb tu lah bila ada peluang tidur, dalam teleng pala kiri ke kanan pun aku bley gak tidurrr kroh krohhhhhhhh!
oh anak2 pun sama tidur marrr.
the first plan, my sister nana n her family sepatutnya aku bwk ikut sama ke Ipoh, tp dia tak dpt cuti. my bro Ayin pulak pun tak dpt cuti, tp wife dia Wana is housewife, so aku offered lah bwk adik ipar aku n anak nya sama. another akak ipar aku n kids dibawak oleh Epi. my sis Anya pulak will join later on Saturday.
Trip to Ipoh adalah kerana ingin attend the wedding sepupu aku, the mother of the groom is my mom's sister. parents and alang aku kan masih lagi buat umrah di mekah.
from mouth to mouth, aku dengar ini hotel baru di Ipoh. Tower Regency Hotel. it has hotel rooms and apartment. since aku datang in 2 families, aku amik 2 rooms apartment. RM260 per apartment per nite.
It s not a 5 star hotel, mbe 4 or 3 star kot..tapi hotel baru, so segalanya baruuuuuu! baru bape lama, ntah hahahahaa, setaun ada kot?
the dining hall…panjang. ada balkoni.
2 single beds for my SIL and the kids…empat2 tidur lam bilik nih. bathroom pun ada 2, their bathroom ada bath tub, besoooo. sayang sirman tak mik gambo tub tuh..
bilik mem beso and tuan beso…ado katil king size and lemari, and bilik ayo. side table pun takdak. even dedua bilik takdak side table. hampeh tol…so campak barang2 kecik atas katil jer ler
my room takdak bath tub, ado shower yang air dia ke main laju gilos…apesal hotel nya air ke main laju ha? kalo umah aku takdak pulak ko nak laju camni kan. ha jawab VA jawabbbbb!
my bathroom and the 2nd bathroom, attached to each other, tp adalah pintu nak lock up kot nya ko nak mandi laki bini tak nak bilik anak2 sibuk2 masuk bilik ayo yer…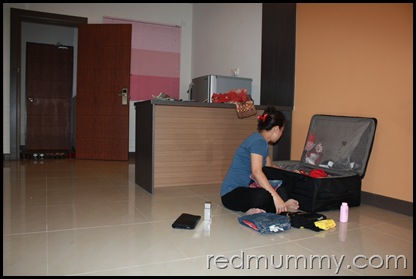 entrance nya ada 2 pintu..masuk2 ada lah dapur kecik, fridge umah bujang pun ado..since bilik aku takdak side table, my big luggage aku letak kat luor jer…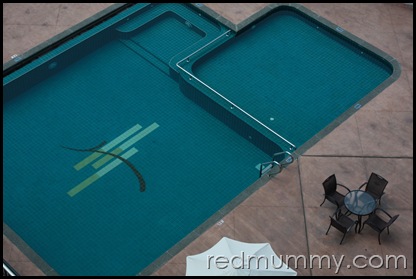 Tower Regency Hotel ni pun ada swimming pool, we are in 10th floor, tapi aku tak turun pun ke bawah, oh btw, the room nih comes together with 2 breakfast. the next morning, aku lah paling lambat tidur, tp aku gak yang paling awal bangun ngejutkan diorg. but aku tak turun minum pun, aku gasak suh sirman n kids pi minum.
sil aku pun mls nak turun…aku not a breakfast person, tp sbb ada suami yang suka minum pagi, tu pasal aku tolak2 suh sirman bangun pi bfast gak, kang ko gak yang muncung kalo lapo.
View from the hotel balcony, aku tak kuor pun dari balcony at all hehehehe…ni gambo2 sirman lah yang snap. me not kuasa wooooo!
The wedding is on Saturday, but we checked in on Friday, masih dalam mood cuti sekolah, so kami amik peluang untuk ke Zoo Taiping.
N for those yang nak mai Ipoh, kalo tak silap aku for single or deluxe room kalau bukan peak season, harganya RM160 per room per nite. kalau apartment for 2 rooms, murah lagi lah than what ai paid, rasanya lam RM230.
The Tower Regency Hotel's phone number: 05-2086 888. Hope it helps you lah yer…lain landmark, hotel ni kat belakang Hospital Besar Ipoh.
Comment:
8