Jun 23 2009 Tuesday, 10:00 am
RM – no make up
dila – muka putih tanpa make up gak
perkhh yan, ko pakai susuk ye selama nih
not much different for rose…
ayu the sun (pikir deadline paper ke dik?)
sid – semua datang muka free kosong, padanlah on time memasing…
student kecil RedGlow…yang hanya diberi sebatang berus muka hikss
but gegirl and sirman left early at 12pm of Sunday….
RM as a model of the day…
class kali nih all out, tp aku kena jadik model lgpun aku dah penah attended this kind of class before…
untuk entry make up ngan redglow kali nih, aku tak nak share sesangat ngan korang my readers detaily…aku agak kedekut giler for this entry. kalau nak belajar sesangat hangpa kena masuk kelas Redglow, oh yes…dah banyak kali aku ajar sesungguh lam nih kan. tp this time, hangpa bley review kat blog adik2 aka anak2 hangkat saya…the 5 GBM girls.
basically, kena pakai base, foundation, shading yadadingdong…asas tu korang aku dah penah tempek lam entry with Redglow sblm nih.
my 2 make up artists tak lain ina and najwa…dedua nya tangan dah biasa godam wajah mukaku…licin bersih lencun depa buat. dari berparut, depa sorok parutku..saya ada 3 parut di muka ye…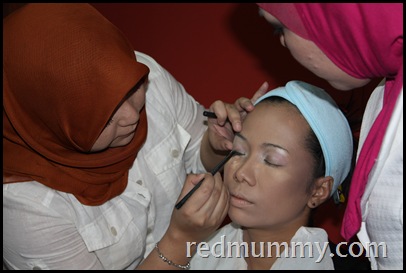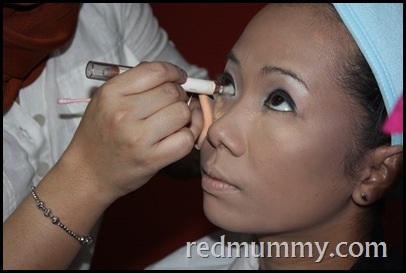 cuma aku boleh share info, for this session, RedGlow pakaikan aku pearly palette PAC. camne depa hasilkan, and camne aku penah hasilkan kat muka aku wuiiii….sangat berbeza kauuu!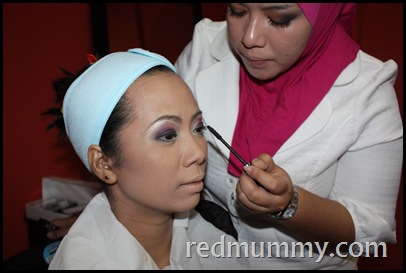 mascara…one final touch. tak final yet, suka lah kan nak finalise kan lam entry nih. bukan sebab aku nak buat ringkas, tp aku nak keep it simple untuk 650 kpg gambo, gila aku reduce sket sesangat. otherwise, dig my GBM girls nya blog lah yer….
mata sudah siap without the false eyelashes…
inilah pearly palette PAC, from Jakarta indonesia yang akan aku jual soonn….i hve one set already.
brushes MAC for blusher tuh manghaik, kompem aku akan sebat satu. bila dah pakai baru kita tau mana yang sedap mana yang idok. ai really like it. blusher pun from one brand yang aku akan sebattttttttttttttt jugak!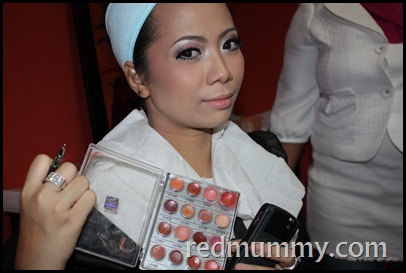 last time aku dimakeup kan pakai lipstick nih, kali ni pun lipstick yang sama, tp yang ni aku tak minatlah nak beli, sesuai for makee up artist jer. but kalo hangpa bagi percuma kat aku, giler tak nak amik?? wuiiii….
yey ai m done 🙂
saya bawak iron sendiri, sbb paginya tak sempat langsung nak buat rambut. this event was on sunday morning, pagi2 lagi dah kena make up…petang carik bantal  jugok 🙂
u wont be seeing this di memana..
sambil mengiron, sambil borak with ina…
apa jadik ngan anak-anak hangkat saya?
masa untuk mereka make up muka sendiri dengan bantuan redglow team. aku ada keje lain nak kena buat with Ina Redglow…some more sirman dan gegirl dah balik awal.
GBM mendapat jemputan dan tajaan khas dari RedGlow for this make up class, atas dasar kepercayaan dan business relationship yang saya ada with RedGlow, makanya GBM mendapat peluang emas begini.
when ai told them the news yang RedGlow sudi bukak kelas make up for them, ditaja penuh yer….melonjak sakan anak2 hangkat saya…
mengapa mereka selalu mendapat peluang dari RM? huiii………….
saya ada 20 helai kertas kajang menjawab soalan korang nih. everyone knows siapa GBM dia balik tabir RM.
kak red, GBM ni macam dayang2 istana redmummy.com ke? atau GBM ni macam puteri2 UMNO bersama Wanita ke?
bolehlah kalau korang nak cakap begitu. ye saya sudah berkali2 ditanya soalan sedemikian. basically GBM adalah lebih dari 5 orang, GBM ada lagi few members senyap…nanti bulan 8 lah kita cite menda nih.
sebujur wajah hasil nukilan RedGlow team…
saya suka make up gini, konsepnya, dolly look. tang mana dollynya aku enggak tau sik 🙂
abih make up laju2 semua dah pandai make up sendiri, korang bolehlah nanti visit blog depa memasing, depa buat review to their on face ye semua…we had a potluck, makan di sini. ada ayam kak didi, amirachaos's cupcakes, nasi goreng n udang butter sid, fruits and semua nih kami makan seulas seikat sesama….
bagi tidak menyusahkan pihak RedGlow….
dah abih makan baru geti nak amik gambo anak2 hangkat nih….
aaa bojeng!!! bojeng adalah back up photographer (boipren YAN!), terpaksa aku campak dslr sirman kat bojeng since sirman dah cabut awal kan…ater aku ada sorang lagi anak yang dok bertaekwando, yang gegirl pulak nak kena pi gimnastik.
susah tol nak tengok sid nih senyum weihhh!
hasil tangan sid, dah boleh dah kita pi borong make up ye sid
kelip2 dolly
ni mata tak nak relaks nih…sid tenang sid tenang….
sid tak pakai bulu mata pelesu ek?
bukak mata lelebar ye sid
mata ko sepet ek la, baru akak perasan…
kelip steady dila
wuii, mata belah kiri tu dah cam nak tercabut je eyelashes tuuu….
hah ye lah ko, sib baik ada bulu mata pelesu tuh…
cantik…pakai merah palette PAC nih…
rose ala makcik rockkkkkkkkkkkkkkk!
baju legging sume rock…dia ada show nak kena nyanyi kugiran pas make up class nih.
wuii dah jadi purple
wpun dia pakai pink, tp dah siap blende segala kan
jadik cam purple…
cantik!
haaaaaaa! bulu mata pelesu ko sengettttttttt
ater nyer gambo ni diamik masa depa nih ah abih makan
sume dah tahap nak mencabut eyelashes yerrr
budak yan ni cantik tollah
tak make up pun dah cantik, wpun kuor segala susuk2 dia kan, tp dah make up perkhhhh. bojeng ko pinang le cepat si yan nih, ado gak mata2 lelaki kat blog akak ni dok berkenan ngan yan nih weiii
pipi yan tu mahal tol! bola pingpong kauu!
all girls pakai PAC yang sama 8 keping warna tuh
dia pakai kaler tuh, dia pakai kaler nih
cantik make up mata yan….
she loves make up
semua orang suka make up
tp budak ni memang minat gak make up dari kuor2 perut mak nya…. 🙂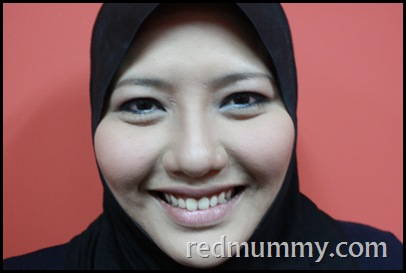 sesatunya student yang nak pengsan pakai mascara, nama je keje kat the sun, pakai mascara pun takut. wah ada kena mengena kah?….
dahlah takut pakai mascara! dia leh naik bulu roma masa dipakaikan…
eh mascara je lah dia dipakaikan dan diajar pakai, tu guna masuk make up class redglow…lelain sume kena buat sendiri, belajar!
ayu the sun make up simple a bit, tp yang paling tak tahan, dia satu2nya yang takut nak pakai fake eyelashes! serious kau…dia sorang je yang tak pakai. penakut ya rabbi. hiksss
akak dah cakap bolehlah pasni beli white khol yer u…
sangat2 teruja saya tengok anak2 hangkat ku transformed themselves dari muka kosong takdak makeup, dari dada kosong takde ilmu make up sangat, sampai la ni berlumba2 pi order barang make up…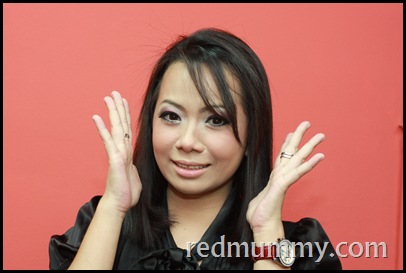 ….redmummy yang korang kenali
mata yang dihasilkan dek redglow…
cantik takkkkkkkkkkkkkkkkkkkkkkkkkkkkkkkkkkkkkkkkkkkkkkkkkkkkkkkk?
giler tak cantik?
us the 5 GBM girls, RM and RedGlow – Ina and Najwa…
jemput datang semua ke RedGlow's class on July and August onwards…
Thousand and Million thanks to RedGlow..Ina and Najwa yang sudi menerima kami sebagai tetamu, yang sudi meluangkan masa dan keringat for the girls….
to my lovely readers….
let s join RedGlow's make up class, it s not that expensive kalau ada determination, kamu mesti suka, manalah tau dari light make up kamu boleh jadi prof make up artist for your sedara cousins, adik beradik dan diri sendiri…
saya seronok dapat kembali semula ke RedGlow's make up class, wpun saya menjadi model, tp saya jugak mengorek ilmu apa yang ada. a day after the make up class, aku lari ke watson and sasa….to get few of my make up tools. also to Shu and MAC 🙂
aku nak beranikan lagi buat make up kat muka sendiri, nak make up kan korang? huh…..idak le teman tau bila nya weih. masa pun lom ado lagik nih…
thanks for reading the make up session for GBM girls, fully sponsored by RedGlow🙂 . for enquiries ke on the make up session, can sms Najwa Redglow: 0123588999
di balik tabir, aaa itu lain ari aa aku bukak!
Comment:
38