Jul 11 2009 Saturday, 1:00 am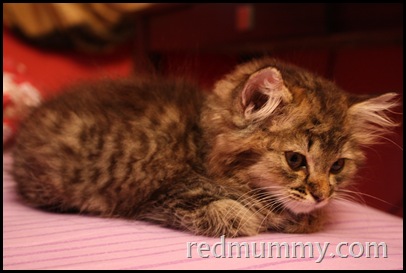 seminggu 2 kedatangan reddy to our red family..
the skinny of Reddy
today Reddy is 3 months old…
Sebulan dah kan Reddy di tangan kami red family, itu atas sekali gambar lama and  yang ngah melompat2 berdiri tu gambar nites before…
she s one happy kitten.
She is little baby for us, so suka nau memain sana sini, tu Sirman dok melayan main loncat2…setinggi pedang menan tu sirman naikkan, sedaya upaya dia nak lompat tetinggi gak….
Reddy jugak pandai mengejutkan kami, kalau dia agak2 bosan tak tau nak buat hapa hahahah..specially pagi2 subuh tu lah,dia kejut sbb dah kelaparan nak bfast…
love her sesangat.
Happy Birthday Reddy – u are already 3 months old..
Comment:
11