Jul 25 2009 Saturday, 4:15 pm
My healthy Prudential entry is a sticky mode for 48hours.

Do scroll down for updated entries. Thanks to the healthiest readers!
It comes to my finale of PRUhealth note for all of you my RM's lovely readers. Saya tahu korang mesti cam aku gak dulu 'alah talk briefing pasal insurance, tak mau lah boring lah' tu pasal aku yang kena jadi spokperson PRUhealth , bila aku cakap baru korang dengo.
Kang bila aku letak Fiona Liao kat sini kang, abih sume mencicit lari.
Eh aku tak lari pun masa dia briefed on the PRUhealth 🙂
So basically, kamu ingat yer, serendah RM100 per month utk package under PRUhealth insurance, bukan mahal mana pun. The more u insured, the more bonus kamu akan dapat. Forget about your company ada medical benefits, lupakan jugak kalau kamu sangat2 sihat hingga kamu rasakan kamu tidak perlu untuk enroll to any insurance.
No it s wrong.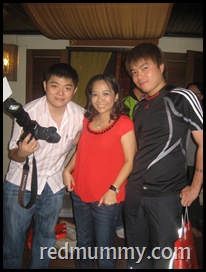 Kita hidup perlu ada matlamat. Yes everyone will die, tp kita tak nak lah mati dengan meninggalkan nama yang busuk and langsung tidak ada harta sedikit pun untuk waris kita. Some more kalau kita parents, camne ngan kesihatan anak2. Kita tak tau sooner or later ada ahli keluarga kita yang perlukan medical insurance kan…so do your calculation, with 100 ringgit boleh merubah perjalanan hidup masa depan mereka…
btw, seronoknya bila masa kita check up and dengo to gain information on the PRUhealth , rerupanya for 9 of us kami juga diperiksa untuk mengetahui siapa yang paling sihat dan siapa yang perlukan rawatan kesihatan sewajarnya…
Wow! Never tot of that.
Oh ingat yer, with PRUhealth
•    it gives you bonus waktu ko sihat walafiat
•    it covers your hospital bills while are not well
apapun, you still gain the benefits!
Oh chop! Nak remind you all gak yang kat overseas, PRUhealth is very worldwide, if korang nak dapatkan medical check up kat US lah contohnya yer, rawatan will be covered exactly seperti yang korang dapat di Malaysia's hospital, up to 90 days per trip.
Blur lagik? Get your PRUhealth , available when you buy the PRUlink assurance plan or PRUlink education plan dari Prudential. Hok nih sumer aku dah explained briefly kat 3 previous entries, otherwise can study further kat PRUhealth 's web.
So overall saya bukan sahaja gembira dengan mendengar talk by Fiona, tapi juga saya gembira kerana…
saya dicheck up by a TCM certified physician
saya juga dapat massage seluruh badan…ah nikmatnya! Ai need to re-visit Villa Manja,Spa, Bungalow 41, Jalan Damai, Off Jalan Tun Razak!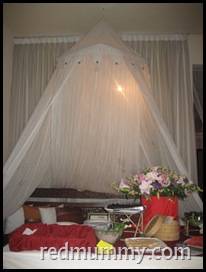 juga dapat ketenangan nikmat di Villa Manja sambil makan yang enak2, thanks a lot Prudential Assurance Malaysia Berhad!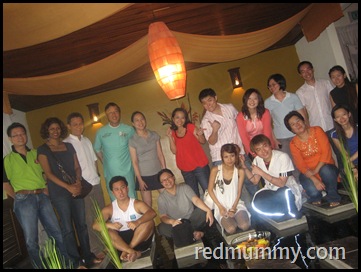 bisa juga ketemu the whole team, behind the scene, Prudential, Nuffnang  and 9 bloggers frens yang terpilih for the Audition of Your Health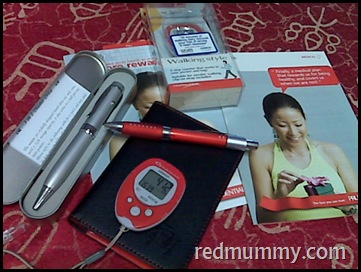 juga cenderahati ikhlas from PRUdential…wuii kami sangat dimanjai dan diwarnai with token2 berharga for our health! Ai definitely go and vote for PRUhealth !
tak cukup dengan itu, RM200 Jusco's voucher for my winning as the healthiest blogger by PRUhealth on that day! Wahhahaha…never tot of that….
Finally ai won something selepas berbulan2 masuk macam2 advertorial contest hikss.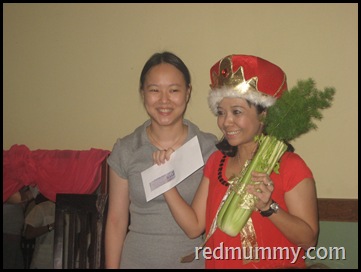 Redmummy as the healthiest blogger among the 9 bloggers invited for this event. Yahoooooooo!
Kennysia won for the best sporty man that day, mau taknya dia sorang je yang pakai baju sukan hahhahaha, orang lain pakai baju casual mar.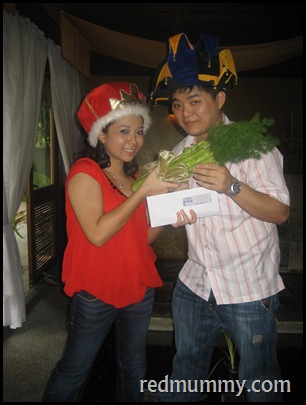 besides, the man next to me is the one yang mendapat the worst markah untuk health check up nya! Aaaa…ai should share my tips with Saimatkong hohooooooooooooo!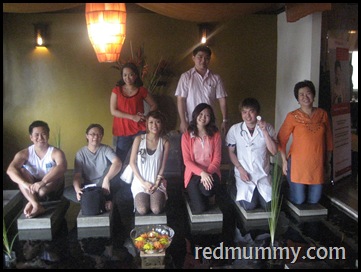 yey! All of us the 9 bloggers (1 had to leave early, KY). They 9 bloggers yang harus kamu terjah blog mereka untuk dptkan lebih info menarik if you feel like to read their judgement on PRUhealth too.
Left to right:
Redmummy the healthiest 🙂 , Saimatkong the unhealthiest
Kennysia, Ringgo, Kyspeaks,  Snowhite, Huai Bin, Lilian
so all, let s think again untuk those yang masih lagi terpinga2 tak tau insurance mana yang korang nak terjah, nak cekup for your life time coverage, study memolek, you can make a comparison tp perlu diingat yang mana pun korang check, it will end up to PRUhealth , coz saya sendiri study cam nak rak dulu sebelum kuor duit beratus inggit sebulan for my health and education insurance specially for my children..
Nak carik agent Prudential? Oh senang jer……….
you can simply leave your comment here, someone from Prudential will approach you 🙂
Khidmat pesanan masyarakat Prudential is brought by Redmummy.com, for easy reference, you may find previous Prudential posts via these links:
1. For the life for the future
Comment:
36