Aug 28 2009 Friday, 10:00 am
make up dia not badddddddddddd, aku sudah jatuh cinta! camne ni ari2 rasa nak pakai tu nak pakai nih. tp tak semua tu aku dapat, separuh dari tu pun Rose, Sid and Dila dapat jugak coz they are the guest bloggers for my shooting part. hope the girls like it so much.
ai love the mascara, the gloss the concelear, eh semua sukerrrrrrrrrrrrrrrrrrr! Rimmel London representative – can u supply me more product since i m so hardcore on make up?
langsung jugak didapati during the shooting…..aku cuma amik 2,3 keping, the rest are for the GBM girls yang ada terlibat secara langsung utk Project Alpha. mask perut mask muka, mask rambut….hamikkkkk! penuh gobok mak merah….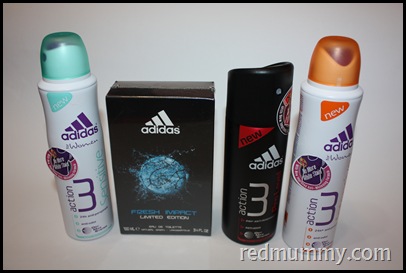 Adidas Action 3 is the main sponsor
some of the product from Adidas Action 3 yang diberi waktu shooting, for RM and Sirman.
waktu Press Conference di Minister of Sound, Sunway, Sam from Adidas telah bermurah hati menaja lagi hadiah utk kami the 7 Top Bloggers, set nih aku tak bukak lagi kau…siap ngan bag Adidas lagik. sayang aaaaaaaaaaaa….rasa nak peram frame wui melampo kan.
soon dibukak dan dijaja in the blog………penuh dah umah aku ngan Adidas nya product.
Apa2 pun kan, aku kalau dengo Jojo bercakap, baik on stage mahupun waktu dia ke udara kat radio, perkhh lentok aaa dengo merdu tol suara dia. Very the polite, and dengo dia cakap melayu lagi syokkkkkkkkk…….
…oh Jojo, hensem aa boipren ko, bila nak kawin? Korang nak tau sapa boipren Jojo? hiks…waahahaha, boipren dia baca blog aku lah, dia monitor blog aku gegiler. Semua 7 of us dah kena zippp jangan announce sapa bf Jojo wiwittttttttttttttttt……….
hi bf jojo, undertable plsssssssssssssssssssssss……… 😛
n finally
the teaser for the Project Alpha is already out in Nuffnang's blog. First episode will be on aired online on 18th September , you can oso check it out  via Youtube and hitz.tv . Online lagi senang korang tak leh nak complaint lah kan kata tak dpt tengok. terus je aku upload kat lam RM nih yer…….
the latest annoncement for our Road Show with Adidas Action 3 from Nuffnang's blog, maghi2 meh reramai pi MidValley meh…..!
Stay longer in RM, coz ai guess my episode will kuor hanya after Aidilfitri.
more lagi citer behind the scene of Project Alpha will be out via RM. Sapa mau jadi bloggers for Season 2 pulak nih? bebawak le letak Nuffnang dulu kat blog korang…
Comment:
18