Sep 6 2016 Tuesday, 10:00 am
Yes, the little diva of our red house ada own pendant.  I chose the pattern etcs semua but husband did the booking bagai. kena customize lah of cos. Not me yang dapat Chanel's pendant pun (oh speaking of that, ai memang ada Chanel's brooch, but hemm…pakainya 2,3 kali jer, eh nak juallah, mau ada orang beli kah?, bought at Chanel KLCC)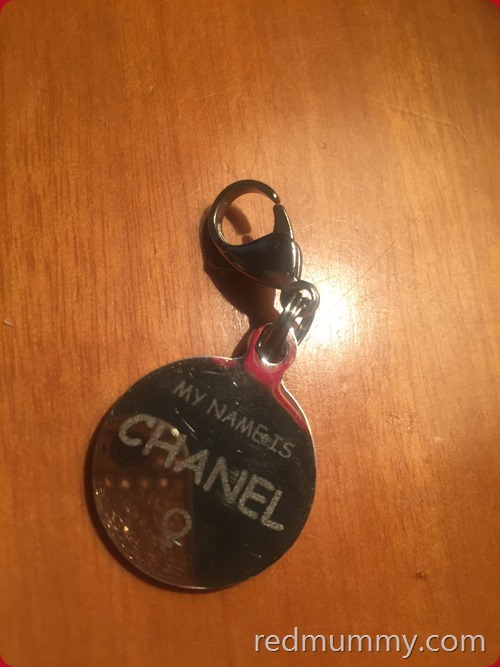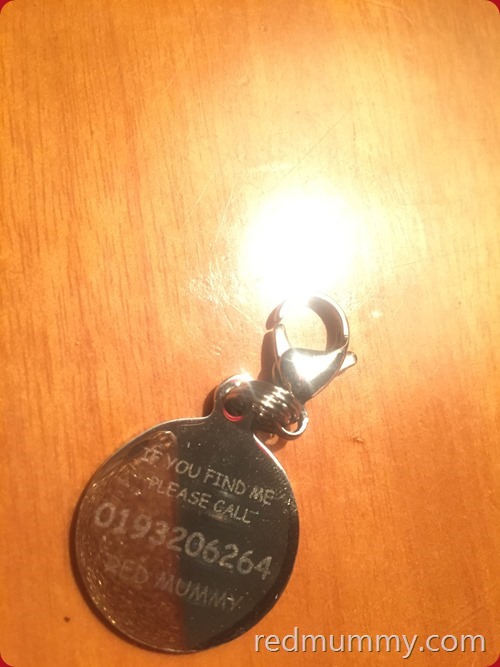 But she only pakai for few hours jer, bila aku peratikan tiap kali dia turun tangga berdentum2 kat leher dia hahahaa..yelah budak ni kan kecil lagik, pastuh bila dia makan minum, abis masuk dalam bekas air makannya, jadi kena bukak dulu, have to wait sket lagi bulan untuk dia besar bagai juara baru boleh pakai.
RD paid for RM30 untuk this beautiful pendant, not done by our petshop but ada contact yang khas buat customize for this.
**ada new label – Porche, we decided to  name Sharifah's only baby as Porche, pasalnya not coz of the car's brand but coz she is a female and pastu dia kan level2 dok kat porch so jadilah Porche hikss….
Nak update gak on Chanel, so dia dah ngan kita about nak dekat 3 months gak, jadi diperatikan hanya the first 2 weeks jer lah yang dia berkempet ngan aku. Seperti yang diceritakan dalam entry kucing sebelum2 nih, she s more closer and lebih mengekor kat RD. Pastinya susu adalah puncanya yang buat dia sangat melekat sangat ngan laki aku tu lah. Me and abang tried to buat susu tu, tapi dia minum sikit2 jer, so kita agak the our air tangan not sesedap yang RD buat. Sampai sekarang pun dia akan tunggu RD balik kerja, if RD naik atas turun bawah, dia memang mengekorrrrrrrrrrrrrrrrrrrr jer. You imagine if laki aku dok kat toilet sejam, sejam tu lah dia dok kuor masuk toilet, siap tidur depan laki aku lagi. She just cannot see RD hilang dari mata dia. Tu pasal bila malam jer, dia dengo kunci keter RD, dia dah siap sambut kat depan pintu.  Even tidur pun, dia akan stay on RD's side sepanjang masa.  Laki aku kat dapur, masak ke basuh pinggan ke, dia akan dok kat kaki RD gesel2 badan dia or dia panjat dok kat sinki sama.
OKLah to tell you everything yang RD buat, dia akan bersama2 ada dalam rumah tuh…huh. Such a good companion, kucing aku tapi dengan laki aku yang dia melekatnya. Kita selalu cakap yang for Chanel, RD is her mama.
Comment:
4