Sep 26 2016 Monday, 9:00 am
.
.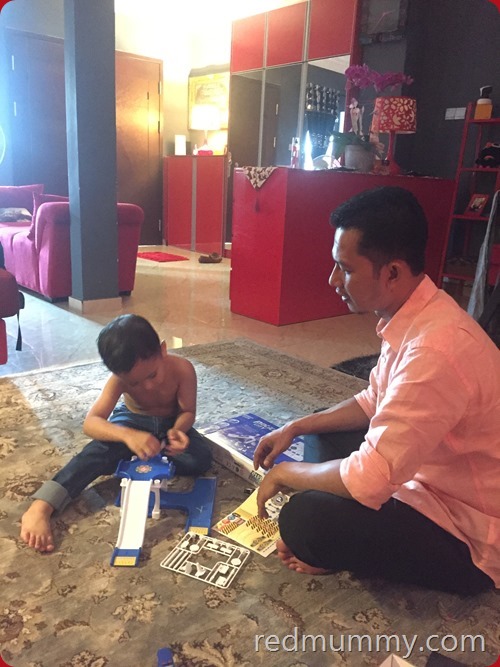 This cheeky little fellow memang selalu came up with some surprises la. He always explore something new everyday! Baru-baru ni dia duk diam senyap-senyap dalam bilik Akak, korang tau dia buat apa? Dia gunting gambut dia sendiri!!! Grrrrr. Tu agaknya dia curious la tu apa dia boleh buat dengan gunting mak dia ni. Tu yang dia try out new things tu. Lesson learned, exploring things for him actually good, but kita kena la monitor dia.
Gambar atas tu pulak, bersungguh-sungguh dia nak buat pasang sendiri toys baru dia tu. RD nak tolong pun dia tak bagi. Kalo this kind of thing, memang bagus sangatlah dia ada rasa ingin tahu dan buat pastu explore sendiri 🙂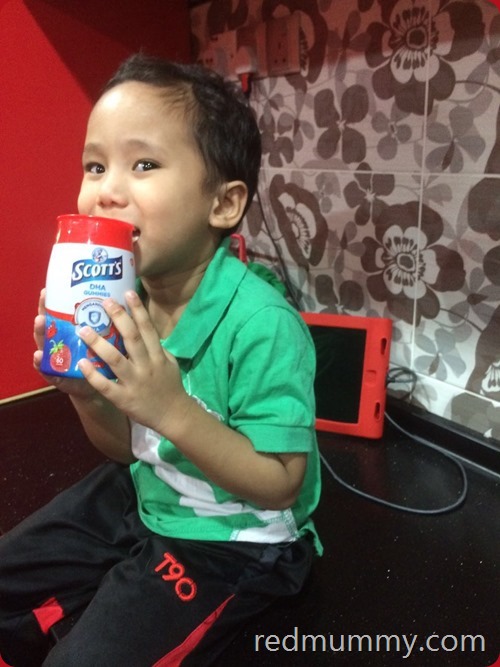 Bercakap pasal exploring ni, korang dah baca previous post Akak pasal Our Bright Little Explorer?
So sambungan dari previous post tu, Akak janji nak cerita pasal contest kan. Dari Facebook Page Scott's Akak perasan ada a few names dah menang contest Bright Little Explorer. So tahniah pada yang menang.
Tapi jangan risau, sebab ada lagi contest sedang berlangsung sekarang ni iaitu Sleep with the Sharks Contest!
Wow ini memang rasa terujalah nak join kan! Para peserta berpeluang menyaksikan pelbagai aktiviti Sharks pada waktu malam dan juga haiwan laut yang lain. Ini termasuk feeding sessions, hands-on night activities, night educational tours and a unique experience of 'sleeping with sharks'. So your kids definitely gonna love this activites!
Apa yang perlu mummy and daddy buat ialah…
Ask your mini to complete this sentence:
"If I could sleep next to a shark, I will ask Mr. Shark….." (in less than 25 words), then guide your mini to draw a very simple happy shark on a piece of paper.
Snap a photo of your mini's drawing and post it in the comments below along with your mini's sentence.
10 most creative answers will win a pair of tickets to experience 'Sleep with the Sharks' and you moms will enjoy RM100 shopping vouchers
Senang jer kan, bolehlah join. Sebab ini memang rare experience untuk anak-anak! Exciting experience even Akak pun sama teruja nak join sama, Zeeshan sure suka punya 🙂 Contest starts 19 September – 7 October 2016.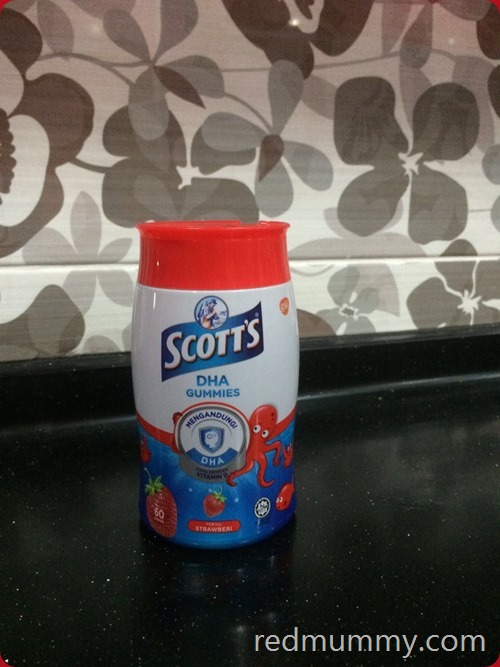 Here is Scott's® DHA Gummies dan seperti yang korang sedia maklum, Akak rasa semua familiar dengan nama dan brand Scott's kan? Ala takkan tak ingat minuman bersupplement yang berperisa oren dengan lambang seorang lelaki memikul ikan kod 🙂 And by the way, Scott's is the No. 1 child health supplement brand in the fish-based segment in Malaysia (as reported by Nielsen, MAT June 2016). Hebat-hebat!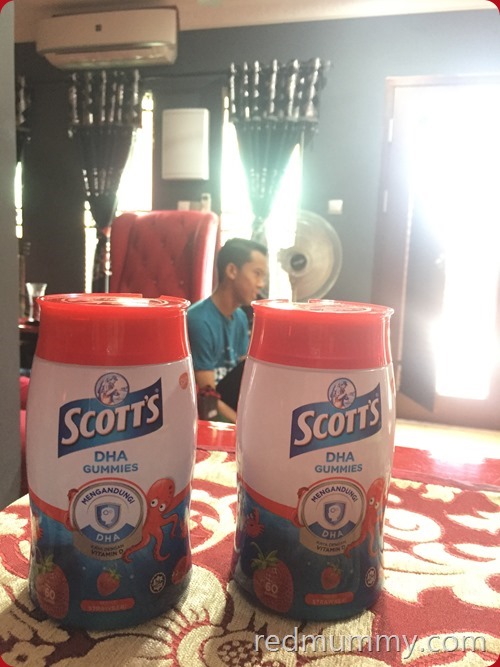 I'm sure korang familiar dan aware apa itu DHA kan, tapi pada yang tak familiar, DHA ialah komponen penting untuk perkembangan otak normal kanak-kanak semasa dalam fasa pembesaran mereka. Bermakna DHA amatlah mustahak untuk anak-anak kita supaya perkembangan otak mereka lebih sihat dan cerdas dan dalam masa yang sama membantu memupuk rasa ingin tahu dan minda sukakan cabaran. Dan kenyataan ini dikongsi oleh Certified Paediatrician, Dr Ali Azman Minhaj betapa pentingnya DHA dalam pembesaran seseorang kanak-kanak.
Memang secara tidak langsung dan tanpa kita sedari, diet ataupun pemakanan seharian anak-anak kita terdapatnya komponen DHA itu sendiri, tetapi secara rationya ianya sedikit sahaja. Oleh sebab itulah, Scott's memperkenalkan produk yang inovatif dan menyeronokkan bagi kanak-kanak iaitu Scott's® DHA Gummies sekaligus membantu dalam pengambilan DHA yang secukupnya.
Mengandungi DHA (asid docosahexaenoic), sejenis asid lemak Omega-3 yang penting untuk pembentukan otak dan mata, Scott's® DHA Gummies juga mengandungi Vitamin D yang penting untuk pertumbuhan dan pembesaran yang sihat. Also non-sugar coated, and non-sticky texture dan sesuai untuk anak-anak berumur dari 4 tahun ke atas.
Bila dalam bentuk gummies ini, minyak ikan tanpa ada rasa dan bau ikan sudah pasti menyeronokkan untuk anak-anak kita makan, tidak perlu dipaksa lagi ataupun disuruh! Personally Akak as a parents yang busy dengan rutin harian dan perbagai komitmen, sangatlah bersyukur adanya Scott's dalam bentuk gummies ni, at least the kids suka rasanya dan makan tanpa perlu dipaksa! And by the way, ini dihasilkan dari process microencapsulated with a patented technology that locks in the goodness of fish oil without the fishy taste and smell.
Lebih-lebih lagi ianya berperisa oren dan strawberi dan berbentuk in three different sea creatures – crab, fish and octopus. Lagi la budak-budak suka 🙂 dan sudah semestinya memberi kebaikan untuk diorang juga!
Scott's® DHA Gummies kini boleh didapati at most retail outlets seluruh Malaysia. Untuk info lanjut bolah layari Facebook page Scott's – https://www.facebook.com/ScottsMalaysia. Terms and conditions di sini http://bit.ly/2cQewGk. Dan jangan lupa masuk Sleep With The Sharks contest tu 🙂
Comment:
1