Mar 6 2017 Monday, 8:00 am
i had a very rough weekend.
i woke up early morning, starts with buat mee goreng.
in between i buat keje memacam, pastuh i baked 3 trays of brownies  oh sebelum tu ai menyiang daging cam nak rak and rebus.  I tak cook for lunch coz I thot mee goreng dah cukup for them since kita nak kuor petang tuh. Debak debuk, baking memang amik masa lama sikit coz i buat solo.  Eh pagi to noon tu coz kakak ada arabic class. Abang pulak ada PIBG di skul, on duty as prefect.
Habis baking, baru nak naik mandi, turun balik coz ada orang melapau nak nasi. Bila dah masak bagai, tak nak makan. So ai naik susun buat keje bagai lain, donno what, banyak je keje umahnya. Ai habis mandi, dah kira petang gak, turun  untuk buat keje umah lain gak, this day pun helper ada datang, but rasanya 4,5 jam gak dia spent untuk ironing (she came twice a month).  Kuor masuk angkat kain baju dari porch, banyak laundry 2 hari tuh. Petangnya masih lagi ngan sidai last one the kain2 buruk.
Then sent my helper balik. Phew….
Late petang all 5 of us keluar kejap till 10pm. Sambung malamnya kemas lagi memacam and lipat baju segedebak.
Tetiba midnite terus pengsan, letih.
Esoknya, pagi menurun dapur, aku sorang2 kelentang keletung, masak 4 lauk.  Kids kalau ko tak jerit turun memang lambatlah turunnya. Yang sorang lagi tuh, king of tidur, so tak guna kejut.  Dan buat itu ini, routine as supermak. About 2.30pm, keluar pi hantar abang tuition, hantar kakak to her old skul, kat asrama coz dia rindu ngan kenkawan lama dia and I teruss pi antau Prada to the petshop back (citer  Prada menyusul, anw dia memang kompem male).  Menunggu kakak kat hostel lamanya tu about 45min or more and terus amik abang, carik shuttlecock takde kedai sukan yang bukak kat bsp tu, rushed balik.
kelam kabut aku kat dapur reheat semua lauk pauk, and yang kena masak baru gak coz ayam tak cukup dalam masak lemak. Then sorang2 ni gak buat spaghetti olio, mana ngan nak packingnya. Luckily malam tu aku dah siap2kan pack kain baju kakak nak balik hostelnya. Pap pup pap, ngam2 lah untuk dia bawak balik semua tu. 4 lauk pauk + nasi putih, dengan spageti, and karipap sardin tak pedas dan 2 tupperwares brownies. Untuk dimakan malam tadinya bersama bebudak dorm.
Yelah meriah sikit makan reramai, so takyah makan lauk dewan makan if on Sunday tu kan.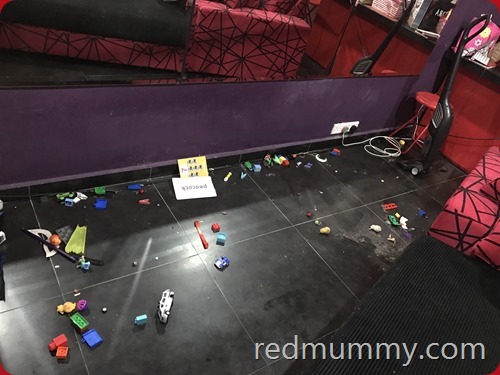 dan ini panorama di balik sofa depan tv. Mungkin bukan sebulan punya collection, must be more than 2 months nih. haih. Aku tergerak nak tolak coz ada benda terjatuh bawah tu, and bila abang pushed it, huk aloh….mengucap hakak. Abang kasi clear terus coz maknya dah bebel, ai even jumpa memacam toys the kitties, toys Zeeshan dah tentulah mostlynya kan. Buku abang kakak pun ado!
ada orang kaup terus kan, masuk dustbin. jangan pandang belakang dah hahahah…but idok le haku. 90% tu berguna pakai lagik.
The closure of Sunday is a very bad news to everyone, to chat later.
Comment:
3