Oct 23 2017 Monday, 8:00 am
October is always a month of 2 important birthdays. One is for the husband and one if for our eldest son.
So sembang hadiah segala, semua dah keluar cite lam blog, to recall: bapaknya dapat skuter sebijik and anak bujang dapat road bike sebijik, both in red colours. Of cos le takkan aku nak belikan hijau kuning plakkan.
A day before the bapak depa nya birthday, Kakak and ai went out to few malls.
First destination was to The Strand, hari tu the last day of Thai's expo, so many kinds of food from Siam ada jual. Aku tried the nasi ayam pulut, sedap betul and kakak memedas makan mee tomyam. Air teh tarik depa pun sedap but banyak sangat. Jenuh nak perabih. Dan lastly kita makan itu mangga manis tanpa pulut coz aku memang tak makan pulut2 tu cenggitu (nasi ayam pulut tu lain, muka sebijik nasi).
Kat The Strand, pusing kekejap situ carik birthday party shop, yilek. So tengok Waze, the closest kat somewhere situ but tutup pulak. So pepusing lagi, sampai le The Curve Ikea. Parked kat The Curve and crossed to Ikea turun ke Ikano. huh berdengung betul banyak perjalanannya.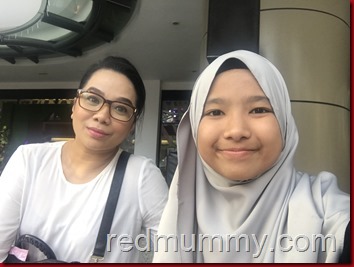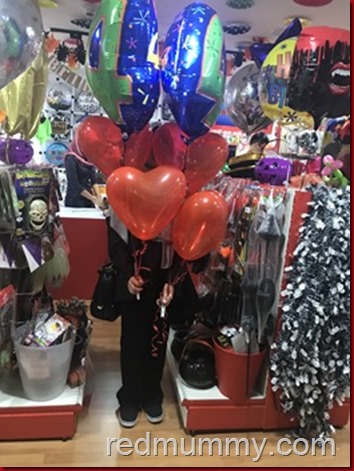 dan we got these, number 44 balloons with 4 red loves (meaning from the 4 of us). Just for their dad. Masa ni kakak ngan aku dah sakit2 dah kaki heh, sib baik le tak bawak adiknya sama. Masa ni ngah cuti Diwali pun.
So sambung pulak ke Seri Kembangan yang patutnya sekejap je kot leh sampai, oh aku pi petshop rumah aku dulu sebelum tu (memang dari Curve pun kena lalu umah aku lu before pi Seri Kembangan nih). Beli ubat kutu Chanel coz detected ada 2 kutu kat badan dia (dapat from her boyfriend masa matting). Grrrr….
Kat Seri kembangan ni sesat masyallah
Pak pung pang, sampai gak rumah baker. Memanglah patutnya baker antau ke rumah but aku tak tau bila nak balik rumahnya kenkonon kek tu kang sampai camna nak buat surprise kat bapaknya kan…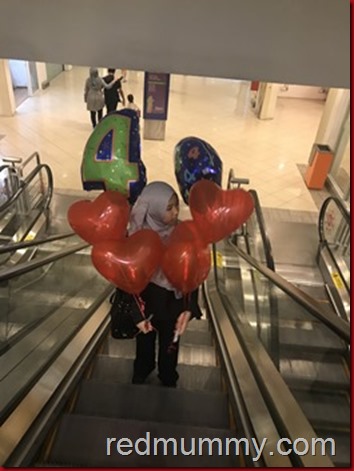 mengusung kakak ngan belon2 nih from Ikano to parking The Curve. Sakitnya ati kat sini guard kabau kat sana sini bagai the party shop, padahal bebetul ujung food court tu jer, hiashhh…camna le kitorg tak penat berjalan. Nak makan lagi malam tu pun we both dah tak larat.
Red scooter cake, mini size. dalamnya chocolate.
pastu esoknya pas keje aku angkut the 3 kids from 3 diff places to Midvalley…haih…penat 2,3 hari tak selesai.
Happy 44th Birthday to bapak depa. 19th October. I have long listttttttttttttttttttttttt to say about the wishes, but let s off the record, cite laki bini kan 🙂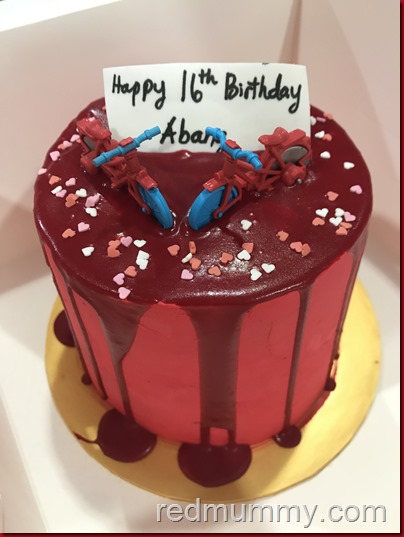 23rd pulak birthday Abang. Rode bike nya kek pun susah baker nak dapat, jadi le 2 beskal kecik tu hah, wpun takde red black ye bang….suka abang ngan kek nih. Pun the same baker, but kali ni baker antau ke rumah coz aku tak sanggup dah nak ke Seri Kembangan. Because his birthday falls on Monday hari sekolah (today actually) so kita celebrate semalam before Kakak balik hostel.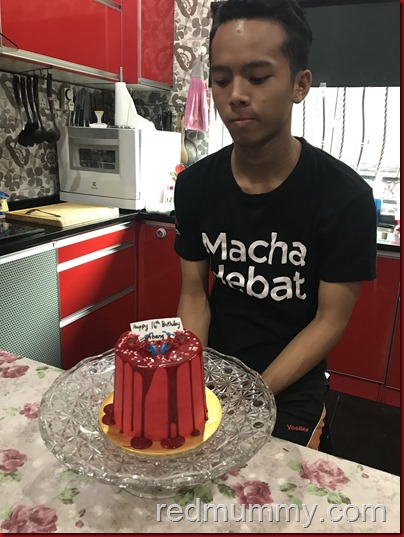 Sedap dedua kek yang baker ni buat, asalnya from my reader, laki bini pastu aku ngan lakinya sokmo hai hai kat parking sampai la aku dapat tau bininya baker, terus aku engaged. Eh before that aku suh gak baker ni antau sekotak brownies coz kids ni cuti sekolah asyik makan jer makan makan, jadi feeding depa ngan kek jer last week. Maknya malas nak baking2 bagai heh. Follow the baker's IG: flavoxpatisserie
By right kita patut pi MAPS, dah booked hotel segala but cancel coz abang pressure ngan exam sekolah dia yang sebulan tu. So tunggu habis exam lah baru kita berjalan, end up masa cuti sekolah lah gamaknya.  Birthday dinner / lunch treat bagai pun tak buat lagi,  abang sendiri mintak to do after his exam. Makanya, kek tu half bawak sekolah abang, leh makan ngan kawan2, pastu kakak sikit pun tapau gaof cos, and sikit for my anak2 buah.
Doa mami to abang semoga terus jadi anak soleh, mulut tu jangan asyik menjawab jer…makin besau halahai makin kuat menjawab cakap mak ko, Taat perintah Allah, ingat pesan, biar orang buat jahat ngan kita jangan kita buat orang, but kalau orang bully kita, jangan biarkan, lawan je balik bully tu, jadi abang yang penyayang and pelindung for y0ur sister and brother. Semoga the 15 tak berulangan (adalah list silap salah dia yang aku listed down kan few months ago hehehehe), dan apapun, road bike dah dapat, belajar jer bang, tak yah pikir benda lain, study jer. Dia ni satu pangai too concern ngan semua orang keliling dia (benda yang takkan terjadi blum terjadi pun dia dok pikiqa sangat), mami masa umur 16 taun, tak heran apa pun bang, enjoy the life. Ini ko macam masalah orang ada anak 10 punya pikiaq.
Habis exam nih, im pretty sure…and since he just turned 16 years old, he ll be asking – nak amik lesen motor. of cos, bapaknya adalah sangattttttttttttttttttttttttttt menggalakkan. paham2 ler kan. senang subcon kat anak ler tu apa lagik. So cuti sekolah nanti nih dia pi ler amik exam nanti tuh. Happy Birthday Abang.
Love you both suami and son.
Comment:
8