Oct 31 2016 Monday, 8:00 am
The Gilis are for the : Gili Air, Gili Meno and Gili Trawangan.
Our half day trip untuk hari ini ialah berkubang dalam air laut. Tapi silapnya kami (of cos on my shoulder gak lah task nih but that s the thing I was not being told) kena bawak baju extra. Either dalaman or luaran. For them lah, coz depa yang berkubang, aku kena air sesikit jer but still coz seharian keluar, harusnya bawak baju extra (beli tak jumpa port that s the thing).
Jadi aku dah pesan to my t/g to inform the next customers korang untuk sentiasa bawak baju extra letak dalam van or in the island hopping session.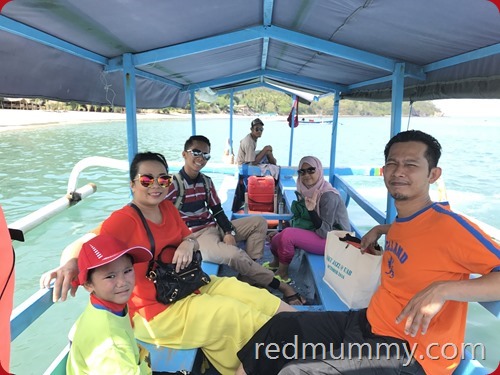 Our boat to Gili, idokler boat mewah but boat bebiasa jer…rasanya perjalanan dalam 45min ke sejam untuk ke Gili…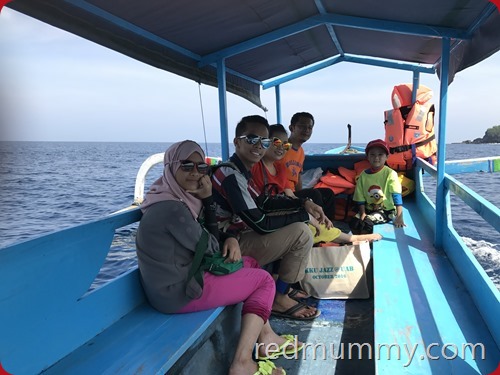 hujung2 aku tertidur ahahhaha…..macam lama sangat kan pastuh bahang panehnya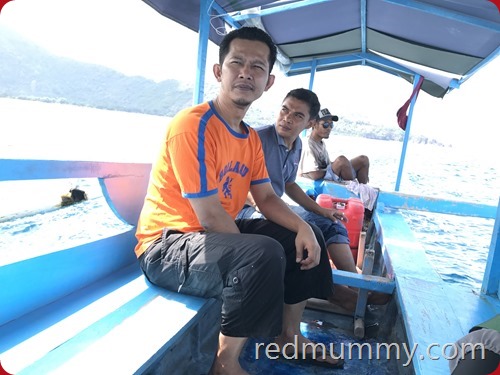 the captain and our t/guide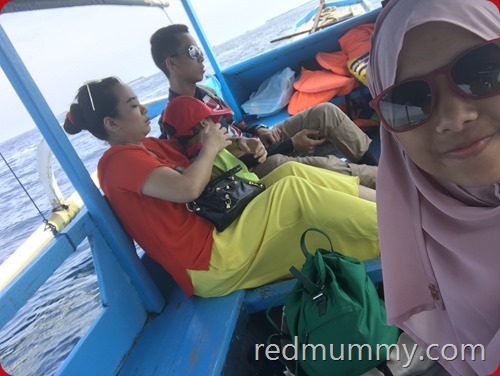 ini moment2 antara aku dah nak mengantuk sangatlah…llain tu sume dah siap pakai baju swimming dalamnya..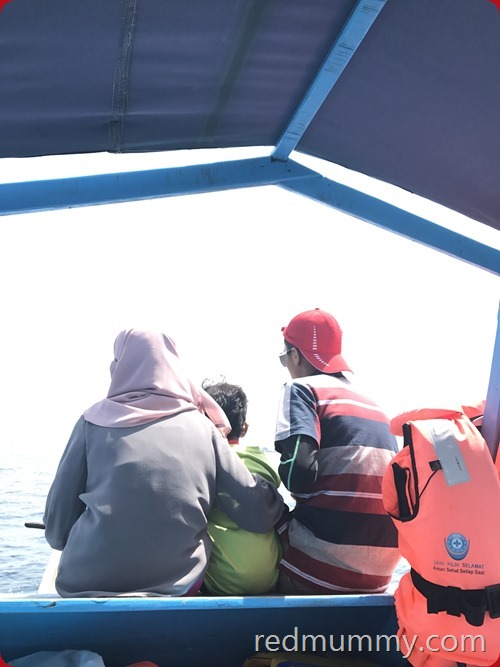 suka betul depa menikmati air laut hah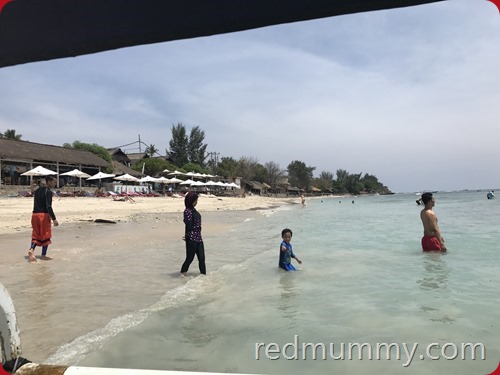 so sampai2 jer, depa amik mood dulu, aku memang takkan turun ler. but rupanya captain hantar situ coz nak turunkan aku. coz dia tau aku nak cari spa while depa buat snorkeling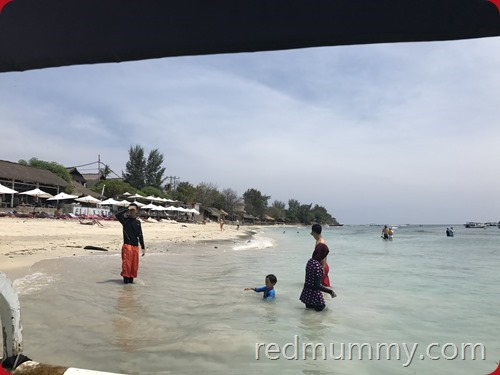 bersih air laut sini, orang pun tak ramai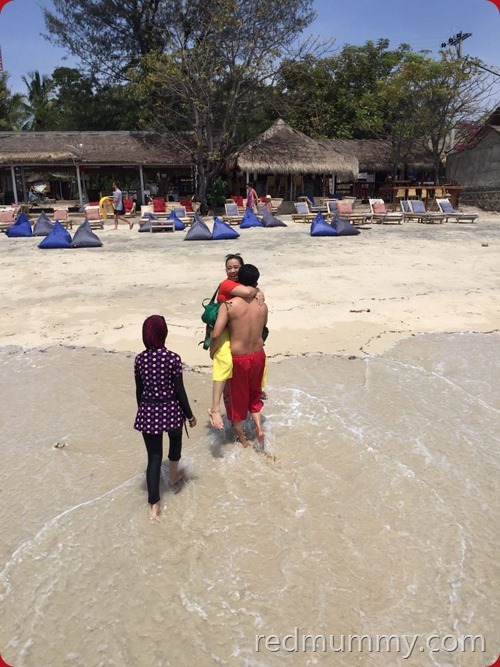 this is how my husband 'transport' me from the boat to the beach coz aku memang tak nak langsung kena air hiks….
renyah ler, nanti kang berpasir, basah bagai, eiiii ai is tak suka rerenyah lelekit nih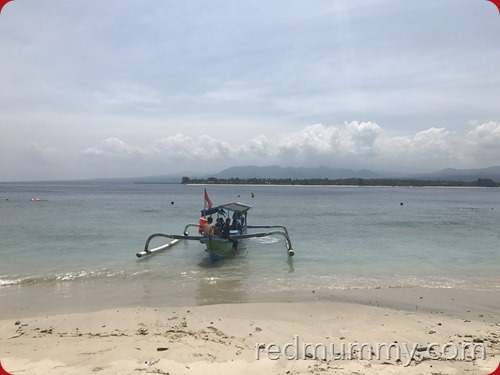 so depa tinggalkan aku kat pulau, and depa pi mula snorkeling, not that far pun, aku still boleh nampak depa but ke tengah2 a bit lah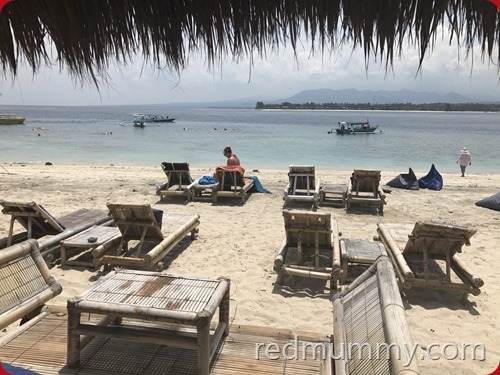 i duduk minum air tembikai sejuk kat one of the bars sini. sambil charging my fon. Tak jadi lah nak pergi spa coz aku dok ngusung bagpack abang and kakak's bagpack gak, mana ngan hbag aku gak so agak leceh if nak berspa2 dengan bembarang bagai tuh…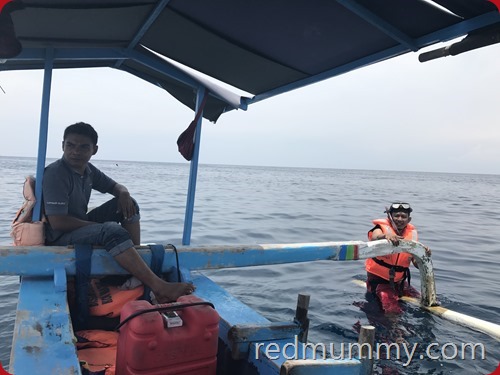 apak depa dah pancit penat tak larat dah so landing atas palang boat sudah…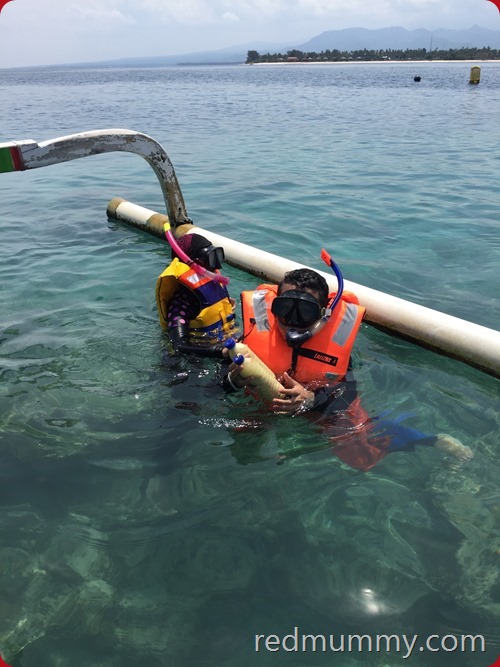 our t/guide dah siap2 bawakkan roti untuk bagi ikan makan, so nanti banyak ler nanti ikan2 memacam colourful yang akan datang kerumun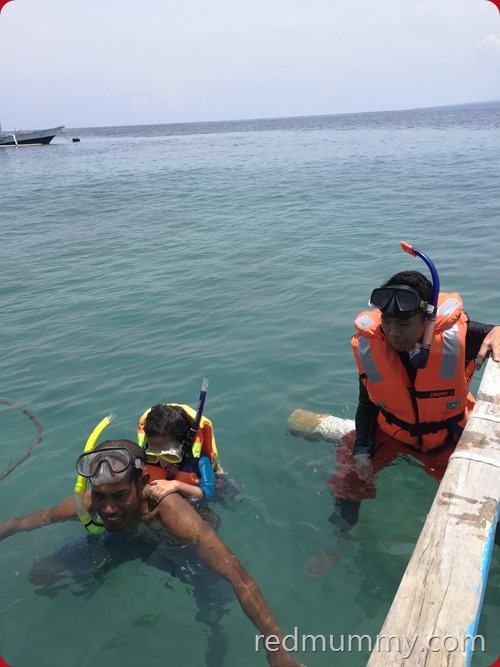 Zeeshan pun seronok snorkeling dalam tuh, the captain bawak dia masuk dalam and swim around. so dia berpaut kat belakang captain gitu…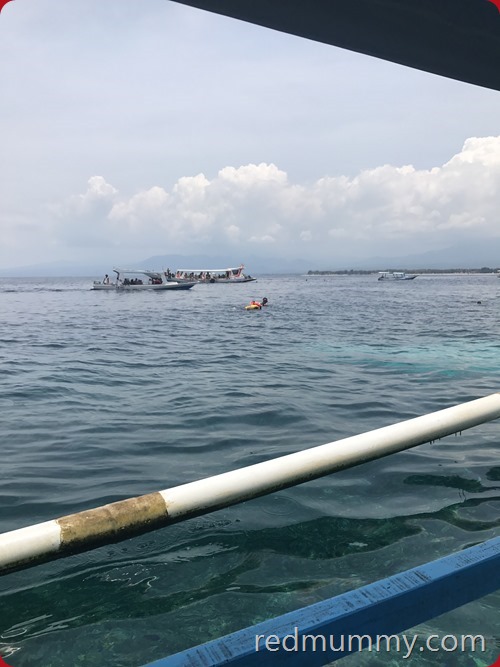 ini pulak carik turtle, oh masa ni kat Gili satu lagi tu lah and aku dah dijemput kembali dari beach untuk join sama. Coz pastuh kita nak pi ke tempat lain pulak. Kat sini spent dalam 30min macam tu untuk turtle.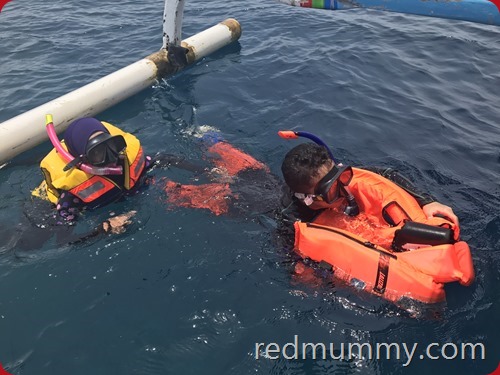 yang 2 orang ni memang muda and masih kuat tenaga so depa ler yang paling lambat nak naik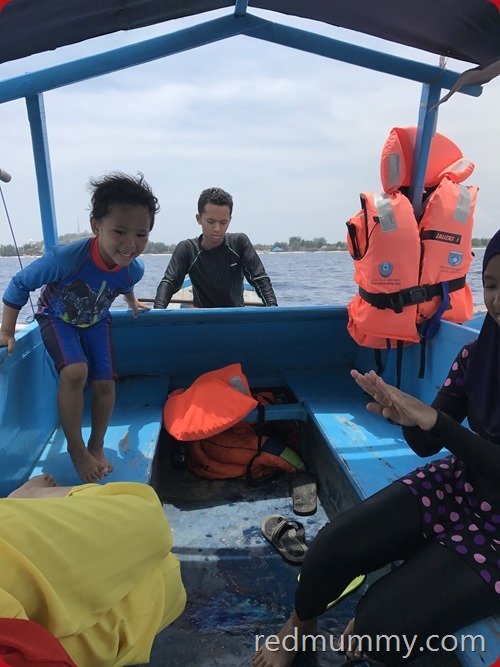 as long as depa happy
but asalnya kan, aku tak nak pi island hopping ni sume nih, but laki aku insisted sangat. Coz ai kan once again sangat lerr tak suka rerenyah nih….but 4 vs 1, depa menang tu yang amik balik package asal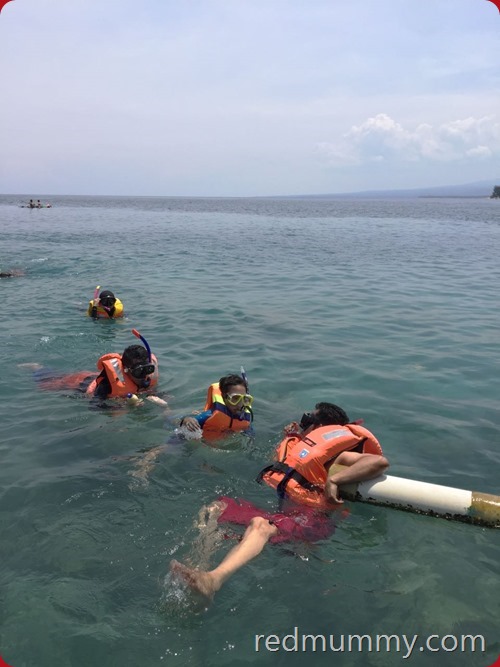 4 beranak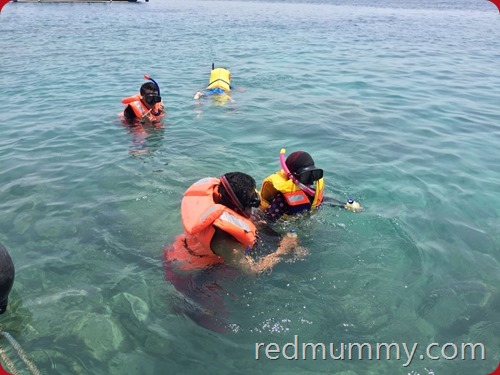 waa jauh ko bawak anak kecik aku tu captain oii…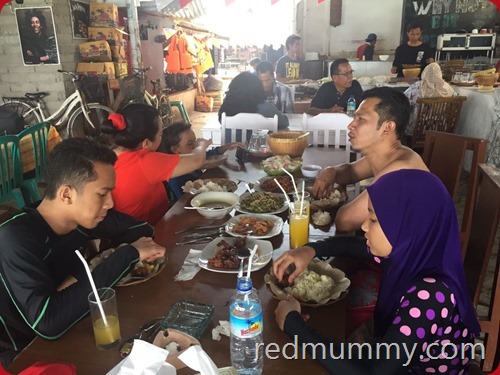 so lunch time. of cos semua kelaparan coz dah berendam berejam dalam air laut tu kan…we tot lepas makan kita nak mandi basahan kat sini tukar baju but t/g cakap kita akan pi mandi kat tempat di mana asal kita datang dengan boat….ada surprise kau!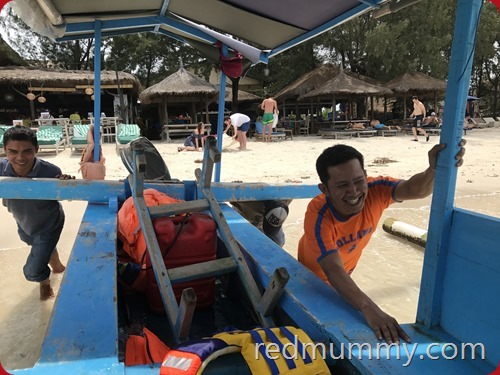 let s go home…kita tak pusing island. at first nak buat island tour naik kuda but they start at 2pm yet masa ni kita dah done by 1pm so malas nak tunggu sejam tuh jadinya let s go to the next destination
masih lagi  nak berendam bebudak nih….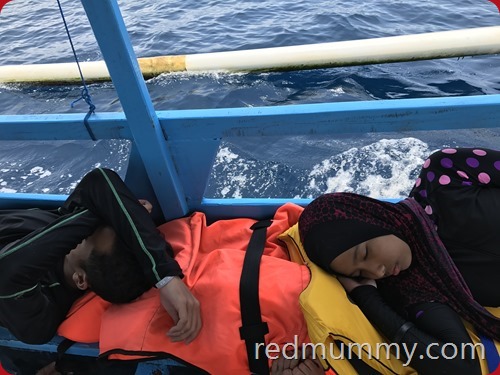 on the way pulang, semua ketiduran. Dah tak heran dengan ocean bagai, not just them, aku ngan Zeeshan pun sama tersadai tidur. Laki aku je menahan mata coz ada one time aku tidur tu dia dok tarik my bagpack yang dah rasanya nak jatuh keluar boat hahahaha….begitu punya penangan air laut, ngantuk lemah badan.
So this Gili, wajib hadhir if you are coming to Lombok. Ada yang datang terus duduk Gili but kita tak nak ler dok resort sini, selain mahal a bit, nak heret beret dengan luggage segala oh memang maleh. Lagipun kita dah ada plan nak ke waterfall semua tu kan…
The next one yang surprised by our t/guide…mandi air perigi. Hah ini memang unexpected. Next entry insyallah.
Comment:
3