Jun 26 2018 Tuesday, 10:00 pm
TAHUKAH ANDA BAHAWA SERVERFREAK HAS BEEN REDMUMMY.COM 'S SERVER SINCE……….
HA BAPE BANYAK TAHUN YEK
over 9-10 years? 
begitulah hebatnya ukhwah kami, so same goes to you.
nak service bagus yang 24/7 sentiasa menjamin domain korang, get it from the Serverfreak!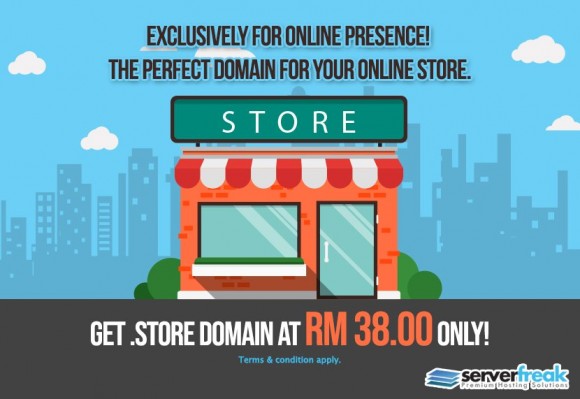 Hurry Up! This is your chance to make your online business VISIBLE!
Perfect for sending customers to specific products or section of your store.
Choose www.YourProduct.store over www.brandname/category/product
  Get 
YourName.store 
before it's gone.
Order Now!!
Terms & Conditions of "Exclusively for Online Presence" (the "Promotion")
1. The Promotion will run from 20th May 2018, 00:00:01 until 30th June 2018, 23:59:59 (GMT +0800) ("Term")
2. The Promotion is only applicable for extensions (.store) only.
3. The Promotion is only valid for new registration only.
4. The Promotion is not applicable for domain renewal, domain transfer and registration of more than 2 years.
5. The Promotion will be charged for the first year of registration.
6. The Promotion does not apply to IDN.
7. The Promotion excludes ALL Premium and Reserved domains.
8. Add Grace Period (AGP) policy does not apply to this promotion. Any purchase of domain will be deemed sold and cancellation of domain will not be entitled to a refund. Registration fees will not be credited to the original top up.
9. In the event that the domain registered during the Term have been transferred to another Registrar within 1 year from domain creation, ServerFreak reserves the right to claw back whatever discounted amount for the domain.
10. All prevailing registration policies should still be adhered to.
11. ServerFreak reserves the rights to alter the terms and conditions at any time without prior notice.
12. ServerFreak reserves the rights to terminate this promotion at any time without prior notice and to charge partners the shortfall should there be any violation of the above rules.
Untuk kepantasan lanjut, boleh reroger calling Serverfreak at eh jap jap yek akak update.
Comment:
4