Oct 2 2017 Monday, 8:00 am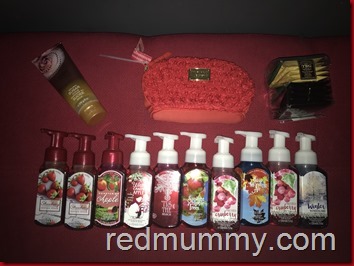 photo is small …hemmm.
takpelah so nampak apa yang daya ada sini lah yeah. Some #riaktakbur show show entry. Ini cheap cheap one nya. Valiram kan ada buat sale kat JW Marriot, so aku pi lah jugak menebeng, naik grab sesorang.
So hasilnya aku beli 10 bijik nih the hand foam. Aku tak suka beli yang hand soap bebiasa tu, Foam's line memang aku suka, bertahun2 pun pakai foam sahaja, sedappppppppp and pueh hati. Itu aku lah, ai decide on what to pakai pun coz family aku kalau aku tak jerit 'wash your handsssssssssssssssss' hah memang tak pakai ler. huh.
So kat sini harganya sebotol si RM15 (kat boutique of cos ler lagi mahal), but kalau amik 10 bottles depa akan caj RM10 per bottle.  Makanya aku amik ler 10 bottles tu (thinking to give away as presents gak). Hari yang aku sampai tuh for shower gel banyak dah takde, got scrub jer, aku tereban ler gak seketul and a pack of TWG's teas and red pouch bag of Victoria Secret for giving away gak insyallah.
Usually for Bath and Body Works ni aku soping gegila masa ngah sales depa mid year and year end at KLCC or kat JPO (for some items jer memurah situ), kalau setakat harian takkan ler aku beli coz tau mahal, if takat beli seketul bolehlah if dah jenis orang cam aku yang beli berketul ketul ketul…hah memang takpeklah, kena tunggu sales besau.
Perfumes pun ada je jual kat lam nih but the best place to buy perfumes dengan harga runtuh ialah di Event Hall Isetan KLCC. Every once in 2 months or 3 months depa akan buat (dan biasanya aku akan canang kat my IG Stories), so aku akan stock up sebanyak mungkin. Sales tu lagi murah bakpiang dari kat Valiram sale in JW Marriot nih… Actually Isetan outlets lain pun ada but korang kena rajinlah tengok bila tarikhnya (ada dalam Isetan's website). For me of cos lah aku akan menebeng kat Isetan KLCC.  Hope this helps.
I banyak dapat soalan bila dan mana, once again, at any Isetans but I go for Isetan KLCC, and tolong check kat isetan's website for the dates (unless aku kat klcc bolehlah aku canang dalam IGs, but for other outlets kena check sendiri kat site), bukan takat perfumes, make up segalaaaaaaaaaaa….daaaa
Comment:
3