Jun 17 2009 Wednesday, 10:00 am
the lobby of the hotel, kerusi sofa gini macam best je lah kalo letak kat umah yang beso2 alam, hehehehe umah kekecik cam aku, boleh amik berangan jer lah yer…
well btw, kami tunggu kat lobby for 10min, tunggu adik aku Epi sampai from somewhere, he dah datang a nite before with my other family members, tp sebab dia tau jalan ke umah pakcik aku, kenalah convoi sesama. my makcik (mom's sis) kawin ngan orang perak, so bermastautin jadi anak perak, bukan sbab aku orang perak mar….
our make up of the day, aku cuma bawak satu stack jer, so lam tuh takdak kaler gelap aisay, lupa tol nak angkut kaler2 gelap lain, kekdahnya jadi lah light2 sket, gegirl tu aku pakaikan the glitters bshop, sibuk nau nak bermake up kan…
it s not that easy to grab abang mengamik gambo, dah dia ada sama nih, itupun macam2 cara dia nak tutup muka dia dari kena snap
the right sekali tuh adik mak aku, ni anak sulongnya kawin, yang lelaki tuh. sebab utama aku ke perak ngan batalion mak ajah pak aji, pasai ni lah,  to attend to this wedding. my parents takdak, alang aku pun masih lg kat Mekah, so kami adik bradik bwk diri memasing mewakilkan parents gitu…
some more, they are quite closed to us, wpun jauh ke perak…
korang tau dok skang bunga telur dah tak dibagi telur? tp diganti ngan sabun? ha ni lah pestime aku tengok orang tak bg telur dah yuk…..bunga sabun jer dibagi.
orang dedulu percaya kalau bagi telur waktu wedding, maka akan bertambah cepatlah zuriat keturunan berpanjangan, dan berkesinambungan, tp zaman skang…semua tu dah tak dipentingkan. bunga sabun lebih mudah dan senang.
inai memerah si jari manis…
pengantin perempuan adalah orang terengganu, a week earlier ramai gak rombongan ke sana, tp aku tak pergi lah, kakak aku ada pergi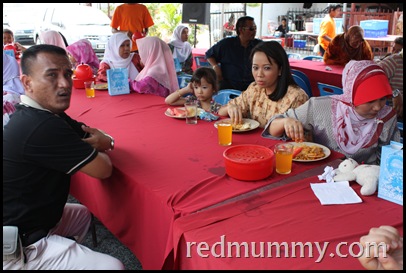 sblm tlg buat keje2 sket, sila makan dulu. keliling aku tuh sedara mara aku, depan aku tuh kezen aku from melaka yang jumpa hanya bila ado wedding and ari raya hikss
wei red suh laki ko amik gambo MC tuh
sapa dia tuh?
ko ni tak tengok AF ek? tu lah budak AF
hhahhahaha, ai x follow lah. aku kenal si kakak tomok tu jer, lain tak tau
korang kenal dia? Sidi namanya.
my job is jaga bahagian nasi, cedokkan the nasi for tetamu….
anak2 saya dah besar tak yah nak diadap dikendong, so pandai bawak diri sendiri memasing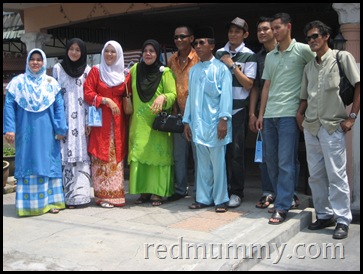 adik adik badik aku, sepupu, makcik pakcik….
btw, anak2 aku pun sibuk tolong sama, depa lapkan pinggan2 yang basah baru dibasuh….tp kejap2 tu ilang pi main ngan sepupu, pastu gaduh nangis, datang balik tolong, n sambung balik pi main…
the purple is my best closed cousin. tiap kali ada family gathering, muka dia mesti kompem masuk blog. she reads my blog regularly. her officemates pun ramai gak baca RM. yes she is my cousin, she knows me since aku hingus meleleh2 lagi hiks…
ko dah kurus la red
along amik la SIY, insyallah boleh kurus
nantilah, along nak beranak lg sorang, so kalo dah abih beranak, along amik SIY
budak AF Sidi yang jadi MC for the whole program of the wedding, so dia orang ipoh la yer,aku tak tanya plak pakcik aku camne dia leh jd MC, mbe dia dok setaman kat umah pakcik aku nih kot…
ai donno marrrr
mummy, nak makan
ha tau lapar, meh makan….abang makan sorang2 yer, mummy nak buat keje
finally abang mintak cedok nasi sendiri sbb dah kelaparan nak lunch. bukan senang nak tengok dia makan nasi….
oi korang melanguk, meh sini kita gatah lauk pengantin….
itu pakcik saya yang dok melaka, mom's adik bongsu.
fyi, mak ada berbelas adik beradik, depa sume satu  mak ngan my mom, tp lain bapak. coz sejarahnya mak to my mom (nenek) kawin with orang spore, dpt my mom, pastu nenek cerai kawin ngan atuk Ghani yang kemudian dapat all the belasan anak, n wpun mak adalah kira anak yang dari bapa yang berlainan, tp depa tetap anggap my mom as kakak no 2 in the family. gitu….
orang dedulu banyak kawin cerai kawin cerai lain gitu haaa
mummy jomlah balikkkkkkkkkkkkkkkk
astaga abang ko nih…x leh dok lama sket. kami spent kat sini lam 3,4 jam jugak lah. katanya datang dari jauh. adik badik aku pun ramai ada but semua berpesta borak with family members yang lelain
my whole big family tidak tau saya punya blog yang famous, so diam2 di situ 🙂
kamu  masih gunakan camera manual lama nih? amboi zaman skang nak pakai camera nih pun malu kan. tu camera one of my makcik, she asked my help to snap kan gambo….
aku rasa korang kalo kena pakai camera nih mesti malu je nak kuorkan dari bag kan kan kan? jangan nak tipuuuu
abih wedding, kami tinggalkan ipoh on saturday petang, terus pulang ke KL…sepanjang perjalanan, kami ketiduran, semua tidur, except sirman lah yang kena drive takkan dia pun nak tidur sama
sedor2 sirman dah benti kat RnR, for sapedek n rehat kebaskan kaki…
adik badik aku yang lain pun pulang aritu jugak, 2 ari di ipoh, kira project bercuti sama kids lah yer sempena cuti sekolah. pasni mula sekolah semula, kembali kita kepada dunia huru hara ku…
huhuuuuuuuuuuu! anak2 sekolah, makpak pun sama bz kauuuu!
Comment:
8