Jul 1 2009 Wednesday, 10:00 am
saya bukan apa kak
saya kalau tak bawak mini lenovo saya ni kulu kilir
kang kena kopak pulak orang songlap
nama je saya keja kat The Sun kak…
tp lgpun saya nak kejar deadline newspaper kak….
tapi kak, saya seorang yang sangat praktikal
wpun saya menceceh, saya boleh gak mentenet
ha ni ada satu email masuk
wpun saya x de lah event nak dicover kak oi
tp tak kira
tetappppppppp jugak saya kena multi
gaya kena ada kak, gaya bizi2 gituuu kakk
takpe kak ko makan je kak
biar aku buat keje ni jer dulu
aku suka camni kak, kalo ko leh buat macam2 aku pun nak gak buat macam2….
ko nak aku kejarkan payment budak2 yang lom bayau,? boleh boleh kak…meh bagi aku details, nanti aku chase kan
kurang sket kerja sirman, meh kak, aku tolong!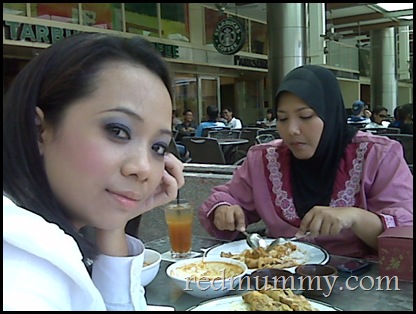 aku amik gambo sendiri lah yer
ayu menceceh manghaikkk! non stop!!!
sambil makan mulut dok potpettttttttttttt lagik!
dah makan baru nak hegeh2 amik gambo lipstick
dari gloss clinique yang ayu the sun hadiahkan….
aku pun ada 3 batang, free dpt dari Clinique, dapat lagi dari Ayu The Sun
complete set lah kira!
the bodyshop set is not mine
that s for you DeeKuntum!
sorrylah aku tak kuasa nak wrap nak hapa nak surprise, hahahahahhaha! u better chase Ayu The Sun, coz she has your belated birthday present…
kak nak amik gambo kak
ko gila? aku keje kat sini tau. tetengah alam ko nak amik gambo plak tuh
dok kira, nak amik jugok…
to the ppl yang nampak aku bergambo ngan budak kerek nih….that s for her. not for me….
weiiii, kawan2 aku sebumbung klcc tu teleng pala jer lahh
pastuh kalo dah berjalan
haruslah singgah menebeng tengok gak apo yang ado kat market2 lam klcc kan
we saw the new product of Maybelline, gel liner….
meh kita try, how thick is the black…
boleh je aku pakai sendiri
tp udah SA nya ado…
kita tengok camne dia pakaikan aku
jadi idok
kalo betul itam nih cun
kompem aku amik
aku ada tengok SASA punya brand giler pekat
so if can beat, betul aku amikkkkkkkkkkkkkk
ke kang maybelline suh aku promote masuk lam advertorial pulak…
eh tak kot..benda ni dah launched. biasa benda yang baru nak launch, ads dah masuk lam dashboard.
hah apa beza??
yang hok kanan dari gel liner maybelline
yang hok kiri aku  nye eyeliner CAP AVON kay…
samo jerrrr
ciss, fail lahhh
amik sasa nya brand gak lah, it has the very darkest gel liner. gel tau bukan glimmerstick or pencel or liquid. kang ado pulak yang kompius.
Comment:
16