Aug 27 2009 Thursday, 10:00 am
so who did my make up, redglow…ai told you already
sapa buat rambut ku, dah tentu lah Vivian. actually RedGlow boleh buatkan tp time is a factor la nih, Najwa ada meeting earlier, n Ina pulak kedemaman, so aku booked Vivian from Ideal Cut. She s been handling my hair for quite long time already, she knows my style my mood my everything. susur galur rambut aku dia dah biasa sesangat.
ai had to take another leave off, i m representing RM for the PC, so mestilah all well prepared. aku tak pergi PC hari2, aku tak ada peluang dapat masuk to Project Alpha setiap tahun, akulah yang pertama dalam 7 bloggers yang istimewa dipilih, so ai wanna look perfect on the day of my Project Alpha is officially announced and launched.
lainlah aku ada Project Alpha or hari2 ada this kind of PC dah tentu aku make up buat ironing rambut sendiri jer….
So Vivian did my hair.
ngan tersengguk2 mata aku menahan mengantuk huiii….bape hari dar aku ni makin lama makin tak cukup tidur tol. tak kisahlah, bukan RM lah kalau tak cukup tidur tu kan.
so rambut half way done, sblm rambut kusiap, Najwa and her assistant Nurul sampai. to be on safe side, we decided to do the make up kat saloon gak. wpun Najwa dah nak sampai umah aku, and patut buat kat rumah, but Vivian pun nak tengok camne hasilnya product artist rambut dia kan…lagi dia suruh make up kat situ…
berbag2 ko Najwa bawak, memang macam nak make up pengantin jer, itu part of her side job mar…why RedGlow kena make up kan aku pulak.
oh that s becoz i m 'Redmummy to RedGlow' or ngan kata lain saya adalah duta merah RedGlow…so if any event atau apa2 sahaja function aku nak pergi kalau tak nak pakai mana2 professional make up kat mall tuh like MAC, Shu Uemura ke hapa, RedGlow adalah dalam tanggungjawab mereka to do my make up.
of cos they want their product to look good on papers kan, katanya Press Conference, where press amik gambar Redmummy….
make up jer pun dah buat aku mengantuk, sampai at one time tersengguk2 aku hampir betul2 terlelap bila 'tup mata kak red' ater nak godam eyeshadow…hahahah tertidur2 aku dibuatnya. iskk
abih kena tegur coz muka aku memang nampak tak bermaya, nampak tak cukup tidur sesangat, alah takpelah korang kan aku dah cakap nak gigih camne pun tak cukup tidur tu salah satu sebabnya lah….
ni aku ngah relaks nih, ads aku dah semua submit tp la ni sebab kena bangun sahur kan, bangun sahur bukan 10min, sejam lebih kau…
pasni budak mula sekolah semula lagilah pas sahur tak leh tidur ada gak anak2 aku kelambatan ke sekolah.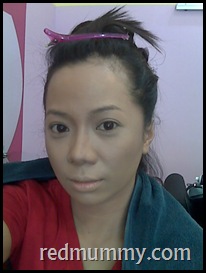 aa dah siap sket foundation bedak shading bagai…
tengok rambut agak2 baju nak pakai apa, so we chose smokey eyes…yey! senang katanya. tp gilos kau, wpun smokey eyes, tp serious lama gilerrrrrrrrrrrr nak buat. dapat kat tangan professional cam Najwa kan, mestilah setiap inci dia buat properly. dapatkan tangan aku, smokey eyes? ha senang amik itam satu kaler udah siap hahahahah
ok aku kena pi class lagik macam nih…
penat woo najwa, dari putrajaya abih meeting pi shah alam amik nurul pastu patah ke cheras nak buat make up aku, thanks sesangat. sib baik ina tak ikut kalau dak lagi lah pitam dia ngan demamnya…
ok tu part muka aku kena letak loose powder sebab bila nanti letak eyeshadow takdak drop ke pipi. paham tak? tu lah suh pi class RedGlow korang taknak. depa ada academy lah..not only for individual but also to professional mak2 andam yang baru and dah lama naik.
ganyang najwa jangan tak ganyang….mata lesu kak merah kena dikembangkan semula, kuasa pada make up untuk mengindahkan yang tak berapa indah cam muka aku nih kan…
hikss
eh anak2 ai kata ai cantik kay…ater ai mak
semua mak cantik wooo hahahahahahah. mak ajah aku pun cantik, waa lama tak jumpa mak ajah.
ha ni rambut yang Vivian buatkan
aku suka lah rambut ni, part ni lom siap lagi coz pastu dia spraynya sampai naik kejang rambut aku, pastuh ngan glitters lagik manghaikkk!
versi mata belum siap….
kalo ikut aku dah siap lah ni kot
tp boss kata lom siap lagik, byk tingkat lagi wooo
huh, tang bulu mata ni yang mak tak tahan
lagi terpisap2 aku menahan mata nak tidur…
kak bukak mata bebesau kak red
tak lawa kanggg…..awak tu dahlah sesatunya wanita melayu terpilih lam Project Alpha
bila letak bulu mata palsu walahhhhhhh ai love u lah najwa! sukerrrrrrrrrrrrrrrr…..berat belakang kira, pasal apa aku cakap berat tau, aku pakai 2 tingkat fake eyelashes youuu!! rozita cik wan pakai 2? ke 3? ha bih kurang lah….aku pun dah join dia pakai 2 tingkat.
makan ati la ko rozita tengok eyelashes aku lagi melentik dari ko nya hiksss
eh ye ke dia pakai bulu mata palsu seringgit sehari? tipu aaa…ye ke? tak caya aa, kat mana ada jual? meh aku nak beli, leh gak pakai ari2 gakkkk!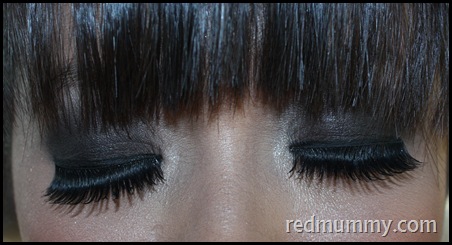 cantikkan? kemas gilerrrrrrrrr, tu 2 tingkat yer, bukan main setingkat tau. campur bulu mata asal aku yang very the awning, ha jadi lah 3 tingkat hhahahahahhaha! serious aku suka cantik sangatt. for me lah. korang suka tak? kalau suka so kalau nak bertunang kawin tau lah kan nak carik sapa for andaman muka rambut korang…
sblm pasang lipstick n glitters kat mata, Vivian took over buat fringe aku….a day before aku dah potong sendiri fringe aku tp sebab nak buat concept dolly ala2 gegirl gitu, curik pinjam tiru konsep anak aku sendiri, so dia cantas balik fringe aku sampai kening…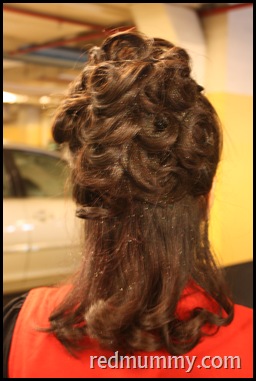 ahah ini hasilnya
dari mata turun ke hati wah gituuuuuuuuuu
suka sangat kalau RedGlow make up kan…
ngan Najwa aku leh memanja sket lagi kalau ngan Ina tak leh dia lagi garang woo mem beso tu sib baik mam demam tak sihat. skang dah sihat kan mem?
My hair costnya RM50 jer, my make up pulak fully sponsored and covered by RedGlow n dari tangan Najwa. Thanks to Nurul gak coz assisting Najwa, so kenalah nurul belajar make up lelebih dah keje ngan RedGlow harus korek2 segala ilmu yang ada. kalau akak merah keja ngan RedGlow full time, aku sendiri dah jadi make up artist gamaknya….
balik umah ngam2 sampai lagi few min nak bukak puasa, takleh lah nak buka kat luar you, anak2 aku dedua puasa tau…puasa penuh lak tuh. so pas buka, sirman kena buat project menanggal sanggul bunga mak merah hahahahahaha ater Vivian tepek sepit ke main hebat banyak tak hengat!
mulut sirman ada ice cream, anak2 suapkan sambil bapaknya menanggal satu persatu sepit itam. ater nak suh aku tanggalkan terkial2 gak nak mencarik. ni ado laki, kena lah ringan sama dijinjing gitu ye dok….
Begitulah sejarah Project Alpha saya, yang antara terlibat secara langsung ngan personality RM for PC is RedGlow…
Oh baju ada issue, ai was supposed to wear one of designer's dress tapi last minute tak siap, a bit frustrated kat situ but ai tried to look at positive way (means x yah lah aku redah malam2 ramadhan pi kedai designer tuh) then aku pakai lagi satu baju dari sorang lagi sponsor tapi alahmak over seksi rasanya plak. dah nak kuor umah baru pasan baju tu agak2 tak manis.
so masuk balik salin n pakai satu baju aku yang datang dari koleksi aku sendiri, yang memang aku beli purposely utk any RM's event. sib baik ado back up…utk nampak sopan saya pakai inner dalam yang cam comel je baju itam lengan pendek dipakai ngan dress merah itam tuh. with black legging and Eclipse black and red heel.
Accessories pun dari my own personal collection…
Project Alpha is brought to you by:
I must mention the sponsors coz without them, no Project Alpha!

Adidas Action 3 ,  Rimmel London ,      Hitz.FM ,     Sunway Resort Hotel & Spa ,  Sunway Pyramid ,    Sunway Lagoon and Hosted by Jojo Struys for 49 episodes.

but for the Press Conference, Redmummy's make up  was totally brought and sponsored by RedGlow.
Comment:
33