Jul 20 2016 Wednesday, 8:00 am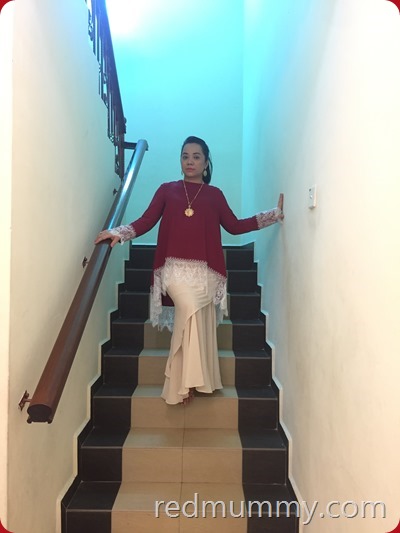 Pose wajib gak di tangga NurHomestay, apasal kat rumah aku, tak pernah berposing kat tangga heh…penah sekali je for advertorials. Hehari biasa memang idok, kena buat gak nih heh…
To book di Nurhomestay, boleh buzz at 012-6944086 / 016-3114054 .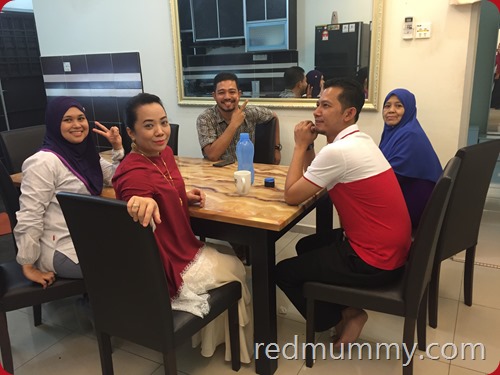 Inilah pasangan dan orang kuat belakang tabir Nurhomestay. Begitulah 2 kali raya akak pakai rumah depa, tak tau langsung yang depa rupanya kenal akak, jodoh begitu tak ke mana kan…so prebook awal2, setiap tahun kami insyallah akan duduk di Nurhomestay lah. Terima kasih untuk rumah besar dan good sevices too…mak abah ai pun suka happy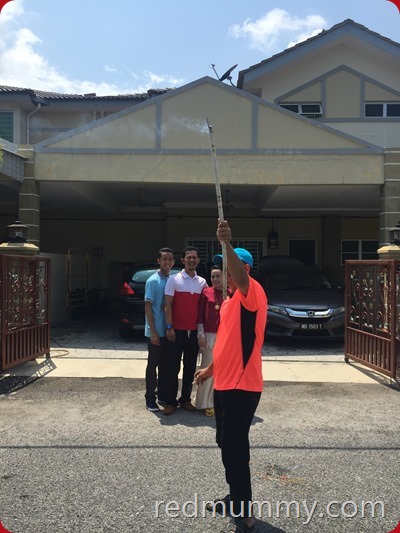 abang aku ni orang nak amik gambar dia sibuk dengan mercun nya heh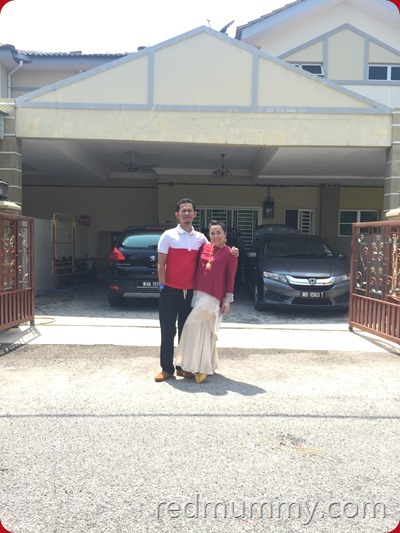 pose wajib jugak di depan Nurhomestay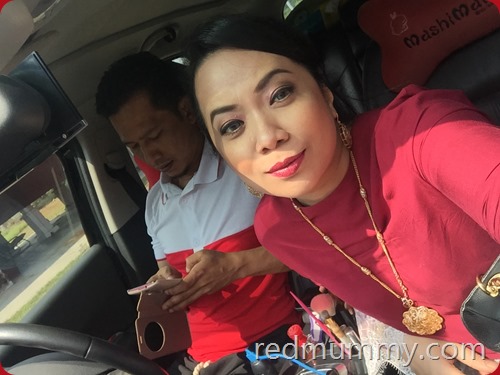 dok kejap dalam kereta, akak pun baru habis make up dalam kereta hah, untuk hari terakhir di Melaka tak banyak rumah yang perlu pergi, ramai pulak yang ada wedding bagai so kita pergi 1-2 rumah je rasanya. Laki aku tu ngah godekkan whatsapp mak ajah, masa ni le nak kena update whatsapp bagai, hish…ko hp ni masa kat KL tak nak mengada2…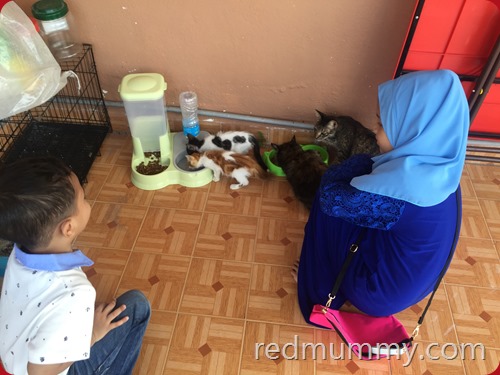 rumah ni best, banyak kucing. Pasal rumah ni le yang aku lagi meronta2 nak bela kucing persian balik hiks…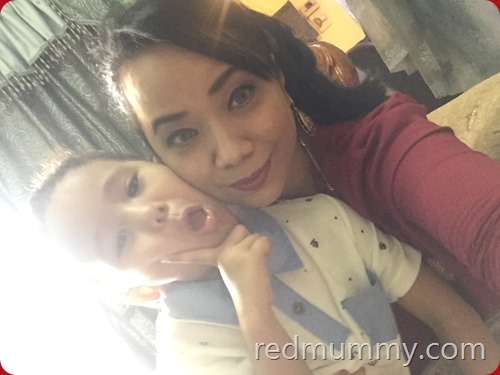 kat rumah ni, coz aku tak makan (lagipun tak berapa sihat obviously sangat masa nih), and Zeeshan pulak asyik melekat ngan ai jer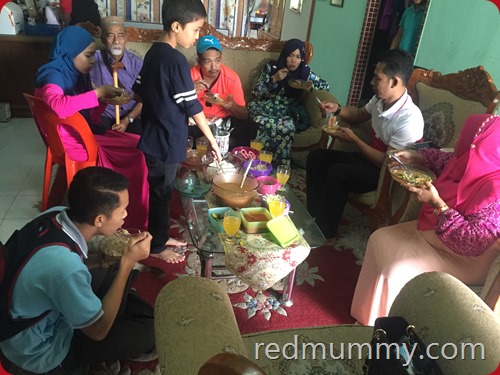 tuan rumah ni wifenya orang Sarawak, jadi dihidangkan laksa sarawak, semua orang suka, aku jer tak berapa kena ngan tekak tapi kek batik Sarawak dia huiyooooooooooo…very the sesedap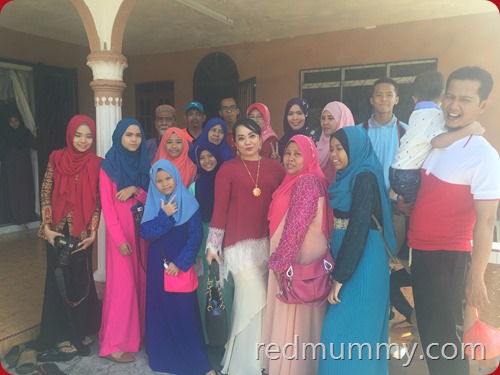 Minus tuan rumah satu, all 18 of us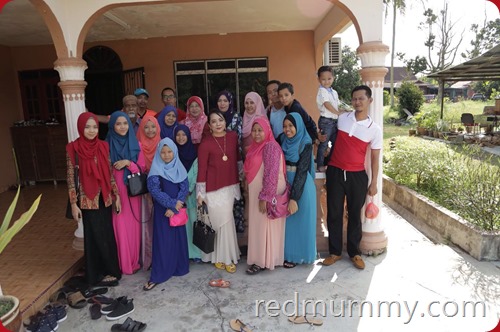 terima kasih tuan rumah…insyallah kami datang lagik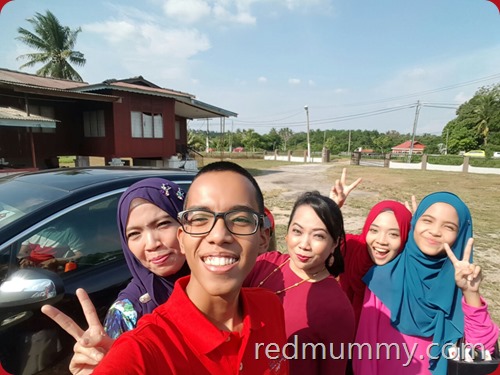 oh nak cakap gak, sepanjang di Melaka ni, kami ni asyik sesat jerrrrrrrr hahaha coz yang terer jalan tu my abang ipar tapi dia takdak pulak so RD kena lead, sesat barat laki aku ikut waze.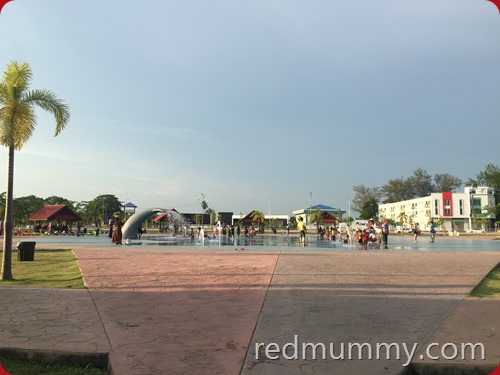 kita ada jugak menyinggah kat Dataran Klebang. First time maghi sini….Zeeshan ada tu tukar pakai swimming suit lagik main kat air fountain tuh…coz air laut kotor tak leh main, jadik lerr..Frust anak2 aku n anak buah tak dapat nak mandi. Port mandi laut yang best kat rumah satu lagi tapi depa takdak lah pulak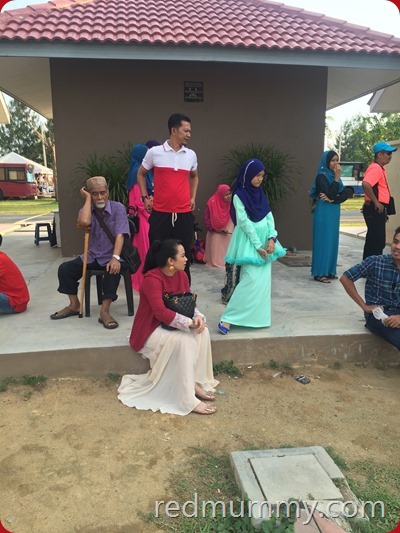 jadi kat sini melepak2 rileks tengok orang sampai tunggu Zeeshan habis mandi…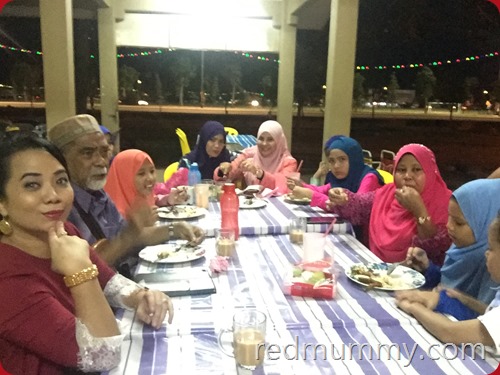 about to balik KL, kita singgah dulu makan kat depan2 Dataran Klebang tu ada banyak kedai makan. Order 2 jenis je, satu nasi goreng kampung senang chef nak masak, and nasi putih + sup untuk Zeeshan.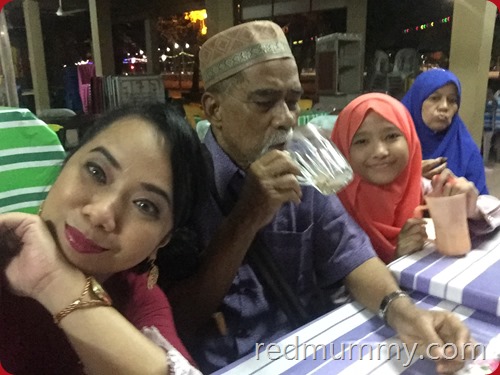 tapi kat sini best hehehe coz kat sini kita suh semua cucu2 dan anak buah bayar. Sorang RM9 coz ada 10 cucu dan jumlah harga makan minum was RM90. Berkira betul 10 anak2 ni nak membayar, termasuk Zeeshan sekali aku siap2 dah tolak duit dia bayarkan nih. Duit raya bebudak ni banyak tapi nak suh banjer, punya ler depa susah sangat. Jadi tahun depan pun nak buat lagi macam ni, semua cucu kena bayarkan for 1 nite punya makan hahahaa…hangin betul depa siap ada yang cakap tak nak ikut balik Melaka lagik. Oooo pandai korang yek, ada duit tau nak pau je mak apak memasing.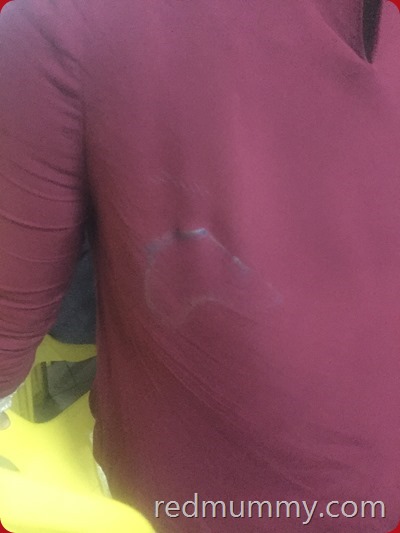 oh ini hasilnya my baju raya, kesan terbakar dek iron. Baju ni terkomot sikit (semua baju memang all ironed dari KL) so aku suh abang tolong ironkan sikit, dia tak pandai pakai iron biasa tuh (biasa kan pakai magic iron philips nun), hah hamik kau, sikit lagi nak terbakar lubang habis baju mak ko bang oi….aku mintak ganti rugi RM50, abang bolayan jer hahaha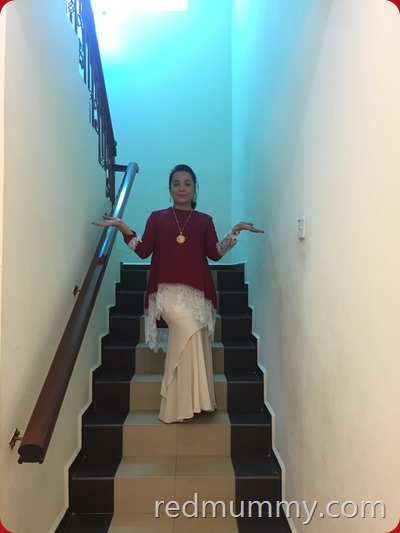 my baju is from Lubna, ada kain set nya (tertinggal di KL, coz hantar tailor for potong, labuh bebenau). The kain ni pulak sangatlah sesuai pulak ngna baju, pun kain lama, dari Chanteq.  Baju ni sedap but habis Ramadhan aritu aku tengok balik kat site dah takdek, laju orang dah sebat. If not nak gak amik colour lain.
Dari Melaka raya tu kita singgah final raya di Seremban and ngam2 sampai BTR dropped mak abah about 1.30 pagi ke midnite macam tu lah. 3 lebih gak lerr baru tidur, hoh penat penat….esoknya gak kita pun ada satu rumah je nak beraya tapi aku buat laundry ler….kain baju punya banyak mana nak basuh mana nak berlipat segala.
So routine kami, habis raya Melaka. Weekends dok berjalan open house, alhamdulillah ada gak yang ingat kat kita menjemput kita ni kan…Melaka pun done, dapat dok kat Nurhomestay, berumah2 pergi, dengan sesat barat bagai segala….Sweet memory, Syawal Melaka namanya.
Comment:
1