Aug 22 2016 Monday, 8:00 am
This is story about our cat (s).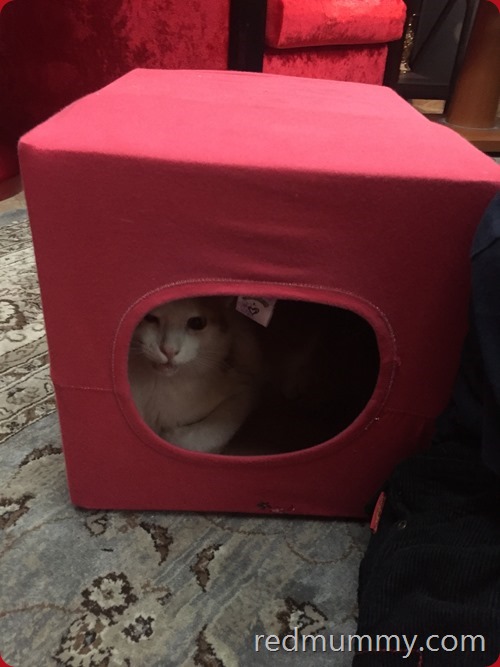 a DIY cat box made by RD, but Chanel tak nak pun dok dalam tuh, that s Kathy inside! laki aku tengok kat google jer, melambak ado. Tshirt merah kakak jadi taruhan buat cover box hiks…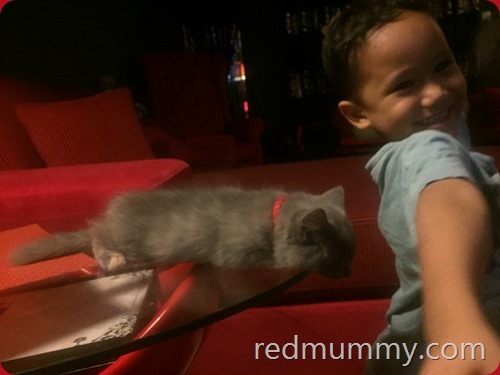 skang ni topic about Chanel the cat adalah sangat menyeringaikan muka ai. Umpama ada baby baru begitulah. betullah kata depa umpama beranak 4, she s so my new love skang nih.
Itu dia ngah tidur ngan pala terjuntai bagai, Zeeshan dok kacau dia.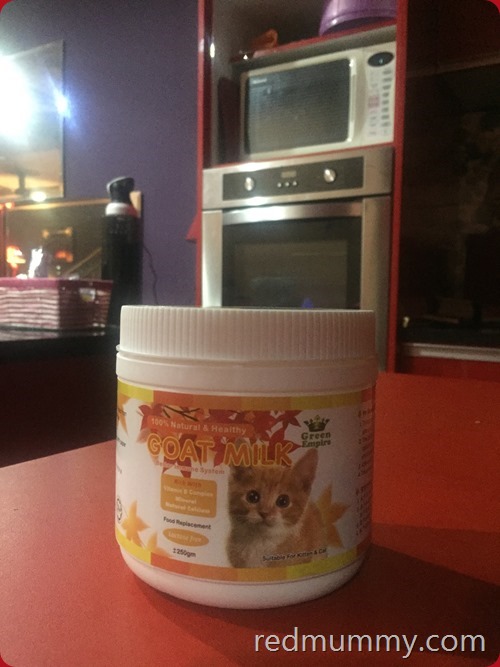 so something that people tanya around about having new kitten at home (macamlah aku ni baru bela, padahal dah berpuluh tahun hahahaa), jadi kita bukak balik the knowledge yang lama simpan tu lah. Ini susu Chanel, bagi pagi sekali sehari jer. Usually laki aku yang buatkan, dia akan habis minum licin. Pernah bagi 2 kali sehari but dia macam mencirit so kita buat sekali sehari and baru ok tak memerut sangat…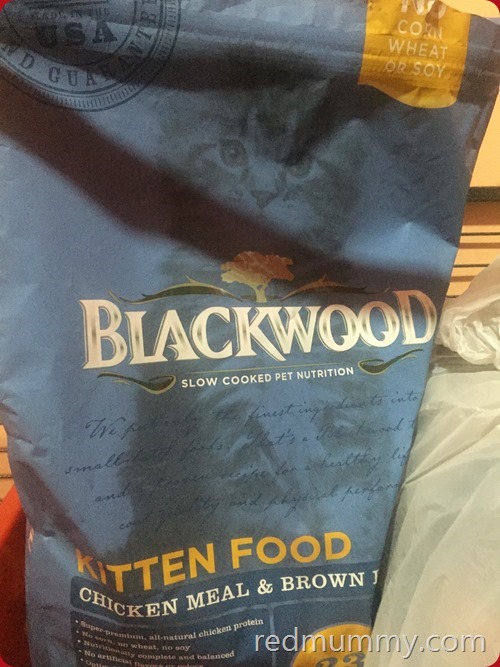 the blackwood for Chanel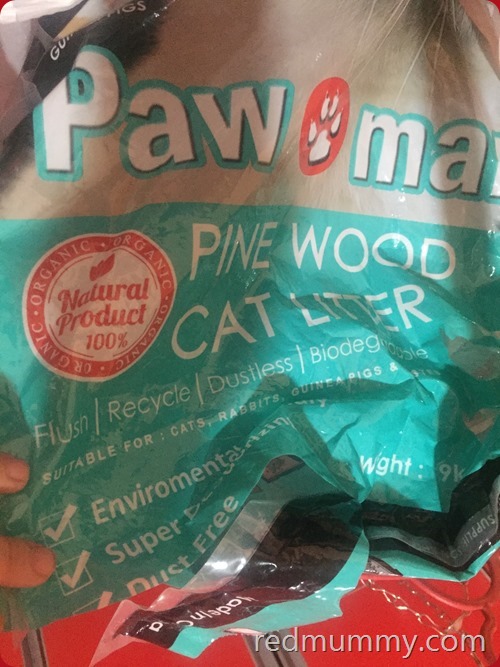 the best pine wood for Chanel too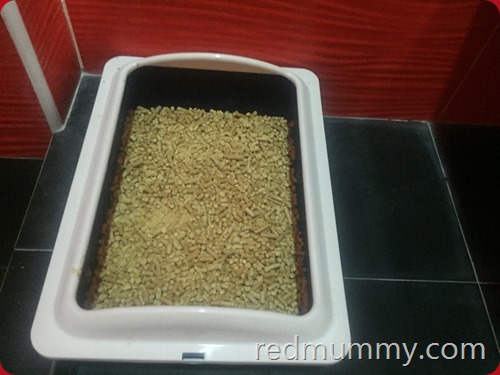 dalam my IG ada video how to kemas bersihkan this type of pine wood. Sangat best lah, suka akak ngan product nih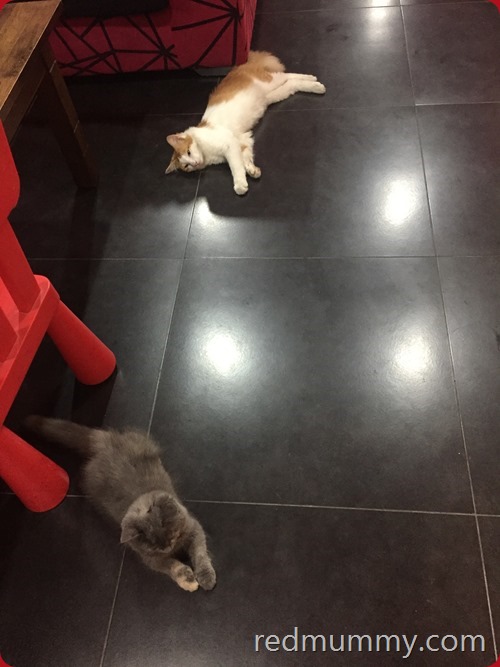 Kathy, Sharifah and Chanel dah fren fren….memula memang Kak Pah and Kathy sangat mendengus je ngan Chanel nih but coz kita bagi 2 ekoq tu masuk rumah hehari and so they can spend their time together, jadi dah berkawan2 lah….Thing is satu lagi Chanel yang sibuk mengekor depa 2 nih, tak nak camne pun terpaksa la depa fren2 gak…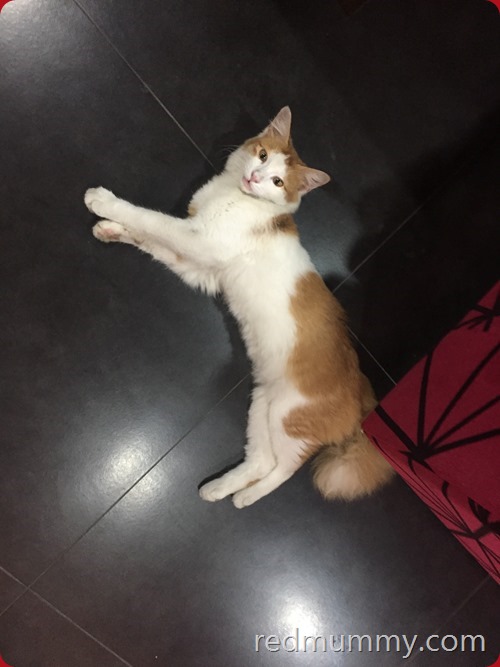 Mr Kathy, ai think anytime dia mesti nak cari awek gak nih…kadang2 dia dok gak dalam kereta aku, pusing le jalan2 jap….he s so handsome, compared masa jumpa dia dulu. Cantik bersih, once in 2 weeks abang akan mandikan both Pah and Kathy nih. For makan minum depa kat porch tuh, RD and Abang yang jaga.
but Kahty ni laki aku hangin, pantang masuk je mesti nak curi food. Lauk pauk dalam tudung saji pun pandai dia selongkar amik, macam la makan tak cukup pulak. She eats ProDiet.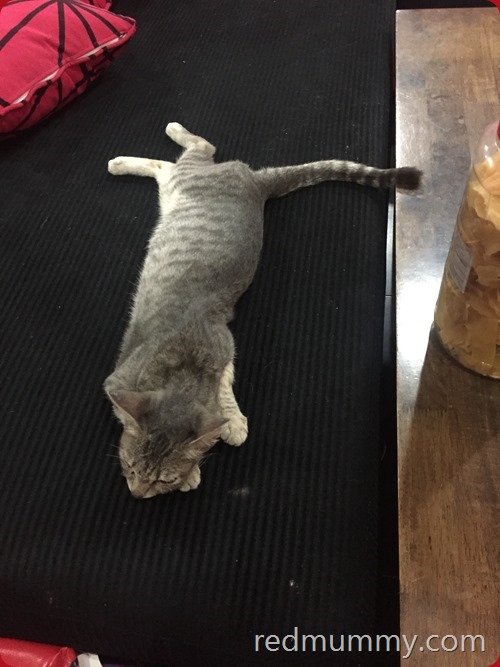 Pah pulak, anaknya tinggal sekoq jer (out of 4). Aritu aku tak pasan anaknya kat hujung kaki aku, terpijak kauuuuuuuu! meroyan le anak nya, ngan dia2 sekali melompat dok huruhara je muka suspens gila minah nih hahahaa…..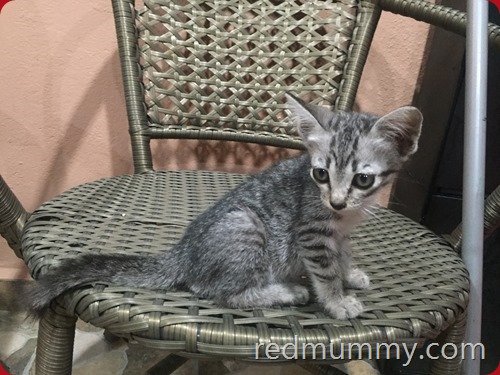 ini anak Pah, kurus kediang betul. nama pun takde lagik, tunggu orang adopt. But if takde orang nak adopt gak, kita bagi le dia nama and kita bela gak lah. Skang memang cekeding le dia kan, tunggu sok sok dah hensem lawa kita bela…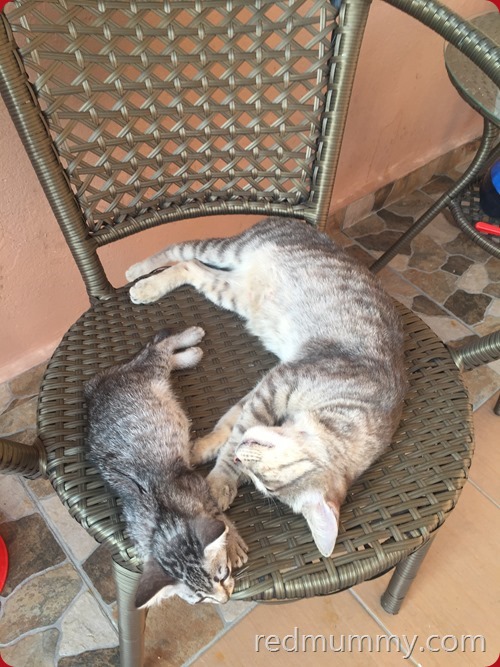 depa memang level2 porch jer. ada rumah kucing ada segala siap for them. Anaknya ni tak boleh masuk rumah lagi coz masih kecik lagi but Pah and Kathy memang skang dah back to normal, asal abang ada, he akan bawak masuk his 2 cats tu ke dalam. Kadang2 aku tengok depa takde kat porch, pi berjalan kot, pusing taman 🙂 .
Makan minum pun, takde masalah, semuanya ok lah for them. Daripada kita adopted depa, daripada jadi stray cats tu kan, at least kami anak beranak look after them lah.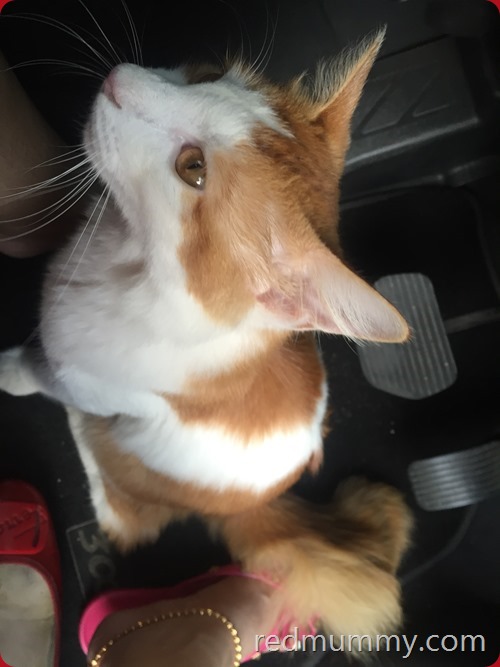 pantang bukak pintu kereta, dia masuk dulu – Kathy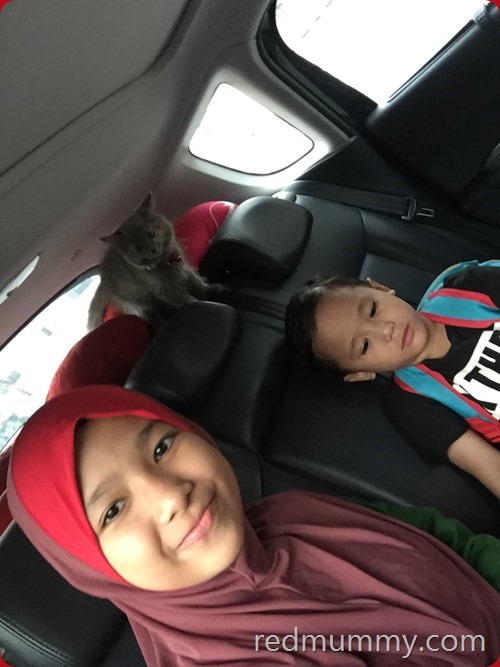 For Chanel, ada 2 kali terlepas kuor rumah hahahaaa…nak luruh jantung aku. Ini bawak Chanel jalan2 amik Zeeshan, but dia punya risau mengomel dalam kereta toksah cakap lah, bising btol…tak biasa kot kan.
Her vacci aritu kena RM180 coz first time and banyak pulak amik vit bagai kan. 2nd vacci should be by this month gak, and next month satu lagik.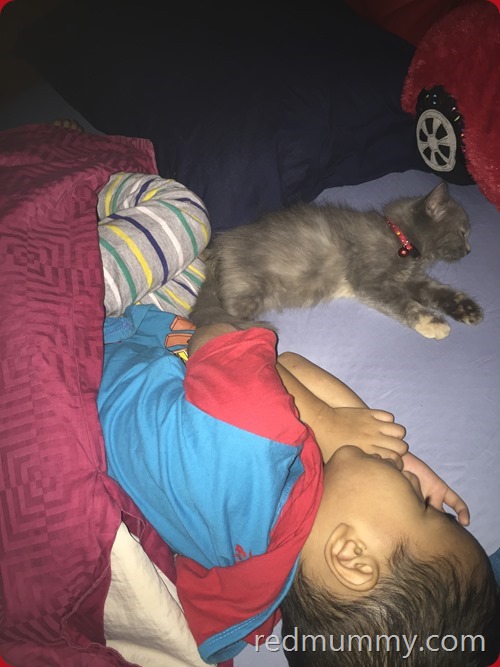 her fav spot to sleep gak…memula aritu Zeeshan agak jeles gak lah ngan Chanel but when I told him yang Chanel asyik nak hug you je lah Zeeshan, barulah he rasa tak tercabar sangat…if not dia memang tak suka Chanel datang naik atas tidur sama. Now dah fren2 gak both Zeeshan and Chanel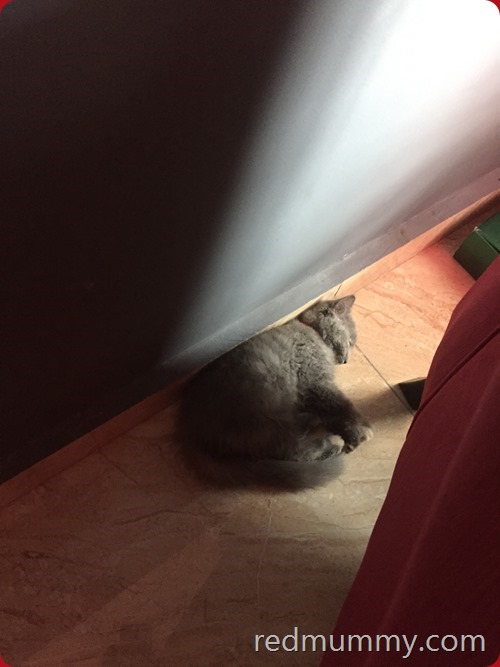 noon to 5-6pm ini tempat tidurnya, dia sendiri pilih nak tidur sini…sedap sejuk lantai kot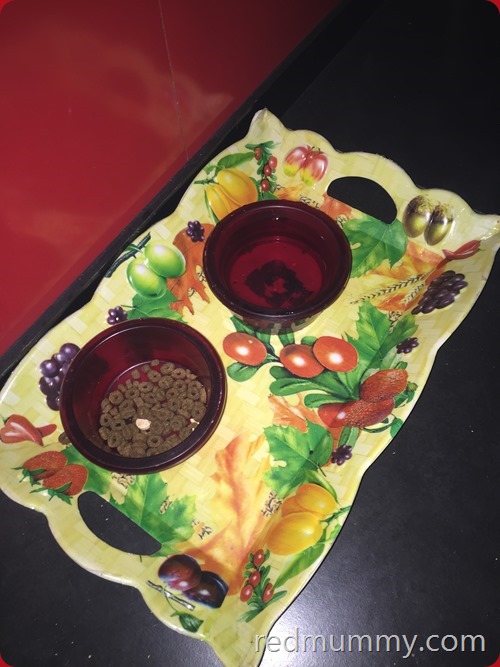 untuk makan minumnya, molek if letak dalam tray so takdelah macam bersepahan (if any). Plate ni gak dulu pakai dek level2 kucing porch aku but since depa 3 ekor kat luar tu, kena pakai bigger size sketlah pinggannya. Dalam blackwood food Chanel tu ada vitamin kan? Itu her vitamin untuk bulunya, kasi lagi flawless gitu hahahaa..satu lagi in spray type, RM50 sebotol kecik tu kau. Demi kucing nya pasal…
I mentioned dah yang for her pasir pakai pinewood, really really really love the product so much! Mandikan dia pulak once abang dah buat, baru ni aku buat sendiri. Kucing baby2 macam ni mandikan once a week or 2minggu tu oklah, itupun dia punya sejuk aku kena betul drykan dia ngan towel, siap peluk lagi, menggelatar btol, padahal pakai heater gak mandinya.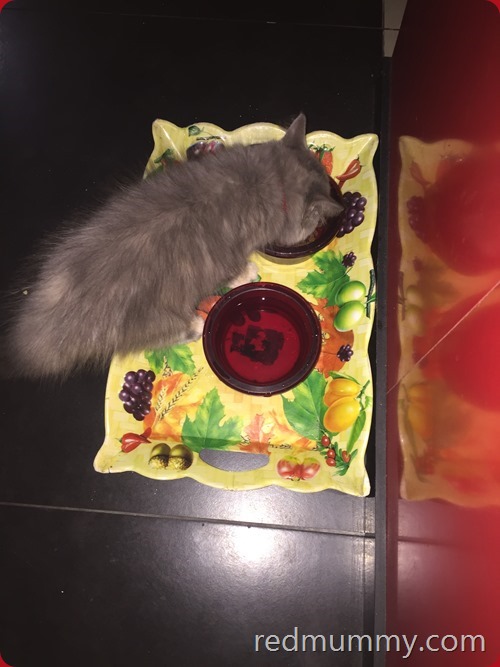 Well selepas 2 weeks plus, Chanel dah no longer dok tidur baring dalam bathroom anymore. Dia dah passed dah lulus potty train. Untuk yang nak tau camne akak trained her (and my previous cats), this is the way:
Kucing yang baru to a new home if you dont intend to put in a cage (we dont), so kenalah place in the lock area seperti contoh a bathroom. So she was placed in the bathroom di bawah untuk 2 weeks, her potty and food pun letak kat situ so easy access for her. But jangan lock 24jam, at least 2 jam dalam tu, 2 jam kat luar, macam tu lah for 2 weeks.
Reduce the hours tu makin lama makin banyak banyak untuk di luar than dari dalam toilet. U may see bila dia nak membuang je dia akan pandai dah carik her potty which is placed in the bathroom.
Jadi selepas 2 weeks gak, akak moved her food plates ke luar, at our kitchen as per u can see atas tuh. Jadi dia tau, makan minumnya di situ, and untuk kencing yak dia pi dalam bathroom.
Dan kerna dah lulus tu semua, dia dah tak tidur in the bathroom, she sleeps with me from midnite to 6ish am pastu dia akan turun untuk shishi yak bagai at her potty gak lah. In between pun maybe dia akan turun gak dah kita tidur tak sedarlah but she s very well trained ordy.
Senang je tips nak potty train kucing.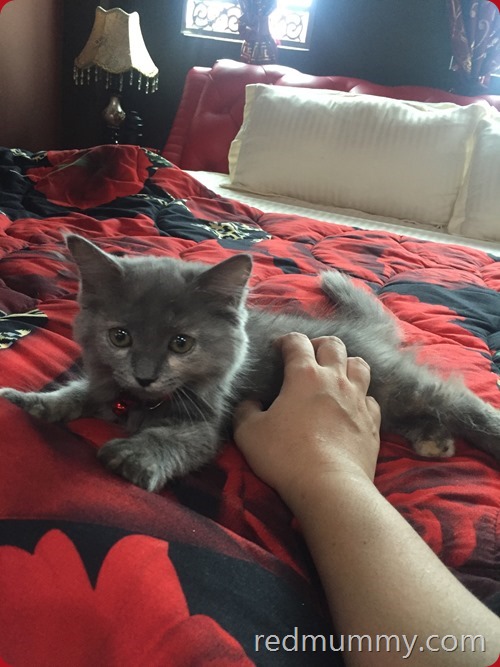 One thing for sure, she s in love with RD than me hahahaa…aku bengang betullah. Aku yang berdodoikan dia but when RD balik kerja, dia terus lari mengiau and sondol2 badannya kat laki aku mintak dibelai. Aku balik kerja tak dapat pun the same treatment from her! She kadang2 tidur bawah belakang our katil but mostly atas katil sama, cuma mbe asyik kena sepak terajang kot masa ngah tidur so dia moved to atas our kepala. But like i said, she will sleep with RD gak, setiap kali bangun tidur, RD tengok dia dah ada kat belah kanannya hahahaha…bila RD turun dia akan ikut sama lah.
I was on 6 days leave kat rumah baru ni, pun dari kol 12-1pm tu memang waktu tidur dia till 5pm, lama benau tidurnya so dia hanya akan bangun bila orang semua dah kat rumah and masa tu Kathy and Pah pun dah masuk dalam for her to play around. Sesekali je bila dia lonely sangat tak nak tidur baru dia datang kat aku but if ada 2 orang at the same sofa, me or RD, she will mengendeng at RD gak. Cisss!!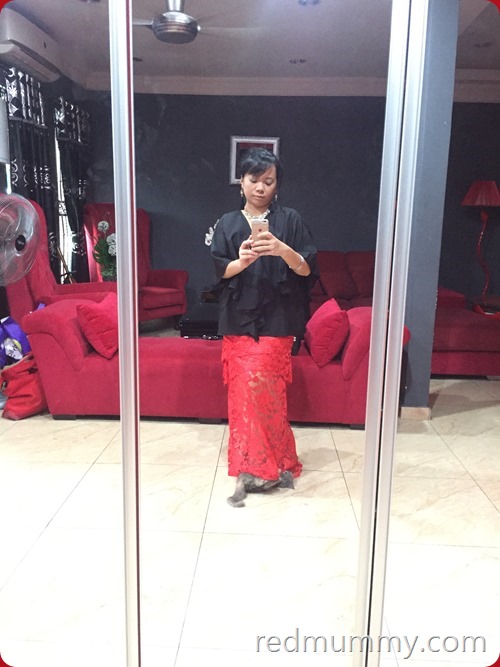 sesekali tu adalah dia nak melekat ngan aku, macam yang nih dok kalau boleh nak masuk dalam kain tuh.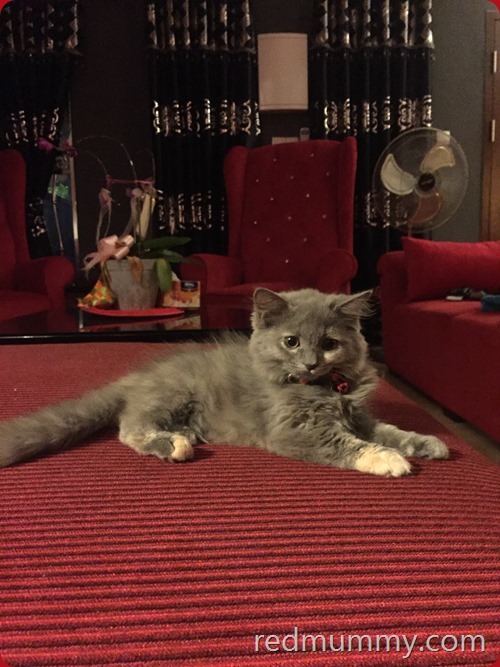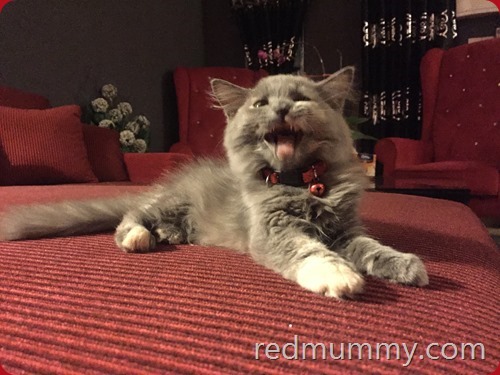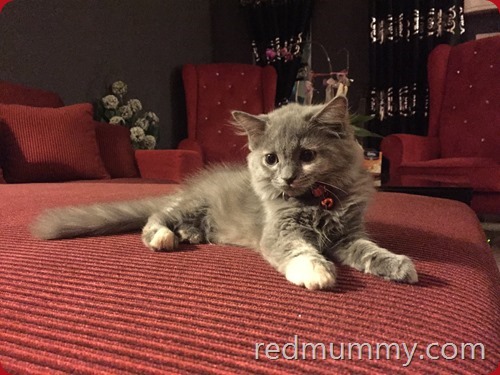 Now kami rasa dia mungkin anggap RD is her 'mom' coz semua benda yang aku buat, but satu benda je yang aku tak buat, tapi RD buat yakni, buat susu and bagi susu. Sebab tu lah dia asyik mengendeng je ngan RD, kadang2 tu dia terus datang landing kat bawah ketiak laki aku, tidur sama situ. Omeng ko nih….gelak bahak2 laki aku. Beria aku membela belai bagai, kat laki aku plak dia melanding.
5 nites in a row laki aku balik kerja, 5 nites tu gak lah dia mengendeng terus kat atas badan laki aku. Yet aku ada sama sebelah laki aku. There s one morning, dia pusing satu rumah cari laki aku, she jarang naik atas but coz dia mencarik 'mak nya' dia sanggup naik atas pusing satu bilik, bathroom and bila takde 'maknya' dia turun balik. Memang betullah kot kerna susu dia melekat ngan RD coz itu je yang aku tak buat…
Comment:
5