Nov 18 2016 Friday, 9:00 am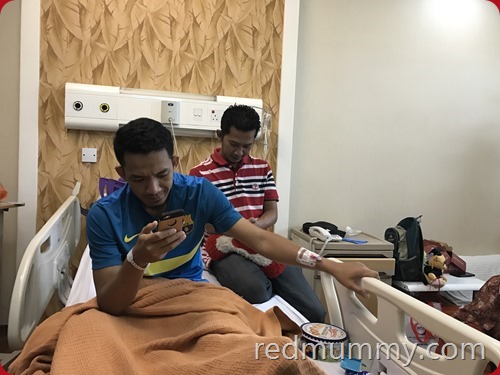 hp je 2 lelaki ni. Ini adik bongsu aku, dia buat operation ACL ke hapa tah, orang2 bola tau lah. In fact baru sebulan lebih lepas my adik yang no 5 pun buat operation yang sama gak. Depa ni kaki2 bola, tu yang kisahnya…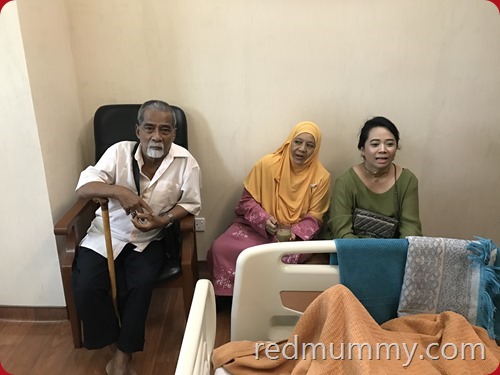 so mak abah and adik2 dah sampai dulu, kitorg gi makan kat Haslam Restaurant bawah tu, masa melawat adik no 5 kat hospital yang sama gak, we had dinner kat situ kan, so macam sedapnya lahai food depa so bila naik balik, bawak berbungkus2 kuih muih and bubur.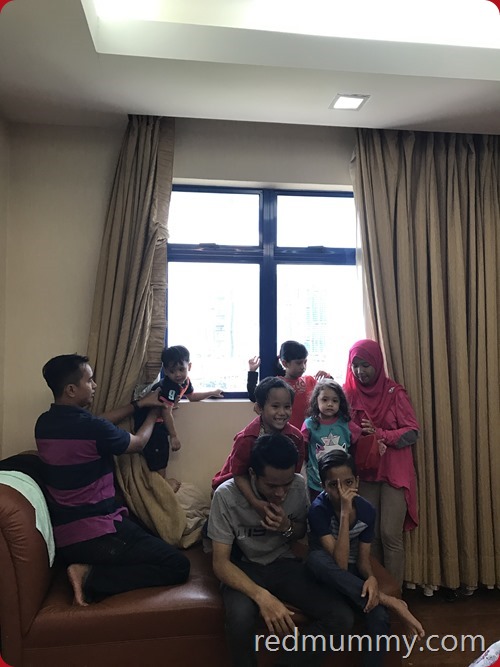 meriahnya ko bilik spital ni, kalau sorang 2 budak pun leh gamak inikan pulak reramai gini. Ada 2,3 orang lagi baby and toddler takde dalam gambar ni heh…dok kat mak2 depa (pun ada dalam bilik nih).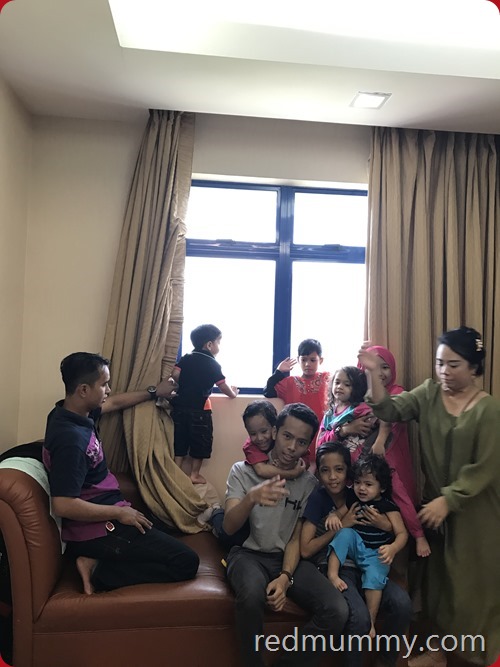 masih lagi huruhara..dah tak yah lah…payah btol bebudak nih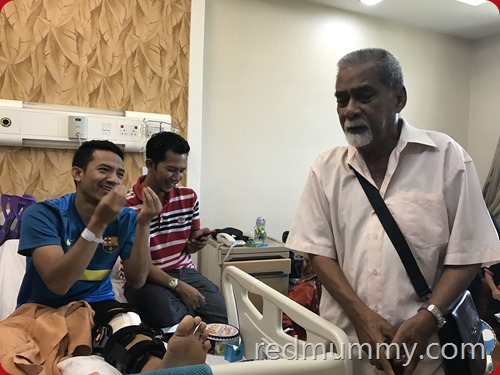 apa le ko temberang abah ko tu dik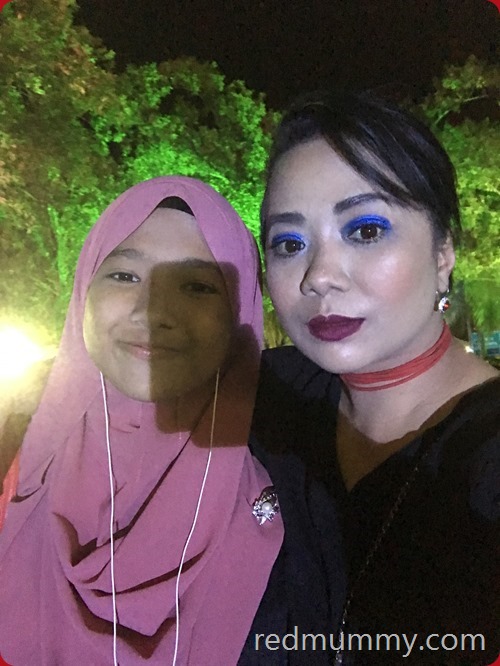 tebalnya makeup aku,but takpe lah, event malam. so heavy2 pun biak pi lah kan….siangnya lepas hospital tuh kita pergi IB checking tickdets nak tengok Mak Cun Diwale..aku kan suka hindustan2 nih, kakak pun suka le yelah dia bebudak mmg la suka artist2 nih. Jadi kita pergi berdua jer malam tuh, apaknya tak hingin nak ikut heh 😛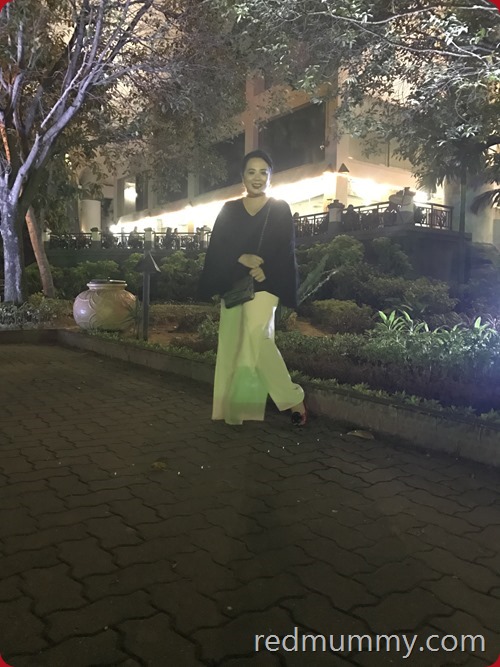 split sikit….i have this type of seluar, 4,5 lai kot, diff colour of course.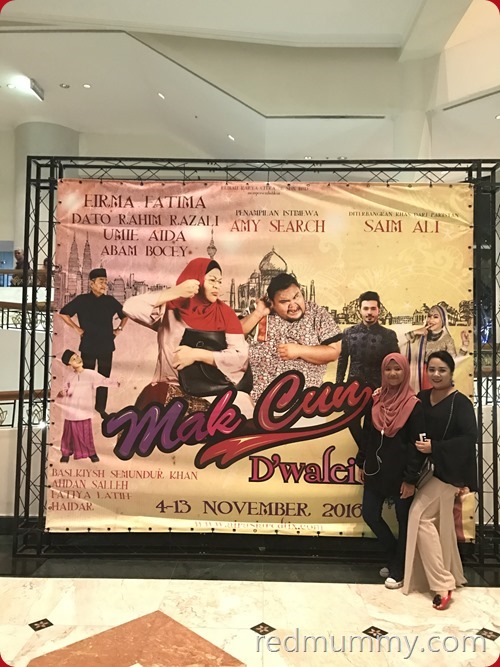 laki aku cakap (mesti mak hang suh horang shoh shoh tepi nak bergambar kat sini). ahhahaha ni kes gambar kat Kuta, Lombok tulah, yelah nak dptkan besau ni punya frame. Thank you to orang2 di situ yang amikkan gambar nih.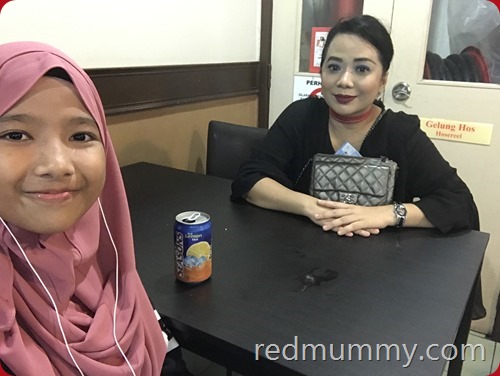 sampai awal so lepak jap kat cafe. Tak makan coz dah makan sesiap kat rumah, jadi minum2 jer….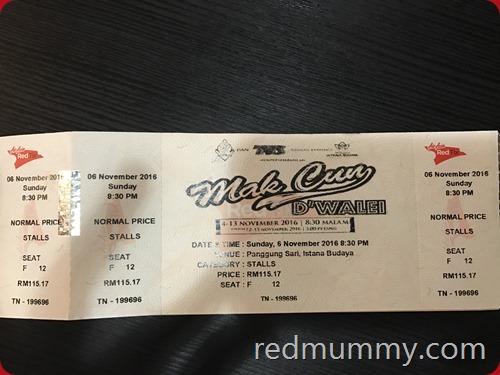 Thanks laki tolong belikan tix nih, eh tolong bayarkan for both of us. Aku nak amik yang murah sikit but dia upgradekan nih heheee…. patut bawak Zeeshan gak dia suka hindustan but nanti past bedtime dia and ni sampai midnite some more ni untuk umur 6years and above je.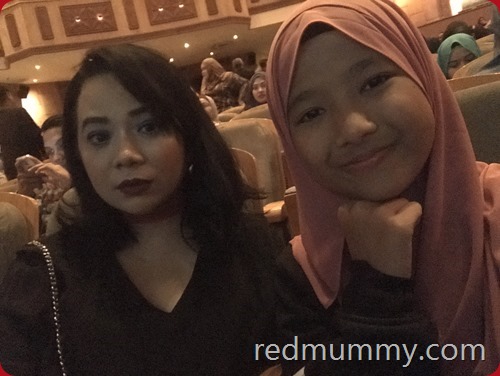 taklah depan sangat, but just nice. Best show Mak Cun, ada le yang macam lemau2 part gak, tang hindustans menyanyi tu kita boleh record, i did posted them kat my own fb. Layan hindustans best wor…sebab tu antara punca utama aku nak sangat tengok Mak Cun nih.  Lambat abis, 1130mlm baru abis and midnite gak baru sampai rumah. Mentidoq anak dara all the way dalam kereta.
Tapi yang kat rumah pun the boys 3 tuh, melayan movie gak, not Zeeshanlah, dia tu kan tidur awal at 830pm dah panjat katil.  Eh jap speaking of anak tidur awal ni, sebelum dia sekolah dedulu tu, midnite gak baru dia tidur. but aku memang set few days sebelum school start, anak2 kena start digest tidur awal. So till now dah 2 tahun sekolah pun kan, dia dah masuk dalam system badan dia, kira 830pm tu dah memang waktu tidur sangat. Weekends pun sama gak coz dia wake up early, 630am dah bangun (dia bangun sendiri tak payah nak kejut), jarang2 lah dia bangun lambat….
we didnt stay long pun untuk amik gambar ngan artist ke bagai, gambar atas stage pun lupa nak tepek sini hiks…tak penting, yang penting is muka aku 🙂 . Erma Fatima leh buat lagi Dilwale pls, kain sari lengga donno whatever lah yang Umie Aida pakai sepanajng 3 hours show, oooo to die for betullah. Lawaaaaaaaaaaaaaaaaaaaanyaa!!! Hero yang dari Pakistan ke mana tah tu, biasa2 jer, but dia pandai menari la, but speaking of menari tu kan, aku tengok ada lead dancer (our Indian) lagi gempak dia menari.  Best kalau the lead actor tu pakai local kot, coz tahlah, that s my opinion.
Comment:
2