Jul 28 2016 Thursday, 8:00 am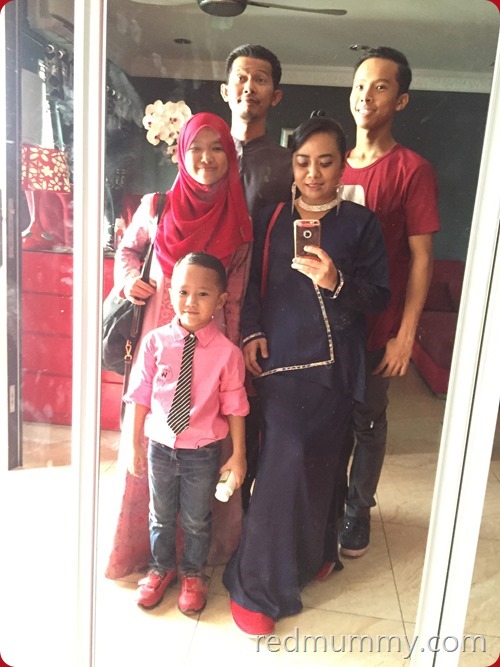 So many raya open houses! Kita dah nak hujung syawal sesangat. Ini ready to go to Denaihati's raya, everybody melawo except abang coz he tak join, we dropped him at his tuition center. wow Zeeshan baju awak siap bergaya dengan necktie sajor! Tapi punya banyak kasut, itu lah kasut yang dah setahun lebih ko dok ulang pakai. Nak tunggu ketat habis ler tu baru boleh baling kasutnya, fav sangat kasut tu ada lampu leliliap, car some more. Beli memahal pun tak rugi coz memang max abis dia pakai (bought it in jakarta).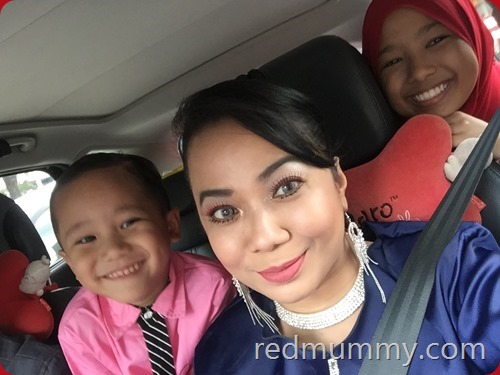 senym kembang btol ko dik and kakak koooo
ai is pakai eyelashes merah tuh, bawah tu pun berfake lashes gakkk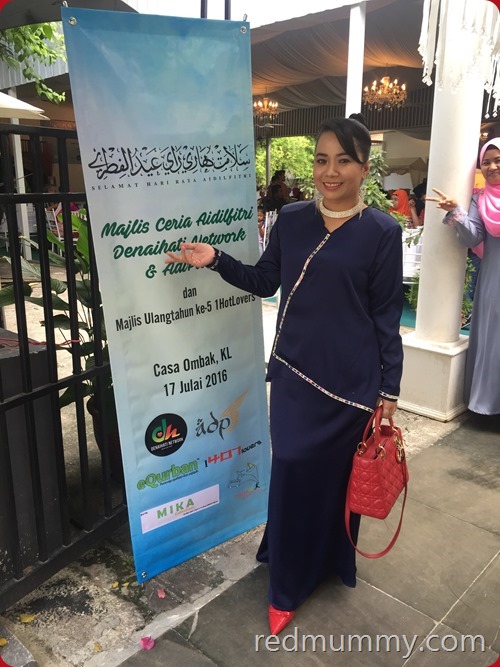 Ado yo Amy kat belakang tu yek….baju hakak ni, aku nak hand wash, memang akak basuh sendiri, bersatuan ngan kain baju sekolah anak2, boleh bebudak ni pi masuk washing machine. sib baik le tak rosak, bling2 dia molek lagik…
ai suka baju ni, they do have in maroon colour. Kalau ada colour lain memang akak dah borong (biasa le pangai akak kalau dah suka satu baju tu semua colours akak nak tibai)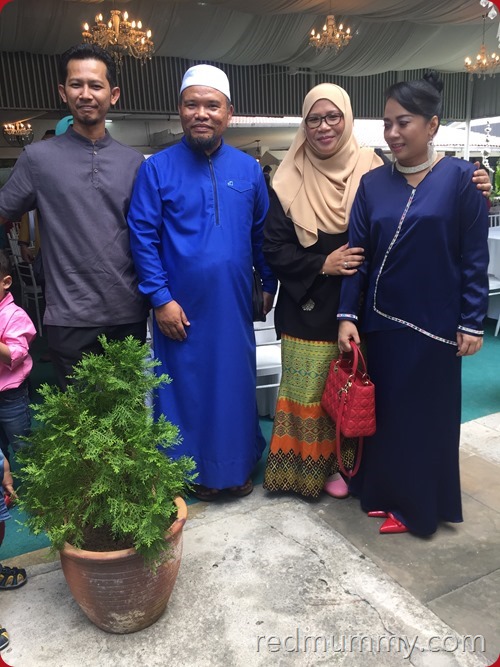 the boss, Haji Amir and Kak Rokiah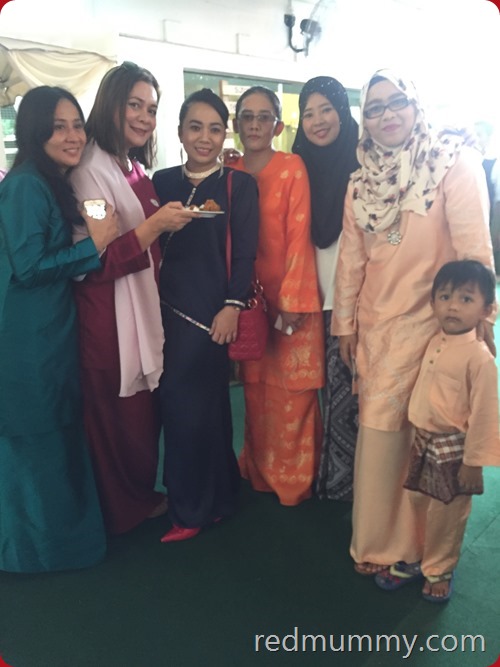 the usual faces. The lady boss of Casa Ombak too…(venue of this event)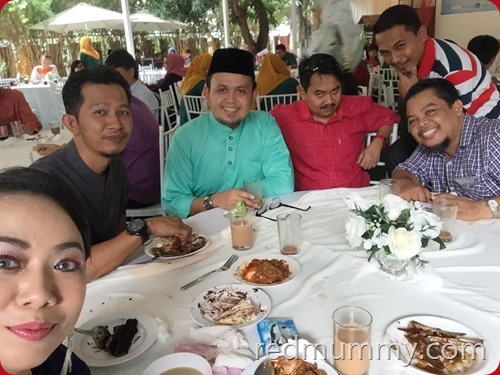 the perasan2 young boysssss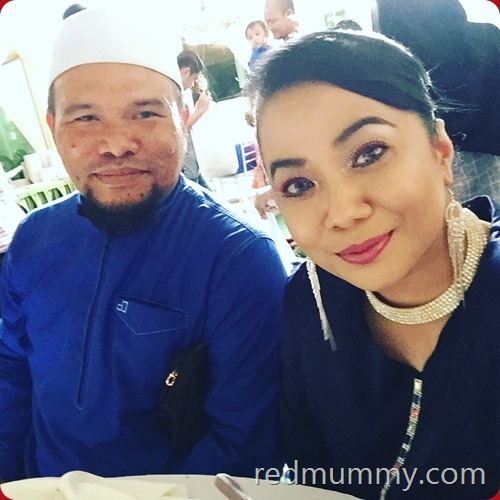 manusia yang sangat dihormati..Abang Haji Amir Denaihati
Kami datang dengan jemputan abang haji, by right ada Adi Putra but masa ni baru 24jam kecoh kes dia bernikah baru. Jadi ramai le yang frust bila Adi tak hadhir, but a week plus kemudian sekali lagi diadakaan majlis di sini dengan Adi buat press statement dia. Kahwin baru ko ye. Benda tak berdosa, alhamdulillah. Memanglah betul tak dosa, eloklah mengaku dari ada yang kes2 artist tu tak nak mengaku langsung kahwin lain. Orang bebiasa pun ado samo. Nemailah…rumahtangga orang, tak yah kisah sangat, jaga marriage kita ya udah.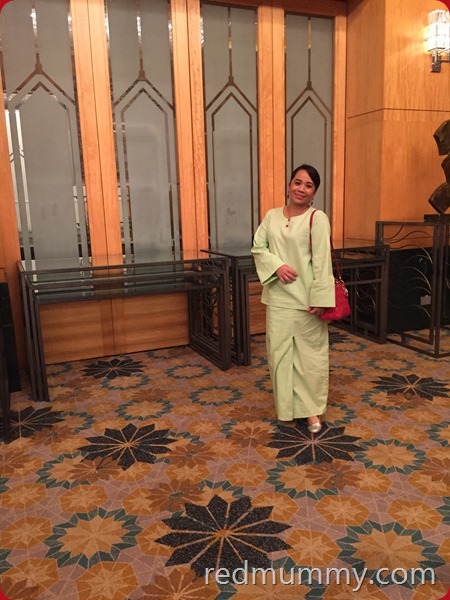 hari2 sebelum tu in green gak, untuk Petronas event. Kalau Petronas nih, akak memang akan usaha ler carik pakai hijau, but i dont have their emerald green or dark green so this lime green pun nice what. Ini namanya Berlian Kurung Kedah. The only baju yang akak disponsored, Sedap sarung baju ni tapi macam biasa kain tetap akak pi hantar tailor untuk potong, ai kan is comel petite kan. Tak cool ler nak pakai leilipat 10 kali kat pinggang tuh The outfit nih by Hidy.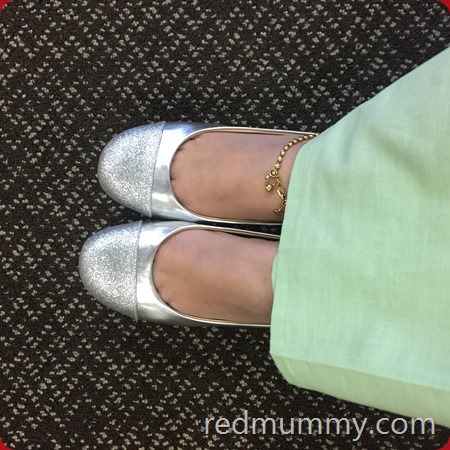 Kasut pun, bling2 but ini sebenarnya boleh buat daily, buat bantai hehari. From Cipela, imagine if this is in red, oh em gee!! to die for sangat ni Hid!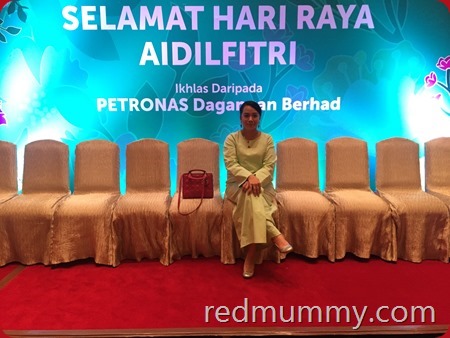 Thanks Petronas thanks Denaihati…more to come. Syawal is closing, ada lagi less than a week sebelum kita menutup tirai, tapi ada banyak lagik kain baju akak yek lom berpakai, itu tak cukup sarung kita bawak ke taun depan. All of the events semua nih, senyum simpul sumbing molek, tapi masih dengan dysphagia. Tercekik2 makan.
Bersambung lagi dalam entry2 baju raya baju biasa hari raya hari biasa….assalam.
**apparently my comments button tengah down, dah over 2 weeks, i couldnt be bothered till recently. Sorry, sedang dibaikpulih by the husband**
Comment:
6