Jun 2 2009 Tuesday, 12:00 pm
show mummy onions
aaaa tu
show mummy tomato
adik amik ek….
seronok gak lah kalo soping barang2 dapur ngan budak kecik nih…
abangnya? abangnya mengekor bapaknya ke mana ntah…amik ayam kot
2 trolley kau bulan ni nya barang rumah. tp satu trolleykan pun boleh tp sbb aku tak nak terperuk mampat bonar lam satu trolley so jadikanlah dua. q nak membayonya manghaik, panjang ya rabbi. waktu ni sirman n kids pi toilet, so aku dok melanguk le menunggu q yang hazab.
sampai je sirman, aku tinggalkan dia ngan 2 trolley tuh, and aku bawak kids pi kids area at the first floor.
fav gegirl betul main nih….ajak abangnya main sama, biasa bapaknya yang suka main ngan dia…aku bagi depa sorang 3 inggit, tukar sendiri, jimat2 main apa pun, mak takkan tambah.
we went to jj maluri ni pagi ahad, pas je abang abih taekwando terus zasss ke jj maluri.
kira ahad aku takde lah lama bonar berkubang atas katil, dah nak kena beli barang2 kan…
sabtu aku ke mana ek…aa oo pi bday umah liza
pi mines beli adiah birthday abah pak aji aku tuh
susahnya aku nak control 2 orang anak nih, bila sorang nak main nih, sorang pun kena ikut tunggu sama gak…lainlah sirman ada so dia leh amik sorang ngekor aku jaga sorang lg. sirman kan waktu nih dok q panjang hazab with 2 trolleys pastuh dia kena punggah barang masuk bonet, then only he boleh join us.
ah main basketball tuh, abang sonok gila bila dpt masukkan bola kat net.
yey!!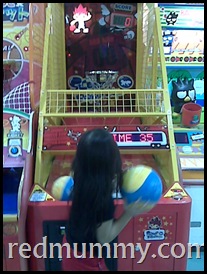 ha dak kecik pun nak main basketball yer…
tp yang gini nya size lah
sesuai ngan usia dia yang kecik
tau dia x leh main yang size abangnya
lor bowling ni korang pun tau lah
dia pantang la kalo mai jj maluri tp tak main menda nih
aku nih bape kali dah sirman ajak pi alamanda main bowling kat sana
iskk
alergic tol aku masuk mall macam tuh
ada gak aku terjebak beli yang bembukan
hahahahaa macamlah keje skang bukan kat lam mall kan
no heavy make up for me. bedak jer n sket blusher. eyeliner sket.
mummy cepatlah siap, jangan make up lama2
camne nak make up lama, anak kecik aku dah sound pasal make up.
tu korang tak tau tiap kali kuor, tiap kali tu lah dia bertinggung nunggu bila lah mak nak abih make up. lama bonar.
kecintaan gegirllah kalau main menda nih….abang nak main tp aku tau abang kang main buat sand colouring ni kejap pulak kan, so baik tak yah. dia dok ligat lenjan pusing tpt nih….dah nak siap nih baru le sirman sampai. punyalah lama hoooyaii!
budak sblh gegirl tu kan, aku sonok pulak tengok dia main sand nih. sangat terer. hang tau nak buat menda nih eloknya letak tebal2 n tekap tekan kuat2. huiii, aku belajar dr budak beso tu buat and ajar kat gegirl. coz dia kan buat light2 jer sand nya.
tp tu ler
gegirl buat tuh, kaler tak kena betul hikss
n time to go home…dah kol 12 kau. nak pi lunch lg nak balik kang gegirl nak kena pi gimnastic class pulok. itupun sempat nak meraung. abang tak puas main, gegirl pulak sentap coz sand dia tuh tang mata kucing aku letak green eyes. ahahhahaha aku suka ler kan nak gatal jugak letak, so tang mata tempek ijau, dah badannya merah. bengang la dia…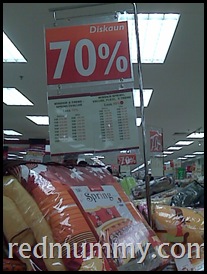 sale lagik, iskk lalu plak kat sini. tak de plan pun aku tengok light2, nak carik comfirter gegirl. ada la hok kartun2 tp dia nak dora. mana nak cekau. ada ker comfirter dora oi? so dah takde nya pasal, aku sebat diri sendiri nya, for katil mak pak. ni keje2 gini aku le yang beli, 8 taun lebih aku kawin ngan sirman tak penah la sekali pun dia belikan bedsheet.
kira kalo dia belikan, mmg aku akan
WAH!!!!
kompem tekejut.
since the sale is quite good, aku amik satu set comfirter merah ngan bedsheet siap lah. ni kalo ex-gratia dah masuk lg lah aku amik 5,6 sheets gamaknya.
korang pi lah beli bedsheet, ganti lapik tu seminggu sekali. ada orang kaya aku tau maid dia gantikan bedsheet tuanpuannya setiap hari. perkhhh…..! seminggu sekali pun dah ok lah, kita tidur atas tuh kan, katil tu gak tpt ko berasmaradana, jangan malas tukar aaa

Comment:
12