Feb 14 2009 Saturday, 9:00 am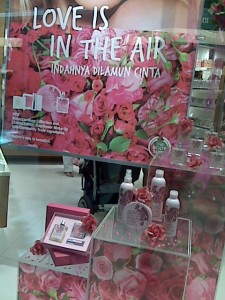 orang yang sambut2 VD tuh suka ler ngan mende2 nih, love is in the air ler love is forever ler, ai die if u die, ai jump if u jumpa…perkhhh leleh taik telinga dengo.
sudi2lah beli bembarang nih, x kisahlah ada VD ke ada cinta ke ngah frust menonggeng ke, beli je kalo korang mampu. x yahlah tunggu orang bagi ke hapa, sendiri belilah utk kepuasan diri sendiri. tp tengok poketlah kalau agak2 sengkek jangan beli, kang jilat tayar keter plak.
those are all limited old edition of Bodyshop,
isk gambo aku membazir jalan2 lagik. heheheheheh. ai menerai je lah. terai 2 baju, dedua tak ranggi. dedua tak ranggi pasal aku dah kembang dah mak orang. some baju kat Romp sonok gak kalo dipakai, tp kalo idak tuh macam x sesuai jer ngan umur kita. but like ai care?
sebab aku care le aku tak amik pun dedua baju tuh.
so ni baju apa pulak
baju jakarta pun x abih lg pakai
emm
baju jakarta takde yang hok gini gini
so kena lah carik back up
ai have 2 events mar arini

Comment:
16