May 18 2009 Monday, 12:30 pm
the complete face,again aritu kena jumpa cikgu make up tp pasal a day before dah make up cam heavy, kali ni make up light2 lah sket…no white khol or black eyeliner di bawah mata.  aku letak concealer jer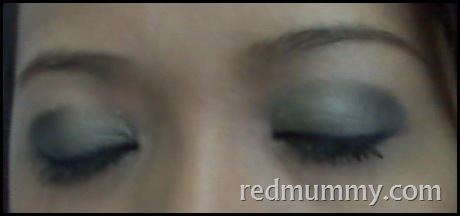 aku ada problem in blending kat belah kanan lah, macam aku sokmo je kuatkan black tuh kat kanan. biasa jari nih, kena usaha lagik nih. actually kan mata tuh aku x pakai h/light gak, pakai base shu jer , bila nak cepat, pakai je apa2 kaler eyeshadow, and ujungnya letak itam.
sonang kerojer acik.
mascara pun a must, kalo ada appointment kan
kalo x de appointment aku x pakai mascara…cikgu make up ku bilang, kombinasi mata and baju adalah sangat classic. Yey! 1 point today.
Ayu The Sun's eyes, lari le ko baper puluh meter pun, kalau aku dah nak tangkap gak mata kau, kena gak tadak. she s using the PAC MT's kid, aku pun tak pasti dia pakai hlight ke tak…..
Najwa's Redglow's eyes,wpun dia kaler sampai ke atas, tp nampak macam natural je lah. x de la nampak cam blending setepek cam aku buat. tu le beza cikgu ngan student make up kan. mascara dia tu, buat eyelashes dia sangatlah kembang melentik. aku dah cakap kan aritu dia pakai Sasa's brand, ha bagus gakkan?
ni pun mana Najwa, jari Ina Redglow, ni dalam Ferragamo's boutique tuh….ye saya akan bertanya pasal make up wpun depa ngah shopping. aku mana kira, ilmu harus dipinta tak kira masa…
Cikgu make up aku nya mato lak, Ina Redglow. motif belah kanan ko dah ilang sket eyeshadow nya. not good tau cikgu, students kat RM ni ramai nak belajar make up. apapun, kening dia tersusun je kan..iskk! goram eden…
Alang's eyes, very light. mata dia bulat ala mata ikan, so kalau make up light pun dah buat mata dia beso, light make up is fine, ni for me lah, as long as korang pakai mascara. ha sbb dia pakai mascara nampak lg naik seri. Alang is Ina Redglow's sister.
ni mato student redglow…bila nya make up mata tah…malas nak google lam RM. so korang, wpun saya x letak lam utube, at least tempek2 lam gambar pun ramai pandai kot kan….
pelan2 lah, aku pun dah nak lenjut ni ha baru geti nak make up sket….
Comment:
8