Feb 21 2009 Saturday, 2:00 pm
after weeks of planning, ai was supposed to meet the girls, unfor one of the members ada kematian. so the get together dibatalkan coz tak cukup korum. as ai was to leave office, ai got a call from Nurul and Rose that they are gonna have teh tarik kat Q Bistro. so well, plan A tukar jadi plan C now.
sbb plan b ialah dating with sirman kat umah yg benornya. but sirman tak kisah kalau aku nak pi jumpa the 2 girls dulu. tp x leh lama lah, coz dia x dinner yet.
when ai got there, emm diorg dah setengah gelas minum. si manis berbaju kurung is Nurul. well yang korang dok komen2 kata napa dia jemput aku jer lam yday's entry for her makan2 thingy tp x jemput korang tuh..hahahhaha inilah orangnya. so since aku memang tak bley nak mai umah dia malam nih, kira bagai pucuklah bila dia suh mai Q jumpa dia malam tadi.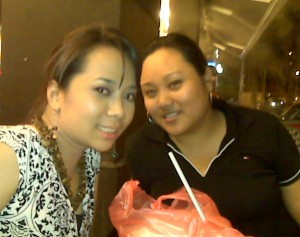 Rose is orang kuat GBM, korang dah kenal dia kan……tak plan pun nak jumpa dia selepas Plan A terbatal. tp bila dia nak bergosip ngan Nurul, diajaknya aku, cite hal2 mak2…oh yes lah kami tiga orang mak2, dok pusing2 cite anak jer. company si Rose ni casual gila, dia balik opis datang ngan baju cam nak pi gym jer hahahahha…
anw kalo depa jumpa kat luar kawasan rumah aku, tak mungkin aku akan join lah.ai m a bit reluctant to pi tpt2 yang luor kawasan rumah aku lah. sbb depa pun bih kurang sekampung ngan aku dok cheras, diorg sendiri dah suka melanguk kat Q bistro nampak…
we chat toktok, sampai laki memasing dah tepon bila nak balik. specially laki aku lah kan, coz aku kena bawak dinner dia. our dating nite gitu kan. Our mommy's kopi break was fully sponsored by Nurul, mekasih ye Nurul. moga murah rezeki mu. dan mekasih gak kat Rose coz bawak buah tangan dari Bandung.
red purse, cantik siot, ada gak fridge magnet bentuk hbag gak. ai like it, thanks 3ribu kali ye rose.will surely use for my wkend outing. anw if u dok wonder baju aku tuh baju baru ke idak, idok jwbnya. baju tu dah 3,4 taun gitu usianya. n eyeshadow mata tuh dari gurleain yang aku beli RM70 kat mjaya w/house sale.
pastuh kami tiga kedek2 jalan pi kat keter aku dulu coz ai m passing some stuff to them and ajami. kubilang kan bonet aku agak macam wardrobe gak, eversince balik dari jakarta tuh ada lagi barang2 yang lom let go. rezeki nurul coz kebetulan memang sengaja aku letak barang2 kat bonet so sapa aku jumpa aku ingat terus campak je bagi.  n since ajami my movie buddy pun nak mai umah nurul, of cos harus ada untuk dia gak. udahlah yang dari bangkok dulu aku terlepas pandang for him. for rose, oh she can show you the paperbag jer heheheh, ai told her not to reveal the stuff, just yet.
ahhahahahahhahaa
itu cite happy lah sket…
tp sampai kat keter aku, ada something happend yang buat aku gelabah sampai the girls terpaksa tunggu temankan aku jap, sampaikan sirman terpaksa datang to be a rescue saver.
that s to be discussed in my next red entry

agak2 korang, apakah yang terjadi? hehehehehehhe…..
Comment:
9