May 19 2009 Tuesday, 8:30 am
eyebrows brown warm colour from stila, pakai berus yang khas for eyebrows gak yer…
for that nite, aku pakai pigment PAC from MT, purple one. baru berani pakai for weekend jer kau. nak try lu apa jadik kalau pakai adakah over or light2. ada adik reader suh buat make up mata purple, dik nanti akak buat lagik yer…ni ala kureng sket lah, mata malas nak make up sesangat
pastu aku tempek ujung mata with gurlain's purple, pakai brush yang ala2 ujung dia dah bersegi…senang sket nak blend
chrome bshop nih ngan berus yang halus mulus gak, aku main tampal jer sesuka…hehehhehehe letak between the blending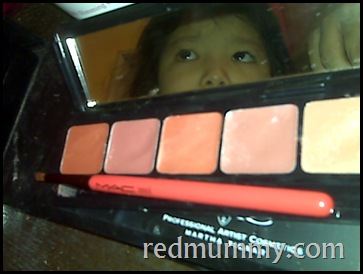 for that nite gak, aku try palette lips PAC MT yang hok ujung kiriiiiiiiiii tu ha. tak penah berpakai kaler tuh. sekali kau, sangatlah x sesuai ngan mata purple. nxt time, light pink je ye kena pakai with purple's eyes.
cam oren, ke brown ke aku pun tak tau lah…pakai jor lerr, ater dah melekat kat bibir, kuor umah pun sekejap jer
mahaplah yer, gambo pakai spek mata yg aku kena letak. tiap kali aku snap, asiklah flash kuor, abih terang benderang eyeshadows tu, nak tutup flash aku malas. lantak ko heh. so janji ni ha jer yang ado. itu dior, hasilnya fefel kaler.
spek aku pun nak gak masuk lam blog.
yes saya rabun, ari biasa pakai lens ler…ari2 tah hape2 aku pakai le spek. kalo agak2 sakit mata pun, spek gak aku carik.
Comment:
4