Jul 13 2009 Monday, 1:00 am
Setaun sudah nama Yoyooh ke area blogging world
means hampir setaun jugak saya mengenali yoyooh
wpun tugasan saya di yoyooh hanyalah sebagai penulis jemputan…
tp ada yang gatal korang ni pi nominate aku dalam award yang Yoyooh anjurkan.
The dinner, the Awards ceremony juga setaun usia Yoyooh berlangsung on 11 July 2009 di Restoran Nelayan, Taman Tasik Titiwangsa…
the registration was very fast…
yes ai brought my kids too, we were staying in Park Royal Hotel for 3 days, under the flag of my client yang menghantar saya ke sana…
kami berdondon datang coz ai cannot leave my kids, this is the event that nak tak nak aku kena bawak anak2 luckily yoyooh.com bagi green light…
thanks Ray!
the table arrangement yang yoyooh buat like, 10 orang per table..very organised. saya mendapat table bersama dengan GBM girls. mereka datang bersama atas jemputan yoyooh…tak termasuk ayu the sun
ayu is one of the finalists too
dila rose sid adalah bunga yang mengiringi dan memeriahkan majlis.
oh yan we miss you….
yan is no longer with us, i mean dia sudah berhijrah ke johor, kerana itulah most of the events yang GBM hadhir adalah tanpa Yan.
antara orang kuat yoyooh…bukan antara dah, memang peneraju utama! ai remember waktu saya pertama kali involve with yoyooh, Wawa the only flower dalam Yoyooh.com menghantar utusan menjemput saya menjadi Columnist di yoyooh.com
Wa 🙂 nanti akak bayo utang letak lagi tulisan yek….lama dah tak akak anto kan hikss
Ray -hehehehehhe
jom num kopi Ray 🙂
bagaikan ibu yang tidak membaw anak2 tapi ado anak2 hangkat ni ha…
my kids dok exploring the place, yoyooh dok reserved the private room for the event, luckily, kalo idak harus ke tasik anak aku merendek…
my make up of the nite was fully sponsored by Shu Uemura
bukan saya make up sendiri, yes Shu Uemura yang godam wajahku mar…ai m their customer, tadah je muka, free2 jer depa make up kan. kalo tak pun ai can just go to Clinique, MAC or Bodyshop..being a customer to the cosmetics department, any contigency plan bleh jer tadah muka kat depa. sesen tak yah kuor hikss..
oh dengan Redglow pun saya boleh tadah muka gak…tp redglow jauhhhhhh!
Didie adalah penghibur untuk malam itu di yoyooh…
well, ai know Didie, ai know abang Bad his manager
apa ke makin panjang badan ko ni Didie dik….
the man behind the important scene..
makpak sibuk sana sini
gambar2 ini dari hasil tangkapan sirman, ada banyak lagi kau aku tak larat nak tempek
for the 3 days event, sirman sudah caras a new flash camera for his 'payment'
aaaaa….tetiap bulan kena beli lens tau pakcik nih..
baru nak kaya kejap, dia dah mintak macam2 utk side blogging job
hadiah2 tajaan…
macam2 ado…
tak sangka tol hebat gak sponsor..
yoyooh pasni kalo nak dptkan tajaan, insyallah redmummy.com boleh bantu. awat kamu tak bilang
eh kang mintak bantuan RM, ada orang kata menang tanpa berhemah pulakkan?
mana lah tau…mulut orang mar.
Astro Awani juga melancarkan liputan…
oh bilakah review di Awani akan keluar yer?
SM???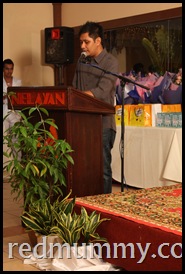 majlis dimulakan dengan celoteh Ray
bagaimana sejarahnya Yoyooh
bagaimana berhasilnya Yoyooh
if aku share cite kat sini, x gerek lah kan…
u need to get the info from Yoyooh.com yer….
kang sebijik2 aku citer harus letih korang nak baca
let s jump to my girl, Ayu The Sun! yeyyyyy!!! She won the Best Blog Diari Wanita
ko temberang apa lam diari blog ko tu yu, ke main leh menang….
aku rasa aku pun tak berdiri atas stage ngan replica tu yer..
ayu hoverrr!
ah takpe….dah menang
you should say LIHATLAH DUNIAAA, AYU THE SUN MEMANCAR CAHAYANYAAAA!!
gambo budak ni lagik
iskkk
tahniah ayu, tahniah kerana mengepalai macam2 di GBM!
1. Blog Diari Wanita Terbaik

a. http://warunghotmama.blogspot.com (su, nanti akak anto ole2 tu yer su)

b. http://cintawanie.blogspot.com
c. http://alinsays.blogspot.com
d. http://syamelia-syamelia.blogspot.com
e. http://thesunearthmoon.blogspot.com
f. http://tulipmalam.blogspot.com
Tahukah anda, nama Ayu The Sun was originally created from RM?
Tahukah anda, Ayu The Sun never works in The Sun 🙂
heheheheheh…hari ini saya selongkar sejarah Ayu The Sun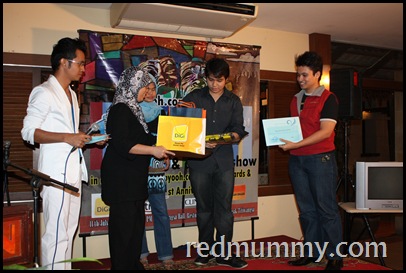 2. Blog Diari Lelaki Terbaik
a. http://adikaismail.blogspot.com
c. http://dukelucedellamore.blogspot.com
d. http://hanyaakusorang.blogspot.com
e. http://mohdhaiqal.blogspot.com
f. http://amrudzie.blogspot.com
3. Blog Infomasi/Edutorial Terbaik
a. http://celikhuruf.blogspot.com
b. http://bukuria-malaysia.com
d. http://freakyfrid.blogspot.com
f. http://farridhusin.tumblr.com
in between
Didie menghiburkan majlis..
em alangkan tempat duduk aku susah tol nak kuor
kalo dak…Rose dah terkam ko Didie
ada juga rangkaian sajah deklamasi dari Pyanhabib…
wuiii seluar dalam kau!
ai pun nak buat sajak sarung tetek gak aaa 🙂
menyusul majlis…
upacara untuk pelbagai kategori…
kerana mengejar masa, saya tempek semua sekali lah finalists di sini yer, the one yang saya copy paste dari yoyooh.com dengan kebenaran melalui press release yang saya dapat usai majlis dari Wawa.
4. Blog Lifestyle Lelaki Terbaik
a. http://adamarjuna.blogspot.com
b. http://afiqsays.blogspot.com
c. http://pakweku.blogspot.com
d. http://anuarkamaruddin.blogspot.com
e. http://viedash.blogspot.com
f. http://harizshazalli.blogspot.com
5. Blog Lifestyle Wanita Terbaik
a. http://sallzafran.blogspot.com
c. http://femmefabulosity.blogspot.com
e. http://lifeofladyell.blogspot.com
f. http://syamelia-syamelia.blogspot.com
Kenal RM kan? not only yang pakai baju merah….tapi saya ada nama saya ada blog 🙂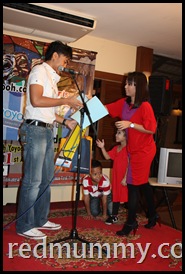 btw the food malam tu adalah sangat sedapppppppppp
harus repeat semula datang utk makan kat Restoran Nelayan, betul!
sotong dia phewwwwwwwwwwwwwwww!
good job lah Yoyooh.com! sebab makanan bukan je sedap, gigih buat majlis camni, nak dptkan
6. Blog Penulisan kreatif Terbaik

a. http://ajamihashim.blogspot.com
b. http://qaisyjaslenda.blogspot.com
c. http://afiqsays.blogspot.com
d. http://seemyscripts.blogspot.com
e. http://zamzontheblog.blogspot.com
f. http://cartoonrama.blogspot.com
ajami….
aku rindukan jemputan filem muuu heheheheh
ajamiiiiiiiiiiiiiiiiiiiiiiiiiiiiiiiiiiiiiiiiiiiiiiii!! jaga lu! aa lerrr

7. Blog Ulasan Filem Terbaik

a. http://amyikram.blogspot.com
b. http://coldheartediceprincess.blogspot.com
c. http://maverickmemento.blogspot.com
d. http://tontonfilem.blogspot.com
e. http://ajamihashim.blogspot.com
f. http://adamarjuna.blogspot.com
8. Blog Layout Paling Kreatif
a. http://cartoonrama.blogspot.com

b. http://nurulism.com
c. http://tothecircus.blogspot.com
f. http://afiqsays.blogspot.com
pemenang ni tak dapat hadhir…
jugak tidak hadhir…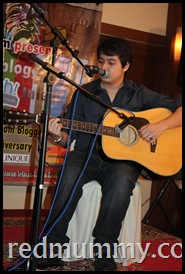 nyanyian yang mendayu dayuuuuu
hingga buat anak kecil ku terpaku…
tak sempat nak buat catatan mar….apa ke link blog dia yer..
gegirl adalah suka sama wajahnya kah or suaranya yek..
ai ve known abang bad since………………………… cant remember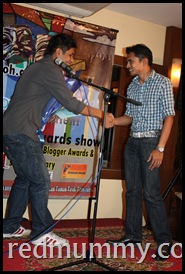 alo brother, jom terbang bersama MAS
YOYOOH.COM BLOG SQUAD – PENULISAN BLOG KREATIF
http://nukerude.blogspot.com/
YOYOOH.COM THE BLOG SQUAD – BLOG TUGASAN TERBAIK
http://mysuperkids.net
YOYOOH.COM THE BLOG SQUAD – LAYOUT BLOG PALING KEMAS & KREATIF
http://nakustika.blogspot.com
YOYOOH.COM THE BLOG SQUAD – TRANSFOMASI BLOG PALING KETARA
http://silbiabigail.blog.friendster.com/
yang kalah bukan pengalah, perkhh ayat poyooo
frankly speaking, how they do the judging, bagaimana segala, saya tidak tahu…saya cuma tahu 24jam selepas majlis usai.
saya cuma menagih undi dari readers RM during the first few days sahaja, korang pastinya ingat, pastu aku hampir2 lupa dengan award ini, sampai beberapa kali Ayu reminded me…
do ai have time to ask, to remember everything? no ai dont…
do ai have time to write anything for these 2 days? no ai dont…
so that s not the point
the point is, kalah saya akan ada yang berbunyi
menang saya juga akan ada berbunyi…
thanks for the 'announcement' on my 34 lah ray
not good not good
lam blog akupun aku adalah sangat mendiamkan diri, iskkk
10. Anugerah Utama – Blog Terbaik
antara pemenang2…wpun ada jugak yang tidak dapat hadhir..
congratulating each other
do remember, saya dicalonkan oleh my readers, my RM's loyal readers, saya bisa bangkang, tp sampai nama dah naik dicalonan, perlukah saya menarik diri?
my point is, to support yoyooh.com wpun saya tidak dicalonkan pun, saya adalah penulis bebas di yoyooh.com
tidak dibayar yer…saya menulis hanya bila berkelapangan…
saya mahu kamu kenal siapa RM…
not just 'alah tu yang pakai baju merah2 tuh'
seperti mana yang saya bilang pada Astro Awani…
kamu menulis biarlah mengikut citarasa hati, but bukan kearna dendam dan amarah kamu pada sipolan..
kamu menulis biarlah berlandaskan pikiran, bukan merobek hati mereka2 yang tak berkenaan…
untuk naik ke atas pada kamu sekarang sangat mudah
bukan seperti saya yang sama tegar untuk naik, tp sebelum saya jatuh, saya sentiasa beringat melangkah
kamu juga harus menulis tanpa copycat diri saya, atau blogger2 lain, wpun saya digelar celebrity blogger, tapi teman2 lama yang mengenali saya sedari saya belum di tahap begini would say 'oh aku kenal dia, dia memang keja kuat naik utk blogging job dia'
so u got me here….
pesanan ikhlas ni saya tujukan kalau kamu rasa saya tidak layak…kotakan dan berikan mukadimah kamu.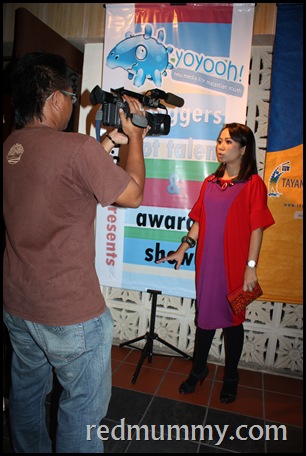 untuk adik2 di UiTM…
saya doakan kamu cergas juga di dalam dunia blog 🙂
bertatih lah dahulu, jangan terlampau taksub hendak naik…
naik secara perlahan lebih afdal..daripada naik mendadak kemudian jatuh terduduk…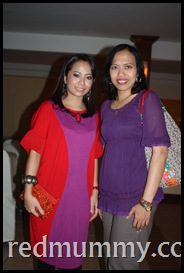 siapa bilang saya tidak pakai warna lain…
the red purple dress is from Salabianca, ha pi carik, murah je kan?
n the nice lady in purple is also one of the finalists…
http://syamelia-syamelia.blogspot.com/
abang with abang hensem berjacket itam, satu ari aku ingat namanya pastu aku dah lupaaaaa…
Ady is the MC…(akak nak yang pendant merah kay, bukan yang biruuu)
now saya mohon maaf
kalau ada salah silap waktu memberi ucapan…
juga maaf kerana saya tidak dapat sepenuhnya link your blog in RM dalam entry nih, gagau2 aku mencarik dar..
so if you nak saya edit, boleh bisa…not a problemoooo
mohon maaf juga kerana masa yang suntuk tidak mengizinkan saya untuk cemolot dan cepipi dengan semua orang, apatah lagi bertegur sapa. terus terang, saya bukanlah jenis yang tak geti nak beramah tamah…my 2 new frens di meja saya pun saya tegur and cuba ajak borak.  They are Haris and Adie so saya kalau boleh nak kenal semua orang, tp by the time aku diculik astro awani dan budak2 uitm tuh, ramai yang sudah pulang…
kak tyyyyyyyyyyy! yati sawanila.com pun tak sempat nak bergambauuuuuuuuuuuuu!!! ko kannnn!
untuk organizers, penaja…salute red hat to all of you.
Ray, Wawa, Megat and Wenkt….kamu telah melandaskan lagu dunia blogging ke peringkat yang tertinggi, insyallah taun depan ketemu lagi tapi kali ni tak yah lah nominate saya lagi dah( ni keje readers aku lah nih)
biar saya datang sebagai pemerhati sudah….
btw the white jacket guy tuh is Adi waridi, MC throughtout the nite, abang jacket itam tuh pulak penaja bunga2 ek bang? eh adi pun pengubah bunga hooiiiiiyaii!
my red lovely girls…the GBM
ni korang dah kenal kan…..
sid
www.adenium.blogspot.com

dila
www.daela81.blogspot.com

rose
www.hazelrose79.blogspot.com

thanks girls for supporting us, me and Ayu The Sun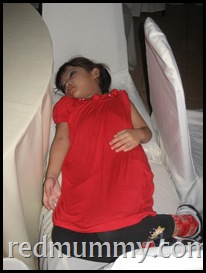 kasihan anak kecilku terpaksa menumpang tidur kerana capek letih seharian
tunggu majlis x gak abih, sudahnya dia tidur di pangkuan ibunya jugak
tp dek pasal aku kena naik stage, terpaksa pass to the girls mintak tlg jagakan sat…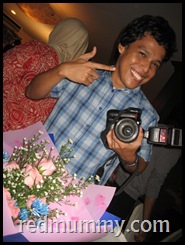 Megat ni ceria sungguhlah…
happy betul dia sana sini, alo that s my bouquet kay, ko jangan coba2 nak bawak larii!
thanks megat for the short meeting, we should have a proper dinner one day one time nanti
antara peneraju dan orang2 kuat  Yoyooh…mana ke wenkt ni dah lari wrapping tv!
to yoyooh.com…peluang yang kamu berikan untuk mereka yang muda belia menulis dan mengaplikasikan coretan mereka di blog memasing, mahupun kerjasama yang panjang perlu ada…
saya melihat ada unsur yang baik juga ada unsur yang kurang enak
ada yang tidak betah bila sipolan menang
ada yang panas pungkoq bila sipolan kalah
it s ok….saya sendiri tidak taksub, saya sendiri sudah immune. tapi mehlah saya kongsi apabila 24jam selepas majlis, ai was told:
50% of the votes datang dari yoyooh's members, ni utk pusingan akhir. kalau ko bukan yoyooh members ko tak leh vote
30% votes datang dari orang luar, dari students universiti dari manatah mereka yang punya hak untuk mengundi…saya kamu tidak tau siapa mereka.
20% votes datang dari 4 orang founders…
sbb aku pun takdak banyak masa, ai leave this entry a bit longer, aku nak mengqada apa2 yang patut…and saya izinkan sapa2 nak mencilok gambar2 ni semua.
ataupun boleh gak cilok from Kheirul atau Yati dari sawanila.com ….
so gitu yer..
Ini bukan jalan pintas untuk saya naik lagi dan lagi…yes saya perlu naik, kerana saya punya cita2 yang tinggi dalam area blogging redmummy.com, saya ada target dan pencapaian yang perlu digapai, saya perlu lakukan sesuatu, memenang Anugerah Utama adalah satu perkara yang terus terang di luar jangkauan, saya bisa menulis bercerita tapi saya tidak pandai bercakap. satu perkara yang pelik? nope…ianya seiring…
2 Anugerah dalam satu malam, sudah cukup memanjangkan senyuman saya, di hari lahir sendiri 🙂
To my voters, firstly terima kasih pada kamu yang nominated and voted me, tak tau sapa orangnya, kemudia u all yang ligat mahu memberi kemenangan kepada saya….alhamdulillah, ada hits tinggi juga banyak membantu, dan selepas ini, tugasan saya membantu menaikkan hits kamu.
kalau untuk yang kalah atau tidak berjaya, janganlah kecil hati, saya jugak pernah merasai kekalahan, dan saya masih lagi tewas…read my Rahsia RM To Be On Top, untuk siapa saya sekarang bersaing ke puncak.
We help each other mar…..tahniah Yoyooh.com kerana berani untuk menganjurkan acara sebegini…mereka berempat huiii, bagus, saya sendiri tidak mampu utk buat gilang gemilang camni. ado ko masa nak membuatnya, halahaiiii…
Blog Lifestyle Wanita Terbaik dan Anugerah Blog Terbaik yang diberi to redmummy.com…
adalah
Satu lagi langkah…
untuk ke hadapan
Comment:
64