Jul 30 2009 Thursday, 11:00 am
you want this coach?
kat Msia mahal kan? tp kat US you can pay it cheaper, the cheaper u can go is like u untung 500 jugak, ada yang leh sampai 1k, so apa2 brand hbags, kasut anything from US, u can contact me, we can ship you via vshub.
this one too…
wahahhaha amik amik je gambo
SA tu tak pasan kot aku amik gambo nih hikss….
aku sudah ada 3 coach, now dok target LV…
jom tengok LV plak…
bertaun2 keja kat KLCC, ni lah pertama kalinya aku masuk LV butik klcc….
itupun sebab kawan aku paksa tarik gak masuk LV, dia adalah pemakai all branded stuff. LV tods coach bally prada apa brand yang dia takdak? semua adoooooooooo!
the LV wallet tuh designnya sebijik sama ngan my red wallet Coach gak! huhuuuuuu
merah dah bih kurang hahahahah
harga? huiii
tutup mata kalo beli lah, tp sirman tak encourage lah. tu pasalnya bila lah MAS nak anto aku ke paris nih. paris lagi murahhhhhhhhhhhhhh! reason pi paris bukan sbb nak beli LV lah wei..tp sbb that s one of my wishlist, one country one place yang aku dream on…
Malaysia Airlines, korang hold lama tauu!
takde satu bag lam LV tu pun aku berani tanya harga hiks…my fren je yang dok sibuk tanya sana sini. aku cucuk dia suh beli tp since he just bought 1 LV few days before, he s not really keen lah to get one pulak…aisay
wpun dia sangatttttttttttttt mampu!
hamik!
the left LV tu kedai punya
the right LV tu pulak his own bag, bought kat Paris! eiii ai jelessssssssssss…
tp best part sbb dia baru beli dr Paris, bwk balik Msia, the dalam isi LV bag dia tuh adalah segala maknek barang2 aku. my coach bag is inside there (was thinking to send for polishing kat Coach butik), my maknek barang2 soping from my Personal Shopper's job pun tumpang lam bag LV dia gak.
aku  nak carry LV dia pun hahahahaha, malu 🙂
so ini lah kerja aku waktu member aku dientertained by LV's SA. they are so nice, very frenly very customer service tahap class A, compared than Coach KLCC lah.
mlslah nak cite pasal Coach KLCC tuh, ai will stick to buy from US, aku dapat harga murah than msia for sure, aku dpt best colour yang takdak kat Msia jual pun yer, aku sorang je bwk kaler tu kat KL wahahhahaha, cam gampong. but ok lah ai still can send my Coach to msia's butik for polishing etcs.
aritu diorg decline kan, pas dah kena hauk ngan member LV aku, terus depa yes sir yes kak.
we settle our dinner at Aseana
thari lunch ngan RedGlow kat Aseana, malam pun kat Aseana…budak aseana pun cam 'mana ku nampak kak merah ni yer'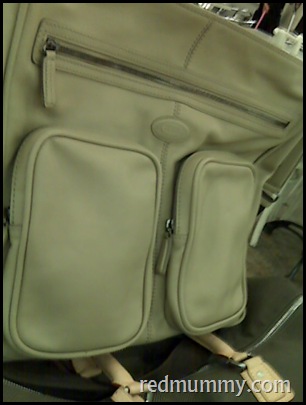 n that s my fren's new TOD's bag! bawah nya tuh LV dia…hai.
isinya sekampit jer, tp beg godang!
bila ko nak jual 2nd hand kat aku nih jang? hahahahaha jual 2nd hand pun still aku rasa lom mampu lg kot nak rembat.
Back to the Coach and LV, hahahaha agak kelakar, korang selamba kodok jer masuk LV tu kan, tp aku sampai kena paksa2. oh actually aku masuk semua branded butik arituh ngan member aku nih. dia tarik aku masuk Prada, Ferragamo, ha mana laik, LV was the last one yang kami masuk. itupun kalau boleh Chopard, Bally, segala tempat yang aku tak pernah masuk dia nak tarik.
alangkan aku berkasut tinggi 5 kaki. lelain taun lah kita masuk pulak…tak larat.
So now, u guys dah dpt clear picture…
memula beranganlah nak masuk butik
pastuh berangan membeli dan mintak vshub uruskan to deliver it to you..
berangan lagi utk membeli yang lebih dan lebih
insyallah….
itu namanya motivation fees, to reward ourselves.
Comment:
25