Aug 31 2009 Monday, 8:00 pm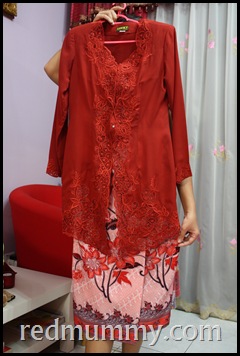 Order Code#: RMKJ001
Size: S (dijual sepasang kebaya and kain)
Price: RM160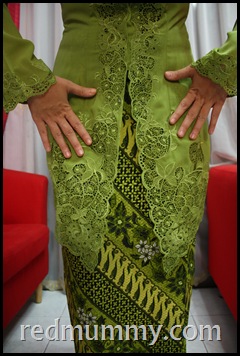 Order Code#: RMKJ002
Size: S (dijual sepasang kebaya and kain)
Price: RM160
SOLD

Order Code#: RMKJ003
Size: S (dijual sepasang kebaya and kain)
Price: RM160
SOLD
---
Terms and Conditions:
1. All kebayas and kain are brand NEW, baju and kain were bought from Jakarta and tailored by Aunty Yeli (Istana Negara's official tailor).
2. The pricing is including the shipping from Jakarta, tailored services and delivery to your house, for Semenanjung Malaysia only, Sabah Sarawak and luar dari semenanjung ada additional postal fees.
3. Kalau agak2 ko size kecik dari model atas tuh or besau, boleh lah altered kan sendiri…
3. Confirm your order via the order form below, reservation is open based on first come first serve basis, within few hours takdak payment made, saya release the booking to other readers.
4. All sales are final. Kebaya Jakarta sold are not exchangeable, returnable or refundable. dan segala jenis ble ble… 🙂
---
bape bulan daaaaa aku peram entry nih, nak raya ni baru teringat korang dok carik baju raya kan, ha amik ler…
UPDATE sket:
korang nih kan, eiiii..
1. selain dari kain kebaya, model lain tidak dijual termasuk kasut merah, kaki, background mahupun Cik Reddy baru tumbuh tetek 🙂
Comment:
16