Aug 7 2017 Monday, 8:00 am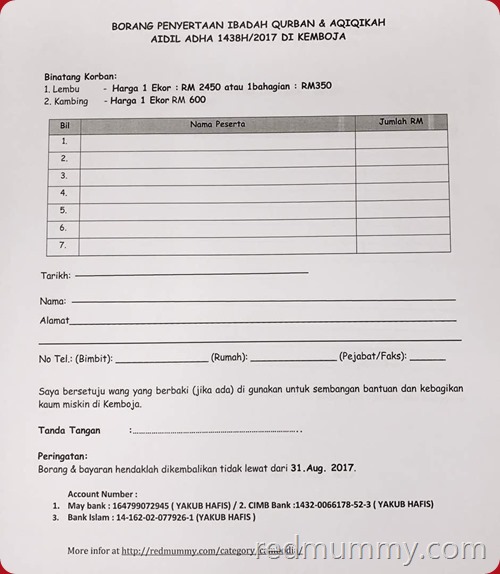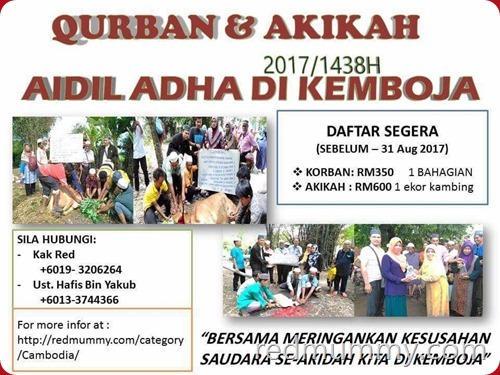 Raya Haji akan datang lagi, insyallah.
Meaning, masa untuk kita muslimin muslimat buat qurban, dan aqiqah juga boleh dilakukan sama di Cambodia. Wow..baper tahun dah aku involved in this line, ada dalam 4,5 years jugaklah.  Kalau rasa nak pergi sama ke sana pun boleh, atau untuk buat derma pun boleh (wang ringgit mahupun harta benda / pakaian etcs), dan jugak semestinya buat qurban itu sendiri.
Untuk qurban harganya RM350 per bahagian dan untuk aqiqah pulak ialah RM600 untuk seekor kambing. Photos of the event (sembelihan) akan ai share at least seminggu after the event kemudian coz tunggu Ustaz dah settled down from this trip.
Boleh pepanjangkan info ni. Kenapa saya pilih Cambodians ni coz kemiskian muslim di sana sangat ketara, setahun sekali masa raya haji ni lah depa merasa dapat makan daging bagai, dan they are not getting any fully supports from their govt so kebanyakan orang2 Malaysia memang akan turun Kemboja untuk bersedekah, aqiqah and qurban. Insyallah.
For further details tu bolehlah contact akak or Ustaz Hafis,  numbernya 013 3744366 and mine is 019 320 6264.
Comment:
2