Jun 15 2009 Monday, 7:00 am
the youngest kitten, 5 bulan. Ela!
unik tak mata dia, sblh kaler biru, sblh kaler kuning brown….
sapo nak putih arituh ? ha ni ada putih, tp semua persians ni except yang the first top photos, semua udah 8 bulan ke atas. si putih mana berlainan warna nih namanya Snowbell!
wui bulu2 koooo……
nak nak nak? sapa nak nih?? kalo aku dok umah housewife, and umah CV aku dah siap skang, mau aku angkut sume bwk balik….kalo tak silap namanya Posh.
Beckham tarak!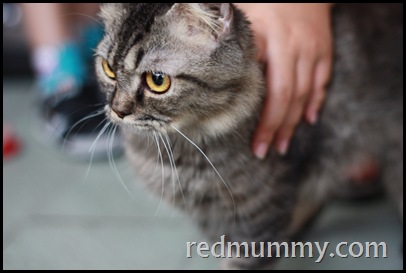 aku lupa ini gafi or kiki coz both muka badan serupa sesangat, ala kembar. mmg twins adik badik pun. but as of friday lepas Kakak tu cakap one of them dah diadopted, odw to kuala pilah already. so kalo minat leh book lah.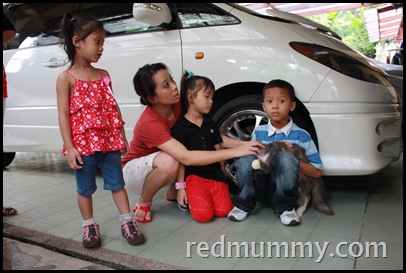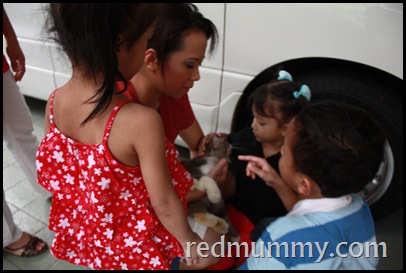 ini istimewa…namanya Kemek. dia ada iras Kitty lama. ini memang anak2 mintak bawak balik…
ai was offered by Kakak n her husband to take any of the kittens, mana2 pun boleh, x yah charge bayo ke hapa. n aku pilih ni wpun aku tau ada Reddy. tapi yang ni lah pulak tak boleh nak amik. this is Kakak's fav cat pulak.
so x yah lah..
anak2 aku pun satu, yang iras2 Kitty gak lah korang nak angkut kan…
tp takper…x dpt pun takper, nak amik yang lain aku tak nak, dok pikir nak dpt kitty baru je kan skang nih…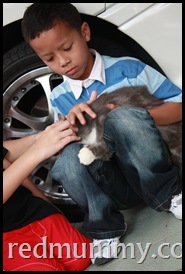 the 2 twins yang macam badan harimau, bulunya sama btol, so one of them can be adopted by u…sebab sekor dah ada orang amik…
mau mau?
ahah si Kemek, takpe kemek, takdak jodoh kita…
dak kecik ni mandom coz ngah sakit mata, tu yg sblh mata kiri dia sepet a bit…
ha semua kucing2 yang koarng tengok tuh, belong tuh this makcik. maknya nih keje beranakkk jer…apa ke mak ngan anak2 sama size kan
wah muka ganas nya kooooooo!ni bapaknya!! dok sesangkar ngan bini and anak2 nya…hahahahhaha, betul2 lah jenis bapak prosess anak jer kan huiiii…eh ni tak leh lah amik, eh tak tau, sapa minat bela black persian, this could be yours…sperm dia sangat productive tuh!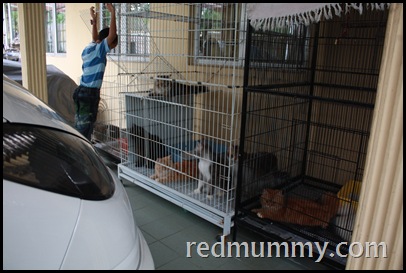 aku cuma mintak, cage2 beso bagak nih, jual murah cincai or let go kat aku jer lah…ai have long term plan for my kittens…nak letak cage bagak nih kat umah CV aku.
so korang,  kalau berminat…apa yang korang kena tau conditionsnya:
2. ai will divert u to Kakak, the owner of the kittens (aku bagi ko number kakak tu lah terus)
3. harganya adalah ikut sukatik ko, mmg kakak nak let go, lam 50 – 100lebih gitu,  ikut budget
4. semua persians nih umur antara 8 bulan ke setaun lebih
5. well trained dengan berak dan kencing di pasir.
6. sangat manja, mmg dpt ko peluk dia terus diorg nyendeng2 sondol pala depa mintak kita garuk. tu mmg usual perangai kucing…
7. masalahnya satu jer, sbb kakak jarang membelai, and ada pertukaran food depa, bulu2 depa adalah berterbangan sesangat. but trust me, kalau korang jaga balik, insyallah bulu yang gugur boleh diubati. go google.com to find out the details yer
Usai dah kerja aku
ada sapa mau? ramai peminat2 kucing dengan budget rendah mau kittens kan? bolehlah jemput2 email saya and dapatkan number kakak… dulu aku sendiri carik kucing, ke main susah nak dpt, skang nih, aku sendiri tolong korang dapatkan kucing. ha mai lah mai….sapa mau??
Comment:
12