May 24 2016 Tuesday, 8:00 am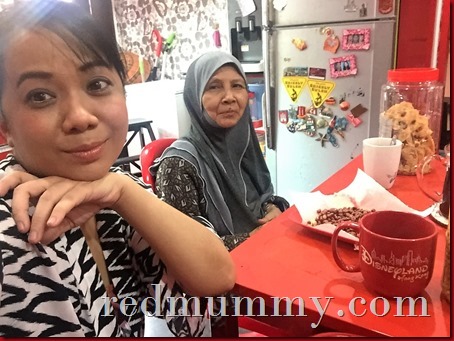 my mak mertua kan datang melawat mak aku aritu (together with RD's brother and nephew). So kita spent sket time pi memakan bagai, nyoping sket. Kebetulan dah mak datang ni aku bagi terus le jubah raya (which aku dah bought few weeks ago untuk her Syawal).  Hang nampak kacang tanah atas meja makan tuh, hah tu aku dok menggoreng, 4,5 rounds. Seround hangit (dek berborak tak hingat lupa kacang bertanak). Pagi tu aku ada event so aku dah sound laki aku kirim beli kacang tanah tu, aku nak menggoreng baliknya nanti.
Itu yang beria menggoreng, coz kan, aku ni gila makan kacang. so ada muruku yang aku beli buat kudapan kat rumah kacang tanahnya alahai sikit bebenor. So baik beli and goreng sendiri and masukkan dalam muruku tupperware. But tu lah, anak aku cakap baik mammi makan je terus kacang tanah tu dari cecampur ngan muruku. Eiii anak, tu dah rasa lain plak, ini ada cecampur ngan muruku nak oiiii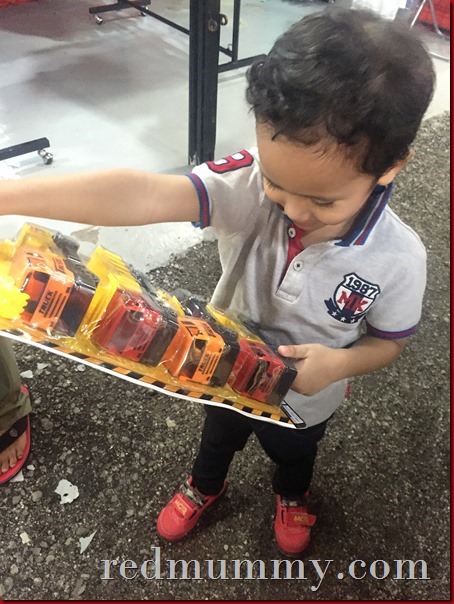 someone got his new toy, againnn…
we were at the new downtown Cheras (much more nearer to our house but the traffic and parking are like hilarious betul). Korang kalau nak pergi Downtown Cheras yang baru tu, baiklah pergi sebelum jam 10pm, coz the parking boleh dapat lagi dalamnya. After 10pm, kirim salam je lah, sepanjang2 kat luar tu korang kena park and good luck with the walking 🙂
So back to Zeeshan, trick is dia dok ngendeng2 ngan aku untuk new toy, masa tu kita split in 3 groups. My husband tunggu the nephew, my 2 kids and their uncle pusing seround lelaju tempat nih, me, Zeeshan and my mother in law pulak satu team. So bila dia memintak hadiah aku dok cakap jer no money no money, u have to wait for your dad. (sama je tiap kali amik sekolah, dia dok nak pau something, aku jwb sama je gak).
jadi bila bapaknya team up je ngan aku, tak sampai sesaat dia dah tarik bapaknya pergi patah balik ke toys shop. hahahaa, so itulah hasilnya. ingat le pulak dia nak patah balik kedai mana satu plak heh…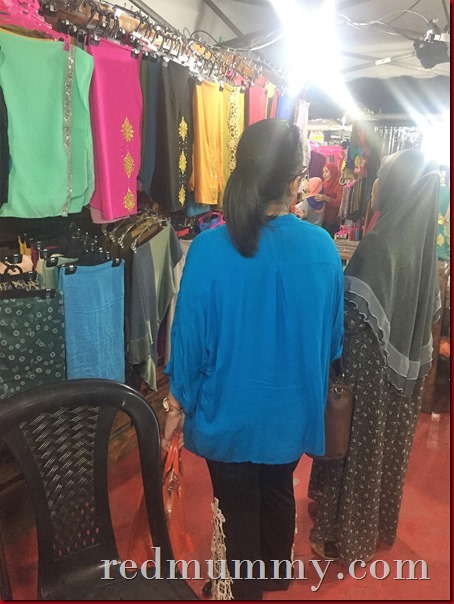 we did little shopping jer, datang sini pun coz this is the closest to our house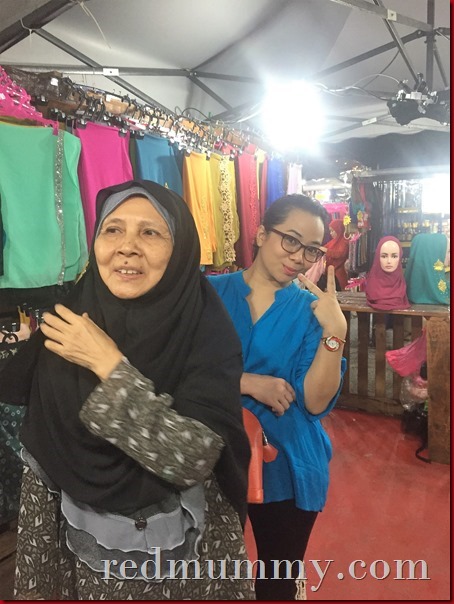 black tudung, for me aku ada beli cardigan hijau.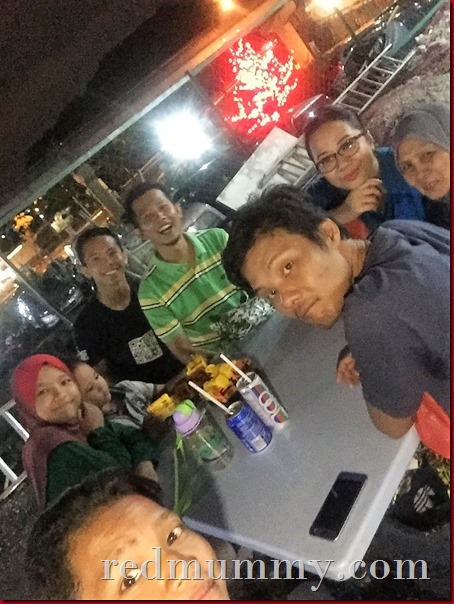 then habis pusing downtown, duduk lepak tengok bebudak band performed kat stage tuh, then barulah kita berpisah, mak mertua and the gang balik Kapar, us balik rumah…masa  nak passing mak mertua ke kereta satu lagi, siksa betul coz kami parked dalam and anak buah park kat luar, jadi nak turunkan tu, satu jalan je kan, ngamuk kereta2 belakang, wpun tak sampai seminit pun turun kereta tu…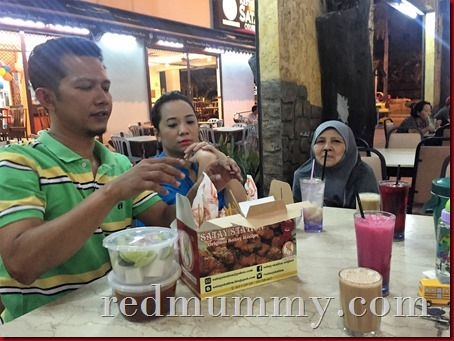 sebelum tu kami kan dari rumah, dah habis semua maghrib baru kita keluar lah, lagipun awal2 tu mak mertua aku lepak hospital visiting my mom. So malamnya kita makan kat Restaurant Chinese Muslim kat BSP, but sebelahnya ada satay station so kita tapau gak..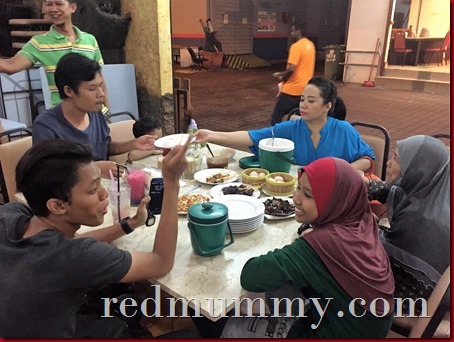 kakak RD dok ingatkan tu kita bawak bekal dalam bekas hijau tuh…hiks. itu from the restaurant punya bekas nasi, so warm le nasi tu takde le cepat sejuk…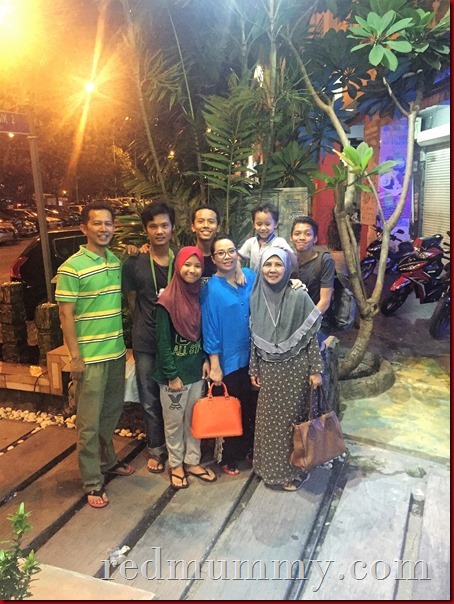 Insyallah jumpa lagi dalam Ramadhan nanti, we have planned for the routine buka puasa di luar and also at our Red House too…if tak dapat semua orang pun, most importantly ialah our parents and my in law. Hopefully Ramadhan ni abah dah boleh jalan and my mom too.  Orang2 yang ada negative vibes tu tak pentinglah kalau kita nak jumpa, lagi sakit jiwa raga jer…like I said, if orang nak buat hal ngan kita, kita ikut flow dia but at the end, kadang2 orang ni bukan nak dengo bahasa or hati terbukak yang dia tak betul, asyik kita je tak betul pada dia, so baik ler kita tinggalkan je orang2 jenis macam ni. Hati kita pun senang, lagi kita dekat ngan orang2 macam ni lagi aura negatives tu hidup, dah tetua ni, let it go is the best way.
This also reminded me to my fren, during the teacher's day celebration. hem…long story cut, sampai jadi bahan dalam wassap group rupanya by the teachers for the gifts anak2 nih…haih.  Adalah tidak berdosa jika tak bagi hadiah, tapi adalah menjadi satu perkara besar jika hadiahnya tidak up to standard.
Comment:
8