Jun 11 2009 Thursday, 3:00 am
sayanglah gambar2 ni kalo tak dipost di blog oi….sbbnya gambo2 nih nak aku anto printing ntah lah bila masanya. so aku adaptasikan dalam blog, at least ada reference…
gambo nih waktu depa nampak ada anjing hahahaha ke main mengejar
n waktu depa kat umah mak mertua aku jemaat lepas…
mengendap keter baru pakcik sedaranya….wui ado apo full tinted tuh..
ha pasan tak abang nya baju tu kan, aku beli kat langkawi, ada merah biru kuning tshirt tuh. aku pakai baju tuh, wpun utk size budak lelaki…
eh maknya pakai ok lah tak berapa longgar tp tang leher tercekik, ater leher utk baju bebudak kan…
so tiba masa utk turunkan kat abang…
baju mak ngan anak lelaki pun leh aku main sauk gak 🙂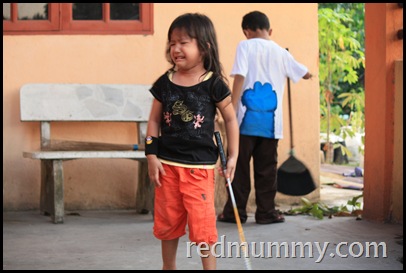 last month aku ada beli badminton set for kids, kat toys r us, satu pair harganya RM30. abih aku nya shuttle cock budak2 nih lenjan…tu gegirl sentap alahai, over la ko. kejap2 dia main badminton sama abang, tak pun ngan sepupunya…
but sirman cakap abang adalah rajin gilosss
halaman neneknya ada daun2 berguguran, abih dia sapu kemaskan…
thank you abang for being so nice rajin boy to nenek.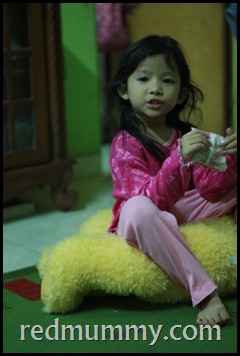 semestinya si big yellow bear dia bawak kulu kilir…
dah pas maghrib nak masuk isya baru geti nak mandi. ater mak nya takda kan, ganas lah depa bermaharajalela, bapaknya membongkangggggggggg tak hengat!
neneknya rimas tengok rambut cucu tak bersikat…sib baik ado nenek nak sikatkan
ikut bapaknya, alah lantak korang lah, bukan mak korang ada sama, mak korang tak tau
tp gambar tidak boleh menipu yer sirman ehhehehee….
dan bila dapat melekat ngan bapaknya tanpa ibunya, haruslah bodek ngan bapak nya macam2 kan, dapat tiup buih2 pun syokkkkkk! macam2 korang kan…
tapi gambar ni aku suker…kat kedai beskal, sblm balik umah nenek depa singgah anto beskal depa yang bermasalah. ada motor ni ruggednya, sapa le budak2 kecik yang makpaknya rajin belikan menda nih kan.
that s the kids photos untuk koleksi RM sendiri
kali terakhir aku anto printing gambo, last year kot
so emm, nak sort out kan pun dah makan ati
apatah lg nak pilih yg mana satu aaaaaaaaaaaaaa……..
Comment:
2