Jan 25 2017 Wednesday, 8:00 am
These few weeks sejak yang sekolah bukak nih, akak memang haru biru lagi lah. Dengan urusan sekolah anak2, yes my bad. Sampaikan auto schedule pun lupa nak tekan, but dah drafted.
But dalam bz sana sini, ada gak akak lari ke IKEA.
I think this table was bought like almost a year ago. Meant untuk pakai for our laptop lah. asal duduk kat depan tv, sambil blogging sambil tengok tv. Pastu aku kan suka bertukar positions. Pindah pulak duduk meja ni kat depan, for me to blog kat sebelah tangga. sofa panjang. but pastuh bertukar lagik, pindah ke dalam bilik aku coz aku malas nak blog kat bawah. PC yang baru beli tahun lepas tuh pun aku dah tak pakai, jadik harta abang, itu memang located at our PC/blogging area.
Kemudian lagik bila pakai nih, kepala aku sakit, asyik berteleng jer, last2 angkat letak atas badan. Yang IKEA laptop support Bylann tu pun aku ado gak, letak atas tuh. but pastuh kang, bila nak bangun bagai remehnya nak kena angkat lappy segala kan.
so aku sedekah jariah kat anak2 sapa yang nak, goes to Kakak. Ni kakak takde, maybe kita hantar ke depan tv balik lah, coz ni memang for straight vision, kalau berteleng2 tu tak sesuai.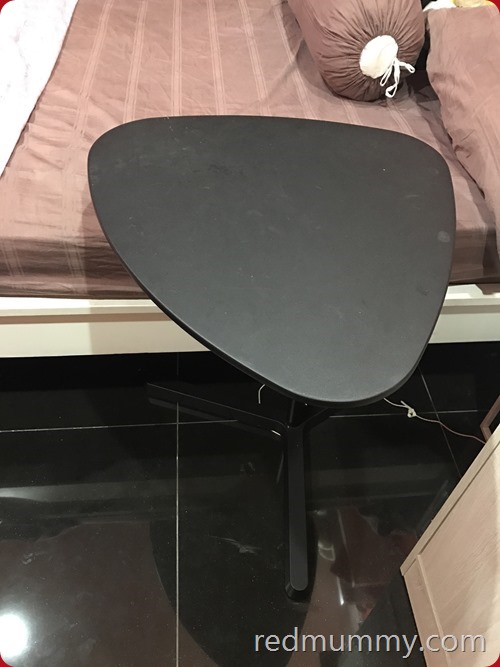 Pastuh aku pi lagi IKEA,dah terbayang nih, kaler merah. VITTSJO. Sampai2, sample pun hitam. Alahai, chances mcm takde je merah. Yet aku check kat ikea's site, katanya ada merah. So malas pikirlah, amik je yang hitam but coding lain pulak. Aku gambled lah. Memang productnya betul but pun teleng gak kepala. Cis bedebah sangatlah. Jadi malam tu gak, aku carik online. I need to settle ngan yang macam kat hospital tu lah, itu lagi molek yang memang pueh hati.
the one yang baru beli nih, hah antau bawah, living room.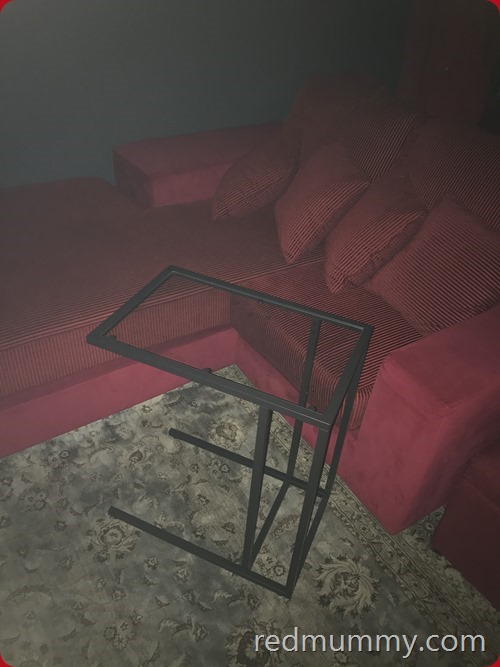 Almost a week after aku beli online, my overbed table pun sampai. Alhamdulillah, sangatlah memenuhi citarasa tengkuk leher aku nih. Memang sebijik dengan hospital. Tak payah nak berteleng2 kepala, dahlah tu, memacam boleh letak kat atasnya meja nih. Just like ai want lah. Beroda bagai pun ye, nak tolak bangun tarik pun memang all at one go. So happy hakak dik! Leh tutup citer nih dah. Coz ai skang cuma blogging or layan movies ke hapa, kat 2 tempat, either kat kithcen (we have one permanent laptop dok situ), also one laptop in my room.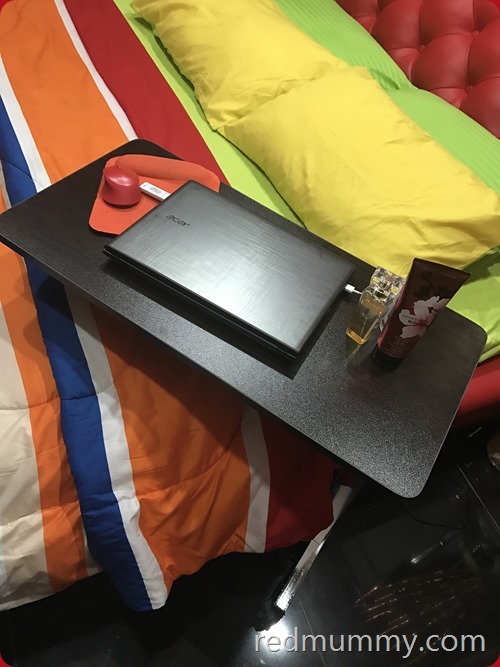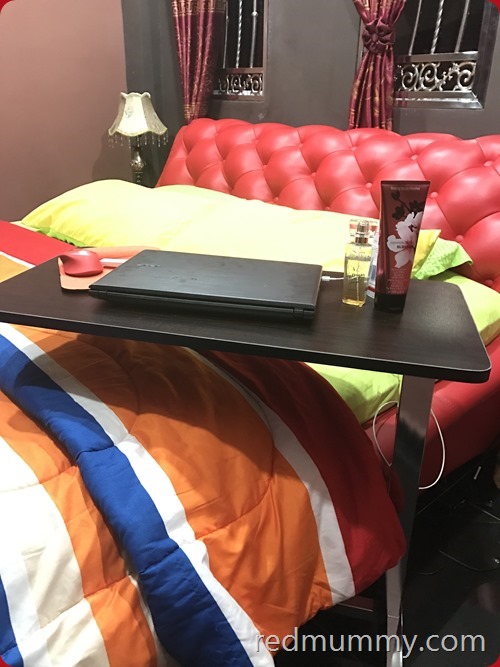 The price for this overbed table is RM280 and 5 inggit lagi delivery service and I bought it from the not so famous online (eh tapi macam worldwide) but still ler, macam gamble je beli situ coz terpaksa bukak account untuk login beli but pastuh, bila payment made, satu hapa notification tak dapat, bila nak courier pun tak de cite, satu hapa update takde, pastuh within 7 working days baru depa post, huk aloh, memang kena sabar ler ngan online site gini.
So happy….
laki aku ingat aku nak jual lagi 2 meja laptop tuh, wpun dah tak pakai (for me), eh banyaklah cantik. Benda tu tak berlapuk, boleh pakai sokmo pung kan. Buat minum makan letak vase pun cantik hapa…..
Comment:
3